The fastest loading Wordpress themes - Top 6 [2021] 💥


In the past few years, the number of WordPress users has grown enormously. Not just regular freelancers and bloggers, but even established companies are running out of time to reap the benefits of WordPress. All these users have one thing in common and that is that they want a superfast loading Wordpress theme for their websites. Here we compare the six fastest loading Wordpress themes of [2021].
These themes can be downloaded for free at Wordpress.org but have a PRO version that makes the themes really come to life. These themes are not only super fast but are also of extremely high quality, which means that these themes have now been installed on millions of websites. You already understand that these themes are incredibly popular.
All themes have 2 buttons at the bottom of the short descriptions on this page. One leads you to my detailed description of the theme and the other directly to the site of the theme itself.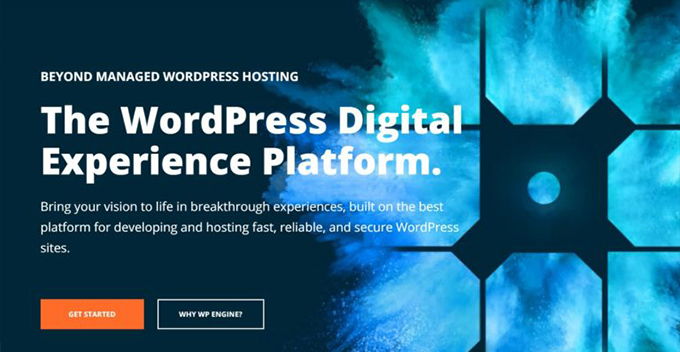 Listen, WP Engine is not only a theme, but I couldn't get around to setting it to 1 as there is nothing faster, read on. WP Engine is a complete package for Wordpress with 1) the best possible framework for Wordpress, 2) fully optimized hosting with auto CDN (recommended by Google and Wordpress itself) and 3) the number 4 in this list Genesis Pro (the actual themes) . This combination is great and delivers the fastest loading website you can imagine. Well, this is the most expensive solution, but for companies that want to make good money, certainly the best.
With WP Engine you will be relieved of all the heavy lifting when it comes to optimization. They ensure that your site is completely optimized and that the hosting runs perfectly and is cached. Their perfect CDN network ensures that your websites can be loaded at lightning speed from all over the world. This is the cream of the crop for Wordpress websites, optimal convenience and lightning-fast loading websites.


Generatepress is the theme that has the smallest code of all and applies to me as the fastest loading theme as long as we disregard the hosting situation. This theme was built on speed and you notice it. I immediately add that this theme is not only fast but is full of great features. That is why it is also ranked high in my rankings for best Wordpress themes and best Woocommerce themes. You can build beautiful shops and websites, blogs, everything runs like a charm.
The theme has really great options for ecommerce and works perfectly with the best page builders. In addition, this theme is very competitively priced and you will receive big discounts for renewal in the following years. So if you don't have the money for WP Engine and are not a company but someone with just one website, this is your choice. But please read our review for Generatepress before you purchase, I would say.

The Genesis Framework is included in WP Engine for free, but can also be used on other hosting and is just as fast. In isolation, the price is certainly more attractive to beginning website builders. The Genesis Theme was created by both Joost de Valk from the well-known Yoast SEO plug-in, Matt Cutts from Google, and even recommended by Matt Mullenweg (founder of Wordpress). There are of course no better references. The system is very safe, very fast due to great coding and very reliable.
Aside from the perfect code, Genesis provides rich snippets to the search engines via Schema microdata. The search engines love this too and ensures that it is found even better. Additional information is also added to your title and description in Google search results. Genesis scores much better in tests than, for example, frameworks such as Wix. The Genesis Framework also offers a sea of options for SEO settings. This makes the use of an SEO plugin completely unnecessary.


Just like Generatepress, the Astra theme has a very small base code, 50kb no more. Astra was also built with the fast loading of websites in mind. Let's just say Astra is only a few percent slower than Generatepress so who cares. In this case only one place in this ranking. Astra is a great theme and is in my list for best Wordpress themes in the top. Astra can be used for everything, shops, sites, blogs, presentations, one-page and much more. The options for web shops are perhaps a bit better than those of Generatepress and the choice of 1-click to install demos is that.
Astra is also a great choice for beginners who don't want to spend too much to own a super fast website. The theme is competitively priced and has great long-term offers. The Astra theme also works very well with the best page builders, logically otherwise it would not be in the top of these kinds of rankings. Astra comes standard with Schema Mark-up, which is something the search engines love, plus a number of other great SEO features. This is a top theme! Read my Astra review via the button below and you will be surprised what the theme offers.


In the meantime, we are no longer in the top, but make no mistake. Neve is lightning fast and written with special code that other themes above don't even have. Instead of the usual jQuery, this theme puts Vanilla Javascript which is much faster. I want to say that in the ranking of these 6 themes there are only small differences in terms of speed and if you like Neve, it is a great choice for your website. This super fast loading theme can do a lot more and offers several "Boosters" in the PRO version. It already comes standard with the best page builder out there for Wordpress: Elementor. This is not the full version of Elementor of course, but Neve does add 9 extra widgets that are very functional.
You will also hear this theme deserves a place in the top of the best Wordpress themes in general, not only in a ranking on speed. The price for this theme is $ 59, but you can use it on as many sites as you want. This also applies to most of the themes above. Another thing about this theme that always strikes me when I work with it is that everything runs so smoothly. That starts with the installation, then integrate a design and adjust everything on the site itself with the great page builder. Web designers benefit from these themes because everything goes quickly. In this way people also earn money faster. But nobody likes to lose time with stress because of stiff themes, so it is suitable for everyone.


The OceanWP Theme was built with 2 things in mind. It excels in e-commerce capabilities. We're obviously talking about the pro version here. The theme is one of the most professional for creating websites. Everything has been thought of to achieve as many leads and conversion as possible. I have this theme in the top for the best Woocommerce themes for a very good reason. In addition, the theme is written on super-fast loading times, just like all other themes above. Of the top 6, this is the slowest theme, but beware, this theme is number 6 of hundreds of thousands of themes and is very fast and loads your homepage within a second!
OceanWP has been installed on almost a million websites and is therefore immensely popular, this is an amazing theme. In addition, the practically flawless appreciation of users shows that everyone is very pleased with it. The 1-click designs installation lets you integrate the most beautiful e-commerce designs in seconds. We can say no other theme offers such a good quality of serving for web shops. Read my review for this theme by clicking the button below or go straight to their site where you will find much more information.
This link gives you today 20% off on the Divi Theme!