The fastest loading Wordpress themes - The top 3 for 2020

In the past few years, the number of WordPress users has grown tremendously. Not only regular freelancers and bloggers, but even established companies leave no stone unturned to reap the benefits of WordPress. All these users have one thing in common and that is that they want a super fast loading WordPress theme for their websites. Here we compare the three fastest loading Wordpress themes of 2020.
FREE WP THEMES WITH PRO VERSION
These 3 themes are free to download on Wordpress.org but have a PRO version that really brings the themes to life. These themes are not only super fast but are also of extremely high quality, because of that these themes have already been installed on millions of websites. You already understand that these themes are incredibly popular, all 3.
They have all three personal top features, but we are really only looking for the fastest Wordpress theme here. That is why I present the loading time results first, then I also give you a complete report of each theme separately. I treat them one by one in the order of Astra, Generatepress, OceanWP. It should be clear that this does not indicate which theme would be better, this is a random order.
Generatepress speedtests



Astra speedtests



OceanWP speedtests


WHICH THEME LOADS FASTEST?
I ran 3 tests at Pingdom, GtMetrix and Google respectively for all 3 themes. The above results of the speed tests for the 3 themes speak for themselves. Astra is practically as fast as Generatepress but loses the net, OceanWP is competing against the two, although that is also a very fast theme.
Of course this is only a single test and when I once tested Astra vs Generatepress, Astra came out just a little bit faster. Tests are not always the same. It is clear that Astra and Generatepress do not miss each other much and OceanWP loads a bit slower. Themes also react differently when plugins are installed, anyway with regard to cache plugins which makes everything a lot faster. The order of the themes will most likely remain the same in terms of load speed. In this test, Generatepress was the fastest loading Wordpress theme and we have to recognize as the winner of this research.
If you intend to use one of these 3 themes, it is wise to read on and see what one can do with these 3 themes before you make a choice that is based on loading time only.

After our search for the fastest loading Wordpress theme we now start with Astra to see what else the themes are capable of. These three themes are not only built on speed, but each is also specialized in using Woocommerce to build a shop with it, for example, especially OceanWP, which is its strongest point.
All three themes come standard without a page builder, but the themes are prepared for all top page builders. It is advisable to install one of the following page builder plugins in order to work flexibly and quickly and to have more options: Divi Builder, Elementor, BeaverBuilder or Thrive Architect.
ASTRA PRO PREMIUM WP-THEME
The Astra Theme has now been installed on more than 700,000 websites. The price of Astra PRO is $ 59, a very reasonable amount for such a good theme. While installing the theme, we notice how easy this is with the demo installation. We do a few speed tests and see that the theme loads really fast in our browser, even with a large number of modules activated.
The theme easily wins the race for the best rating for Wordpress themes, which of course catches the eye. Everyone is clearly full of praise for this theme and nobody is negative. Check out the image below, 3537 rating and just a few negative ones (that must be haters). Everything else practically 5-stars. It must be said that Generatepress and OceanWP have an almost equal rating as Astra, also very high.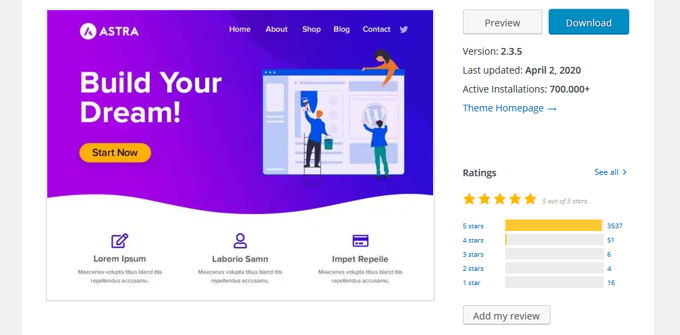 Download here the free version of Astra. The free version can do much less but is just as fast. In case you just want to build a simple site this just might be enough for you and not spend any money.
ASTRA IMPORTING DEMOS

With Astra you don't have to start building your site from scratch. Take a head start by installing a demo. The easiest way to do this is by downloading this plug-in. You can now install the demos via your backend. It is also possible to get the demos directly via the Astra website by going to this page.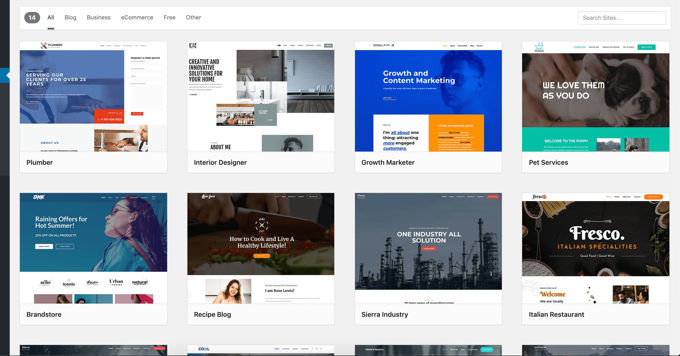 There are several demos for all niches and there are hundreds in total. Not that Astra is unique in this, Generatepress and other premium themes also let you have such numbers of demos with a theme like Soledad theme with 5000+ demos as an outlier. It is known that the Elementor page builder goes perfectly with Astra, probably recommended if you are going to integrate a page builder.
ASTRA PRO MODULES AND SETTINGS
We have glued the 2 images below together because of their width. On the left you see the module list found in the PRO version. With Astra you can choose which modules are active, the rest is out so that your pages have a minimum of code.
On the right you see the settings as you find them in the margins of your pages and posts. You can determine exactly how it is styled per page and post.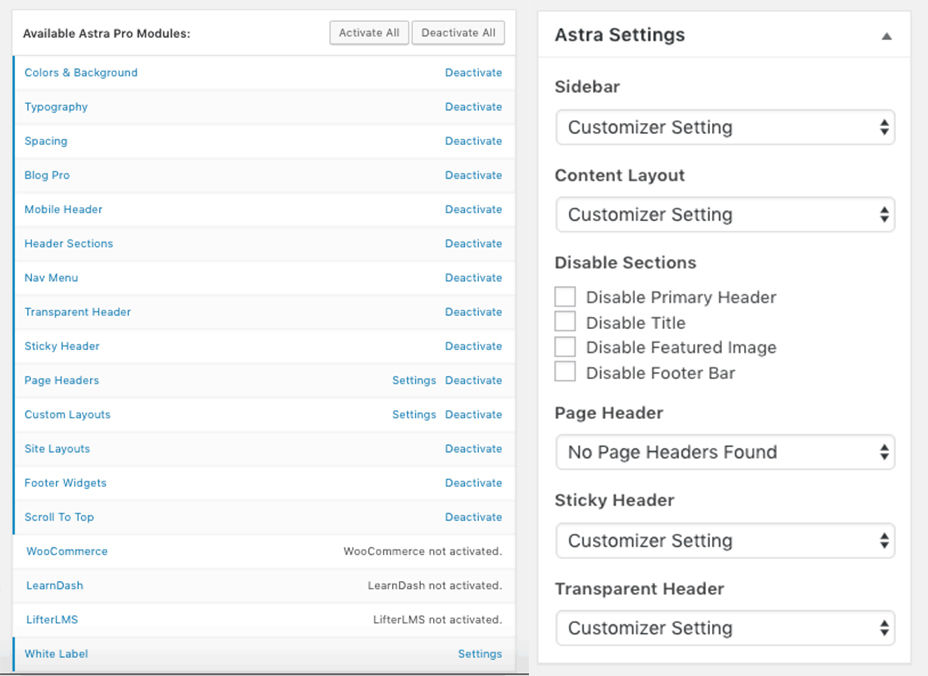 WOOCOMMERCE SHOP IN ASTRA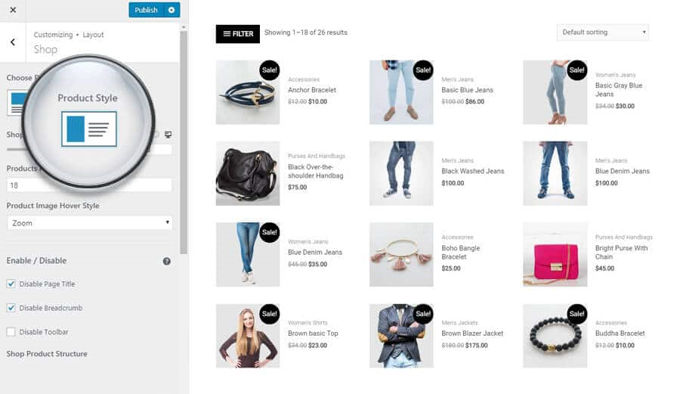 Creating a webshop is very easy with Astra and it all looks great too. No wonder because Astra was built with this purpose in mind, among other things. We use Woocommerce for our shop because Astra is set up for that. The free version offers you a menu in the standard WP-Customizer for the Woocommerce settings. Documentation here. In the PRO version you will find extra settings in the module panel for optimal styling. Documentation here.
ASTRA THEME REVIEW COMPLETION
In this Generatepress vs Astra review we do not want to bore you with all the small details about both these themes. You can find further information in all scents and colors on their own website, of course.
Our opinion of the Astra PRO Theme is so far that the price is more than correct and the layout is beautiful. Without a page builder it is not a good idea, it works too slow and there are significantly fewer options. So choose one of the elite page builders to integrate into the theme. Based on our article about the best WP page builder you can quickly determine which is most suitable for you.
Explore Astra theme

Well, that was Astra, in our search for the fastest Wordpress theme we now continue with Generatepress Premium. Generatepress is a theme that was specially built to load fast in a browser and it does. Generatepress has practically the same properties as a theme as Astra, the two look are as two drops of water similar. The Generatepress code is compressed only 15kb, so very small.
De Generatepress free version can be downloaded here but is of course incomplete. So we are talking about the premium version even if we do not always say this. This comes in the form of premium plugins and a library full of 1-click demo websites just like Astra.
Generatepress Speedtests
You have already seen the speed tests at the top of this article if all is well. There we were looking for the fastest Wordpress theme for 2020 and Generatepress won that competition.
Make generation press even faster?
Generatepress itself recommends the free plugin Autoptimize which was downloaded more than a million times. Autoptimize allows you to combine and shrink HTML, CSS and JS. It also makes an external file available to the browser with the new code so that browsers can cache it. If you want to know how to set up this plugin perfectly for Generationpress, check the info for that right here. You can also install this great cache plugin for Astra and OceanWP with practically the same result by the way.
Generatepress Webshops
Generatepress Premium gives you total control over the popular shop plugin Woocommerce. Pictures speak 100 words fast, watch the video quickly that only takes 2 minutes about Woocommerce adjustments.
Generatepress review Design
The Generatepress design is simple but very beautiful at the same time. Simplicity is the new fashion, people no longer like too much fuss nowadays. Websites should load quickly, look decent on all devices, and everything should work fine. If you were looking for a theme with such features, Generatepress is definitely for you.
Generatepress review Demo designs
Most non-professional people and also some pros like to start a website through a headstart. This can be done by loading a demo website into your theme. Once loaded, it is your job to use the editor to put in your own logo, adjust the images and texts. This way you can quickly create your own design. The image below quickly shows some of these designs, those for Elementor. Those for "without editor", BeaverBuilder et cetera can be quickly found on their own site under the tab "Site library" in the menu.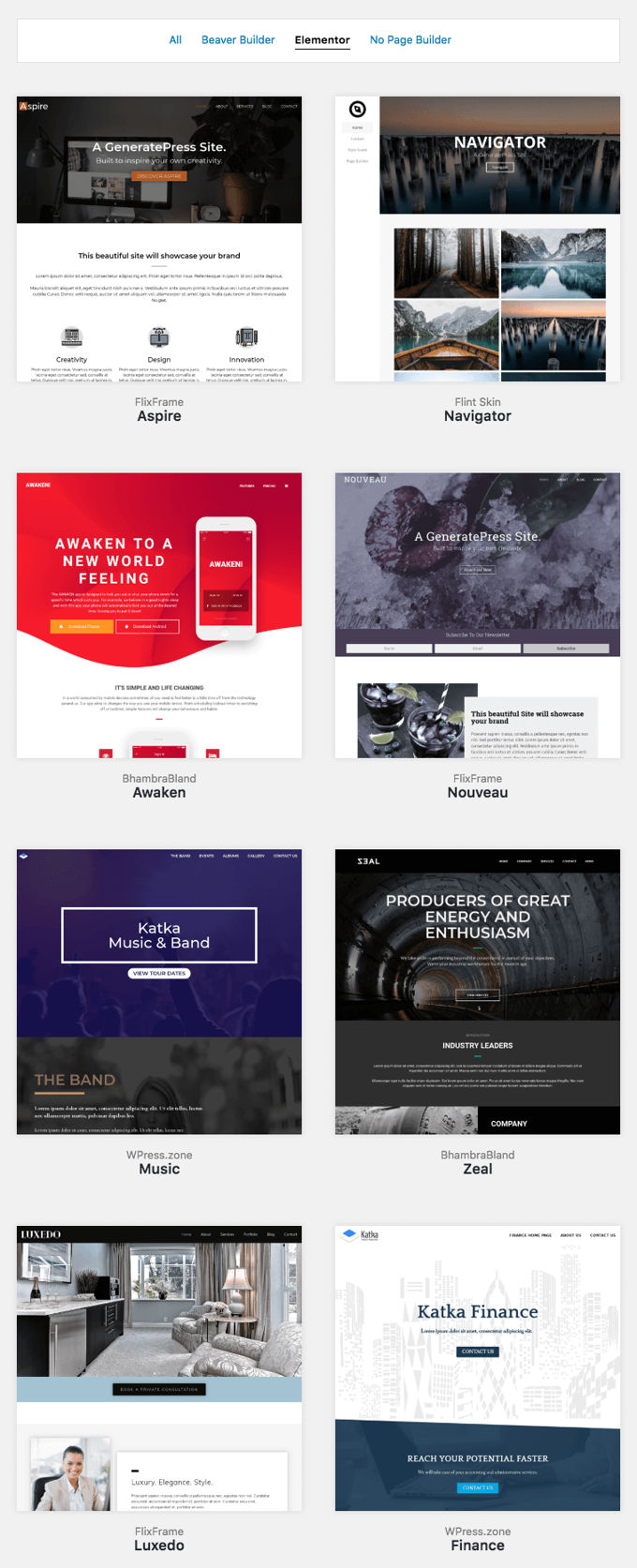 Generatepress page builders

As a writer of this Generatepress theme review, I definitely recommend working with one of the top page builders. We are talking about Divibuilder, Elementor, Thrive Architect and BeaverBuilder. Personally, I hate the Gutenberg editor anyway, the former WP editor was much better, which can be seen from the millions of plugin downloads from this classic editor.
Schema Markup
Generatepress has Schema Markup built in. You can use this to add microdata to your HTML or let your theme do this for you automatically. This extra information is liked by Google and therefore Google will present your pages in the search results in a better way. Astra PRO, the biggest competitor of Generatepress, also has a plug-in for it named Schema PRO.
Generatepress review Video
If you want to know how easily and quickly you can adjust your site yourself with Generatepress, watch the short video below as quickly (takes 3 minutes).
Generatepress Premium pricing
For $ 50 you get access to all the plugins and demos that you can install on as many sites as you want. This is the price for a year. Each subsequent year you will get a 40% discount on the price, something few themes offer (Astra gives 20% discount).
Generatepress Review conclusion
Generatepress is very well constructed, installs easily, the same goes for the demos. It loads really fast and is very clear in terms of control panel and operation. The Premium version offers ample modules to be able to work well while building your layout. If you prefer a theme that loads a little slower but where you really don't miss out on options and settings, I recommend you the Divi Theme.
Explore Generatepress theme

That was Generatepress, in our search for the fastest Wordpress theme we now continue with Ocean-WP. The OceanWP Theme has been installed on 600,000+ Wordpress websites and downloaded 2.5 million times. Those are numbers that will stand out. Why is this theme so popular? When looking at OceanWP's rating, it is immediately noticeable that it is also very high. The rating that can be practically rounded to 5/5 as shown in the picture below is of the quality of that of Astra and Generatepress which are also OceanWP's closest competitors.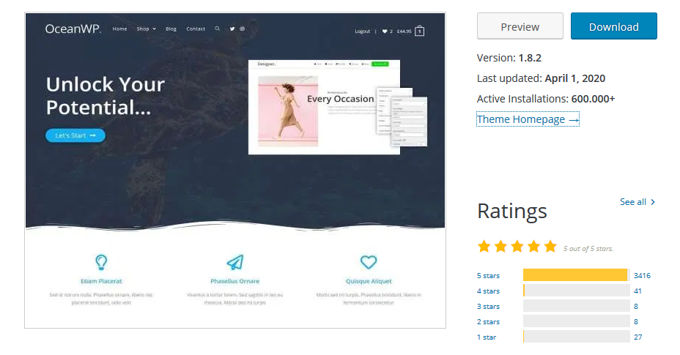 OceanWP: Strengths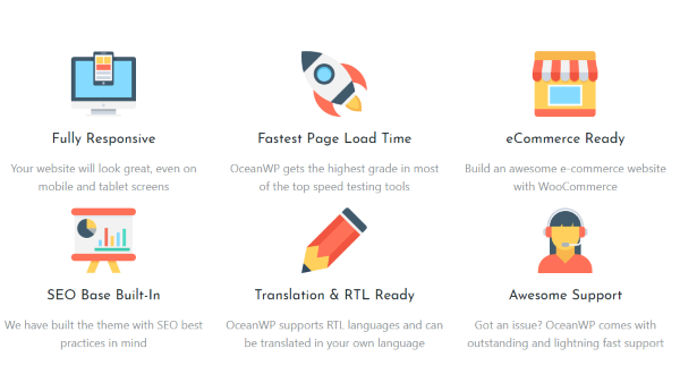 OceanWP Theme review: Speed

The main difference between OceanWP and the 2 aforementioned closest competitors is that OceanWP has put the emphasis more on top design (especially for web shops) and Astra and Generatepress on speed. OceanWP is also built on speed but not as forced as the other 2. The image above shows that OceanWP scores 98%, ie of 100 sites, 2 were faster than OceanWP. It is important to consider for yourself what is more important. A site that loads everything within a second can of course be called top fast and speed is one of the good features of OceanWP which makes it so popular.

OceanWP: Beautiful design
So the design is something that has been given more than enough attention by the OceanWP team and it shows. The theme shows a beautiful design on all devices and the demo websites offered are of very high quality. See photo below.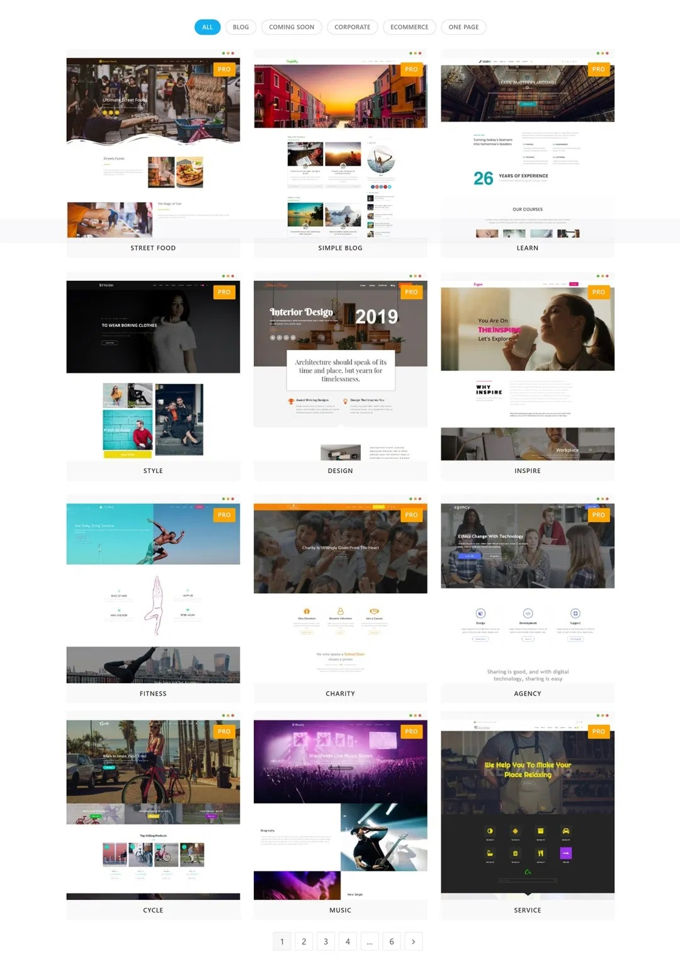 And for Woocommerce...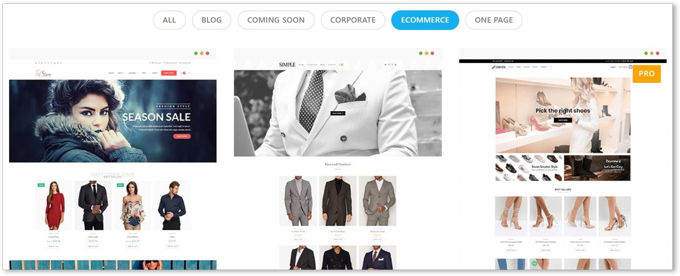 OceanWP: Woocommerce extensions
The OceanWP theme has also been perfected on Woocommerce, the most popular webshop system in the world for Wordpress. Not only for customization of its design, but it offers a host of conversion enhancing gadgets. For example the so-called native cart pop-up. After you put an item in your basket, a pop-up will appear to encourage you to pay. This alone would bring about 8% more conversion. There are a number of Woocommerce modules that you can view on their own site.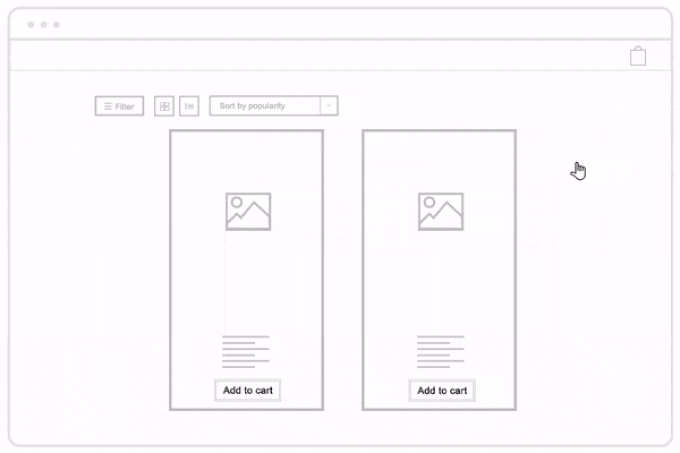 To be fair, we have to admit in this review for OceanWP that the theme is one of the best for creating webshops. If you want to have a perfectly working shop that looks fantastic, OceanWP is your theme.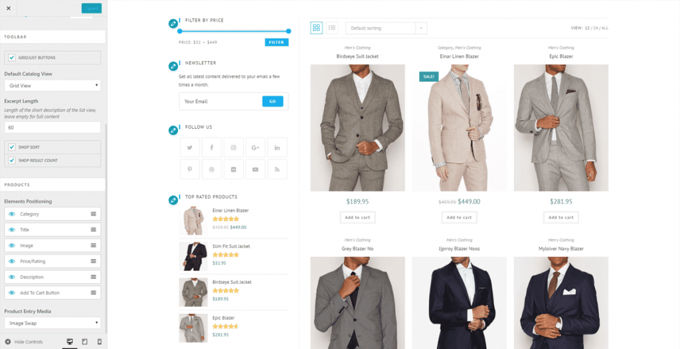 OceanWP: Core extensions
The premium version offers access to all core extensions (see photo below). The possibility to build a full screen site with scroll, the practically mandatory cookie notification, a customizable pop-up login, the removal of the OceanWP label in the footer, beautiful portfolios, the aforementioned Woocommerce extensions, a sticky footer , and hooks (more for professional builders).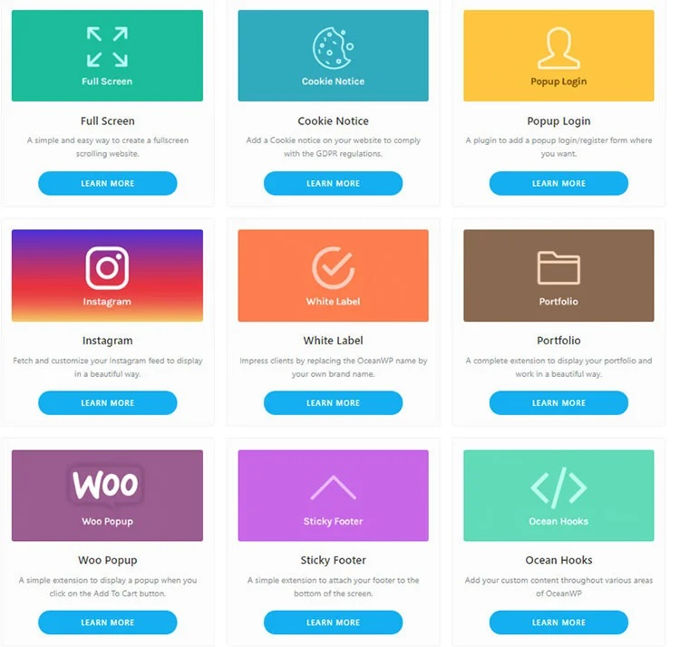 OceanWP review: Video
In the video below from OceanWP itself, you will quickly be made aware of the benefits of the OceanWP theme. The video only lasts 48 seconds.
OceanWP: Pricing
The regular "to-go" premium price is $ 59. Especially if you are going to use the theme for a shop, this is a very good price. There are practically no better themes for building web shops. Now during the quarantine you get the premium version for $ 31 already.

OceanWP theme review: Conclusion
You have come to the end of our OceanWP theme review. In the first place thanks for reading the complete article. My conclusion is that OceanWP is a fantastic theme that is definitely worth the money. The theme is perfect for web shops, has a great design, is easy to operate and loads very quickly. That's basically all a good theme needs. It just lacks a good page builder to finish it.
OceanWP works perfectly with Elementor, but also with one of the following elite page builders: Divi Builder, BeaverBuilder and Thrive Architect.
Visit OceanWP theme
FASTEST WORDPRESS THEME FINAL CONCLUSION
After reviewing each theme separately, we gave our opinion about it. All 3 themes are great and lightning fast. Astra and Generatepress are the fastest loading but OceanWP is certainly better to have if you are going to build a shop and is also very fast. The 3 themes are suitable for beginners and pros and can do practically everything. We are talking about the pro versions of course, the free versions are quite limited. The prices of all these themes are very reasonable. I hope my article helps you make the right choice.