Woodmart Theme Review for [2023] 💥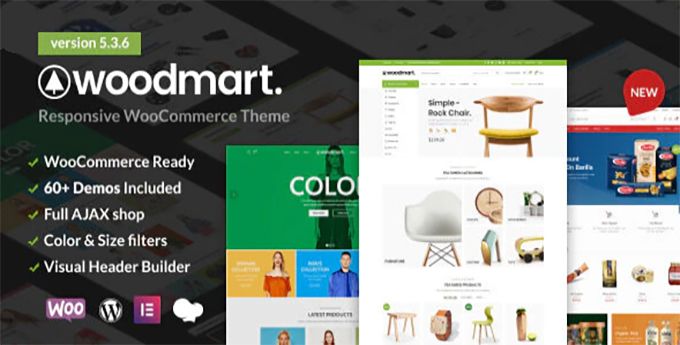 Woodmart is zipping up the ranks as a top Woocommerce theme, and it's easy to see why. This theme is a bit of a jack-of-all-trades, offering a bunch of special qualities. And guess what? It's now besties with the most popular page builder around, Elementor. Don't let the name fool you – it's not just about wood. Whether you're selling moon rocks or marshmallows, this theme can handle it. Specially crafted for building webshops, Woodmart seems ready to knock our socks off!
Advertisement

WOODMART RATING
Now, take a peek below at the applause Woodmart is getting from its buyers. And let me tell you, scoring a 4.95 is like finding a unicorn in the wild – it's a rare sight in the Themeforest Marketplace. Woodmart's basking in some serious love from its users!


WOODMART INSTALLATION AND DEMOS
Installing Woodmart is a breeze. Keep in mind, it's a VIP-only theme – no free version here, folks. So, after you've snagged it, just whisk it into your Wordpress site using the standard theme installer.
Pro tip: Dive into one of their many ready-to-go designs. Woodmart is like the wardrobe of web shops, offering about 60 snazzy designs for every niche imaginable – furniture, tools, clothing, you name it. And below, you'll see just how easy it is to play around with the color combos in the layout, like a digital Picasso!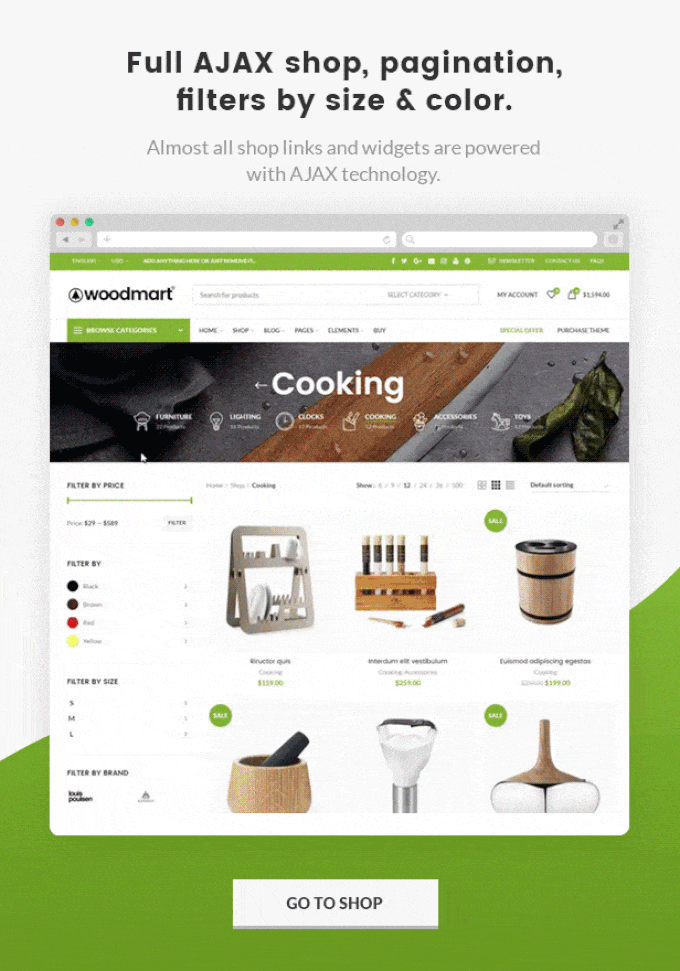 Woodmart rolls out the red carpet with the Bakery Pagebuilder as standard, but hold your horses – since version 5.0, it's fully compatible with Elementor. That's a game-changer! Elementor is like the rock star of page builders, especially the pro version. It's like Woodmart just got an upgrade to first class.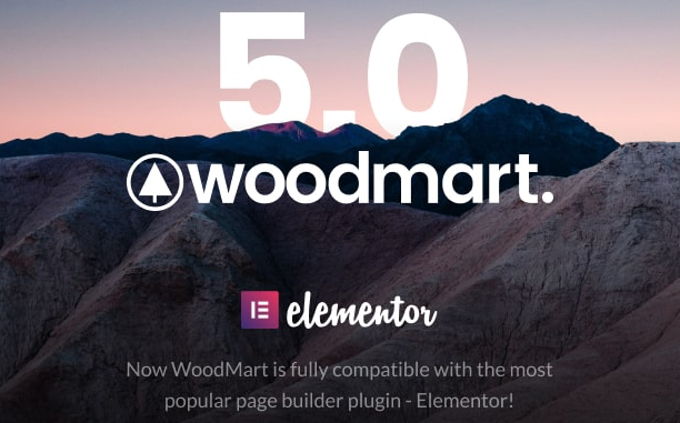 WOODMART SPEEDTEST
Let's put Woodmart to the test – a speed test, that is, under pretty optimal conditions. We're talking cache plug-in activated, images optimized, the whole nine yards. Now, Woodmart doesn't strut around claiming to be a speed demon, but hey, the proof is in the pudding. Or in this case, the proof is in the image below showing some pretty impressive results.
with optimized images and cache plugin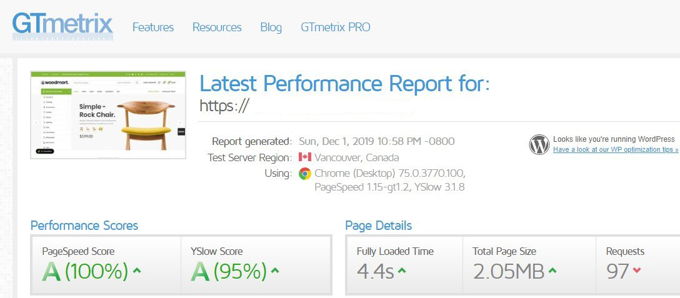 WOODMART HEADER BUILDER
With Woodmart, styling is like having a magic wand – advanced options, multiple HTML elements in the headers, you name it. And if that's not enough, it's got ten standard header styles that can be switched up with just one click. It's like playing dress-up with your website, and Woodmart is your digital closet full of options!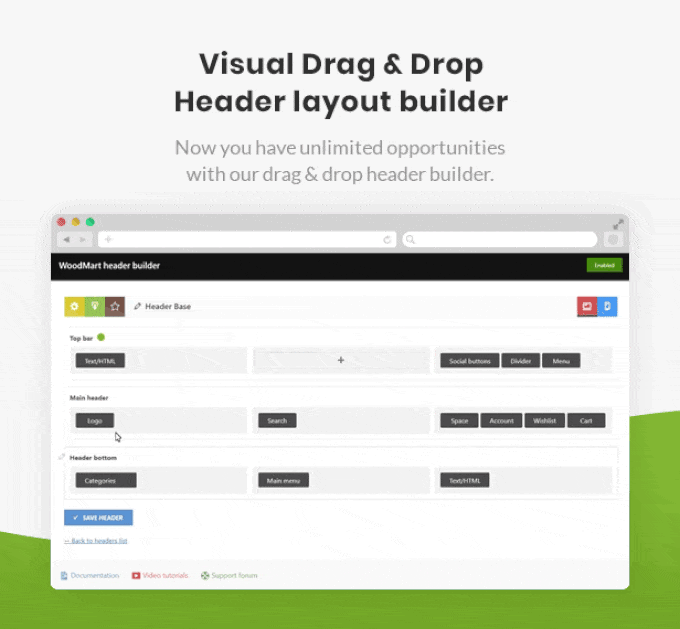 WOODMART HEADER EXAMPLES
Take a look below to see how effortlessly Woodmart lets you tweak the header. The choices are vast – and that's just the standard options, without even diving into custom adjustments. It's like having a smorgasbord of header styles at your fingertips!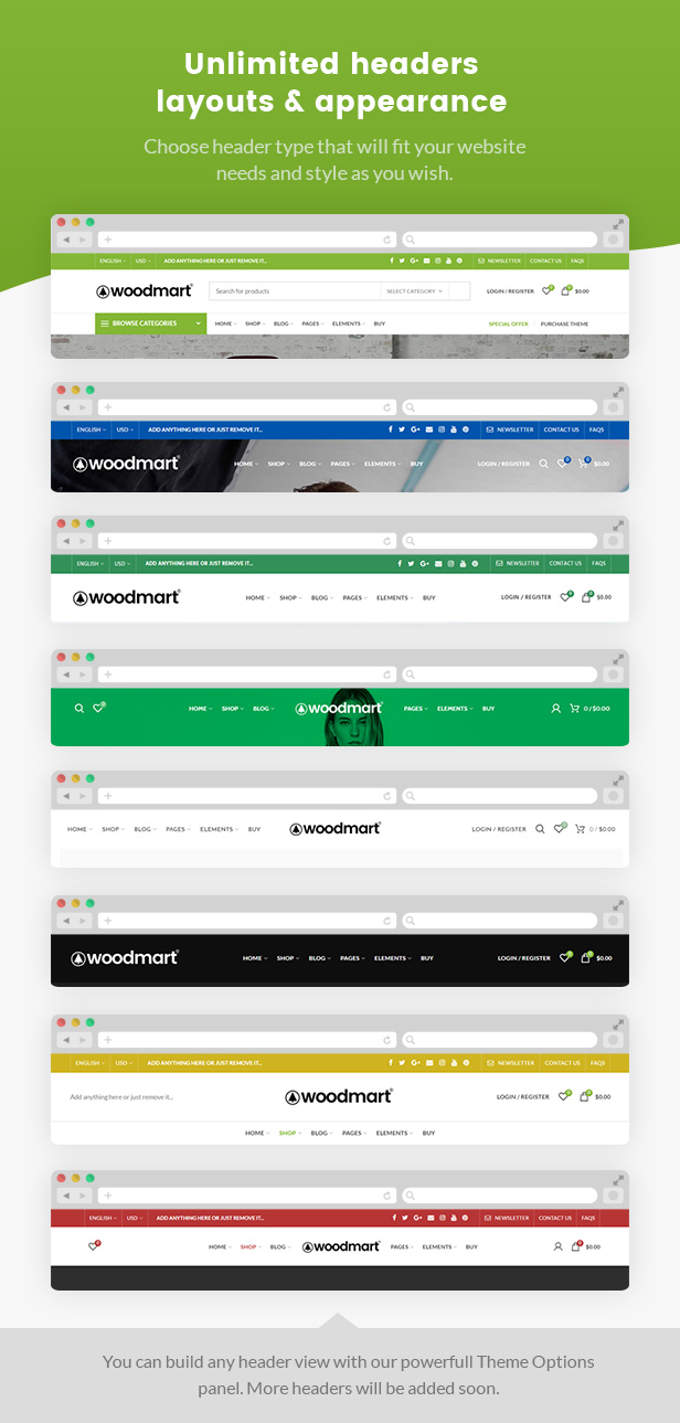 WOODMART THEME REVIEW MEGA-MENU
Usually, crafting a beautiful mega-menu can cost a pretty penny with expensive plug-ins. But with Woodmart, you can keep your wallet snug in your pocket. This theme comes with a built-in mega menu that's nothing short of spectacular, as you can see below. It's like getting a gourmet meal without the gourmet price tag!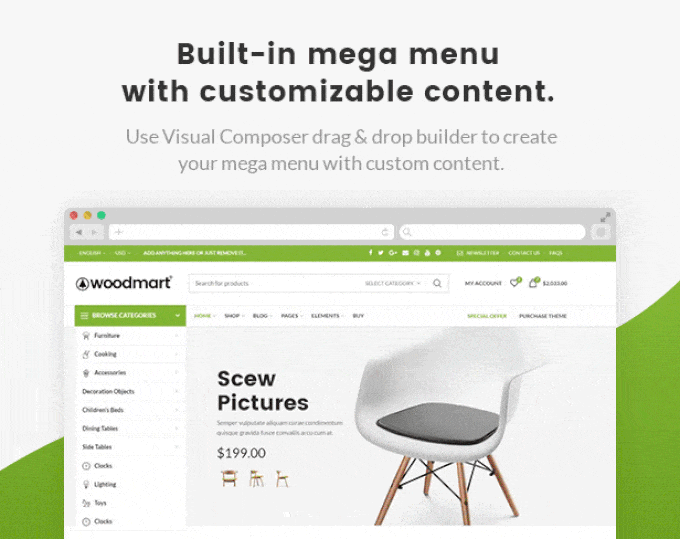 WOODMART QUICK SHOPPING
In the world of top-notch shopping themes, brimming with all the must-haves of a top Woocommerce theme, Woodmart stands tall. It belongs to this elite class and offers speedy shopping features for your webshop as standard – it's like having a Formula 1 car in the race of online retail!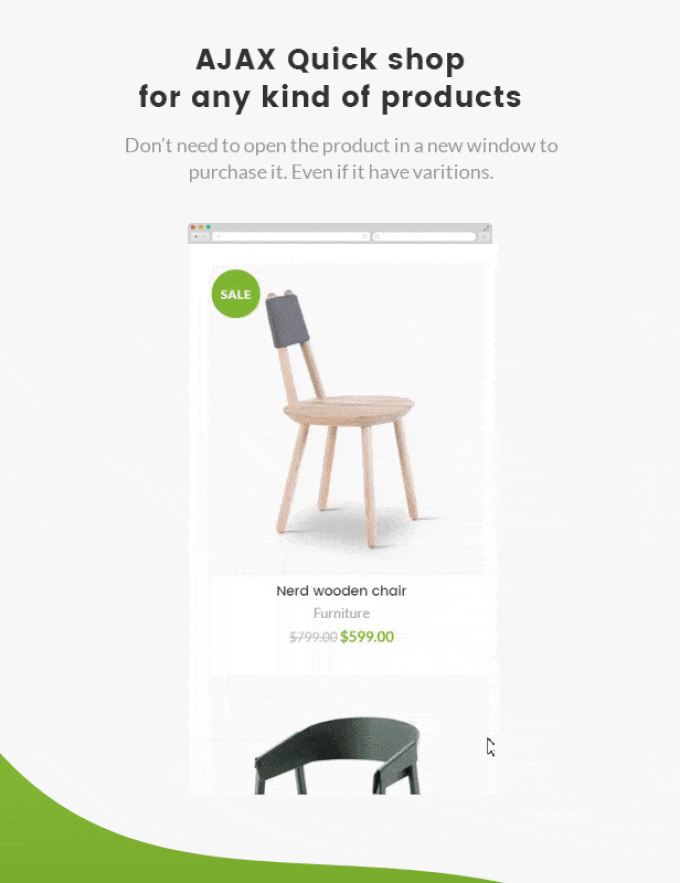 WOODMART THEME REVIEW: PRICING
Woodmart keeps it simple with just one price tag – $59 for each unique theme installation. So, if you've got a fleet of ten websites, sure, you can deck them all out in Woodmart style, but it'll set you back a cool $590. Now, if you're in the market for just one top-notch webshop theme, this price is a sweet deal.
But if you're planning to spread the Woodmart love across two or more websites, other themes might offer more bang for your buck. Some might even outshine Woodmart. Curious about the best webshop themes for [2023]? Check them out here.
WOODMART THEME REVIEW: CONCLUSION
First of all, thank you for reading my Woodmart theme review to the end. There is nothing bad to say about this theme. This is one of the best themes there is to build web shops and it is rising in the rankings and it is better with every upgrade. It works perfectly with the Elementor pagebuilder since the last version and that's great too. Yet it is true that, as I indicated in the chapter for the price above, there is boss above boss. The perfect theme for shops & websites is Divi and Astra is a very close second. These themes can be installed on multiple sites and the Divi Theme for example costs only $ 89, and comes with the Divibuilder full version! Woodmart comes with Elementor, but that's the free version we're talking about then.
Visit Woodmart
Advertisement