Divi Theme review for 2020, is Divi worth the money?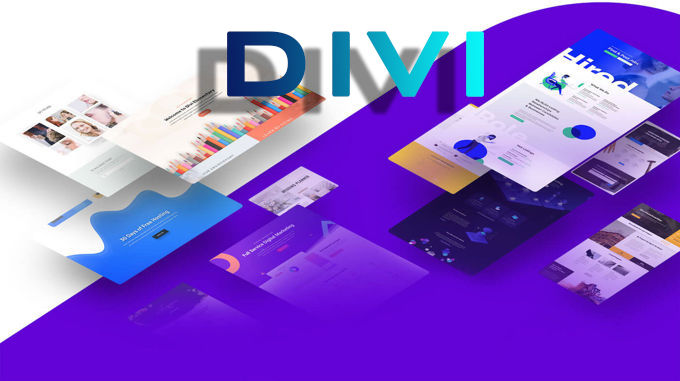 Sold 650.000 times!
The most popular multipurpose WordPress theme under review!
Divi, van Elegant Themes is amazingly popular with web designers, bloggers, people with little web experience and companies. In short, everyone can handle it well, and web designers use it to be able to build a website at lightning speed that also looks good.
What Divi does in 2020 is replacing the standard page editor with a whole new platform, where you make your adjustments through a perfect front-end page builder. The Divi Builder as it is called, is so popular that it can be installed separately as a plug-in in other themes.
Test the Divi Builder
Divi review
Divi is the prominent theme of Elegant Themes par excellence the most popular WordPress page builder in the web design industry.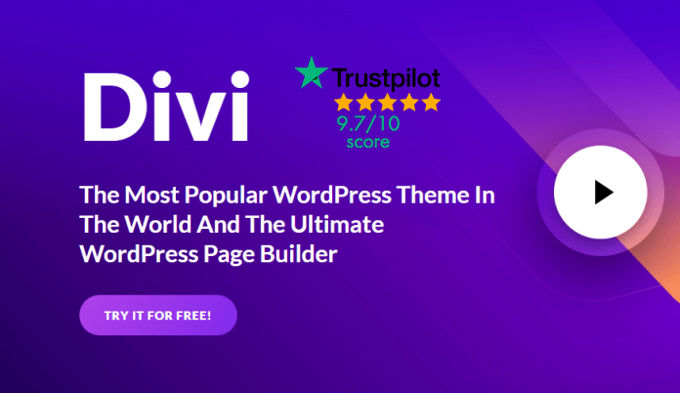 The theme has been around since 2013 and has increased in popularity over the years because it has been constantly improved. This has accelerated in recent years, certainly after the integration of the Divi-builder. This is a page builder that works in the front end that no other page builder can measure up to.
What are the most important features of the Divi Theme?
The number of functions that Divi has to offer has also increased considerably. Today, this theme is so versatile that it can be used to create shops, portfolios, photo presentations, and corporate websites. No matter what kind of project you have in mind, with Divi you will be ready quickly and you will not get a headache from looking at how everything works.
The Divi Drag & Drop Visual Page Builder
Click here or in the image below to go to a page of the builder where you will find 8 tiny videos that make it easy to see how people work with Divibuilder when you scroll down a little. My 8 red arrows indicate where the 8 videos are located.

So you no longer work in the back-end and always look on the site itself for what you have built, but you see "live" in your adjustments what the new result is. This way of working is quite a revelation.
The page builder uses a drag & drop system with which you can place and drag all items. If you have saved something that you are not satisfied with, Divi has a 1-click system that returns you to what it was before. I personally do not know any theme what this has, one should normally use the standard Wordpress history for this.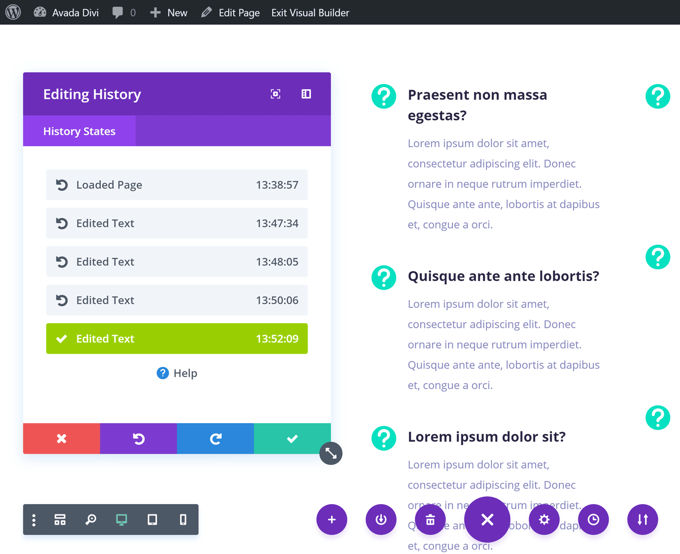 Creating custom layouts for posts and creating pages with Divibuilder is done in a jiffy both via front and back end. You can create as many rows and columns as you want and they will fill the contents of the 46 standard modules or shortcodes of installed third-party plug-ins.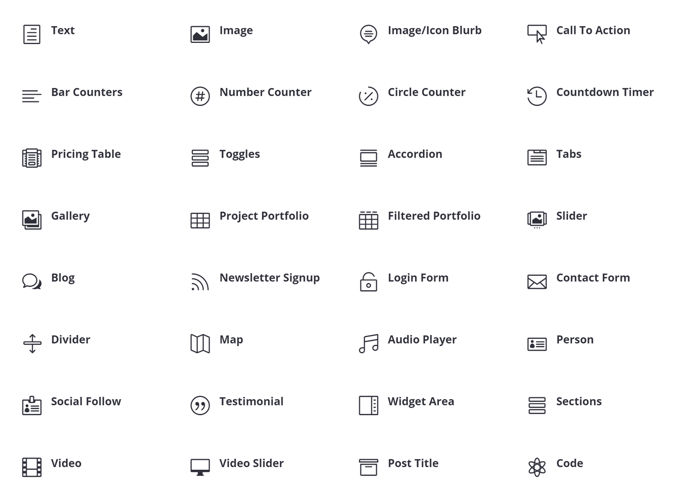 The 46 standard modules mentioned are, however, very extensive. They are not only simple functions, but you will find practically everything that suits you, such as testimonials, portfolios, tables, and so on. A large number of these modules cannot be found in other themes and plug-ins should be installed for such functionality.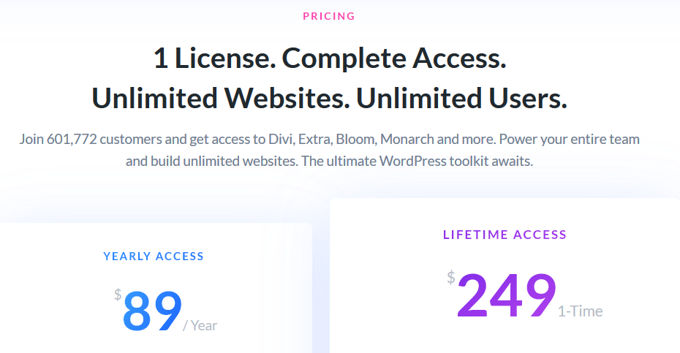 Just like most premium themes, the option is already built in to add your own CSS and Javascript to your design.
Ready-made demos and page layouts
Thanks to this you can use one of the pre-built website packages or mix and match the individual page layouts to create your own customized website. Of course, creating your own unique website design is also possible from the ground up. Use the demos and page layouts to set up your website structure in no time. From there you will fine-tune everything. In this way you build your own complete design with the Divi Theme.

The Divibuilder edits the demo layouts that you have chosen for your pages, in principle you have unlimited control to be able to adjust everything. You can save sections or entire pages for use on other pages or as a form of backup.
Ready-made homepage layouts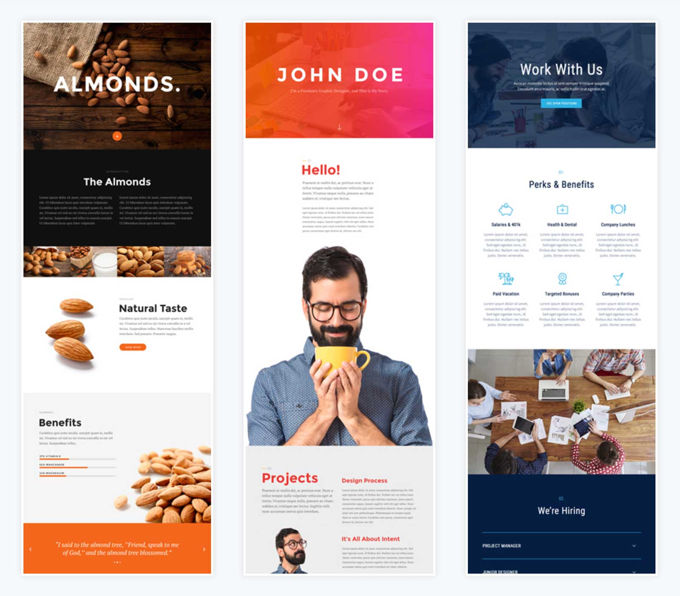 The Divi theme also has many different portfolio layouts with which you can easily and beautifully present your work online.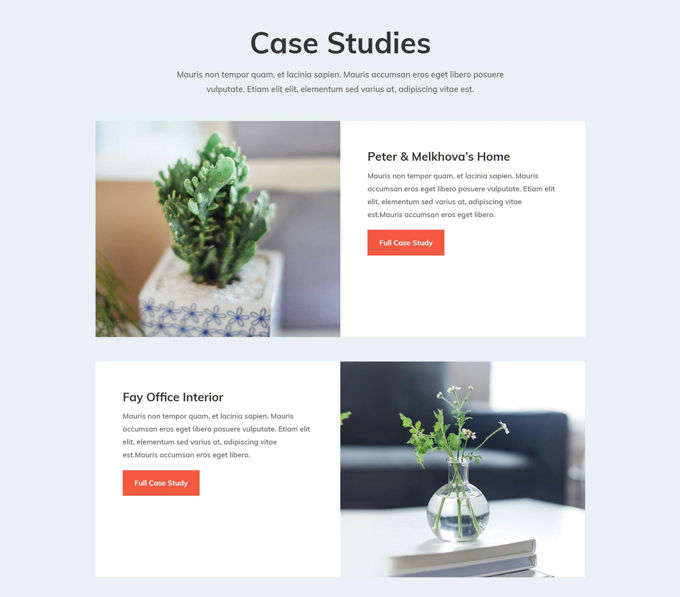 The large selection of internet layout for pages is particularly easy for creating a business or private website.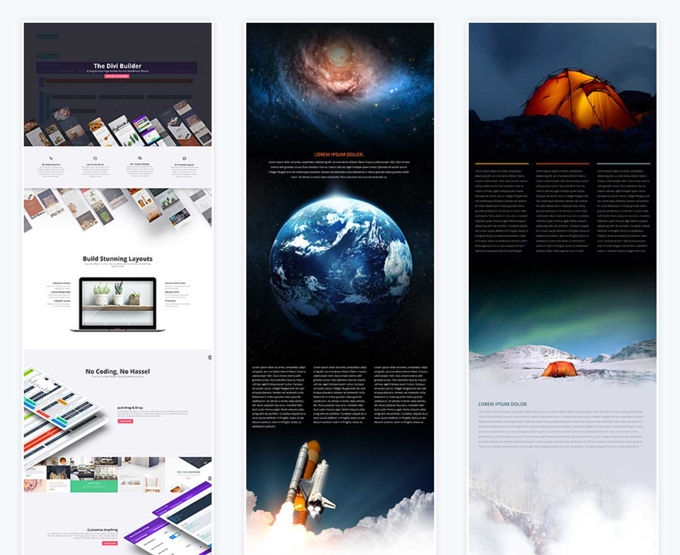 The Elegant Themes blog always announces when new layout packages have been released. Good to tell you right away is that the photos and other illustrations on Elegant Themes are made by themselves and you can use them on your website without needing a license. This also applies to websites for commercial projects.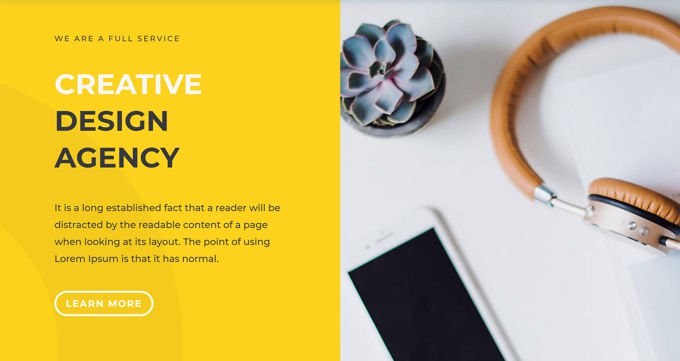 Years ago it was often said about Divi to have no ready-made website designs, which was also the case in contrast to a number of top themes that already had this. But Divi has more than made up for it and nowadays offers a nice selection of these that are also of high quality. Knowing elegant themes there will also be more and more.
Divi leads split test tool
In this Divi Theme review, we should definitely talk about the Divi Leads introduced in version 2.7. A spike test tool that allows you to create different versions of a page. All visitors see a different version and Divi tells you which page was the most successful.

Thanks to Divi Leads you can achieve an ever higher conversion rate and the optimization of your pages has become so much easier. I don't know of any other theme that has a split test tool built in. The times of guessing what the best layout is are over. You are now presented with solid evidence.
<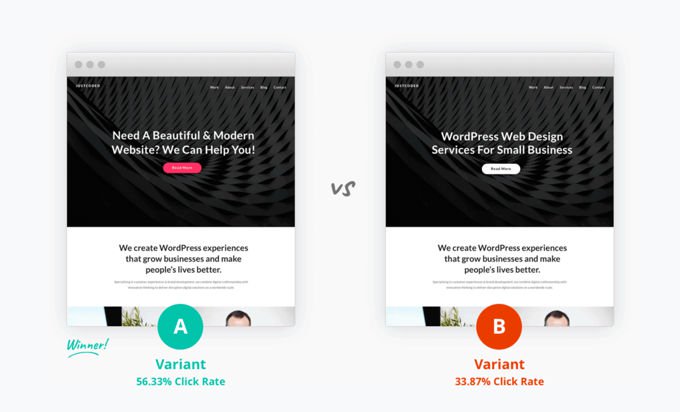 You can make multiple versions of each element in your Divi-builder. Then you set your goal and wait quietly for a while until you have enough results to decide which is the best version. This will then show you to all visitors from now on.
Theme options
Via the options panel in the Divi Theme you can adjust practically everything in your website with regard to design. Manage advertisements, set up social media, navigation, menus and much more. Well, this has every top theme but we must mention it anyway and it must be said at Divi everything is very well-arranged.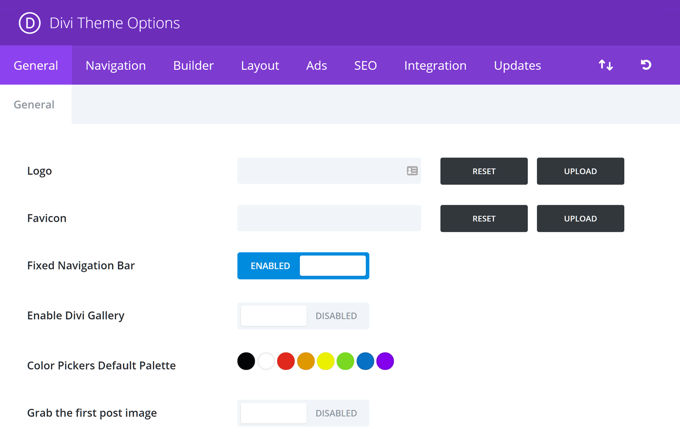 Additional options can be found via the standard Wordpress Customizer where many more settings can be found such as font options, layout settings, footer & header settings, button styles, and the colors of everything. All this helps you to design your own corporate identity.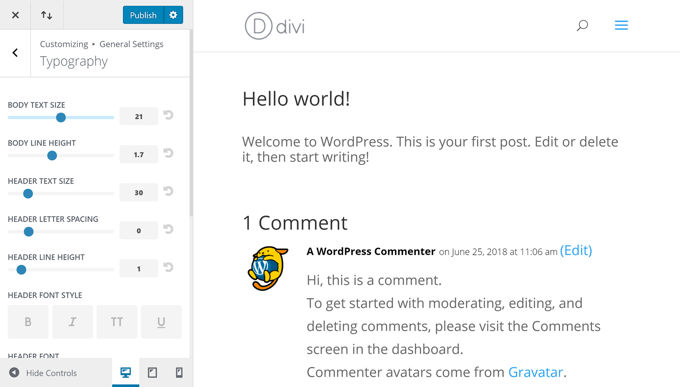 While making adjustments via the Customizer, you will see a live preview of your website on the right.
Transferability between websites
A huge plus that Divi offers is the ease with which you can integrate or copy settings and layouts between the various websites created with the Divi Theme. This is particularly useful for web designers who build sites for multiple customers and have preferred settings. This function provides a real headstart and is therefore very time-saving.
Divi Theme prices
For $ 89 you become a member of Elegant Themes and this means that you can use all their products unlimited with unlimited support for the duration of one year. So that is the Divi Theme and the fantastic Extra Theme, which specialized in particular for blogs and shops. You also have access to all premium plug-ins from Elegant Themes.
For $ 249 you have the same but not for a year but for life, a great deal! About 200 euros for the best theme that actually never needs another theme, saves a lot of money in the long run.
With the 30-day money-back guarantee you can't do much. If you do not like Divi, you can get your money back. I do not think that many people will use this because the theme is really nothing to criticize.
Compatible with WPML

Ready for translation with WPML with which you can create multilingual websites.
Go to the Divi website!