Avada Theme review | The best Wordpress theme?

Most people who plan to make a website will come across the Avada Theme sooner or later. During the search for a great theme it is difficult not to be made aware of Avada and Divi. These two themes were sold more than 500,000 times. In this Avada review we explain the advantages and disadvantages of this striking theme. You can then determine for yourself whether it is suitable for your project.
Avada review (Premium Wordpress Theme)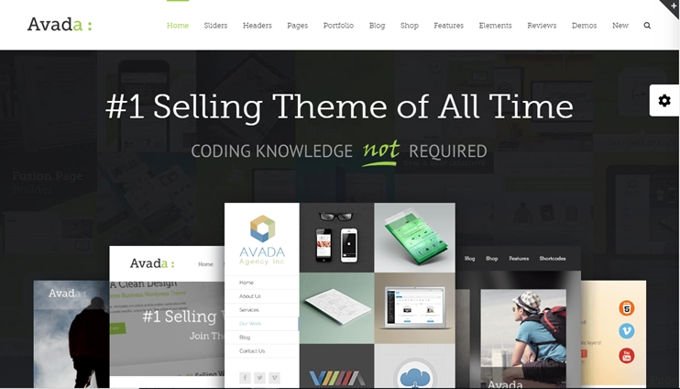 With Avada you can create any kind of website, it is extremely multifunctional. It is packed with demo websites for all possible niches. You can install this with 1 click and from there adjust everything to your corporate identity with your own texts in it. Avada is particularly easy to use due to the very good Fusion Builder, the page builder that the builders of Avada have developed themselves. If you want to create an efficient and stylish website, you will soon find that with all the premium features that Avada hosts, this is not a difficult task at all.
Hiring experts in the field of web design is completely unnecessary with Avada, you can easily install it yourself and get started right away with creating your website. The aforementioned Fusion Builder is full of wonderful features that will help you with that. With Avada you can quickly build both business and private websites, shops, and blogs.
Avada demo-websites
Avada has a demo website for practically every conceivable niche. Regardless of which sector your company is in, you will always find one or more demos that are tailored to your website.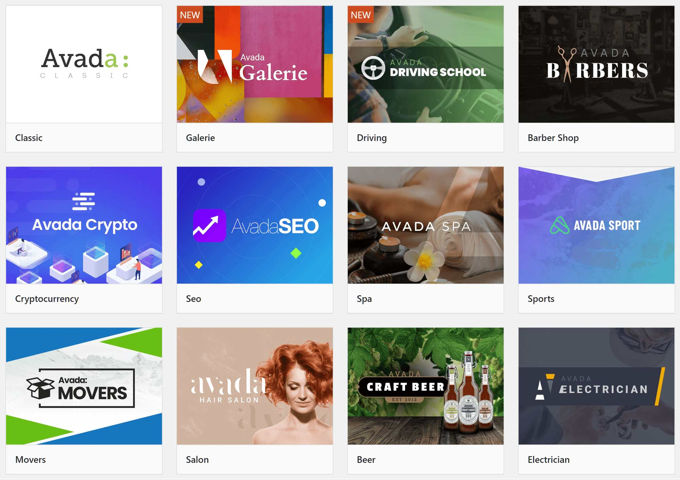 At the time of writing this review, Avada has 53 ready-made demo websites that can be installed with 1-click. These are complete demo sites, so not just a homepage, everything is covered in terms of the pages you might need. By the way, while importing a demo, you can choose whether to import the entire demo or just a portion of it. A demo can also be removed with 1-click if you suddenly want to install another demo.
The demos are so complete that in the case of a shop products are also imported, the same applies to forms, forums, and event calendars. Installing a demo makes creating a website so much easier for you. You do not have to build anything yourself, but only remove what you cannot use, and you can adjust the texts and photos of what you do use.
Adjustment Options in Avada theme
As can be expected from a premium multifunctional theme, the adaptability and flexibility of all different niches and designs is particularly high. Avada has all the options and gadgets that you might need for what kind of site. It is by no means necessary to have programming or web design knowledge.
Choose from the many demo sites and edit them
You can use both a demo and individual pages. Build exactly the site you want. Everything can be adjusted and adjusted via the personal page settings and theme options. While writing this Avada review I was also impressed by the portfolio layouts that can be used up to 6 rows wide.
Adjustment options via theme options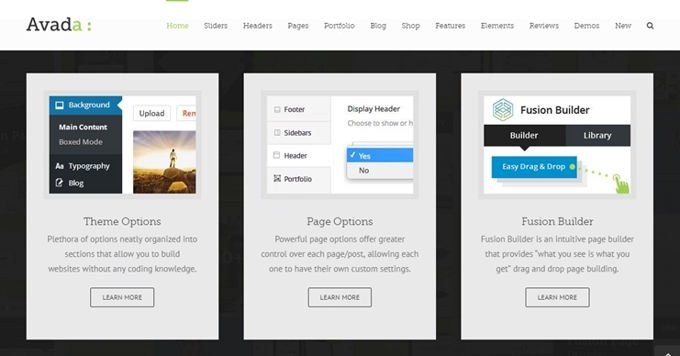 Anyone can build a website with this theme, it is perfect for the complete layman who has never created a website in his life. Practically all options are easy to understand and use without having any technical knowledge.
Fusion Builder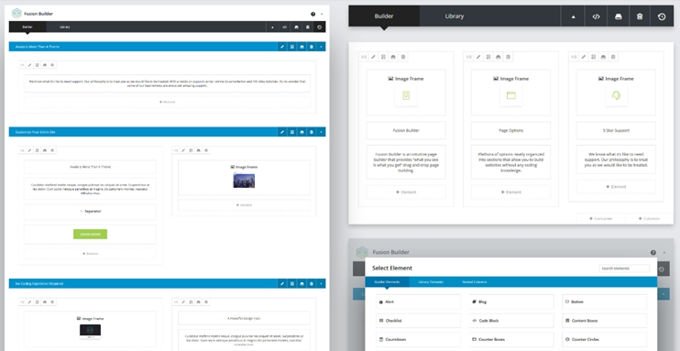 The Fusion Builder is one of the best page builders available for Wordpress with drag & drop functions. This page builder generates short codes for you and offers countless options to build your website particularly quickly and accurately.
Support and tutorials
In the detailed manual or tutorial for Avada you will find everything explained in a simple way. Perfect if you are a beginner and don't understand everything right away, but it can also be useful for the more experienced website builder to take a look at the manual of the theme. Avada is constantly being upgraded and will have more functions in the future.
Buying the theme entitles you to six months of support. A support team will advise and assist you where necessary if you send tickets with problems you encountered. The Avada support team appeared in this Avada review to be one of the better support teams we have encountered so far.
Shops and Events
Online shops are very popular at the moment and for those who are planning to support their store through an online shop, Avada may well be the perfect theme choice. The theme is completely prepared for the installation of Woocommerce, the most popular e-commerce plug-in for Wordpress. Avada offers beautiful layouts for Woocommerce, your shop will look slick.
Avada is also very suitable for creating an event website if you install the event calendar. Do you prefer to build a forum? No problem because Avada comes with bbPress, the most popular forum plug-in for Wordpress. When it comes to forms, with Avada you won't be short of anything, it offers multiple plug-ins for building forms.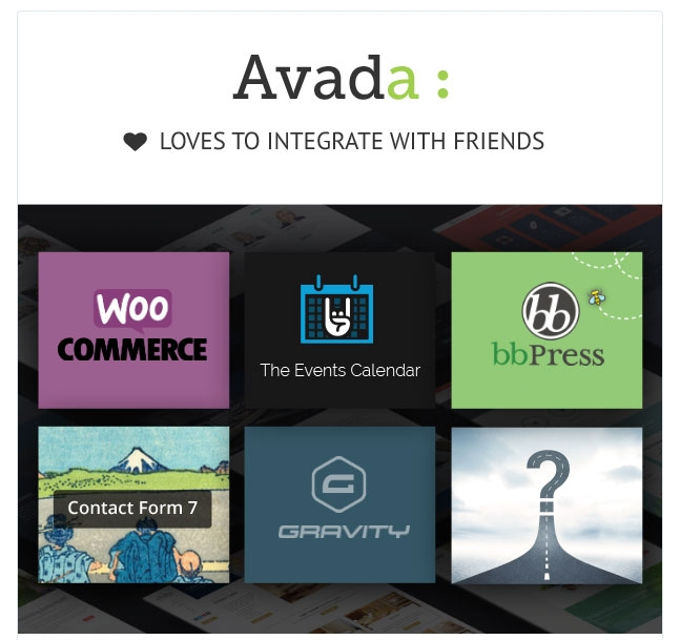 Avada is ready for RTL and WPML
Do you want to build a multilingual website? Also for this Avada gets 10 points in this Avada Theme review because it is fully prepared for the installation of WPML, also with the perfect language buttons (language switcher). WPML is by far the best and most popular professional translation plugin for Wordpress.
Do you want a website in 4 languages on 4 different domains, one for each language? And operate all of that from just 1 CMS? With WPML a simple task to make such a set-up. Also making a site with RTL orientation is not strange for Avada, it is really prepared for anything.
Fast loading time, good SEO
While designing Avada, SEO was carefully considered, which ensured that under the premium themes Avada can stay in line with the most SEO-friendly themes. Avada works perfectly with the SEO plugin Yoast, You can certainly install this to write keyword optimized pages. Both the free version and the paid version of Yoast are great.
I believe that Avada comes standard with the W3 Total cache plugin, which is unfortunately not the best in its field and can be better replaced by WP-Rocket or WP fastest Cache.
Review end and CDN + Hosting
If you want a fast-loading website so that your visitors remain captivated, it is important to use good hosting such as Hostinger. The use of a CDN also significantly increases the loading time of your website, especially if the visitor is not near where your website is hosted. The best CDN is Stackpath, your website will be loaded super fast anywhere in the world. Stackpath also puts a security network or Firewall between your website and its visitors, your website can practically never be hacked. Stackpath also has high-quality optimization options that you will not get on that standard on your own server.
Avada review Conclusion
Avada costs 60 euros, for this you practically have the best of the best of themes with half a year of top support. Hey you can't go wrong though I must honestly say I prefer the Divi theme over Avada, but I use both.
Check Avada theme
Read: Divi Theme review