WP Engine vs Kinsta Hosting Comparison [2023] 💥


WP-Engine vs Kinsta, two of my favorite Worpress hosters. These two hosting companies are in the top for the best Wordpress hosting for [2023]. We are looking for the strengths of these two hostings.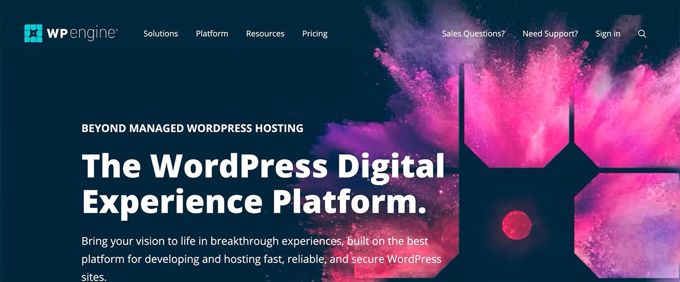 One of the best and fastest Wordpress hosters you can find.
We are not talking about just hosting, but hosting that is used by well-known large companies and demanding entrepreneurs. You pay a little more here, but that money is quickly recouped with a website that offers itself to your audience at lightning speed. In this WP-Engine hosting review I'll show you why WP-Engine is so much faster than average hosters and up to a group of elite Wordpress hosters belongs.
Advertisement

WP-ENGINE CLOUD HOSTING
WP-Engine uses standard Google Cloud servers of type N1. The following WP-Engine datacenter are hereby available to you: Iowa, South Carolina, Oregon, Montreal, Belgium, London, Frankfurt, the Netherlands, Taiwan, Tokyo, and Sydney. Advanced packages allow you to have your websites on type C2 servers (much faster for Wordpress). Advanced packages also allow the use of Amazon Web Servers (AWS) with the following datacenters available: Iowa, Virginia, Oregon, Montreal, Ireland, Singapore, Frankfurt, London, and Sydney.
Advanced Network
For new customers and customers who want to switch, there is the new advanced network available in collaboration with Cloudflare. The advantage of this network is Layer 3 & 4 DDoS Protection and the Cloudflare CDN network is automatically used. It is true that Cloudflare has a CDN with real proxy servers, so domains must have set up the Cloudflare name servers at the registrar.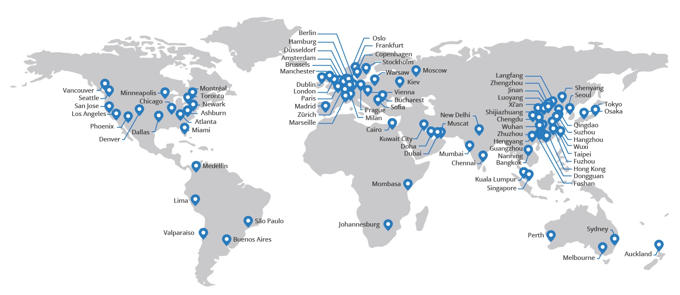 Speedtest GCP-N1 & GCP-C2
While Kinsta has all their customers on C2 VMs, at WP-Engine ot's a possibility. It must be said that WP-Engine was the first to offer this option. The difference between the older N1 and the new C2 servers is that the latter runs at 3.8 GHz instead of the usual 2.2 or 2.8 GHz. This makes everything but especially PHP and SQL work at least 40% faster. Wordpress websites that largely use PHP and SQL benefit a lot from this.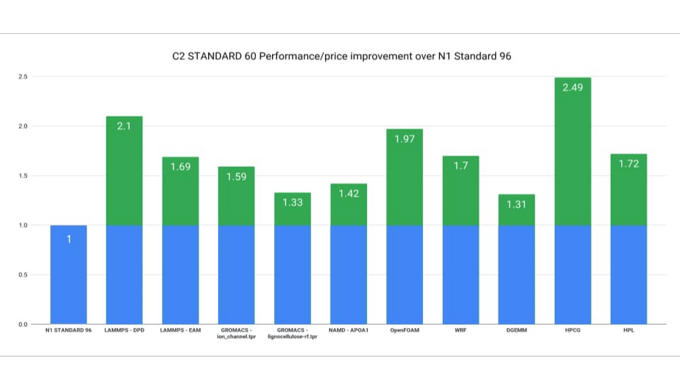 WP-Engine Cache systems
Page-Cache
In order to display pages much faster, the HTML of a page is stored so that it can be called up later and immediately displayed. This improves the loading time of the pages of your website. With WP-Engine you can choose between Apache and Nginx. The difference between the 2 is practically speaking that Nginx is better suited for heavy loads, so more than 10,000 visitors at the same time. Apache is used by almost 40% of all servers in the world, Niginx about 10%. In fact, everything is a bit more complicated of course, read more about the differences between Nginx and Apache here.
CDN-Cache
CDN-Cache means that website content such as JS, CSS and Media files and possibly also HTML is stored on servers all over the world so that visitors to your website from local servers can access your content. WP-Engine uses Stackpath and for advanced packages also Cloudflare.
Object-Cache
Object-Cache can be enabled as desired, but is not already enabled by default like Page-Caching. Object-Cache stores database requests so that they do not have to be called when someone visits a page of your website. Database requests slow down the loading time of your site considerably. This type of cache is not recommended in test environments because one will not immediately see the changes made to a website. Read more about WP-Engine Object-Caching here.
WP-Engine Dashboard review
You use the WP-Engine dashboard for everything that has to do with your websites and settings. It lets you check all the sites you have, install new sites, or set up test environments. You have access to the databases, you get SFTP access, and you can see overviews of bandwidth and visitor numbers. You can also arrange everything here regarding invoices and payment details. The WP-Enigne dashboard is, as expected, very clear and clear and can be easily operated by any beginner.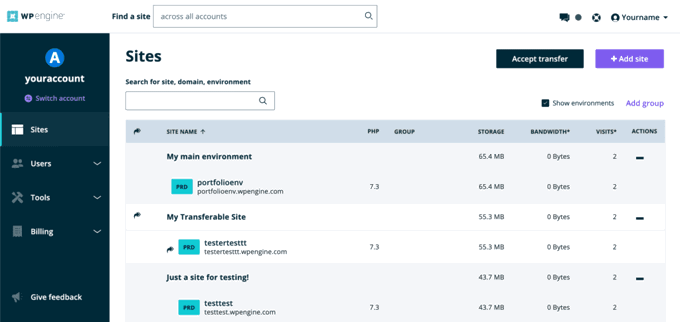 WP-Engine hosting Uptime
Both the Google Cloud and the Amazon Cloud (AWS) can be called so reliable that WP-Engine is sure that its websites never go offline. If websites nowadays even go offline for a short time, this can already have major consequences, so it is good to know that there is hardly any chance of this at WP-Engine. Going offline of a large company's website results in loss of reputation, loss of revenue, and if it takes too long, pages disappear from Google search results, which usually causes the greatest damage.
With the ability to easily scale up with an increase in traffic, WP-Engine will never run out of bandwidth regardless of how many simultaneous visitors your website gets. Other circumstances that could prevent your sites from being visible, such as problems with SSL certificates or security, do not occur at WP-Engine.

WP-Engine hosting Security
Your websites are monitored 24/7 to see if everything is running smoothly. WP-Engine forces login hardening for your panels and websites. Hackers are kept out with Layer 3 & 4 DDoS Detection and individual fire walls. Only the latest technology is used for both servers and websites. Free SSL certificates provide the necessary Traffic Encryption.
WP-Engine has a number of extra security measures and works with Disk Write Protection, for example. This ensures that processes that have the right to write to the disk are limited. It also keeps a log of what is written on the disk to detect malicous code. WP-Engine does not allow all arbitrary Wordpres plug-ins on their servers. They have a system scanner that finds and deactivates bad plugins and Two-Factor Authentication for your Dashboard (My WP-Engine).
WP-Engine managed hosting review: Pricing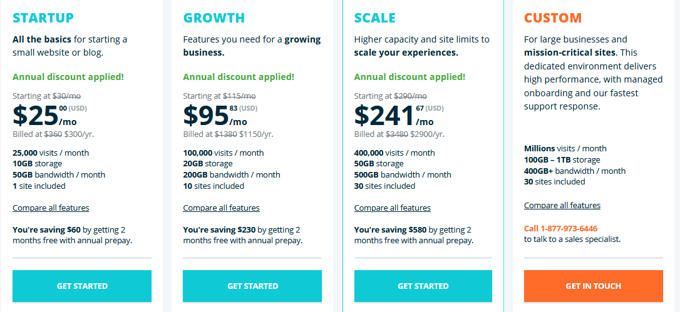 Obviously this is not a cheap hoster but you get what you pay for. Prices start at $ 25 for 1 website. If you want your website to be faster and with a higher uptime than that of your competitors then WP-Engine or any other manage WP hosting is definitely the solution. For most people, having this type of hosting pays for itself quickly. Check out their prices here.
WP-Engine hosting review: Conclusion
It has become clear that in the field of Wordpress hosting there is only a few other hosters that can compete with WP-Engine. This is the cream of the crop in terms of security, fast loading times, uptime and they also take all the work off your hands so that you can focus on the success of your business. If you or your company can spare the money, WP-Engine is an absolute must.
Visit WP-Engine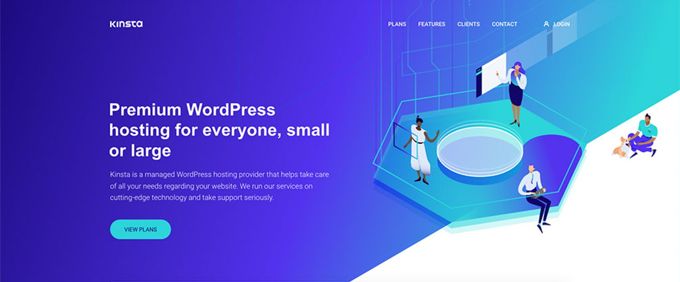 Kinsta is not a regular hosting, but one that takes all the work off your hands except creating your websites. This is called managed hosting, and their specialty is that your websites load super fast on their servers. In this Kinsta hosting review, we take a look at why it's worth paying $ 30 a month (1 website) for this. Hosters like this are the fashion, so many people already understand why.
Website visitors today have little patience, as soon as they get impatient and leave your website, you certainly don't earn anything from them anymore. Tests have shown that a website that loads 1 second faster can immediately generate 10% more turnover. So if you earn $ 3000 per month, that second will add $ 300. Ten times the price of this hosting. For large companies, the extra profits are of course much, much greater. Kinsta will on average not speed up your current website by 1 second, but probably by 2 or 3 seconds. Calculate for yourself what that yields.
KINSTA CLOUD HOSTING
Kinsta is built on the Google Cloud Platform which is the fastest network out there. If you compare that with a standard normal hosting where apparently outdated servers are used, the difference is 10x faster. Kinsta has many data centers and you can choose the location for your servers yourself, as close to your visitors as possible, of course. Kinsta has been around for more than 10 years in which they have perfected themselves as a managed hoster of course. Today there are more hosters like this using GCP, but Kinsta was the first.
Network
What makes this hosting so much faster than regular hosting with another company? So to begin with, that it is connected to the Google Cloud that uses only high-quality servers and internet connections. This platform uses so-called VMs that have masses of RAM, SSD, and a very fast internet connection. Kinsta uses the C2 Compute-Optimized VMs, the cream of the crop in the CPU field.

Speedtest GCP-N1 & GCP-C2
In this Kinsta hosting review, we don't go too far into the differences between the various networks that Google offers. What I do want to tell you is that Kinsta had a test conducted by Alexander Fauske (SEO specialist) who came to the conclusion that the GCP-C2 network for Wordpress & Woocommerce website is at least 2x faster than the standard Google network GCP-N1 . These are very extensive tests that were performed with and without Kinsta cache. View all results from the GCP-N1 & GCP-C2 speed test right here. The test was conducted on the websites of several of Kinsta's leading clients. Perhaps good to know is that at Kinsta all customers have their sites on C2 servers and for example at one of the largest competitors called WP-Engine this is only for elite users with expensive packages.


Kinsta Cache systems
Have you been looking for the best cache plugin for Wordpress? You no longer need them if your websites are hosted by Kinsta because of their advanced cache systems already in place. Kinsta manages the following caches: Object-Cache, Bytecode-Cache, CDN-Cache, and Page-Cache.
Page-Cache
With page caching, the complete HTML of pages is stored so that other pages can be built faster and already cached pages can be displayed almost immediately. In the case of Wordpress, PHP files are also saved and database queries are skipped. This all makes for much faster loading times. Kinsta uses the Nginx Fast-CGI cache module. The time in which the cache expires can be set by Kinsta customers. The kinsta Page-Caching is set to work automatically for Wordpress, Woocommerce and many more.
Bytecode-Cache
Bytecode-Caching means that PHP code is stored in order to be able to skip compiling it on further requests. Kinsta has OP-Cache active for all currently used PHP versions. Php 7.2, Php 7.3 and Php 7.4. As soon as new versions are released, they are automatically recorded. OP-Cache optimizes the use of Php files because they do not have to be completed over and over again. In Kinsta test environments, the OP-Cache is disabled because otherwise modified PHP files would not become visible until later. OP-Cache should not be missing in any network for optimal loading times.
CDN-Cache
CDN-Caching means that JS, CSS and Media files are stored on servers around the world so that website visitors can download them from a source close to their location. An additional advantage is that the original server is considerably relieved by the CDN. There are 2 types of CDN. The first type works with replacement URLs and the second type is a true proxy server where domains must have different name servers set up with their registrars. Kinsta uses KeyCDN which is of the first type. Since the Google Cloud is already protected, it is not necessary to provide DDos and Dos protection via the CDN.
Object-Cache
Object Caching reduces the load on databases by storing database queries. This means that the database does not have to be queried with page requests. Wordpress already has a built-in Object-Cache for a few pages, but an Object-Cache that works for several pages is better. This can be achieved by placing a script in the wp-content folder or via a Wordpress cache plug-in with the option for this. However, it is easier to use the Redis offered at Kinsta for permanent Object Caching.
MyKinsta Dashboard review
MyKinsta is your dashboard at Kinsta from which you can set everything up. The "feel" of everything is very organized, clean, and clear. Don't expect Cpanel as most things are already handled by Kinsta. As you know, they take all the work off your hands as much as possible, which is very pleasant. So you don't need Cpanel either, the MyKinsta panel is for personal settings of everything. We can safely say that this is easy to operate and understand for any layman. This panel was developed by UX / UI experts and you notice it immediately.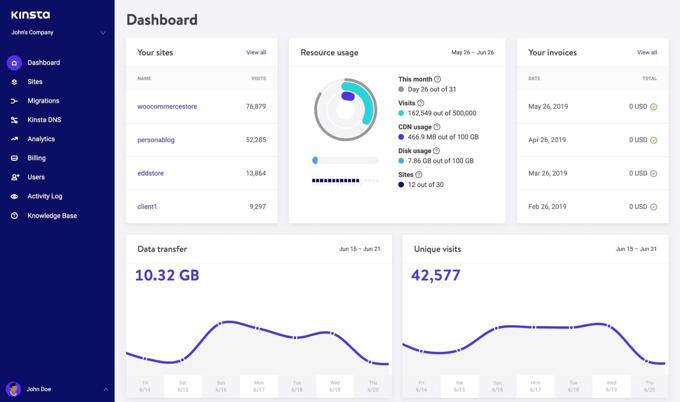 Kinsta hosting Uptime
We should definitely talk about uptime in this Kinsta Hosting Review. Most normal cheap hosters often advertise with 99.9% uptime ie your websites are practically always online with a small exception. This is a lie with most hosters and they are closer to 99% and in some cases a lot lower. With Kinsta and other top hosts, the opposite is the case. Your websites are just 100% online all year round as shown in the image below.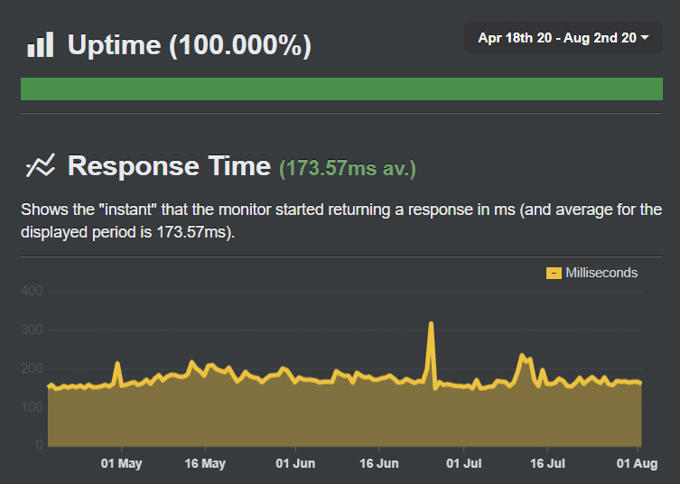 Kinsta hosting Security
For starters, all sites are protected by GCP's enterprise-level firewall. Kinsta hosting has what we know as Symlink Race Condition Protection (Cpanel), or everything is isolated so that hackers cannot get from one website to another. Kinsta uses LXC and LXD Linux containers for this. Due to the high security at Kinsta, it is very difficult for hackers to break through security, but if someone logs into their account from a computer on which a hacker has installed a keylogger, it happens quickly of course. If a site gets hacked, Kinsta will take care of it, you don't have to do anything.
Other security measures include requiring difficult passwords, IPs that log in more than 6 times incorrectly are temporarily blocked, and GeoIP blocking. FTP is prohibited, only fully encrypted SFTP and SSH connections are allowed and SSL certificates are provided free of charge. Furthermore, all your websites are automatically backed up. Learn more about security at Kinsta here.
Kinsta managed hosting review: Pricing
Kinsta is an expensive hosting service compared to the regular hosting that most people are familiar with. This is a service for people who get a return on it. If you have web shops that will generate a lot bigger turnover on Kinsta service. The price of hosting pays for itself so quickly. Of course, this applies especially to medium and large companies that are more or less obliged to load their pages quickly to be taken seriously and the extra turnover that can be achieved here is very high. Check out their prices here.
Kinsta hosting review: Conclusion
Kinsta is my favorite managed hosting service and I think it's worth the money. I don't want to spend an extra chapter on their service but you can already imagine that it is first class I suppose. If you'd like to learn more about Kinsta, I recommend checking out their site using the button below.
WP-Engine vs Kinsta hosting comparison: Conclusion
Thank you for reading this WP-Engine vs Kinsta comparison to the end. In principle you are very well off with both, there is nothing bad to say about both. Kinsta is a bit cheaper, has more data centers to choose from and also with cheaper packages your websites will be on the super fast Google C2 Virtual machines. WP-Engine has been around for much longer and has a very good reputation, the choice is yours.
Advertisement