Best managed Wordpress hosting [2022] 💥

Looking for the best managed Wordpress hosting? We are talking about the cream of the crop when it comes to Wordpress hosting which comes with many special services that make your websites super fast and secure. You do not get these services with normal hosting. So don't be alarmed by the prices, you will get more than value for your money.
Advertisement

Prices start from around $ 20 per month for 1 website. However, if your website loads 1 or 2 seconds faster, this will quickly generate hundreds of dollars in extra sales for small businesses, for larger companies we are talking thousands or tens of thousands of dollars in extra sales. Most of these providers let you test for free and they don't have money back guarantees. I will narrow my list here to the 5 best out there. After all, there is little point in making a list of 25 hosters, the last 20 of which are severely inferior to the first 5. These hosting companies have data centers all over the world, so you can choose a city and country where your sites will be hosted.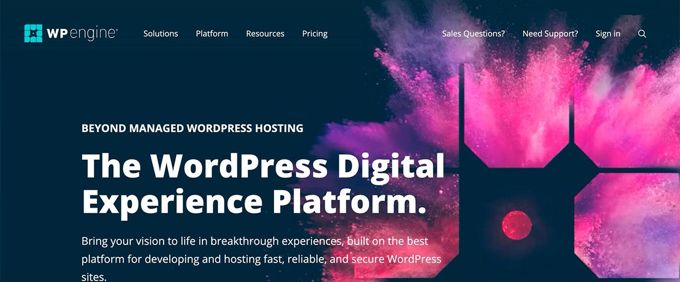 We start with the only managed Wordpress hosting provider recommended by both Matt Cutts of Google and Matt Mullenweg, the founder of Wordpress. With such references it is clear that WP-Engine is a top product. This hosting provider is completely dedicated to customer comfort, lightning-fast loading times and with WP-Engine you automatically have access to another top product, namely the Genesis Framework. You never have to buy themes or plug-ins again with this and has a 1x complete package.
Speed
WP-Engine is certainly the best managed Wordpress hosting of all in terms of loading times, especially in combination with the Genesis mentioned above. Their advanced Cache Technology makes the use of Cache plug-ins completely unnecessary. You only build sites, WP-Engine ensures full optimization of them.
Security
Your websites are monitored 24/7 to see if everything is running smoothly. WP-Engine forces login hardening for your panels and websites. Hackers are kept out with DDoS Detection and fire walls. Only the latest technology is used for both servers and websites. Free SSL certificates provide the necessary Traffic Encryption.
Comfort
If your website would be hacked, WP-Engine will fix it for you for free, but the chance that a hacker will get through the heavy security is nil. With this hosting you have free CDN and SSL certificates of course automatic backups with many "restore points". WP-Engine has been winning awards for the quality and speed of their service for years if you need them for something.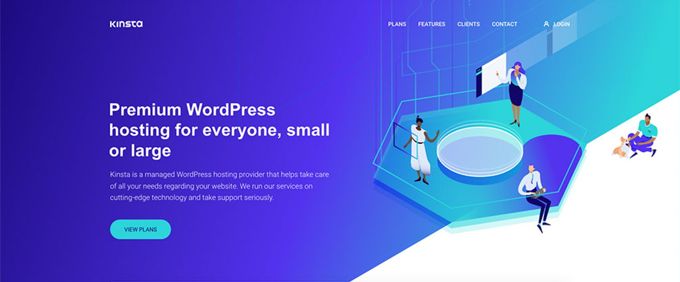 Since Kinsta has lowered its prices it has become one of the most popular managed Wordpress hosting providers. Their service has always been insanely good but they were a bit on the expensive side. At Kinsta, everything has been thought of to take all the work off your hands, make your websites load super fast and guarantee great security.
Speed
Kinsta uses the lightning-fast Google Cloud Platform. Through CDN, your website is delivered to your audience from local servers anywhere in the world to further reduce loading times. Kinsta only uses the latest technology so PHP 7+, HTTP/2, and NGINX. Kinsta also ensures optimal cache and image optimization for your websites. Hands-free, you don't have to do anything yourself.
Security
DDoS Detection, Login Hardening and Firewalls are used to combat hackers. In addition, your website is monitored 24/7 via Uptime Monitoring and immediate action is taken should your site go down. If a website is hacked, Kinsta will ensure that your site is returned to 100% perfect condition at no cost.
Comfort
Free transfer of all your websites no matter how many. Backups of your websites are automatically made which you can restore yourself with 1 click. You have access to a "Sandbox" in which you can test websites, plug-ins and themes without them being online. Once 100% in order, you can put it online again in 1 click via 1 click.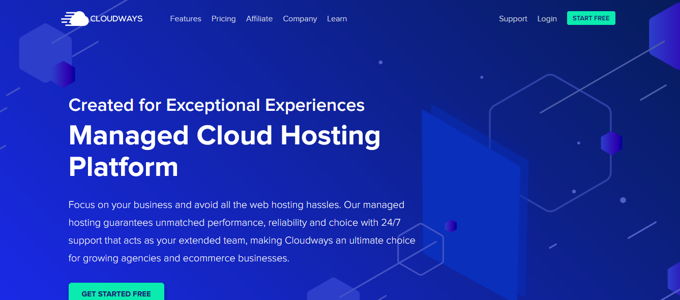 Cloudways has a number of advanced features such as displaying Wordpress websites from other clouds such as Digital Ocean or Amazon Web Service. For this reason, Cloudways may be less suitable for beginners. In contrast, Cloudways is one of the best managed Wordpress hostings for experienced webmasters and large companies with special requirements.
Speed
Your websites have their own resources available, so RAM memory and bandwidth. Cloudways uses advanced caching systems such as Memcached, Varnish, Nginx, and Redis. Only the latest technology is used and your website environment has Auto-Healing. This means that as soon as a problem occurs, it is automatically solved.
Security
Cloudways uses OS-level dedicated firewalls, you have free SSL certificates and OS Patches are regularly run on your server. Two-Factor Authentication can be enabled and offers extra security. Their partner Malcare provides Bot Protection that try to perform Brute Forece attacks.
Comfort
Cloudways automatically creates backups, 24/7 monitoring, and great support is available to you. Numerous integrations and add-ons are available such as WP-CLI, Supervisord, 1-Click Stop App and many more. If you want to know exactly what all, check it out on their site itself via the button below.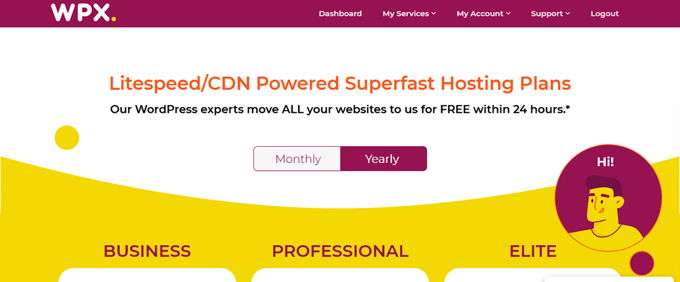 WPX-Hosting used to be called Traffic Planet Hosting. Known to be an excellent hosting provider to serve e-commerce websites as they make perfect use of internet spikes. When you order your Wordpress hosting from WPX, you automatically sponsor abandoned dogs. WPX ensures about 1000 dogs per year that they end up well again somewhere.
Speed
WPX-Hosting claims to be the fastest Wordpress hosting. They advertise on their site with statistics from a Pingdom speed test where they come out faster than other providers in this article. I don't know what is true about this, but that they have fast servers is one thing that is certain. What makes their servers fast is the Optimized Caching, free CDN, only high-spec SSD servers are used and brand new ones.
Security
WPX-Hosting naturally has the necessary DDoS Detection and Firewalls to ensure that hackers have no chance. One notable service that WPX offers is the free recovery of hacked sites. The chance of being hacked at WPX-Hosting is of course nil due to the high level of security.
Comfort
Something that many of the top providers offer is moving your websites to WPX-Hosting for free in this case. The number of website that they move for you is limited to the hosting package purchased. The support of this company is more than excellent. Like all self-respecting hosters, they provide free automatic backups with many Restore Points.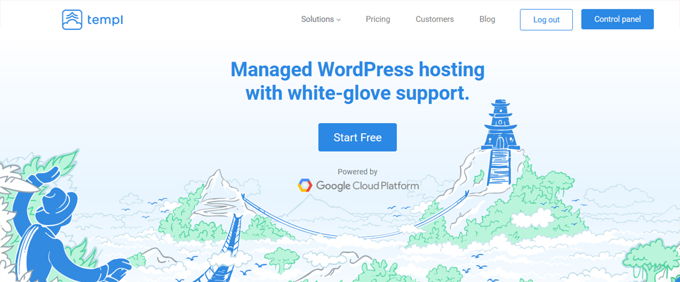 Templ also offers everything you can expect from one of the best managed Wordpress hostings. Specialized in fast loading times as explained below under "speed". Templ has only been around since 2017 but has already built up a large customer base which is not surprising because they simply deliver a top product.
Speed
Nginx can be used instead of Apache. You can leave cache to advanced programs such as Redis, Quic, Brotli and more, it doesn't get any better. Of course you have a free CDN with Templ which stores your websites on local servers, so that visitors can download them much faster. Instead of SQL, you can use MariaDB databases, which in turn provides that much extra speed. In short, everything has been thought of, read the details on their own site via the button below.
Security
As far as safety is concerned, it is actually very simple to explain. Your website will be placed in the Google Cloud and will therefore have exactly the same security as Google Search, Gmail or Youtube. If you are interested in how Google secures its servers, please read the next page.
Comfort
It is easy to work with Wordpress via WP-CLI, you can use SSH to establish the connection with Templ. Templ keeps backups for your website for free for a month before they are overwritten. The backups are stored on an external server for safety. You have access to a test environment, here you can build sites without them already online, but you can put them online with 1 click at any time.
Yes folks, these were the 5 best Wordpress hosters out there. There's little point in showing a list of 15 more hosters that are worse so we don't go any further here. It may be interesting for you which are the fastest Wordpress hosting companies and possibly also the best Woocommerce hosters. Good luck with your choice!