The fastest Wordpress hosting (managed) [2023] 💥


Here I am showing you a list of the absolute fastest Wordpress hosting providers. Any hoster can never get on this list, we are talking about managed hosting with auto CDN, advanced cache systems and a lot more. It makes sense that the prices are also somewhat higher, but you will quickly earn that money back if your websites and shops load a few seconds faster.
Advertisement


For 1 website, people pay an average of 20 to 25 dollars per month. As is known, website visitors have little patience these days and a website that loads 1 second faster immediately turns so much more turnover. Depending on the size of your business, we're talking hundreds or hundreds of thousands of dollars in additional sales. Most of these managed hosters let you test their hosting and give a money back guarantee. My list is limited to the 5 fastest hosters out there. Number 1 is in my opinion a lot better than number 5 so we don't have to go any further I would say.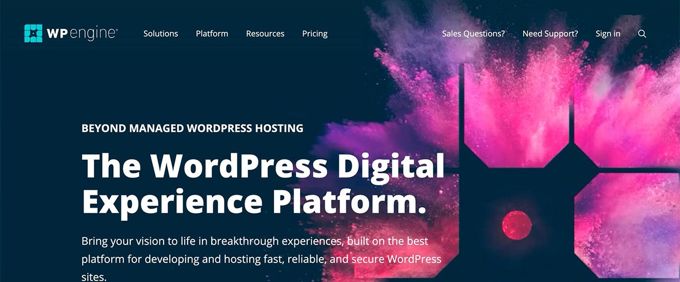 Let's start with the fastest of all, which is also the only one recommended by prominent companies like Wordpress itself and Google. With references such as those of Matt Cutts of Google and Matt Mullenweg, the founder of Wordpress, it is of course clear that WP-Engine is a winner. Their lightning-fast hosting is not only fast, but totally dedicated to the comfort of the customer. You really don't have to worry about anything. Another thing the other hosters don't have is that with WP-Engine you also have Genesis Framework at your disposal. Premium themes for which others pay hundreds of dollars per year. Buying themes or plug-ins is therefore no longer necessary.
Speed
WP-Engine is the fastest managed Wordpress hosting you will find, although the hosters below come close. WP-Engine uses very advanced cache techniques that no cache plug-in can compete with. They are therefore completely unnecessary if your websites are hosted by WP-Engine. You care about your business and they arrange everything regarding your websites that they run optimally.
Safety
Your websites are under 24/7 surveillance to guarantee that they are perfectly online. Login hardening on all your Wordpress sites and control panels makes it nearly impossible for bots to break in here. Other types of hackers are kept out by means of DDoS Detection and Fire-Walls. Only the latest technology and server programs are used. SSL certificates provide the necessary Traffic Encryption.
Services
Hacked websites are repaired for free and instantly, but the chance that one of your website will be hacked with the security that WP-Engine has is practically zero. WP-Engine has auto-CDN so your visitors can download your websites from local servers in their browser. Your sites are also provided with SSL certificates for free. Your websites are automatically backed up, which you can restore yourself. Also important, WP-Engine continuously wins awards for their service.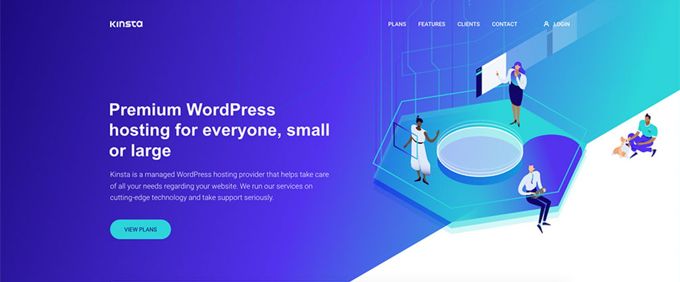 With lower prices than in the past, Kinsta has made a rapid rise and I even have them in second place now. They used to be great but too expensive. So now they have average prices. Speaking of fastest Wordpress hosting, Kinsta makes every effort to make your websites load blazing fast with their advanced systems. Of course, a lot of attention is also paid to Safety and they take all the work off your hands.
Speed
There is practically no faster network than Google's called the Google Cloud Platform. Kinsta uses Google servers, so your sites are in very good hands here. Kinsta has a free CDN to deliver your websites to your visitors around the world even faster. Only the latest technology is good enough at Kinsta, think PHP 7+, HTTP/2, and NGINX. Cache plug-ins are not necessary here either, cache is automatically provided by high-quality cache techniques.
Safety
DDoS Detection, Login Hardening and Firewalls are prepared to ward off potential hackers. Your website is also monitored 24/7 with Uptime Monitoring and automatic action is taken as soon as necessary. Chances are slim, but should a website ever be hacked, Kinsta will fix it for you as soon as possible and at no cost of course.
Services
At Kinsta you have access to a Sandbox. This is a test environment for you to test your plug-ins, themes, and other things. From the test environment you can immediately put things online as soon as you are done with them. Kinsta moves all of your websites to their servers. All your websites are backed up in case something goes wrong during your work. You can restore websites to an earlier time point.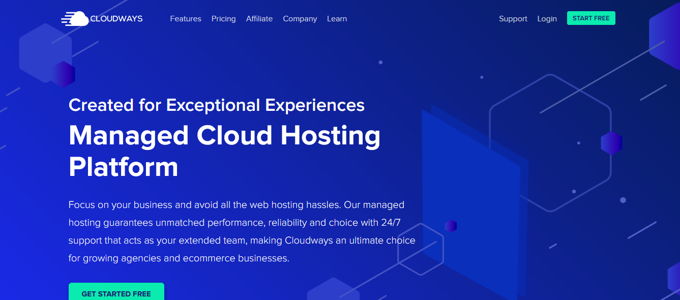 Cloudways offers a lot of features. This makes this hoster less suitable for beginners, but more suitable for advanced users. For example, at Cloudways, you can view your WP websites from other clouds like Amazon Web or Digital Ocean. Cloudways is one of the best and fastest Wordpress hosters for large companies employing webmasters or people who have high demands and need special features.
Speed
Your website will receive its own dedicated bandwidth and RAM memory with this fast hosting provider. Cloudways uses the best cache programs out there such as Varnish, Redis, Nginx and Memcached. All programs at Cloudways are always up-to-date and their servers have advanced Auto-Healing which fixes problems without human intervention.
Safety
For starters, you have Two-Factor Authentication at your disposal to protect your login for sites and panels. You also have free SSL certificates for all your websites and OS-level dedicated firewalls are used with Cloudways. The special Bot Protection provided by their partner Malcare protects you against all forms of Brute Force attacks.
Services
Cloudways offers many separate functions such as Supervisord, the 1-Click Stop App and WP-CLI, but if you take a look at their site via the button below you will find many more. Your website will be monitored 24/7 by means of Monitoring and like all good servers, backups of your website are made every day.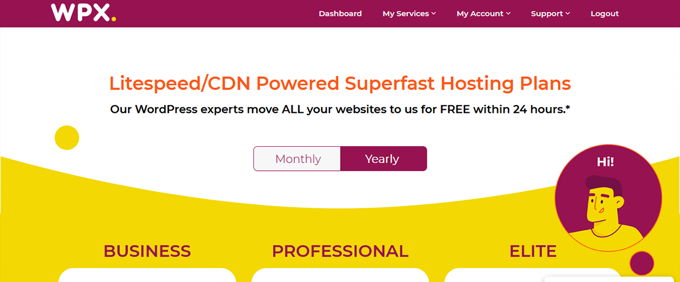 WPX-Hosting is known as one of the fastest Wordpress hosting companies for web shops. Their name used to be Traffic Planet Hosting, but in 2016 it became WPX-Hosting without any further changes to the company. WPX-Hosting sponsors the shelter and rehousing of street dogs and other dogs in need. About a thousand are helped per year. By purchasing hosting from them, you support their project.
Speed
According to WPX-Hosting itself they are the fastest Wordpress hosting there is, I have my doubts about that and have them here in place 4. They do show the results of a Pingdom speed test on their website where they are at the top, but how betrowubaar has been that test. Of course, place 4 in the world for fast web hosters is also a brilliant result. To make their servers that fast, they use Optimized Caching, CDN, and high-spec SSD servers.
Safety
WPX-Hosting has the same to offer in terms of security as the other hosters on the page here. The indispensable DDoS Detection and Firewalls provide protection against Brute-Force and direct attacks. Furthermore, of course SSL certificates for encryption of your pages. Hackers cannot pass this protection, but it is always possible that you log into your account via your hacked PC. If hackers would have installed a keylogger on your PC, they now also have the login codes of your website (s) and can cause disaster there. But even in such cases, WPX-Hosting removes all hacks for you for free and gives you new passwords.
Services
Depending on the hosting package you purchase, WPX-Hosting moves your websites to their servers for free. This is something that basically all top hosts offer. Furthermore, the service at WPX-Hosting 24/7 and without a doubt can be called great. Your websites are backed up daily, which are stored externally and are kept for a month. Thus, if something went wrong with your work or Wordpress upgrades, you can restore your website to an earlier time.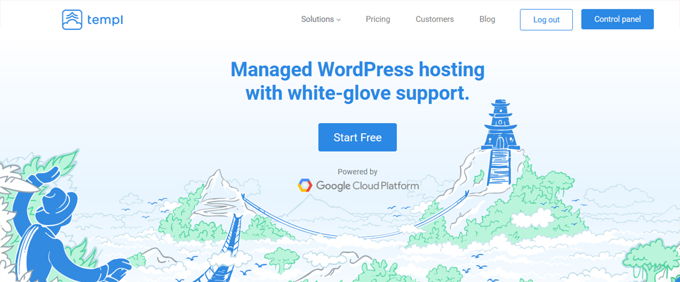 Despite their 5th place here, Templ is definitely specialized on fast loading times and also has a number of features that are not found with other hosters, at least perhaps only on special request. Look under the chapter "Speed" for further explanation. Templ is still a young company, only founded in 2017 but because of their great product it already has a large customer base which is rapidly expanding.
Speed
To begin with, Templ does not use Apache by default but Nginx. The best cache programs like Redis, Brotli, and Quic are used to speed up your website. Your sites are automatically included in a CDN network that stores them on local servers around the world. Templ gives you the choice to use SQL or MariaDB databases, the latter being faster. It is best to read more about what they offer on their site, click on the button below that leads to their site.
Safety
You are in good hands for the security of your websites. Templ uses the Google Cloud, which means that your sites enjoy the same security as Youtube, Google Search, or Gmail. Google's this page explains exactly how Google protects its servers.
Services
Templ keeps backups for your websites for a month before they are overwritten. The backups are stored on external servers, which is more secure than on the same server. Templ just like a number of other top hosting providers here on the page provides you with a Sandbox where you can test plug-ins and themes. These tests can be put "live" at any time. At Templ, married women can also work with WP-CLI.
Yes folks, these were the 5 fastest Wordpress hosters out there. There's little point in showing a list of 15 more hosters that are slower so don't go any further here. It may be interesting for you which are the best Wordpress hosting companies and possibly also the best Woocommerce hosters. Good luck with your choice!