WP Engine vs Cloudways Hosting Comparison [2023] 💥


WP-Engine vs Cloudways, two of the very best Wordpress hosters. These two hosting companies are in the top for the best Wordpress hosting for [2023]. We are investigating whether there are important differences between these 2 hosting giants.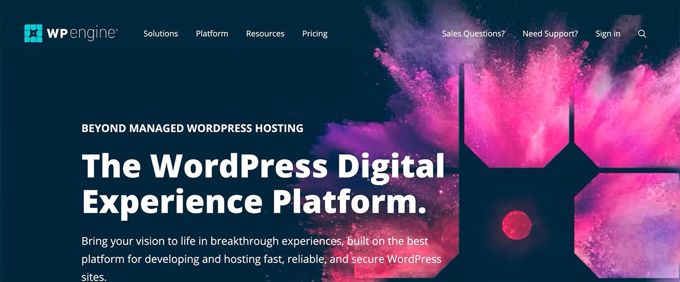 One of the best and fastest Wordpress hosters you can find.
We are not talking about just hosting, but hosting that is used by well-known large companies and demanding entrepreneurs. You pay a little more here, but that money is quickly recouped with a website that offers itself to your audience at lightning speed. In this WP-Engine hosting review I'll show you why WP-Engine is so much faster than average hosters and up to a group of elite Wordpress hosters belongs.
Advertisement


WP-ENGINE CLOUD HOSTING
WP-Engine uses standard Google Cloud servers of type N1. The following WP-Engine datacenter are hereby available to you: Iowa, South Carolina, Oregon, Montreal, Belgium, London, Frankfurt, the Netherlands, Taiwan, Tokyo, and Sydney. Advanced packages allow you to have your websites on type C2 servers (much faster for Wordpress). Advanced packages also allow the use of Amazon Web Servers (AWS) with the following datacenters available: Iowa, Virginia, Oregon, Montreal, Ireland, Singapore, Frankfurt, London, and Sydney.
Advanced Network
For new customers and customers who want to switch, there is the new advanced network available in collaboration with Cloudflare. The advantage of this network is Layer 3 & 4 DDoS Protection and the Cloudflare CDN network is automatically used. It is true that Cloudflare has a CDN with real proxy servers, so domains must have set up the Cloudflare name servers at the registrar.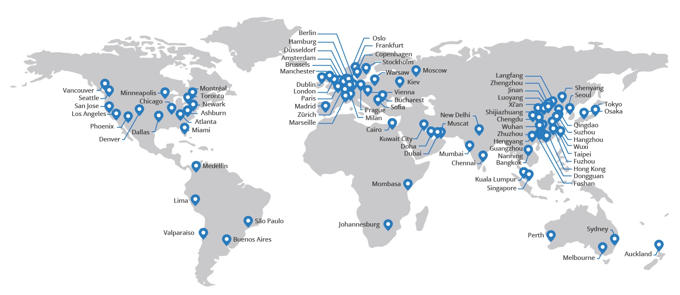 Speedtest GCP-N1 & GCP-C2
While Kinsta has all their customers on C2 VMs, at WP-Engine ot's a possibility. It must be said that WP-Engine was the first to offer this option. The difference between the older N1 and the new C2 servers is that the latter runs at 3.8 GHz instead of the usual 2.2 or 2.8 GHz. This makes everything but especially PHP and SQL work at least 40% faster. Wordpress websites that largely use PHP and SQL benefit a lot from this.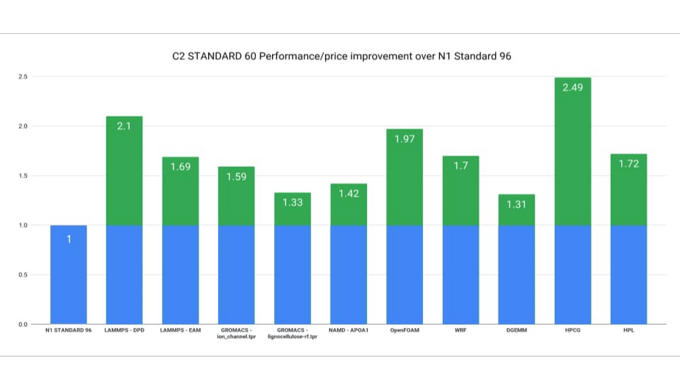 WP-Engine Cache systems
Page-Cache
In order to display pages much faster, the HTML of a page is stored so that it can be called up later and immediately displayed. This improves the loading time of the pages of your website. With WP-Engine you can choose between Apache and Nginx. The difference between the 2 is practically speaking that Nginx is better suited for heavy loads, so more than 10,000 visitors at the same time. Apache is used by almost 40% of all servers in the world, Niginx about 10%. In fact, everything is a bit more complicated of course, read more about the differences between Nginx and Apache here.
CDN-Cache
CDN-Cache means that website content such as JS, CSS and Media files and possibly also HTML is stored on servers all over the world so that visitors to your website from local servers can access your content. WP-Engine uses Stackpath and for advanced packages also Cloudflare.
Object-Cache
Object-Cache can be enabled as desired, but is not already enabled by default like Page-Caching. Object-Cache stores database requests so that they do not have to be called when someone visits a page of your website. Database requests slow down the loading time of your site considerably. This type of cache is not recommended in test environments because one will not immediately see the changes made to a website. Read more about WP-Engine Object-Caching here.
WP-Engine Dashboard review
You use the WP-Engine dashboard for everything that has to do with your websites and settings. It lets you check all the sites you have, install new sites, or set up test environments. You have access to the databases, you get SFTP access, and you can see overviews of bandwidth and visitor numbers. You can also arrange everything here regarding invoices and payment details. The WP-Enigne dashboard is, as expected, very clear and clear and can be easily operated by any beginner.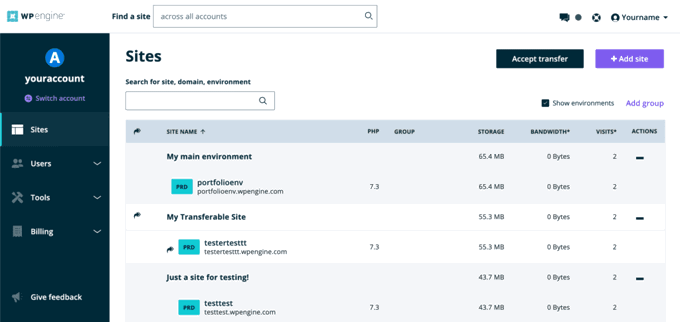 WP-Engine hosting Uptime
Both the Google Cloud and the Amazon Cloud (AWS) can be called so reliable that WP-Engine is sure that its websites never go offline. If websites nowadays even go offline for a short time, this can already have major consequences, so it is good to know that there is hardly any chance of this at WP-Engine. Going offline of a large company's website results in loss of reputation, loss of revenue, and if it takes too long, pages disappear from Google search results, which usually causes the greatest damage.
With the ability to easily scale up with an increase in traffic, WP-Engine will never run out of bandwidth regardless of how many simultaneous visitors your website gets. Other circumstances that could prevent your sites from being visible, such as problems with SSL certificates or security, do not occur at WP-Engine.

WP-Engine hosting Security
Your websites are monitored 24/7 to see if everything is running smoothly. WP-Engine forces login hardening for your panels and websites. Hackers are kept out with Layer 3 & 4 DDoS Detection and individual fire walls. Only the latest technology is used for both servers and websites. Free SSL certificates provide the necessary Traffic Encryption.
WP-Engine has a number of extra security measures and works with Disk Write Protection, for example. This ensures that processes that have the right to write to the disk are limited. It also keeps a log of what is written on the disk to detect malicous code. WP-Engine does not allow all arbitrary Wordpres plug-ins on their servers. They have a system scanner that finds and deactivates bad plugins and Two-Factor Authentication for your Dashboard (My WP-Engine).
WP-Engine managed hosting review: Pricing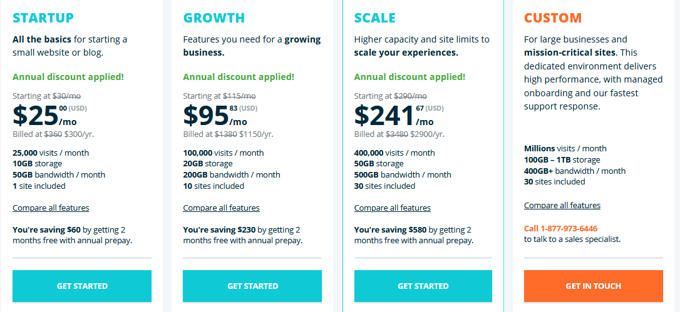 Obviously this is not a cheap hoster but you get what you pay for. Prices start at $ 25 for 1 website. If you want your website to be faster and with a higher uptime than that of your competitors then WP-Engine or any other manage WP hosting is definitely the solution. For most people, having this type of hosting pays for itself quickly. Check out their prices here.
WP-Engine hosting review: Conclusion
It has become clear that in the field of Wordpress hosting there is only a few other hosters that can compete with WP-Engine. This is the cream of the crop in terms of security, fast loading times, uptime and they also take all the work off your hands so that you can focus on the success of your business. If you or your company can spare the money, WP-Engine is an absolute must.
Visit WP-Engine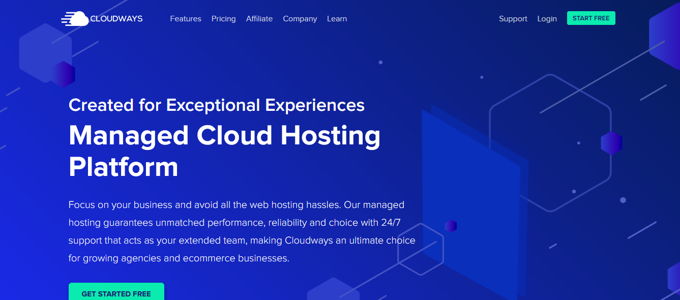 For a start, it is good to know that Cloudways offers many different datacenters. So you can choose where in the world you want to place your website. You can choose from the UK, the Netherlands, Germany, France, USA, Canada and some other countries in which you will certainly be less interested, such as India, Singapore, Taiwan, Korea et cetera. Apart from that, enabling CDN at Cloudways is very simple as I will explain further below in the chapter for that.
CLOUDWAYS CLOUD HOSTING
What immediately stands out for me in this Cloudways hosting review as a big difference from other hosters is that you can choose between the Clouds of Google, Amazon, Digital Ocean, Linode and Vultr. The last 3 charge clearly less and that is also reflected in the price of Cloudways itself. I definitely prefer the Google C2 VMs as there is nothing faster than that. But at Cloudways you can choose what you want.
Network
A good cheap solution is to run your websites over the Vultr network. The best thing they have at Cloudways is of course the Compute VMs in the Google Cloud. A lot more expensive but well worth it. For example, a company like Kinsta has all of its clients on that network and on those VMs.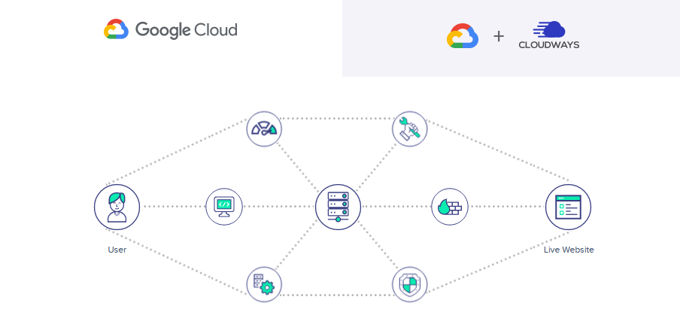 Cloudways Cache systems
At Cloudways you will find all possible cache systems as can be expected with such a high-quality service they offer.
Page-Cache
Obviously the usual Page-Caching that stores HTML and images for reuse at any time. As soon as someone calls up a page of your website, not all data has to be collected together, but is already available to offer it immediately. Visitors can delete this type of cache themselves via their browser.
Varnish, Redis and Memcached
Varnish can cache both static and dynamic content, which greatly improves website and server performance. Redis is used for both object caching and database caching. Redis is open-source and saves time by storing database requests. Memcached is also available at Cloudways and has a similar function to Redis. Read more about Redis here and more about Memcached here. The Woocommerce website in particular benefits greatly from Memcached because it avoids redundant requests to the database, thereby relieving the database considerably.
CDN-Cache
By activating Cloudways-CDN your website will be stored on servers worldwide, with the result that your website visitors can call up your pages from local servers. The picture below shows how simple this is.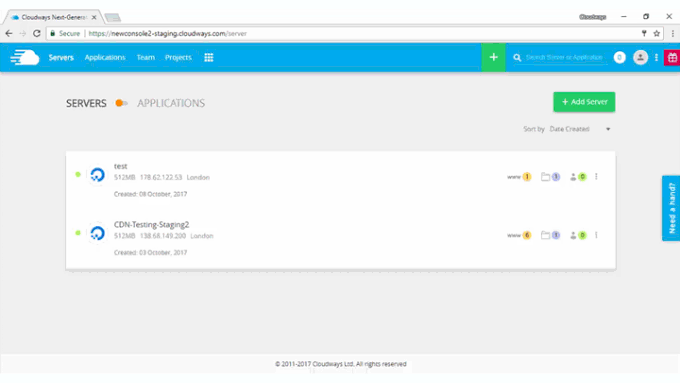 Opcode Caching
PHP requests that have already been processed can be saved as converted bytecode that can be called up immediately in subsequent requests. You can see how this works in the picture below.

Cloudways Dashboard review
The Cloudways dashboard is used for all possible functions. You manage your websites here, and can install new ones. As discussed earlier, there is a very wide choice of different networks and data center. You can also arrange all your personal settings here. I must honestly say that there are hosts like Kinsta and WP-Engine that are definitely for beginners. are a lot easier to understand. However, if you have many special requirements, Cloudways will help you.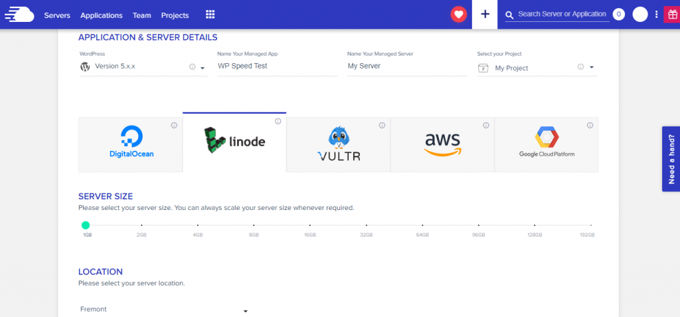 Cloudways hosting Uptime
Since Cloudways is a high-quality hosting, you can enjoy flawless uptime here. There is nothing more reliable than the Google and Amazon networks, so if uptime is very important to you, choose to have your website placed within these networks. As can be seen in the images below, there was just 0.00% downtime in a month. Cloudways is not unique in this of course, other top managed Wordpress hosters offer the same perfect uptime.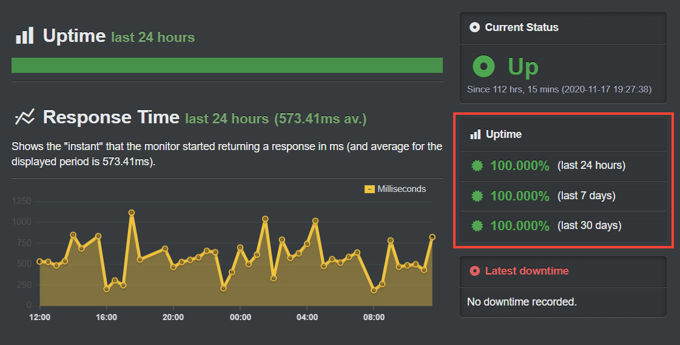 Cloudways hosting Security
Cloudways Firewalls temporarily block IPs that tried to log in incorrectly too often. SSH and SFTP logins are also limited to prevent brute-force attacks. Their partner Malcare, used by many hosters, monitors traffic congestion due to DoS and brute-force attacks, called Bot-Protection. Remote database access is only possible for whitelisted IP addresses. Your oaacount is completely isolated from all others (Race Protection), all websites receive free SSL certificates to encrypt your traffic. Cloudways has even more security, too much to mention, read here more.
Cloudways managed hosting review: Pricing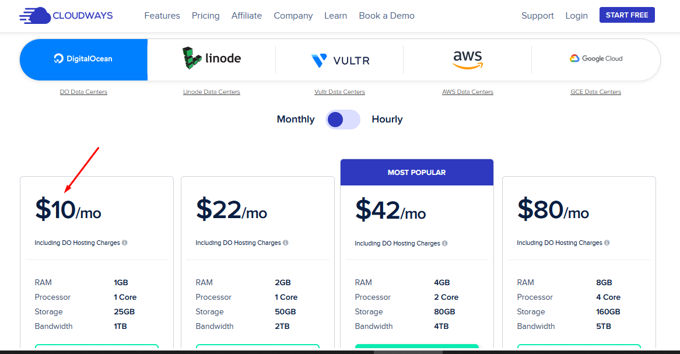 The prices at Cloudways are clearly lower than at a few other top managed Wordpress hosters. This is mainly because they offer other networks besides Google and Amazon, because the prices are the same as with other providers. As a result, with Cloudways you have the option of using top hosting with somewhat lower prices.
Cloudways hosting review: Conclusion
Cloudways is one of the top managed hosters out there and as mentioned above it offers the possibility to have this type of hosting a bit cheaper by offering several cheaper networks in addition to the usual Google Cloud and AWS. Cloudways offers a lot of options that are not found at other hosters, which makes Cloudways attractive for advanced users and less so for beginners.
WP-Engine vs Cloudways hosting comparison: Conclusion
Thank you for reading this WP-Engine vs Cloudways comparison to the end. It is clear that WP-Engine is a bit more expensive than Cloudways, but that is due to the complete service they offer as far as Wordpress is concerned. They really take all the work off your hands, which is a lot less the case with Cloudways. Both hosters use these best possible clouds that can be found, and when it comes to speed, you are equally good at both companies. If you are a beginner or just want all the work done for you, choose WP-Engine. Professionals who have special requirements for server programs and the like can benefit better from Cloudways, also because of the price.