Kadence vs Hestia Theme comparison [2023] 💥

Hestia vs Kadence, here we give you an overview of the best features of these two popular multipurpose themes. Both Kadence and Hestia have both a free and a paid version. Kadence or Hestia, which is the better Wordpress theme?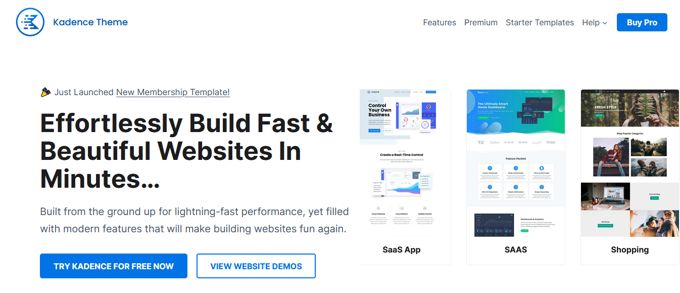 In this comparison between Kadence and Hestia, we start with the Kadence theme, which doesn't automatically mean it would be better . In this Kadence Theme review we take a look at the main features of this theme. It has recently made rapid progress to a high ranking on Wordpress.org. This suggests that we are dealing with a very good theme here.
Advertisement


Kadence theme review: Rating


If we check on Wordpress.org Kadence's rating, we see that practically all raters gave 5 stars except for a few haters. The image above also shows that the theme has now been installed on more than 200.002+ websites. This is a very high number for a relatively new theme.
Kadence theme review: Demos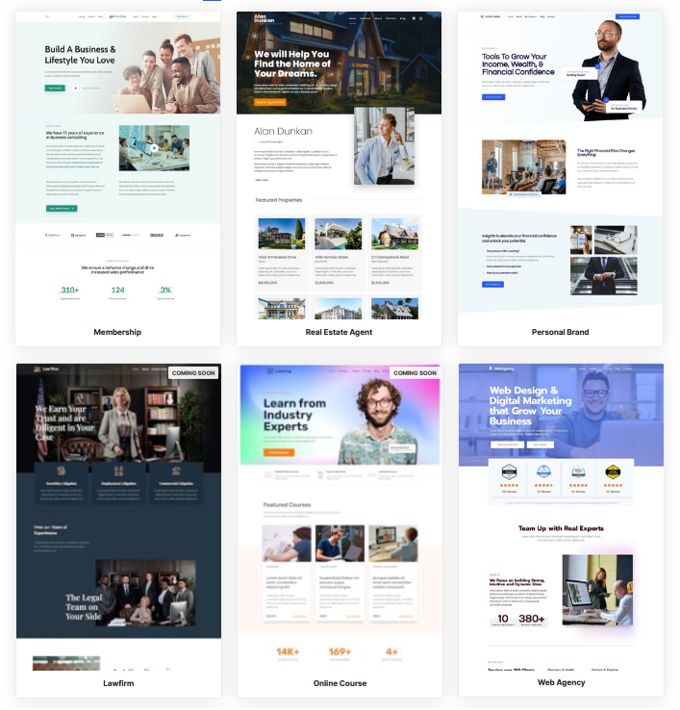 The Kadence theme offers a series of beautiful demos that can be installed with 1 click. The choice is not too large, but since the theme is still very new, this will probably be expanded soon. The theme also has a few special Woocommerce demos, which is always nice.
The nice thing about demos is that you can make a quick start with them. In principle, the website is already showing the wrong photos and texts. So place your logo in it, adjust texts and photos and you are well on your way to having your own site.
Kadence theme review: Webshops
I only count 2 demos for web shops in total. The theme is 100% compatible with Woocommerce but if you are going to build a webshop choose a theme like Astra or another theme from my top 10 for webshop themes. With the Kadence theme you can certainly build a good webshop, but there is simply better than this.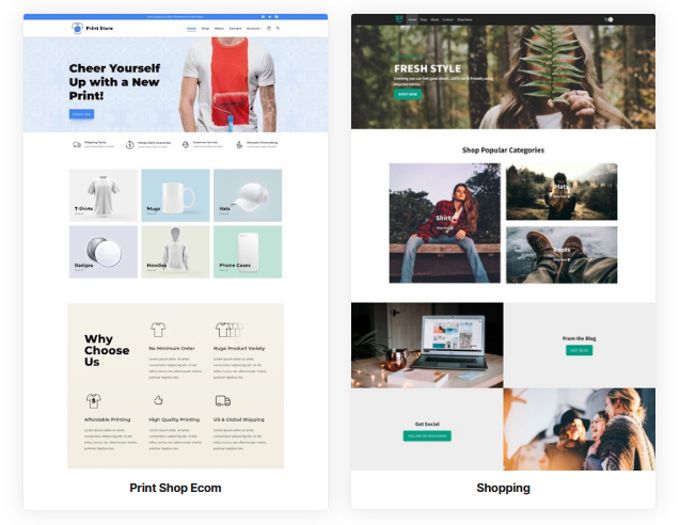 Kadence theme review: Speed

The Kadence theme is one of the fastest themes out there for Wordpress and should actually be in my list for fastest WP themes. The bare theme with no additional plugins using only a well-configured cache plugin produced the result presented above. Of course you can optimize your website yourself on loading time. Follow this tutorial here.
Kadence theme review: Page builders


The Kadence theme uses the Gutenberg page builder by default, but is compatible with Beaverbuilder and Elementor Pro page builder, one of the best in the field. I also recommend installing Elementor for free, but much better of course the pro version.
Kadence theme review: Colors
Kadence offers 12 professional looking color palettes but you can create any color you want as shown below. Kadence also offers special options for fonts such as the choice of 12 font pairs that are used site-wide.
Kadence theme review: Header Builder
Kadence offers something that has so far only been seen with top themes like Divi, a real HeaderBuilder with which you have practically no limits with regard to the structure of your header. Technical knowledge such as HTML or PHP is not necessary for this.
Kadence: More features
Kadence also offers the following features that I will not go into more detail: Transparent backgrounds, a very good SEO with Schema MarkUp, 100% Responsive on all devices, Sticky Header, CSS Pre-loading, and a good Footer Builder.
Kadence theme review: Conclusion
I think the Kadence theme is a very good theme. The demo layouts are great, the theme set up is quick and easy, and it has an antisocial loading time. The theme is also very suitable for building shops with it, although it only offers 2 demos. There is of course more to say about Kadence, but I want to keep it short and sweet. If you want to know more, take a look at their site from the links below.
The price for the pro version is a bit on the expensive side, which is a shame, but everyone is free to ask what they want for their theme. The pro version certainly offers value for money, although I would rather spend that money on one of the themes in my top 10 for this year's WP themes.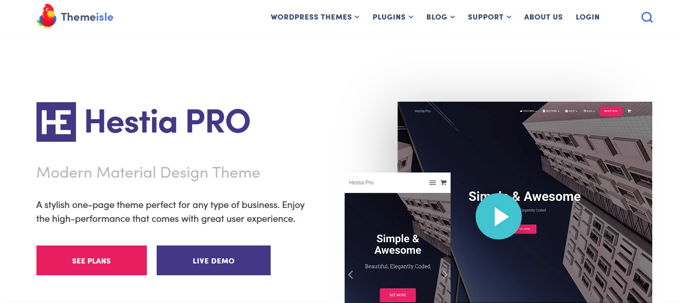 In this Hestia Theme review for [2023] I discuss all the great features it has. This theme was built by ThemeIsle which is one of the best theme and plugin builders for Wordpress. Other very popular themes from them are for example Zelle and Neve.
HESTIA RATINGS
Below you can see the rating and active installation where I have placed arrows.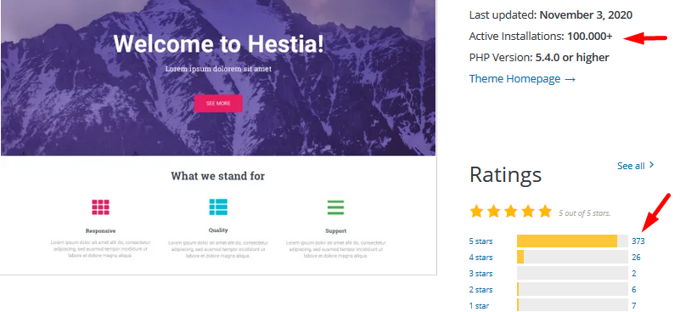 HESTIA AND ELEMENTOR
This appreciation applies to the free version of Hestia, which is of course much less extensive. I will of course discuss everything Hestia has to offer here, the pro version. The theme works perfectly with Woocommerce, WPML and the Elementor page builder. The additional installation of Elementor is definitely recommended, there is no better page builder. Get the pro version right away if you don't have problems spending some money.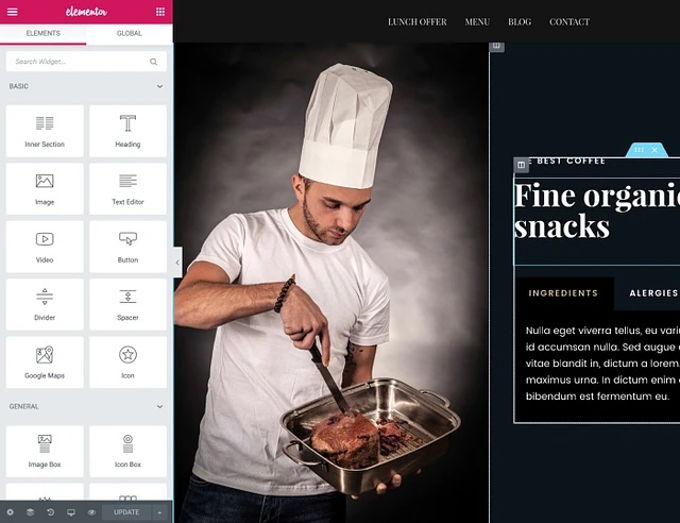 HESTIA AND WOOCOMMERCE
For a top theme it is important to have a great presentation when it comes to web shops. Without it you will not achieve any rankings. Hestia just like the other themes from ThemeIsle have this. Below I show you how well everything is arranged in the shop pages.
Woocommerce lay-out 1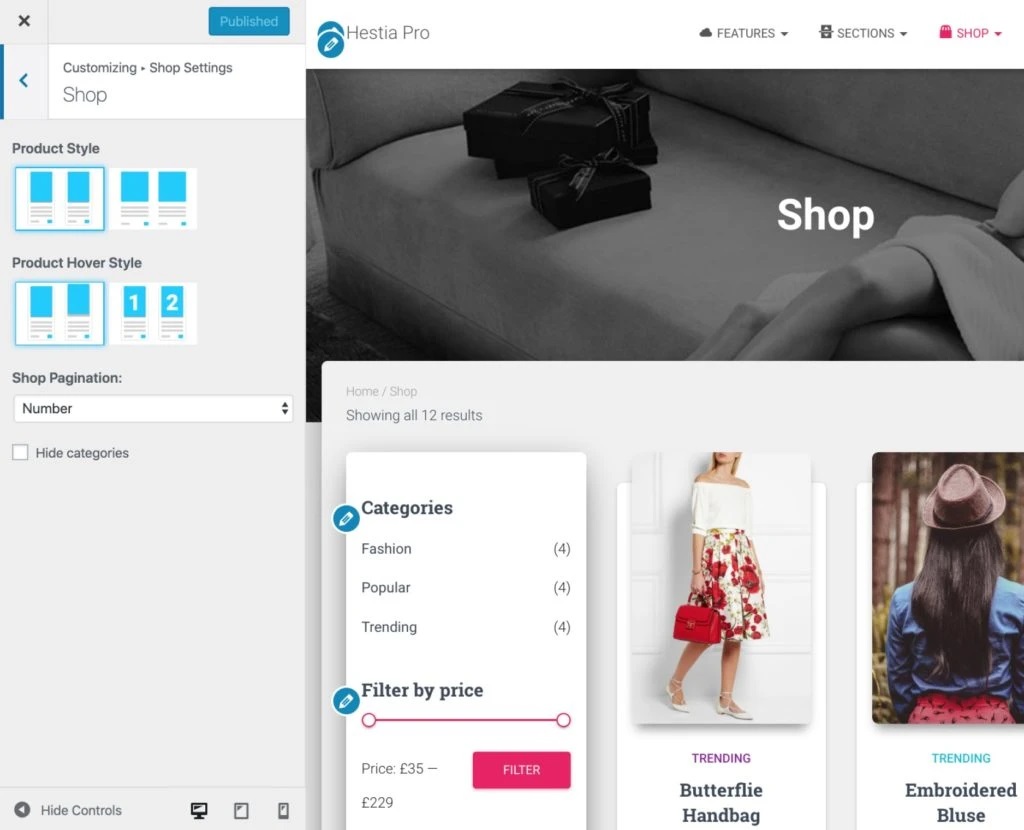 Woocommerce lay-out 2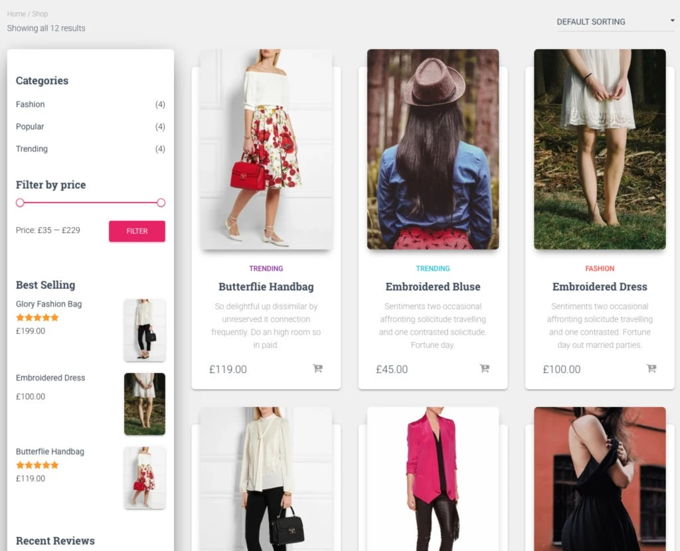 HESTIA REVIEW: STARTER SITES
Just like any good theme, Hestia has a library of starter sites. So you do not have to start working on your site from scratch, but there is immediately a design that you will adapt to your corporate identity. As can be seen in the picture below, designs for all types of niches have been built with Elementor. To be honest, I have to say that the number is low compared to other themes.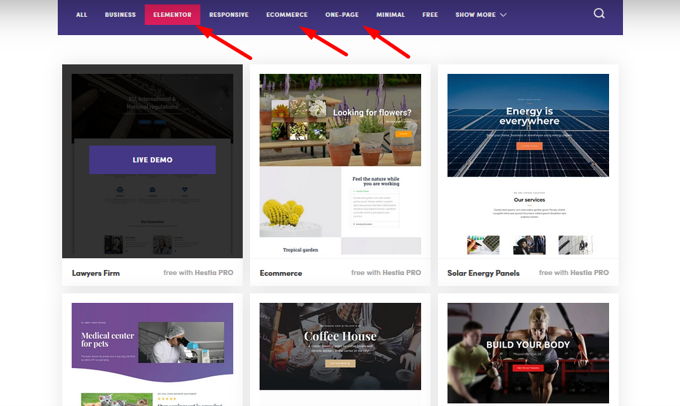 HESTIA SPEEDTEST
Let's see how the theme performs in a test for download speed. We already know that all themes from ThemeIsle are built on speed. The results shown below were achieved with a good cache and compression plug-in installed of course.


PRICING


I think the prices are a bit expensive compared to other themes. Also the fact that no starter sites are included in the free version or for 1 website.
HESTIA THEME REVIEW: CONCLUSION
I have to say that I think it is a good theme but too expensive. A much better alternative from the same builder is the Neve theme which I even rank high in my list fo best Wordpress themes for [2023]. There are more than a hundred starter sites even in the free version. I advise you to read that article of mine if you are looking for the best themes for a good price.
Kadence vs Hestia conclusion
There are no major differences between Hestia and Kadence, they are both very good themes. But even though both Kadence and Hestia are worth their money, I have to advise against both because there are much better themes available for the same money. My tip is buy Divi, best sold and appreciated theme in the world or possibly Astra if you want to work with a super-fast theme.