Best Wordpress themes | selection 2021 💥


If you are looking for the best WordPress themes that will be available for sale, this collection will certainly have you covered. These are the most popular and best premium WordPress themes for a reason. Whatever theme you are going to use, you are always in the right place. I use all these themes with great pleasure and know them like the back of my hand.
Advertisement


My Personal Top 15 Best WP Themes [2023]

Divi is the best theme you can imagine, and it also has the best page builder that already has been integrated and therefore Divi is in place 1. People sometimes compare it incorrectly with the Avada Theme, but in the Divi vs Avada comparison, Divi wins on all fronts. By the way, I write articles for both themes and it is immediately apparent that if I send an equal number of people to Divi as to Avada, that 10x more people actually buy the Divi theme. This experience also makes me doubt the numbers that Avada gives.
Apart from the fact that Divi has more and better features to offer than all other themes, they also have the best price. Many themes can only be used on 1 site, the Divi Theme can be used on as many sites as you want. It costs $89 where most themes cost $59, but Divi is bought as a membership in combination with 86 other themes, including the top theme Extra for magazine websites. There are also many great plugins in the package. The subscription can also be bought for the rest of his life for only 249 dollars, an unparalleled good price. If you use this link you will get your Divi with a 20% discount.


Astra PRO is the fastest-loading theme there is for Wordpress. But it doesn't stop there, because apart from the fast loading times, Astra is also one of the best themes for building webshops and of course websites. Astra offers an abundance of eye-catching layouts that can be installed with 1 click and is fully prepared to work perfectly together with both the Woocommerce plugin for webshops and the Elementor page builder. Of course, Astra also works great with other top pagebuilders.
As far as I'm concerned, Astra + Elementor Pro is almost as good as Divi above as it can do practically anything, and yet the theme loads very quickly. Another thing you will like about Astra is the price. The theme is competitively priced, and can be used on as many sites as you want. It offers big discounts on lifetime plans, and if you want to pay annually, follow-up years have a 40% discount. I don't believe I know of another theme that offers the same 40% discount on renewals. In short, Astra is more than worth its second place in this list and, in combination with the Elementor page builder mentioned above, is a well-oiled machine for building websites from the ground.

OceanWP is quite similar to the Astra Theme (No.2 in this list). OceanWP achieves lightning-fast loading times and, like Astra, is a specialist in the field of E-commerce (Woocommerce). OceanWP has both a free version and a pro version. OceanWP has been installed on over 600,000 websites, an impressive number. This is one of the fastest-loading themes out there, and it also specializes in building Woocommerce shops. Like Astra, Ocean-WP also has a free version which makes it much more famous. This theme has a demo library full of eye-catching layouts.
You can get off to a flying start with these demos. In 1 click you install the demo and for the rest you replace all content in your own house style. After your logo, texts and images are in the site, you are basically ready. This is the fastest way to build a website and with OceanWP very nice. As mentioned, OceanWP was built with webshops in mind and that stands out. The theme has thought of everything: pop-up carts, quickview, wishlist plus everything else you need to make your shop shine. Finally, OceanWP has very favorable prices, in short, this is a winner.


Generatepress does what it was made for, which is super-fast loading in browsers. Generatepress is similar in features to Astra PRO. The Generatepress code is compressed to only 15kb, even smaller than Astra's. Yet both of these lightning-fast themes without plug-ins activated have the same loading time. More about this in our Generatepress review. We discuss Generatepress Premium, the free version can be downloaded here but is of course incomplete.
We are therefore talking about the premium version, even if we do not always say this. The premium version comes in the form of premium plugins and a library full of 1-click demo websites. The Generatepress design is simple but very beautiful at the same time. Simplicity is the new fashion, some people don't like too much fuss these days. Websites should load quickly, look decent on all devices, and everything should work properly. If you were looking for a theme with such features, Generatepress is definitely for you.


One of the things that the Extra Theme has going for it is the fact that it has been created by Elegant Themes . Elegant Themes has the world's best front-end page builder, the DiviBuilder. This is not a separate comment from me here, 881.346+ people bought the Divi Theme from them, the most popular Wordpress theme ever and Extra is also equipped with this page builder.
The Extra theme was built for news themes and blog themes and is therefore fully configured for that. The ease with which you can quickly place new articles on the website and everything automatically adjusts, such as the latest news and most read articles. The theme offers many very nice blog layouts that you can import into your project with a few clicks.
Spending an extra $20 on the price of any other good news or magazine theme will get you a Elegant Themes One year membership for unlimited sites. You immediately have the world famous Divi Theme and 86 other premium themes and plug-ins for practically the same price for which you only have 1 theme for 1 domain somewhere. We have put the Divi theme in first place in this review. If you use this link you will get your Extra and Divi with a 20% discount.


There is only 1 theme that is used by Matt Cutts from Google and the founder of Wordpress himself is recommended, which is Genesis. The Genesis Framework offers beautiful designs for all conceivable niches and is again a speed monster. This theme becomes even faster in collaboration with WP Engine, which is a fully catered hosting system with CDN. This hosting automatically optimizes your site to perfection. If you're interested, order WP Engine right away because Genesis is already included for free. Of course Genesis also runs great on any good hosting.
Genesis is great for building e-commerce websites and offers spectacular designs (child themes). The theme excels in SEO options and even comes standard with Schema Microdata that Google loves. This makes your website better found and better presented in the Google search results. I must honestly say that the theme is on the expensive side, but companies generally don't care much about this, they just want the best there is for their websites and that is WP Engine/Genesis. Your website requires virtually no maintenance, together with Wordpress your theme is automatically upgraded and due to the perfect code in which the theme is written, errors never occur.


There is no theme that is easier to install. Including importing a ready-made design, you are ready to start building your website in a few clicks and seconds. The Neve theme also has a free version with an almost perfect rating and hundreds of thousands of downloads. This theme is also high in my top themes for speed as it has a small super-fast code with Vanilla Javascript. Other themes use the default jQuery which is at least 25% slower.
The super fast loading times certainly do not stand in the way of Neve when it comes to other points in which the theme excels, such as the large library of beautiful 1-click demo designs to install. The theme is also extremely suitable for creating webshops. It is perfectly prepared for the installation of Woocommerce and with the special Woobooster included in Neve you can adjust practically everything in the shop without having any HTML knowledge. The theme immediately comes with Elementor, the best page builder out there for Wordpress. This is not the pro version of course but with Neve's Elementor booster 9 extra beautiful widgets are added. Read my review if this short description sparked your interest.

Like all themes in the top 10, an almost perfect rating on Wordpress.org and currently installed on 200.000+ websites. The reason for that? Kadence offers a drag & drop header and footer builder and has very fast loading times. The theme offers a large library of beautiful start templates (demos) with about 6 of them especially for the construction of webshops. In addition, the theme is very suitable for working with the Elementor page builder and the Beaver builder.
Other easy features are the Color Manager that gives you the choice of 10 different color combinations that can be installed with 1 click. After that, additional personal adjustments are possible and you can save the new style. The addition of Kadence Blocks ensures that Kadence even works pleasantly in combination with Gutenberg, the standard Wordpress editor. Also great features are the Transparent backgrounds, a very good SEO with Schema MarkUp, 100% Responsive on all devices, Sticky Header, and CSS Pre-loading in the header. All in all a fantastic theme.

The free version of the Zakra theme is downloaded almost 1000x daily via Wordpress.org and the pro version is even better. Zakra has been installed on 60.000+ websites and enjoys an insanely good rating. Zakra many header options such as different header designs, sticky header, transparent header, multiple buttons to use in the header, and different topbars. The Theme offers 60 beautiful niche demo layouts and is compatible with all top pagebuilders.
As one can expect from a top theme, it loads super fast and you can create beautiful, very professional webshops with it. With Zakra, the integration of the popular Woocommerce is a piece of cake and the theme is completely prepared for it. Zakra gives you the opportunity to style the shop pages however you want without any HTML knowledge. The best deal Zakra offers for me is the "Personal Plus" package, for sites you pay $89 and have access to all their demos. Sometimes they give 35% off and you can get it for $67.
I chose the Inspiro Theme for this selection because of its very specific properties. This theme is perfect for photo & video. Everything has been thought of, beautiful video backgrounds and video sliders also on mobile. Unique is that this theme plays video on auto-play on all devices. You can use both self-hosted video, or opt for the integration of Youtube & Vimeo videos. The theme has a rating of practically 5 stars and has a very fast download time in browsers.
The Inspiro theme does not come alone, but in combination with 36 other very good themes. WP-Zoom has put together a very complete selection here. Memberships usually provide much more bang for the buck than just a theme, just like Divi is the case. The theme uses its own page builder by default, but is 100% compatible with the Elementor page builder, Beaverbuilder, and practically all the top page builders out there for Wordpress.
Note: The themes below are very good themes but are sold through a marketplace where a separate license must be ordered for each website you have. I can only recommend them if you are looking for a theme for only 1 website!


Avada has been the best-selling theme on Themeforest.net for over 6 years and more than 700.000 have been sold to date. Just calculate what the revenue for the builders and Themeforest together is 700.000 x 60 dollars = 42 million dollars. Buying such a theme means that there is always great support and it is not just taken off the market which would mean that you can no longer get updates for it.
Avada comes standard with a good page builder called Fusion Builder. There are better page builders but the Fusion Builder does its job well and you will enjoy working with it if you choose this theme. Avada simply has everything one can imagine, this is one of the best developed themes in this top 10. Perfect for shops, blogs, private websites, corporate sites and home pages.
You can use a demo as well as individual pages. Build exactly the site you want. Everything can be adjusted and set via the personal page settings and theme options. While selecting the best themes 2021, I was also impressed by the theme's portfolio layouts that can be used up to 6 rows wide.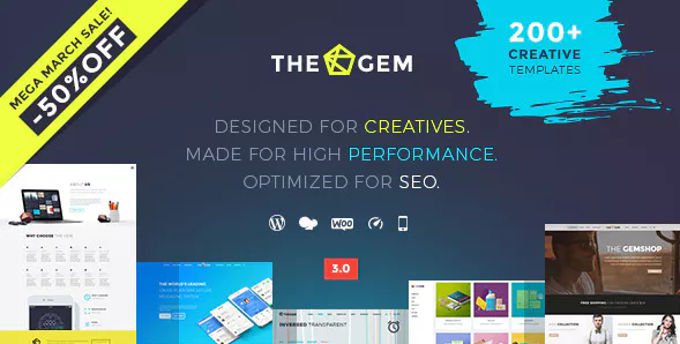 With over 400 creative concepts to choose from, this versatile theme can be used to create almost any type of website with WordPress. Each of these website demos from TheGem is built to a very high standard. Actually, it's fair to say that each of these demos can be sold separately. Either way, anyone who chooses TheGem will get access to a very impressive library of website demos. Fortunately, when setting up your website, TheGem makes it very easy to import this content. Customizing your site is no problem either and the options on offer help explain why TheGem is one of the most popular Premium WordPress themes available today.
Despite a strong focus on design and pre-built content, the creators of TheGem have not overlooked the other essential aspects of producing a winning theme. If you choose TheGem for your project, your website will load quickly, will be optimized for the search engines and of course will be very mobile friendly. As you would expect from a bestselling theme, TheGem is designed to work fully with the leading third-party plugins, such as WooCommerce, Contact Form 7, Yoast SEO and more. The package also includes a good selection of useful premium third-party plugins at no extra cost.


Kallyas is one of the best Wordpress themes for creating a webshop. I have personally built more than 20 shops with it so I know what I'm talking about. This theme has its own Page Builder called Zion Builder that works flawlessly and once you get to know it, you will love it. Recently this pagebuilder is for sale separately which indicates how good it is. It is very precise, you can really make everything exactly as you had in mind.
Kallyas is a popular premium theme created as a multipurpose theme for any type of website, not just shops. It's packed with hundreds of features and options so you can customize every aspect of your site. Kallyas is developed by Hogash, creators of several Joomla themes and HTML templates. Kallyas is their only WordPress theme. It is one of the most popular on Themeforest with over 48.909+ sales, and is highly rated. What's also perfect about the Kallyas Theme is the ease with which you can place different images in headers, you can use a different header-image on each page without much hassle.


The Be Theme is one of the best Wordpress themes par excellence to quickly create a suitable website for a particular industry. At the same time, the theme is very flexible, in other words you can work with it very quickly. Time is money, so... This theme is on Themeforest.net in 2nd place in best-selling Wordpress themes right now and for a reason.
I have personally built several sites with this theme and was very pleased with it. I have to say that the Be Theme is very "light", so simple and mainly suitable for professional builders who want to earn money quickly. For creating an A1 website, I would rather use a different theme such as Divi or Extra (discussed above).


It seems that The7 now realizes that fast-loading themes are selling well these days and that is their latest slogan, lightning-fast theme. That is not how I have known The7 for years, although it is a very good theme. If you're going for speed, I would definitely pick one of the really fastest themes and not a theme that has been around for a long time that has improved its code a bit. The7 has always been a top 15 theme on Themeforest but since they are priced at $39 and it is fully compatible with Elementor, it ranks second there.
Apart from the last 2 improvements mentioned - the price and the page builder - the theme has about 50 beautiful demo layouts, no pages but complete sites. The theme makes it possible for people without any technical knowledge to be able to adjust everything on their website. They themselves declare to have 1000+ settings and that is possible. The theme is also very suitable for building webshops and the shops look very professional. Finally, the theme comes with a number of fantastic plug-ins installed that cost a lot of money to buy separately, you get these for free, a good example of this is Revolution Slider, the best slider you can find for Wordpress.