The best Wordpress themes for 2020 💥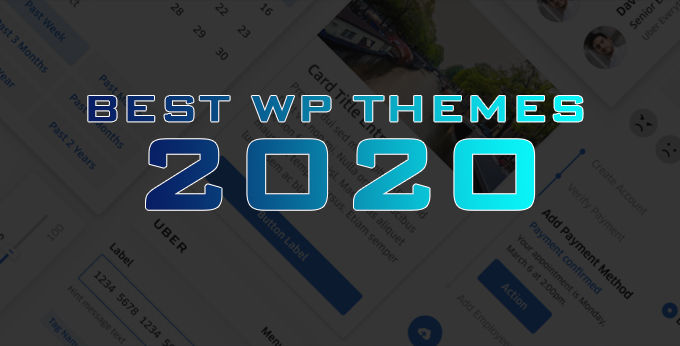 As an experienced web designer I show you my favorite top Wordpress themes for 2020. I discuss all themes separately in a separate review to be reached via the button under the text of the themes. If you are going to create a new website and are therefore looking for a fantastic theme, you can certainly use my selection as a guide.
All these premium themes are a hit in their own way. They are full of ready-to-use demo websites and page layouts so you can get to work at lightning speed. They all have a good page builder, sometimes self-designed, sometimes from a third party who will make your job a lot easier.
Advertisement

These best Wordpress themes can of course all be used for creating blogs, web shops, company websites and personal websites. All these themes are prepared for the installation of Woocommerce, the well-known shop plug-in. All themes are packed with options, settings and functions so that the use of third-party plugins is practically unnecessary.
These themes are so popular for a reason and many have been sold hundreds of thousands of times.
My best 10 Wordpress themes 2020


Divi made by Elegant Themes is the most popular theme in the world. This is the absolute topper in the package they offer (86 premium themes for $ 89.00). Divi is suitable for all types of websites and shops.
Divi is also so popular because of its front-end page builder with inline text editor that can also be used separately in other themes, called Divi-Builder. Everything works with drag & drop and you can see the changes live. You do not work in the back-end but on the site itself as it is seen online. You build a structure with a number of columns and then fill it super fast with text blocks, images and extensions (including buttons, galleries, sliders, price tables, customer ratings, forms).
With the many ready-made homepage layouts and all the essential pages a website needs, with Divi you build your website very quickly, especially if you have a little experience with it. The same goes for webshops, because Divi is completely prepared for the use of plugins for shops and most of all the Woocommerce plug-in.
One of the newest features in Divi is the split test tool. This allows you to optimize elements on your website by creating different versions of a page and offering them across your visitors. This shows you which page is the most effective. The import & export function is also very handy so that you can immediately import your favorite settings in a new project.
Divi keeps getting better with every new version. This theme is the absolute favorite of many hobbyists and professional web builders.


Astra PRO is the PRO version of a very popular free theme that was installed more than 2.369.964+ times. The Astra theme is one of the fastest loading Wordpress themes out there. The theme is only 50kb and is specifically built for speed. The only competitor it has in terms of speed that I know of is GeneratePress which was also built for that purpose. The PRO version complements the free theme in such a way that it has everything a top theme should have. Hundreds of demo installs to choose from and it works perfectly with Woocommerce.
The Astra theme really comes out as an absolute winner in combination with one of the elite page builders. Divi has a very good page builder, the DiviBuilder. Nevertheless I would rather use Elementor or Thrive Architect with the Astra theme. The Astra theme has already been specially prepared to function with Elementor, hence. You can read more about these 3 top page builders here in this article of ours.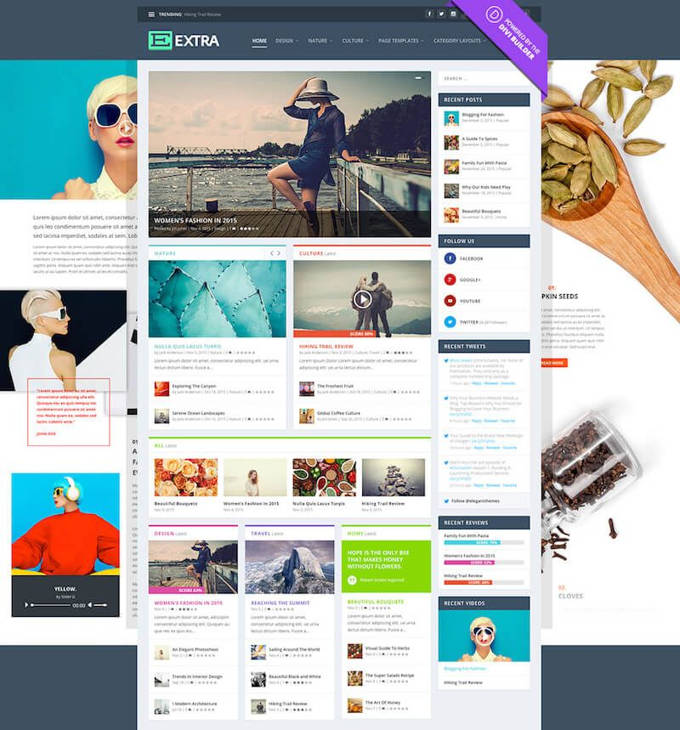 Extra is also a theme of Elegant Themes just like our number one listed here, Divi. Extra is a theme specially developed for blogs and newspaper websites, possibly in combination with a shop because it works very well with the Woocommerce plug-in.
This theme has the most popular page builder Divi-Builder as the heart of the CMS and works flawlessly with drag & drop for all 40 modules for this theme. Everything can be adjusted and styled quickly and easily. It also has custom banner options with which you can easily provide your site with ads. It features an advanced dropdown mega menu which looks great.
Furthermore Extra has several widgets that have been specially developed for bloggers, such as a recent post widget, a social media widget, and an author widget.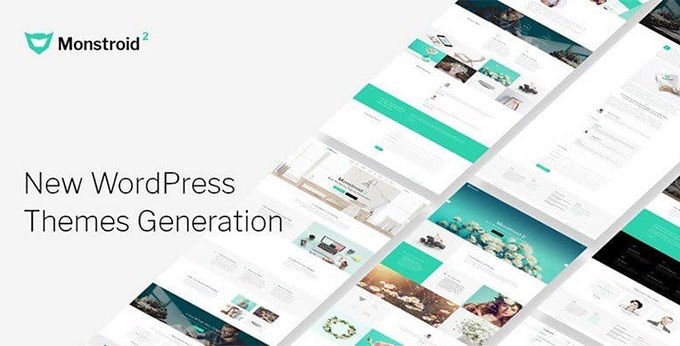 Monstroid-2 is one of the best Wordpress themes to build webshops with. This theme includes the Elementor page builder by default. This page builder can be compared to the quality of the Divi Builder. There are also those who prefer it over the Divi Builder.
Of course, with this advanced theme it is possible to have a desired layout in your website via the demo import function. Then you simply adjust everything to achieve your own house style, which is not a difficult task with the great working Elementor page builder. The webshop layout is very nice and Monstroid works perfectly with the most used Wordpress plug-in for shops, Woocommerce.


Generatepress is a theme that was specially built to load fast in a browser and it does. Generatepress has practically the same properties as a theme like Astra, the two look like two drops of water. The Generatepress code is compressed at only 15kb, so very small.
In the first place, this is a Generatepress Premium review, the free version can be downloaded here but is of course incomplete. So we are talking about the premium version even if we do not always say this. This comes in the form of premium plugins and a library full of 1-click demo websites.
The Generatepress design is simple but very beautiful at the same time. Simplicity is the new fashion, people no longer like too much fuss nowadays. Websites should load quickly, look decent on all devices, and everything should work fine. If you were looking for a theme with such features, Generatepress is definitely for you.


Avada is the eye-catching top product of Fusion Team and has been sold just a little less than Divi, about 858.338+ times. This earned the builder millions of dollars, half for the builders and half for Themeforest where the theme is sold. The good thing about such successful themes is that they will never be taken off the market, so you will always have upgrades for your website in the future. As for support, you are of course also great here, just like at Divi.
Hiring experts in the field of web design is completely unnecessary with Avada, you can easily install it yourself and get started with creating your website right away. The Fusion Builder is a page builder packed with great features that will help you do just that. Avada quickly builds both business and private websites, shops and blogs.


The OceanWP Theme is certainly one of the best Wordpress themes for 2020. We discuss the free and premium version of this beautiful theme. The OceanWP Theme has already been installed 1.000.000+ times on Wordpress websites and downloaded no less than 2.5 million times. These are numbers that are difficult to overlook. You must say this must be a great theme. If we look at OceanWP's rating, it is immediately noticeable that it is also very high. The rating that can be practically rounded to 5/5 as shown in the image below is in the figures of that of Astra and Generatepress which are also OceanWP's closest competitors.
The OceanWP theme has been perfected on the Woocommerce webshop system, the most popular webshop plug-in in the world for Wordpress. Not only for customization of its design, but it offers a host of conversion enhancing gadgets. For example, the so-called native cart pop-up. After you put an item in your basket, a pop-up will appear to encourage you to pay. This alone would bring about 8% more conversion. There are a number of Woocommerce modules that you can view on their own site.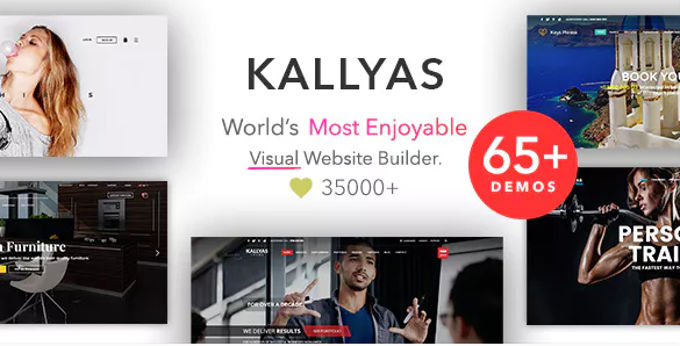 Kallyas is one of the best Wordpress themes for creating a webshop that I have chosen for 2020. I personally built more than 20 shops with it, so I know what I'm talking about. This theme has its own Page Builder that works flawlessly and once you know it well, you will love it (Zion Builder). He works moderately fast and very precise, you can really make exactly everything if you had in mind.
Which is also perfect about the Kallyas Theme is the simplicity with which one can use different images in headers, a different header on each page without much hassle. The demo designs that can be installed with 1 click that Kallyas offers are more than beautiful. And that certainly applies to shop demos.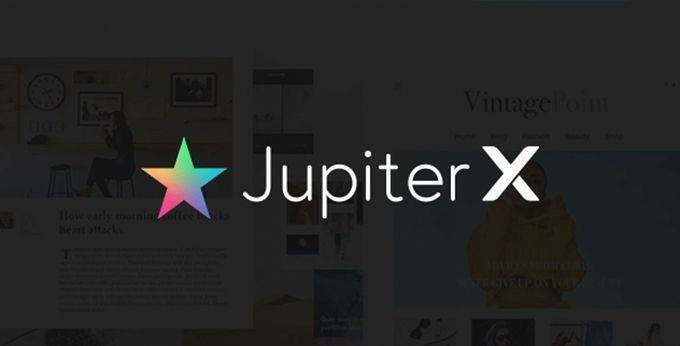 The number of WordPress users has grown enormously in the last few years. Not only regular freelancers and bloggers, but even established companies do not use any means to benefit from the benefits of WordPress. With 168.000+ sales is the Jupiter theme of Artbees one of the best-selling WordPress themes of all time at ThemeForest. Apart from that, it also has a 4.72 star rating on more than 5600 reviews, which means that most buyers are very satisfied with their purchase. If you are looking for the fastest loading Wordpress theme among the absolute top themes, then look no further. Jupiter theme has everything you need and is super fast.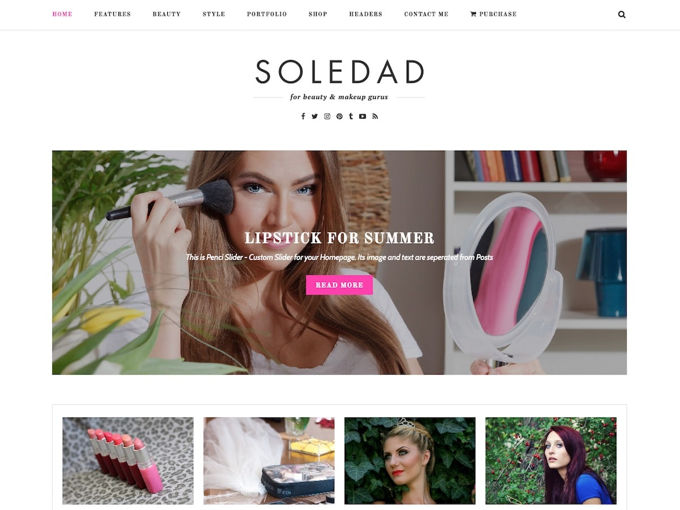 Soledad and her 6886+ demos may have the most to offer when it comes to out-of-the-box templates and layouts. The Soledad demos cover almost every category of website you can think of. Regardless of the type of project you are planning, there should be a demo that you can use as is or as the basis for your own website design.
When it comes to customizing the Soledad demos and page templates, there are an impressive number of theme settings and options to take advantage of. Not only that, but there are over 200 possible slider and blog layout combinations to choose from. Changing your website is now much easier by integrating the free or pro version of the Elementor page builder. This gives you a live preview of your changes as you make them, so you don't have to constantly save your work, switch browser tabs, and refresh tabs.
If you plan to create an online portfolio with WordPress, probably the six different portfolio styles that Soledad contains, should appeal to you. This theme is also a great choice for creating an online store, thanks to full support for the popular WooCommerce Store Builder plugin.
Soledad has a demo version for every occasion and needs no further explanation as to why this is one of the most popular Premium WordPress themes of the moment.
Advertisement