Royal Elementor vs Ocean-WP [2023] 💥

Ocean-WP was built for webshops and fast loading times...

Advertisement

Alright folks, strap in for this OceanWP Theme review, where we dive into both the free and premium versions of this aquatic wonder. The OceanWP Theme is swimming in popularity, with over 1,000,000+ WordPress installs and 2.5 million downloads. Those numbers aren't just big; they're whale-sized! So, why is this theme making such a splash? One peek at OceanWP's rating and you'll see it's sky-high.
We're talking a near perfect 5/5, folks – it's rubbing elbows with the likes of Astra and Generatepress, its closest competitors in the sea of themes.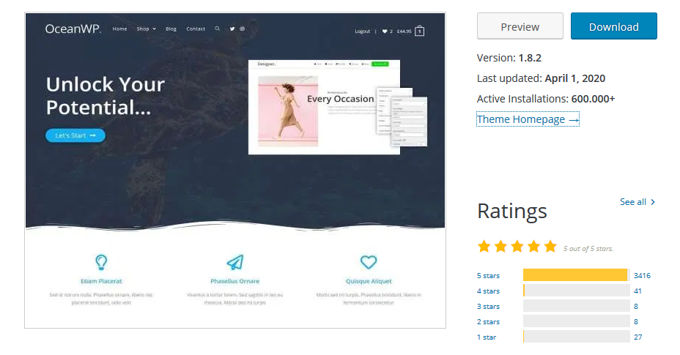 OceanWP: Strengths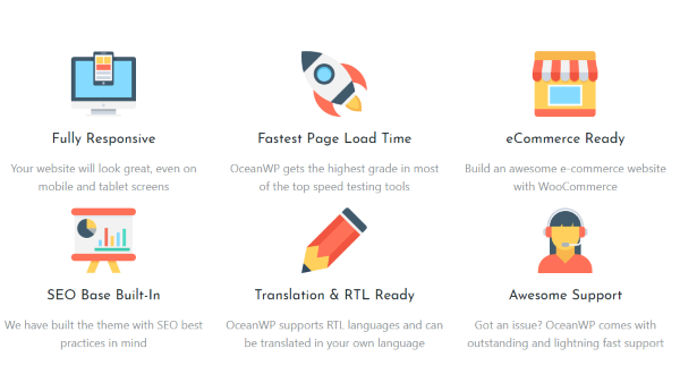 OceanWP Theme review: Speed
Let's talk differences: OceanWP vs. its two arch-rivals. Picture this: OceanWP is the peacock of the theme world, strutting its stuff with top-notch design (especially for web shops), while Astra and Generatepress are like cheetahs, all about speed. Sure, OceanWP isn't a slouch in the speed department, but it's not quite as obsessed as the other two.
Think of it this way: in a race of 100 websites, OceanWP is only outrun by 2, scoring a whopping 98%. That's like coming third in the Olympics – pretty darn impressive! So, what's your cup of tea? A site that loads faster than you can say 'OceanWP' or one that dazzles with design? Either way, OceanWP's blend of speed and style is why it's riding the wave of popularity.


OceanWP: Beautiful design
So, let's talk about design, because the OceanWP team has given it more love than a grandmother gives to her grandchildren. This theme is like a chameleon, looking stunning on all devices. And the demo websites? They're like the supermodels of the theme world – high quality and dressed to impress. Just take a gander at the photo below. It's like walking into a digital fashion show!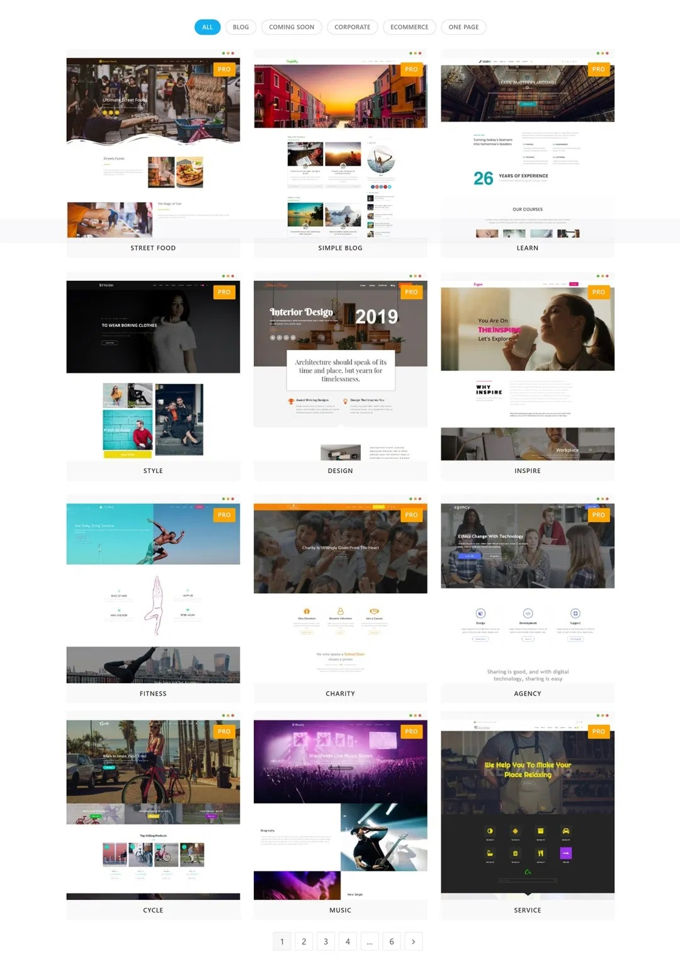 And for Woocommerce...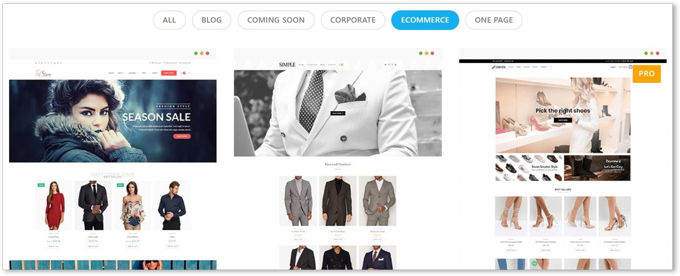 OceanWP: Woocommerce extensions
The OceanWP theme isn't just dipping its toes in the water; it's doing a cannonball into the Woocommerce pool, the world's favorite WordPress shop system. It's not just about sprucing up your shop's design – it's like a magician's hat full of conversion-boosting tricks. Take the native cart pop-up, for instance.
It's like a friendly nudge reminding you, "Hey, you forgot to check out!" Every time someone adds an item to their basket, this pop-up jumps out like a jack-in-the-box, reportedly boosting conversions by a slick 8%. Want more? There's a whole array of Woocommerce modules waiting for you to discover on their site – like a treasure chest of e-commerce goodies!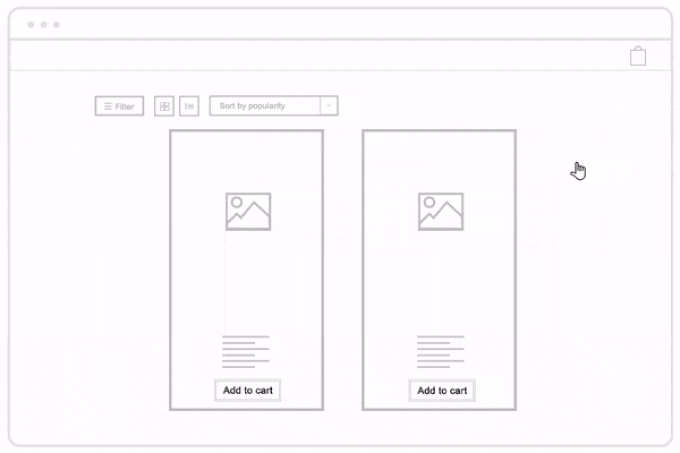 Let's lay our cards on the table in this OceanWP review: when it comes to crafting webshops, this theme is like the king of the e-commerce jungle. If your dream is a shop that not only works like a well-oiled machine but also looks like it stepped off the runway, OceanWP is your go-to theme. It's like having a secret recipe for online retail success!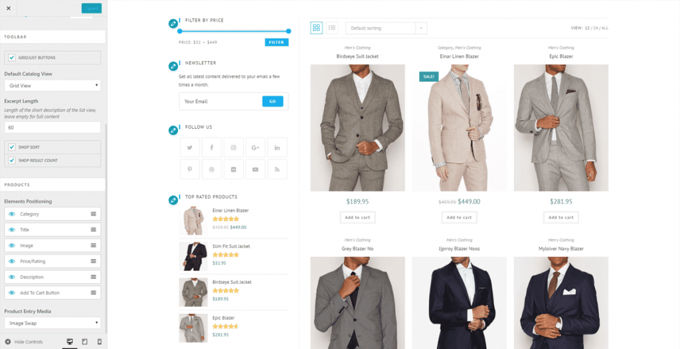 OceanWP: Core extensions
In the premium corner, OceanWP comes out swinging with its all-access pass to core extensions – it's like having a VIP backstage pass at a rock concert (check out the photo below for a sneak peek). Fancy a full-screen site that scrolls like a red carpet? Check. That practically mandatory cookie notification (because who doesn't love cookies, right)? You got it.
A customizable pop-up login that's smoother than a James Bond introduction? Absolutely. Want to kick out the OceanWP label from your footer's VIP lounge? No problem. Add in some stunning portfolios, those talked-about Woocommerce extensions, a sticky footer that clings like a loyal puppy, and hooks for the pro builders – it's like a Swiss Army knife for website creation!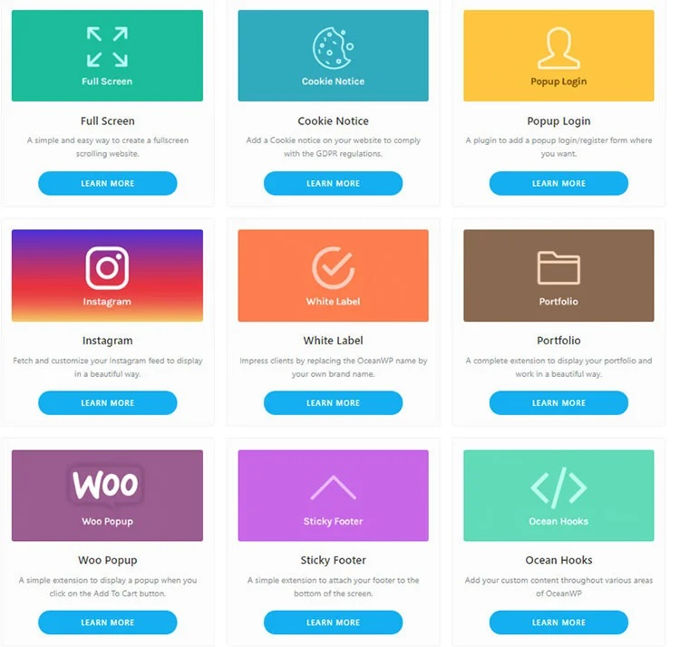 OceanWP review: Video
Ready for a quick dip into the OceanWP world? Check out the video below, straight from the OceanWP crew. It's like a mini crash course in why this theme is making waves. Don't worry, it won't take much of your time – just a breezy 48 seconds, shorter than a commercial break!

OceanWP: Pricing
Let's talk numbers: the regular premium price for OceanWP is like finding a treasure chest – just $54 for 3 sites. If you're diving into building a shop, this price is sweeter than a candy store sale. In the vast ocean of web shop themes, you'd be hard-pressed to find a better catch than this. It's like getting a first-class ticket for a budget airline price!


OceanWP theme review: Conclusion
And there you have it, the grand finale of our OceanWP theme review. First off, a big thank you for sticking with me through the whole shebang. My verdict? OceanWP is a phenomenal theme that's worth every penny. It's like the Swiss Army knife for web shops – great design, user-friendly, and zippy fast. That's the holy trinity of a good theme right there. The only thing missing is a top-notch page builder to seal the deal.
But fear not, OceanWP isn't just a one-trick pony; it works like a charm with Elementor. And if you want more options, it also plays nice with the elite page builders like Divi Builder, BeaverBuilder, and Thrive Architect. It's like having a team of superheroes at your disposal!
Visit OceanWP theme
Royal Elementor is a great new WP Theme...

Royal Elementor is a brand new Wordpress theme...
In this Royal Elementor Theme review we take a look at its key features of this theme which was made by WP Royal, a professional company best known for a fantastic plugin with Elementor widgets. The plugin in question is already built into this theme, which immediately tells me that the theme will become very popular very quickly.
ROYAL ELEMENTOR RATING

The theme is just out but already installed on 3,000+ website and if we click on Wordpress.org Checking Royal Elementor's rating, we see that all raters gave 5 stars. Unfortunately, there were not that many people who gave a rating, but it can also be seen that the theme is popular. The theme is already a success and I see this theme growing into one of the most popular on Wordpress.org.
ROYAL ELEMENTOR DEMOS

As a young theme, Royal Elementor already offers 30+ demo websites that can be installed with 1 click. All these demos can be edited with the Elementor page builder. The free version is great, but the pro version is even better. In addition, it must be said that the demos are built for very specific niches. For example, there is a demo for crypto websites, portfolios and professional-looking blogs.
ROYAL ELEMENTOR THEMEBUILDER/PAGEBUILDER

As the name of the theme suggests it is fully configured to work with the Elementor page builder. Not only can everything be customized with it, it also offers 50+ extra widgets that give Elementor so many extra possibilities. This is certainly one of the strongest points of this theme.
ROYAL ELEMENTOR THEME REVIEW: SPEED

The Royal Elementor theme is a fast loading theme although it is not in my list for fastest WP-themes. The theme itself without additional plugins with just a well configured cache plugin produced the result presented above. Of course you can further optimize your website on loading time. Follow this tutorial here.
ROYAL ELEMENTOR: WIDGETS

Royal Elementor has been known for years for their plugin that adds so many more elements or also called widgets to the Elementor page builder. This concerns 50+ extra widgets that you now have available even in the free version of the theme. There are practically no other themes that give such a plugin practically for free in a theme that is also free. In a word, great!
ROYAL ELEMENTOR: PARTICLE EFFECTS

We have known the particle effects for years from even Joomla plugins that let snow fall over the screen during the Christmas season. Today it is all much more advanced and there are many different variants with different types of particles. All wonderful what this theme has to offer.
ROYAL ELEMENTOR: PARALLAX EFFECTS

The parallax effect is also a very nice feature. You can't see it very well in the image above, but if you scroll across the page, the earth becomes narrower and wider and thus appears to be moving. You can check out the effect for yourself on their own website, but most of you will know what parallax is.
ROYAL ELEMENTOR: POP-UPS

More and more themes now offer pop-ups integrated into the theme so that purchasing a plugin is no longer necessary. Pop-ups can significantly increase your leads and conversion and are therefore certainly desirable in a good website or shop. As can be seen in the image above, the Royal Elementor pop-up offers several variations.
ROYAL ELEMENTOR: PRO VERSION
The pro version has about the same number of widgets for Elementor but all these widgets have a standard and an advanced version. That's the difference, the same widgets but a lot better and with more options.
ROYAL ELEMENTOR THEME REVIEW: CONCLUSION
Royal Elementor is a new fresh theme, very suitable for creating a beautiful to build a website. The number of demos for specific niches of 30+ and the number of extra widgets for Elementor of 50+ are factors in themselves that make this one of the best free themes ever for Wordpress, but the theme has much more to offer as you read above. An absolute must!
ROYAL ELEMENTOR VS OCEAN-WP: CONCLUSION
You have come to the end of my Ocean-WP vs Royal Elementor comparison. These 2 themes both load very quickly, which is not much different. Royal Elementor is fantastic for the construction of web shops for a free theme, but Ocean-WP wins by far from Royal Elementor in this area because it was specially built for it. That is why I have ranked Ocean-WP in second place in the best Woocommerce themes for [2023] here. If you are looking for a good theme for your new website and especially if you like to have a lot of widgets in your Elementor, take Royal Elementor. Both themes are equally good for building regular websites or blogs.
Advertisement