Impreza vs Ocean-WP themes comparison [2023] 💥


Today we are concerned with the comparison Ocean-WP vs Impreza. Both themes receive very high ratings and are very popular at the moment. Ocean-WP not only has a premium version but also a free version, Impreza does not. Which theme offers more value for money?
I discuss the best features of each theme, where I will not list all the small details, it must remain interesting this article. As said before, I discuss the themes 1 by 1 and give my total opinion at the end. In the various points that are discussed, I often give a direct opinion which theme is clearly better in that aspect.

Advertisement

Alright folks, strap in for this OceanWP Theme review, where we dive into both the free and premium versions of this aquatic wonder. The OceanWP Theme is swimming in popularity, with over 1,000,000+ WordPress installs and 2.5 million downloads. Those numbers aren't just big; they're whale-sized! So, why is this theme making such a splash? One peek at OceanWP's rating and you'll see it's sky-high.
We're talking a near perfect 5/5, folks – it's rubbing elbows with the likes of Astra and Generatepress, its closest competitors in the sea of themes.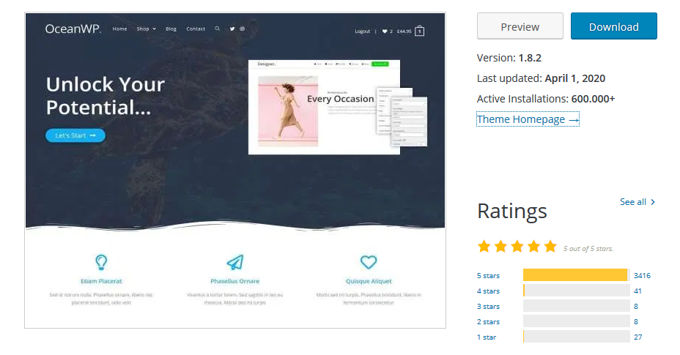 OceanWP: Strengths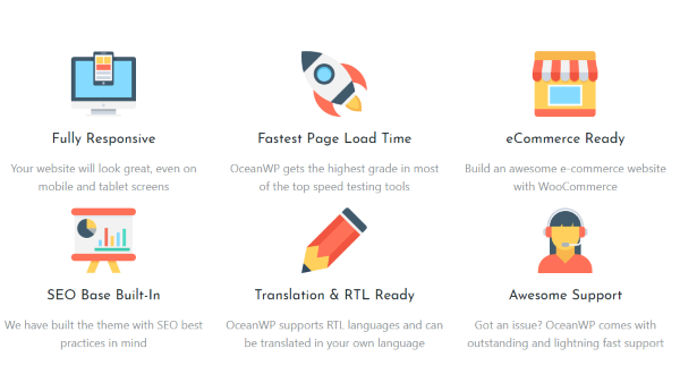 OceanWP Theme review: Speed
Let's talk differences: OceanWP vs. its two arch-rivals. Picture this: OceanWP is the peacock of the theme world, strutting its stuff with top-notch design (especially for web shops), while Astra and Generatepress are like cheetahs, all about speed. Sure, OceanWP isn't a slouch in the speed department, but it's not quite as obsessed as the other two.
Think of it this way: in a race of 100 websites, OceanWP is only outrun by 2, scoring a whopping 98%. That's like coming third in the Olympics – pretty darn impressive! So, what's your cup of tea? A site that loads faster than you can say 'OceanWP' or one that dazzles with design? Either way, OceanWP's blend of speed and style is why it's riding the wave of popularity.


OceanWP: Beautiful design
So, let's talk about design, because the OceanWP team has given it more love than a grandmother gives to her grandchildren. This theme is like a chameleon, looking stunning on all devices. And the demo websites? They're like the supermodels of the theme world – high quality and dressed to impress. Just take a gander at the photo below. It's like walking into a digital fashion show!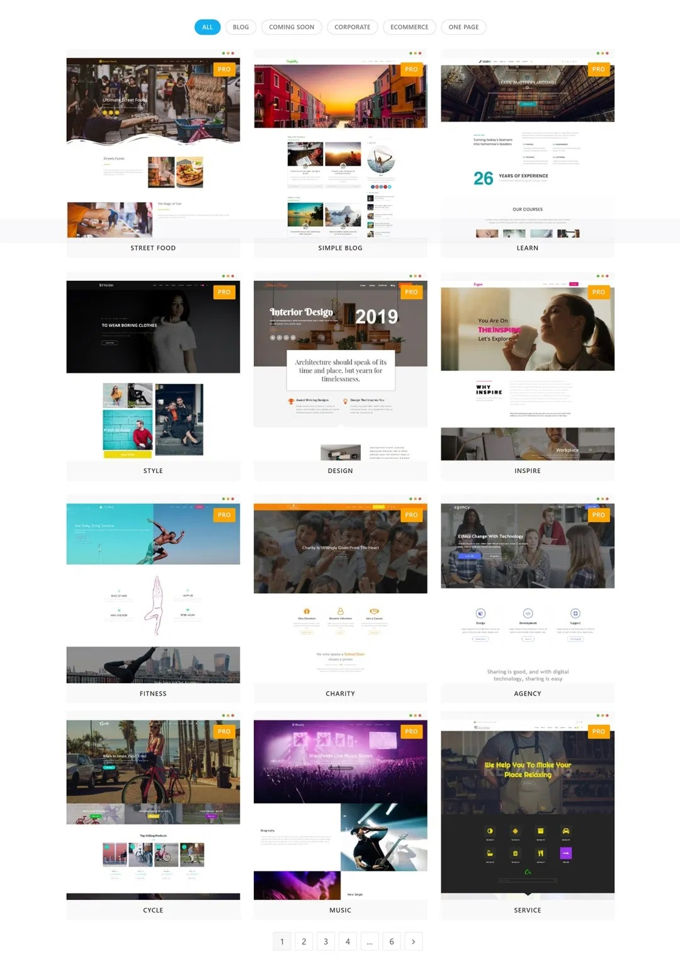 And for Woocommerce...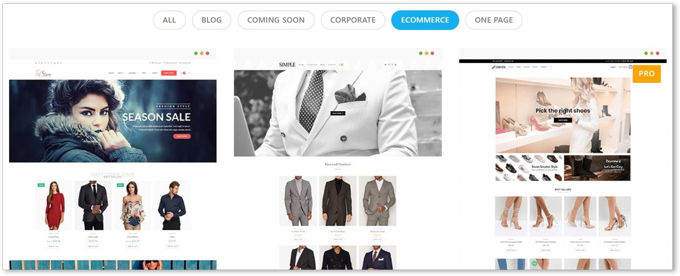 OceanWP: Woocommerce extensions
The OceanWP theme isn't just dipping its toes in the water; it's doing a cannonball into the Woocommerce pool, the world's favorite WordPress shop system. It's not just about sprucing up your shop's design – it's like a magician's hat full of conversion-boosting tricks. Take the native cart pop-up, for instance.
It's like a friendly nudge reminding you, "Hey, you forgot to check out!" Every time someone adds an item to their basket, this pop-up jumps out like a jack-in-the-box, reportedly boosting conversions by a slick 8%. Want more? There's a whole array of Woocommerce modules waiting for you to discover on their site – like a treasure chest of e-commerce goodies!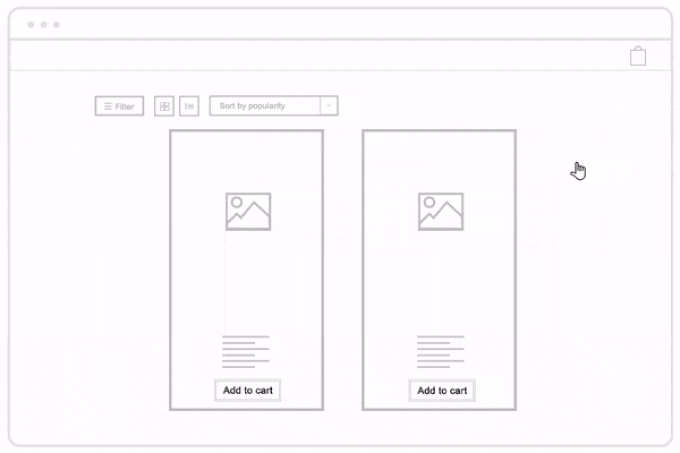 Let's lay our cards on the table in this OceanWP review: when it comes to crafting webshops, this theme is like the king of the e-commerce jungle. If your dream is a shop that not only works like a well-oiled machine but also looks like it stepped off the runway, OceanWP is your go-to theme. It's like having a secret recipe for online retail success!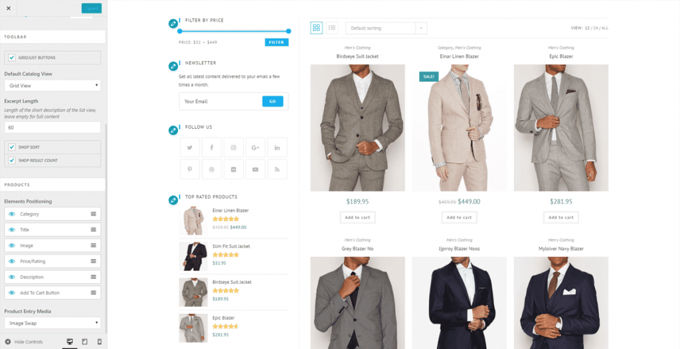 OceanWP: Core extensions
In the premium corner, OceanWP comes out swinging with its all-access pass to core extensions – it's like having a VIP backstage pass at a rock concert (check out the photo below for a sneak peek). Fancy a full-screen site that scrolls like a red carpet? Check. That practically mandatory cookie notification (because who doesn't love cookies, right)? You got it.
A customizable pop-up login that's smoother than a James Bond introduction? Absolutely. Want to kick out the OceanWP label from your footer's VIP lounge? No problem. Add in some stunning portfolios, those talked-about Woocommerce extensions, a sticky footer that clings like a loyal puppy, and hooks for the pro builders – it's like a Swiss Army knife for website creation!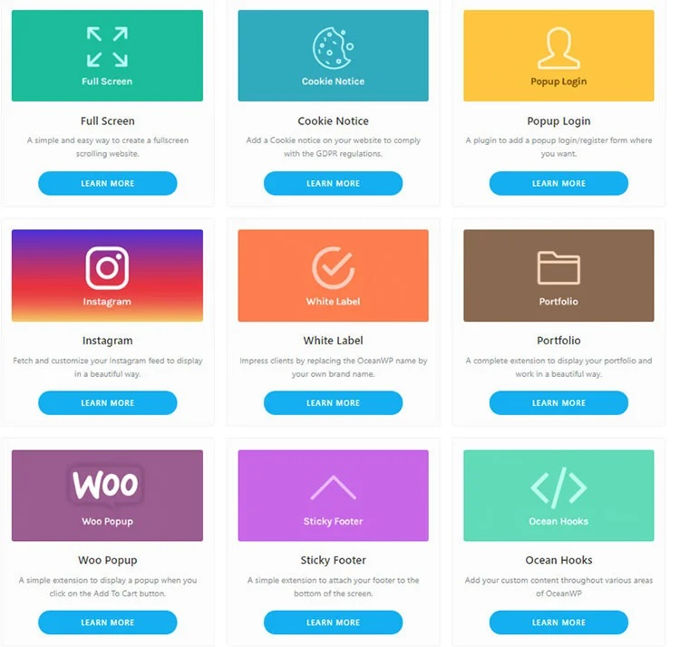 OceanWP review: Video
Ready for a quick dip into the OceanWP world? Check out the video below, straight from the OceanWP crew. It's like a mini crash course in why this theme is making waves. Don't worry, it won't take much of your time – just a breezy 48 seconds, shorter than a commercial break!

OceanWP: Pricing
Let's talk numbers: the regular premium price for OceanWP is like finding a treasure chest – just $54 for 3 sites. If you're diving into building a shop, this price is sweeter than a candy store sale. In the vast ocean of web shop themes, you'd be hard-pressed to find a better catch than this. It's like getting a first-class ticket for a budget airline price!


OceanWP theme review: Conclusion
And there you have it, the grand finale of our OceanWP theme review. First off, a big thank you for sticking with me through the whole shebang. My verdict? OceanWP is a phenomenal theme that's worth every penny. It's like the Swiss Army knife for web shops – great design, user-friendly, and zippy fast. That's the holy trinity of a good theme right there. The only thing missing is a top-notch page builder to seal the deal.
But fear not, OceanWP isn't just a one-trick pony; it works like a charm with Elementor. And if you want more options, it also plays nice with the elite page builders like Divi Builder, BeaverBuilder, and Thrive Architect. It's like having a team of superheroes at your disposal!
Visit OceanWP theme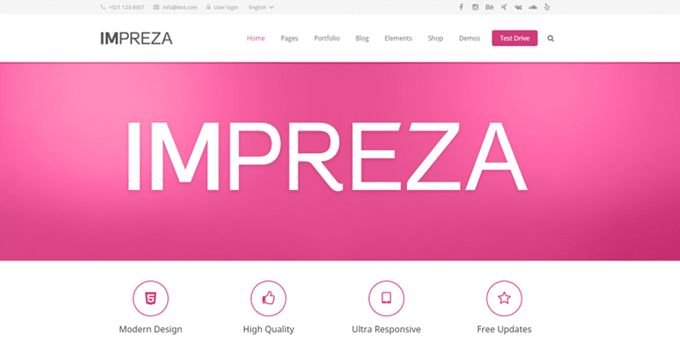 Impreza is like the dark horse in the WordPress theme race, rising up the ranks at lightning speed. In this Impreza theme review, we're going to uncover why Impreza is racking up rave reviews like it's the next big blockbuster. This theme is like finding a designer label at thrift store prices – top quality without breaking the bank. And let's not forget, Impreza is all about that premium life – there's no 'economy class' version here!
IMPREZA RATING
The rating that Impreza gets from its buyers is a dazzling 4.89 – like scoring a near-perfect 10 at the Theme Olympics! Most themes on the Themeforest Marketplace can only dream of such a score. This pretty much explains how Impreza has been flying off the virtual shelves, with over 94,279 sales since 2013. It's like the theme world's version of a best-selling novel!


IMPREZA INSTALLATION AND DEMOS
Impreza is like the Mary Poppins of WordPress themes – it offers over 20+ complete website demos and 300+ page demos to kickstart your latest project. It's like having a magic bag where you pull out nearly finished websites instead of lamps and coat racks! This is way faster than starting from scratch, which for beginners can feel like trying to solve a Rubik's Cube blindfolded. Make sure to take advantage of this feature – you'll have a slick website up and running in no time, just by swapping out the logo, texts, and images. It's like playing dress-up with your website!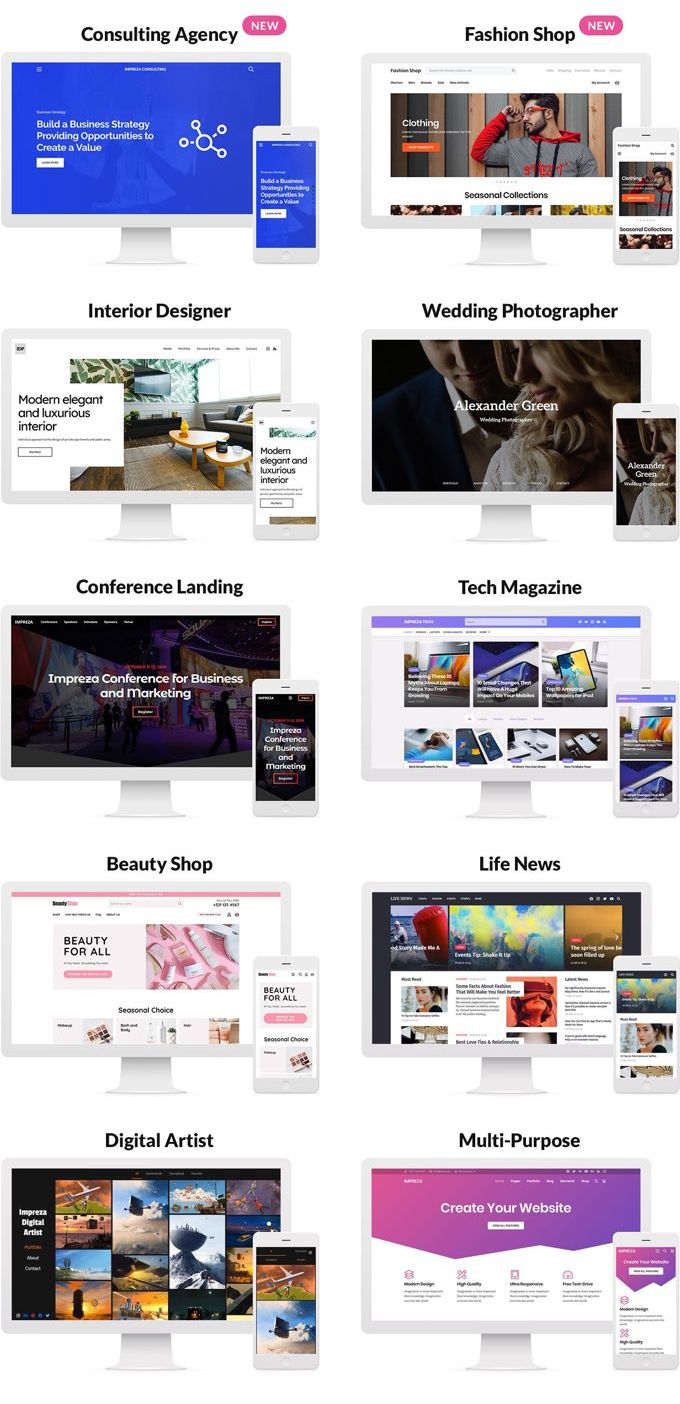 Impreza rolls out the red carpet with its standard inclusion of the Bakery Pagebuilder version 7.2. It's like a special edition sports car – fine-tuned and exclusive to Impreza, boasting no fewer than 44 elements. This page builder is certainly no slouch, although I must confess, I have a slight crush on one of the top 3 best page builders. But hey, Bakery Pagebuilder in Impreza is like having a reliable and fancy sous-chef in your kitchen – it gets the job done with style!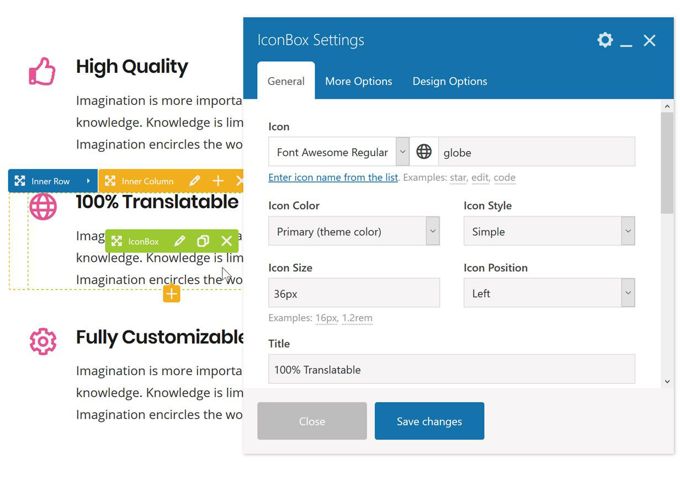 IMPREZA SPEEDTEST
Let's put Impreza through a speed test, shall we? Imagine this: no fancy cache plugins, just the theme in its natural habitat, and all images optimized, like a car on a test track without any turbo boosts. Now, Impreza doesn't strut around boasting about its loading speeds, but surprise! The results from our test were pretty impressive. And guess what? If you bring in a good cache plugin and optimize those images, it's like strapping a rocket to the back of the theme – the speed scores soar sky-high!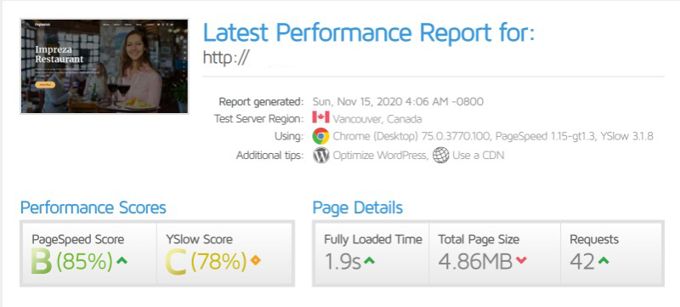 IMPREZA HEADER BUILDER
The Impreza header builder is like a buffet of header styles – with no less than 14 standard styles to choose from. Want to add your own twist? No problem! Tweaking these styles is as easy as pie, and you don't need to be a tech wizard to do it. Fancy a different header for each page? Go for it! It's like giving each page its own unique hat. Sure, lots of themes are jumping on the header builder bandwagon, but Impreza's header builder? It's one of the fancy ones, a true stand-out in the crowd!


IMPREZA GRID-BUILDER
Check this out – Impreza can whip up grids for your blogs or portfolios like a pro chef flipping pancakes! The GridBuilder is packed with an impressive menu of 52 different styles. It's like having a Swiss Army knife for your website's layout. Plus, this Builder comes with special filter and sort options, making it feel like you've got a secret sorting hat at your disposal. Say goodbye to splurging on fancy Grid plugins – Impreza's got you covered with style and flair!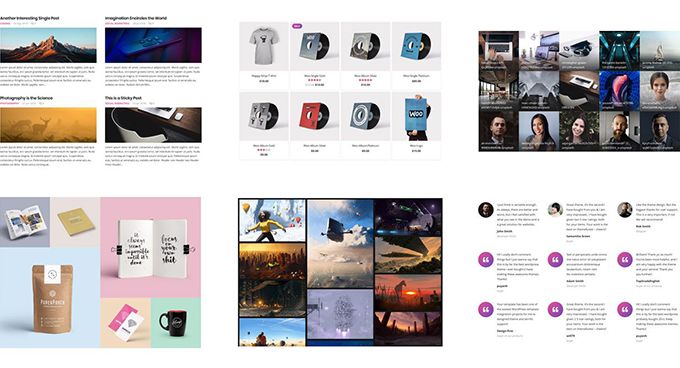 IMPREZA THEME REVIEW WEBSHOPS
Impreza and the Woocommerce plugin are like Batman and Robin for building webshops – a dynamic duo! Starting out? Why not integrate one of those snazzy shop demos and then tweak it to match your brand's swagger. Fancy customizing the product page layout? With Impreza, it's a breeze, and you don't need to be a wizard in HTML or PHP.
Just a few clicks here and there, and voilà! And if you're aiming for a showroom vibe without flashing price tags, Impreza makes it as easy as flipping a switch, as you'll see below. It's like playing dress-up with your website, but way more fun!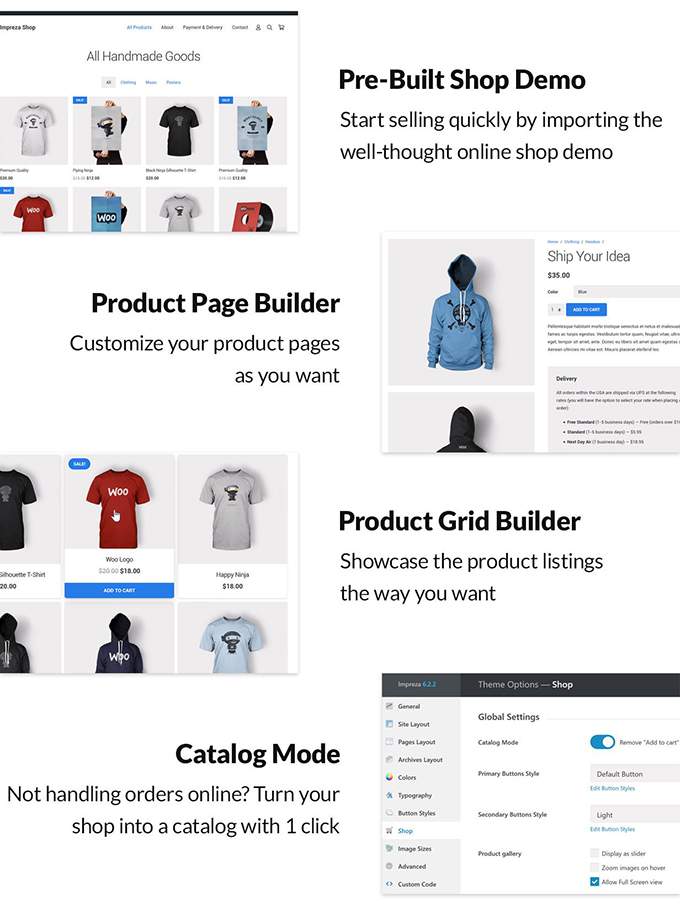 IMPREZA NEWS-WEBSITE
All the top themes have their own special sauce, but only a select few, like the Newspaper theme, are specialized maestros. Impreza, not to be outdone, offers a smorgasbord of special options for cooking up news websites, as you can see in the image below. Want to style categories, posts, and author info? With Impreza, it's like having a magic wand – zap, zap, zap – and everything's styled to your taste in a flash, no tech wizardry needed. It's like being a news website fashion designer, but way easier!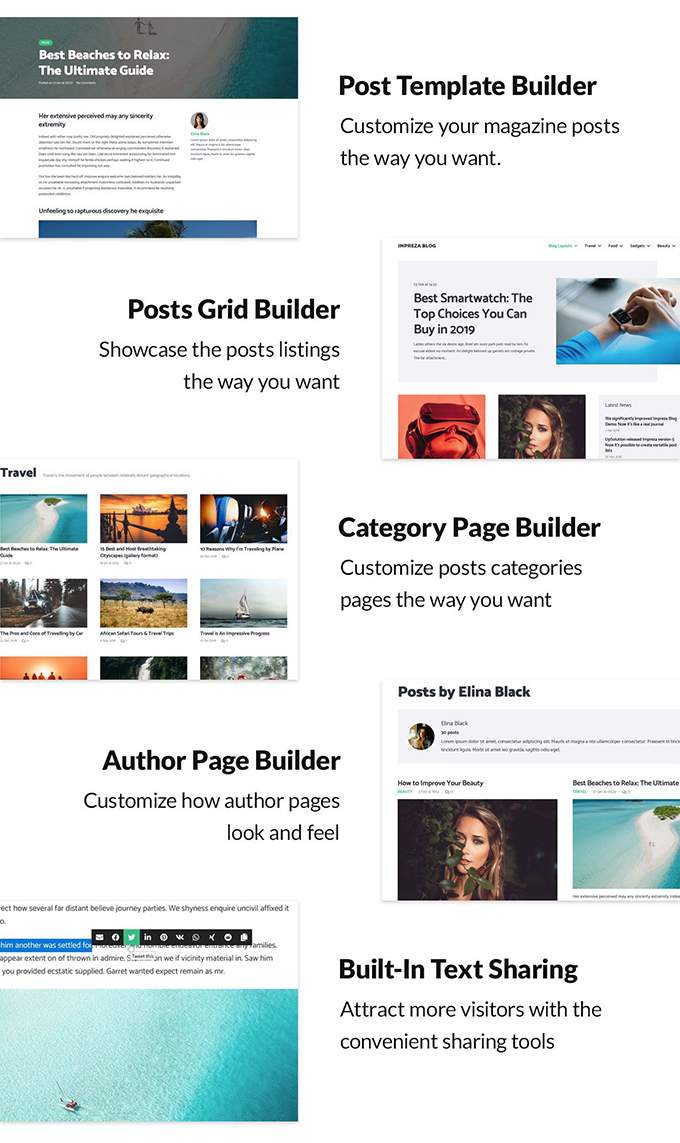 IMPREZA THEME REVIEW: CONCLUSION/PRICING
First off, a big thank you for sticking with my Impreza theme review till the end. Let's talk price - Impreza is a steal at just $39. For the quality it offers, it's like finding a designer dress at a thrift shop price. This theme can totally rub shoulders with the best of the best on the Themeforest marketplace.
But here's a little heads-up: themes from this marketplace come with a 'one website only' tag, thanks to those pesky license keys. If you're a digital landlord with multiple websites, you might want to look at themes that offer a one-size-fits-all (or rather, one-price-fits-all-websites) deal. For that, check out the top 10 contenders for the best themes in [2023]. It's like having a VIP pass to the theme park!
IMPREZA VS OCEAN-WP: CONCLUSION
You have come to the end of my Ocean-WP vs Impreza comparison. They charge very quickly. Both Impreza and Ocean-WP are fantastic themes. However, I strongly prefer Ocean-WP because the theme is much better than Impreza for web shops and it is one of the fastest loading themes there are for Wordpress. I have Ocean-WP in the best Woocommerce themes for [2023] in place 2 here. Finally, I would like to mention that Ocea-WP is cheaper and that makes it an easy choice in all. If you are looking for a good theme for your site and especially when it comes to a shop, take Ocean-WP.
Advertisement