The best Wordpress Pagebuilder for [2021]


3 particularly popular multipurpose WordPress page builders examined!
The most sold Wordpress theme of all time Divi, a product of Elegant Themes, as the mega popular Wordpress theme- and page builder Elementor and the newcomer with dot Thrive Architect go into this best Wordpress pagebuilder review for [2021] neck to neck.
Despite the fact that with these three elite multipurpose page builders one can create all possible types of websites and shops, there are a number of elementary differences that we will be investigating further in a moment. We will start with all the advantages and disadvantages of the Divi Theme, after which we will focus on Elementor and Thrive respectively.
DIVIBUILDER: Best Wordpress pagebuilder?


Divi is a theme and a page builder, called Divi-Theme and Divi-Builder. This software is acquired by becoming a member of Elegant Themes at a very reasonable price. The other two candidates for best pagebuilder can be purchased separately, so no membership. Divi sold 767.154+ memberships. The reason for this is a very good marketing strategy and a flawless product. However, this does not mean that Divi will definitely win this competition here, the other two participants are also very big boys.
DIVI has always been known for its very precise and beautifully working front-end Page builder. However, with Divi 4 there are a number of major updates that literally let every part of your website be edited, exported and imported for use in other websites. We are talking about posts, pages, search pages, 404 pages, footers, headers, archive pages, category pages of your blog. Everything can now be adjusted.
Divi shape dividers
Create the best backgrounds behind your blocks and texts with Divi's beautiful shape dividers. Very easy to set up and a great effect, your visitors will be impressed. Divi gets the full points in this best Wordpress pagebuilder review for its shape dividers.
Woo Builder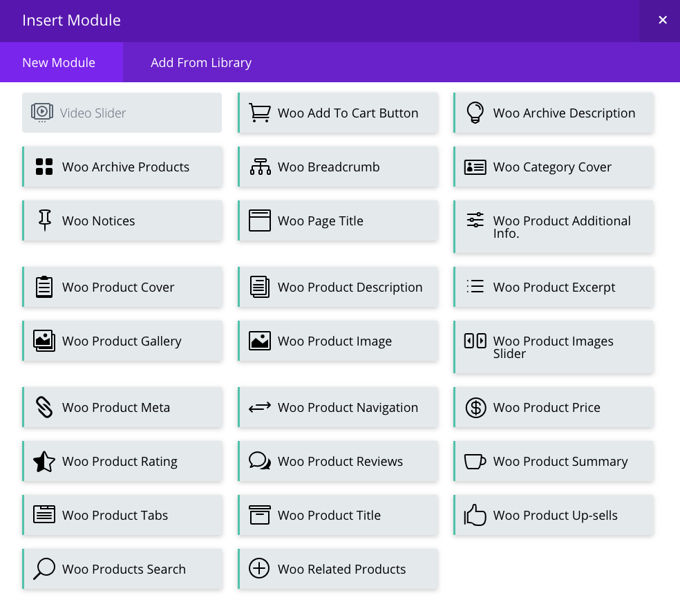 What is the Woo Builder? Since its version 4, Divi now works perfectly with the most popular Webshop plug-in Woocommerce. The Woo Builder lets you perfectly edit and style all check-out pages, category pages, product pages and all other shopping pages of your webshop. Until now, HTML and CSS knowledge was needed to style these types of pages. Now that is a thing of the past with the Divi-4 Theme builder for Woocommerce.
Divi Drag-and-Drop Visual Page-Builder
With Divi's drag & drop Page Builder you can put new pages completely styled on paper in no time. This perfect machine for creating web pages has been provided with the necessary improvements since version 4.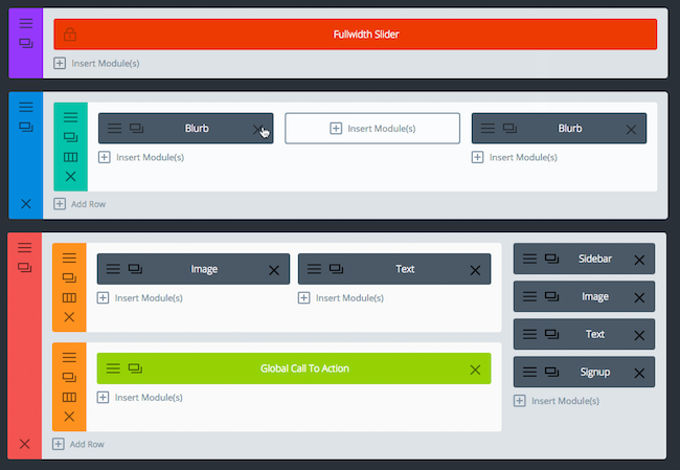 Divi's front-end WYSIWYG visual editor has been around since version 2.7. He continuously gives you a live preview of what it will look like on your website and you have an inline text editor with 600 different Google fonts.
Via drag & drop you can place new columns and sections, drag them or resize them. The same applies to all elements that you use in these sections. The conclusion for this best Wordpress pagebuilder research is that the Divi Pagebuilder is a true pleasure to work with. It is super fast, error-free, well-arranged and offers a wealth of options.
Divi revision manager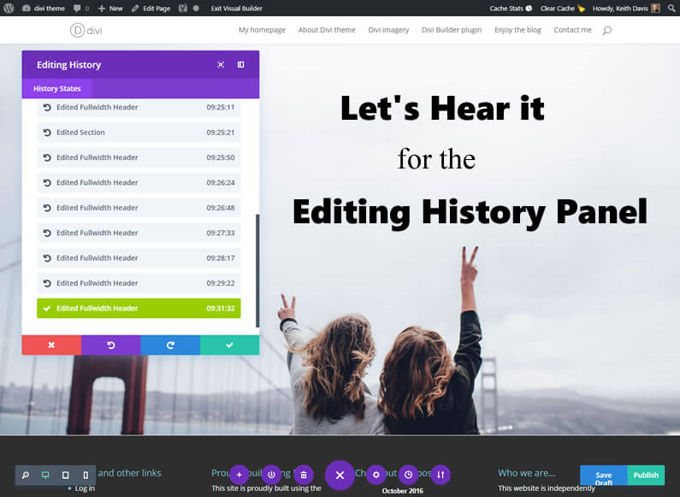 Go back without limits to all the earlier moments where you saved your work. Sometimes people suddenly realize that they have made a whole series of mistakes and want to be "back in time", Divi's revision manager is exactly what you need at such a moment. I have to say that all 3 page builders in this review have an overhaul manager so Divi is not unique here.
Divi Elements

Under the Divi page elements you will find all standard elements that all editors have. Think of galleries, buttons, text, images, etc. But Divi offers much more. You also have the choice of modules for which you would have to install additional plug-ins with a different editor such as price tables, sliders, sliders, portfolios, testimonials and more. You also have access to all Woocommerce modules of course.
Best WP pagebuilder: Pre-made layouts and templates
The Divi Builder currently has 800+ layouts, that is without the +100 website packs included. New layouts and packs are added to the library during each upgrade. Both the site packs and the single page layouts can be used anywhere on your site. This works much faster than making your pages "from scratch", which of course is also an option.


Each of these pre-made layouts can be edited via the aforementioned Divi Pagebuilder. After you have made your adjustments, you can save your own layouts for repeated / future use.
Install demo design
Divi Pagebuilder responsive editing
Open source photos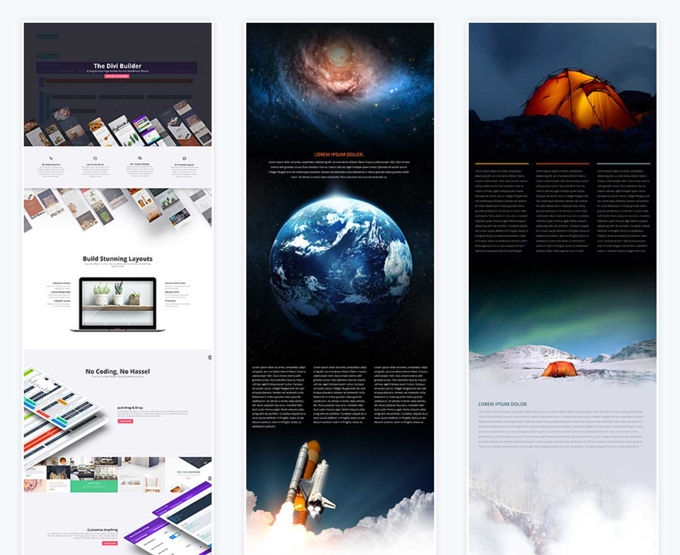 In this extensive library with demos you will find a large collection of images that you can use. These are open source photos with which you can do whatever you want, these are also included in the demos. Other themes use stock photos in their demo on their site, but if you install a demo these photos are not included. Instead, images with demo are used, which is not pleasant. These must all be replaced by you, so a lot of work.
Divi leads split-test tool
This perfect SEO tool gives you the opportunity to create different layouts and these are shown to your visitors half-half. This way you can see which version has the most effect, so conversion. The same applies to texts, buttons, and other call 2 action items. This way you learn what works and what doesn't work on your site. No other theme has such a tool in it. When I wrote this Divi vs Elementor review, it immediately caught my eye, it is a great tool. This tool is already available from Divi 2.7 and has since been improved, but just as impressive.


The A-B test tool from Divi Leads makes guesswork superfluous, one can now actually see what works better on a website. Of course it is labor intensive to create websites in this way, but for affiliate marketers and companies that need to be found very well, the tool is of course perfect.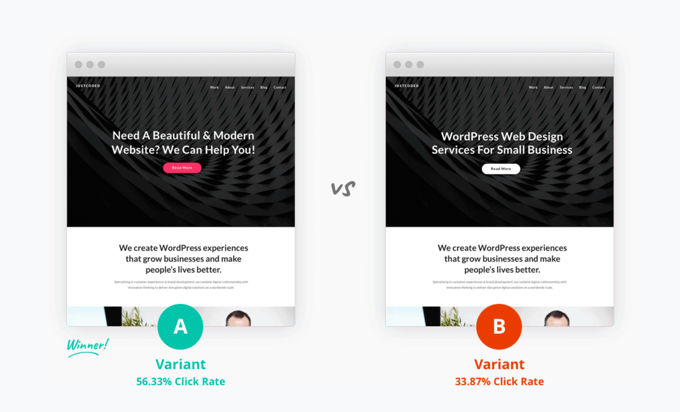 The tool works very easily. You click on any element in your design and the option is offered to create multiple variants. If you have finished this work, you only have to wait for the results. Depending on how well visited a page is, this will take a few weeks to be sure what works better and that there is no coincidence in the game.
Theme options
The DIVI theme options have their own panel, an unprecedented number of changes can be made to your website here. Everything that needs to be set on the theme can be found here. Every premium theme comes with such a panel, but Divi offers a lot of settings, some say too much.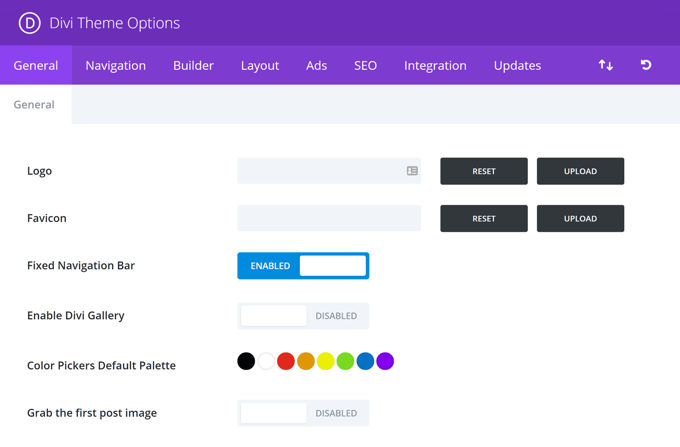 Portability between websites
For people with multiple sites or professional web designers, it is important to be able to work quickly and with ease. Here Divi comes out really well. With Divi, it is extremely easy to export complete designs, settings, pages, footers, and practically everything else you want from one site and import it into another. It is never necessary to perform a task multiple times, you simply copy your work to the following website. This saves time and effort.
Divi membership fees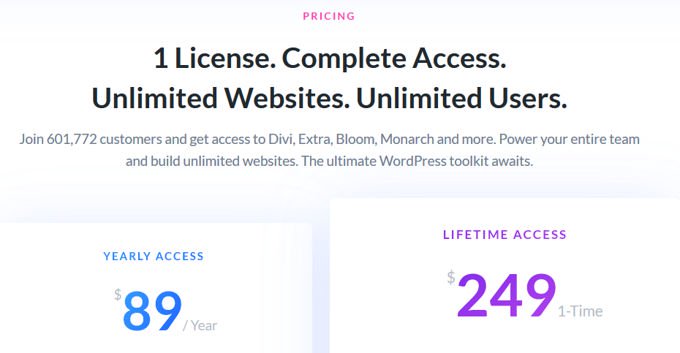 You can become a member of Elegant Themes for $ 89 a year, sometimes there are offers and you have it cheaper. With this you have access to Divi, but also the Extra Theme and 86 other premium themes. I would almost forget the many plug-ins and other extras. In short, for a little bit more than another premium theme costs, you get this complete package. So value for money.
Another and in my opinion more interesting options is a membership for life for the price of $ 249. You get exactly the same and are entitled to all upgrades and access to all forums. The only difference is that you have already saved money after 3 years.
Do you want to try Divi without risk? That's possible because you can request a refund for 30 days if you were not satisfied. These 30 days you just have unlimited access to everything that other members have.
Visit Divi website!
ELEMENTOR: Best Wordpress pagebuilder?
Elementor exists since 2016 but has since been installed on more than 3 million websites. We are talking about an elite front-end drag & drop page builder of which a free and a PRO version are available. We are discussing the PRO version here, the free version is of course much inferior to both competitors in this comparison. The PRO version offers 300+ demo designs from which one can start his website. With Elementor PRO you don't need another theme, it works as a full Wordpress theme.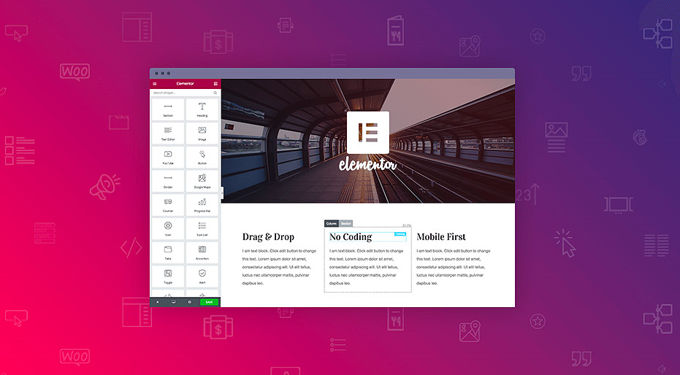 Elementor Pagebuilder review
Watch the video below, this gives you a good idea how you can get started with the editor / page builder yourself.
Elementor Navigator review
Completely new in the latest version of the Elementor pagebuilder is the Navigator. An extension for the settings of elements that can remain as a dock on the right or can float anywhere in your work surface. View the video to get an idea of how it works.
Elementor save your widgets
Elementor, just like both other candidates for the best Wordpress pagebuilder of [2021], is capable of storing footers, headers, blocks, sections and everything else you wish. Saved items can be reused elsewhere in your website to save you work. Via import / export you can even reuse your items on other websites.
Ready-to-install designs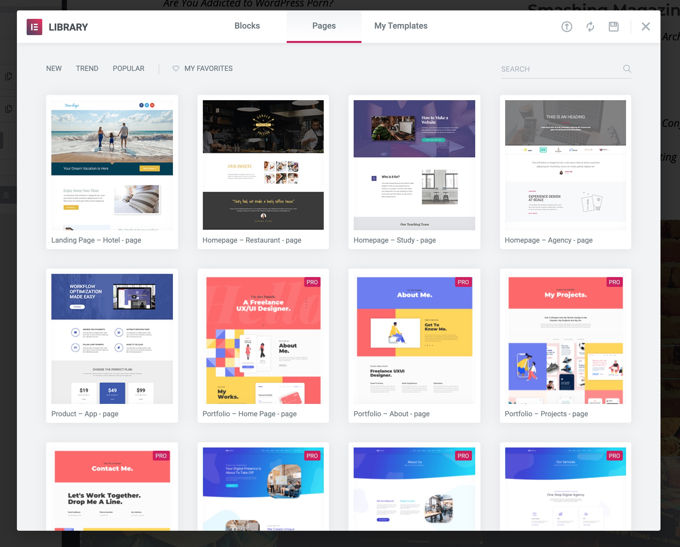 In this best WP pagebuilder review we will now go deeper into the beautiful features of Elementor, starting with its demo designs. If you do not want to start building your design from scratch, you can use these ready-made page layouts as a start.
Just like with Divi There are themes and layouts for all niches such as corporate, gym, café, hotel, photography, architecture, travel, lifestyle, fashion and web shops. There are also many complete themes available for Elementor (and also for Divi) that are sold by third parties.
Elementor E-commerce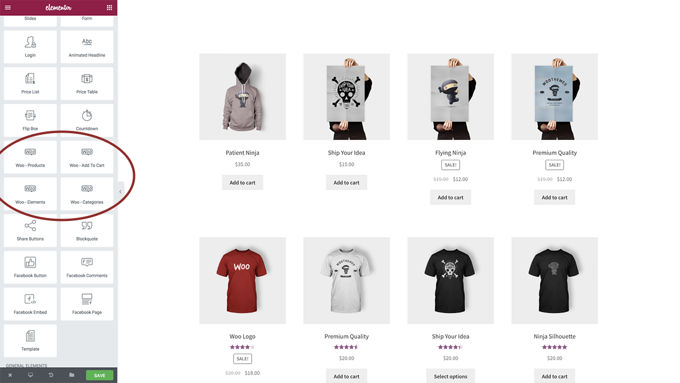 Elementor works perfectly with Woocommerce, the most popular E-commerce for Wordpress. The page builder allows both product pages and category pages to be styled smoothly. Present your shop exactly as you had in mind that means. In our best wordpress pagebuilder review, Elementor, Thrive and Divi all score practically the same.
Elementor revision manager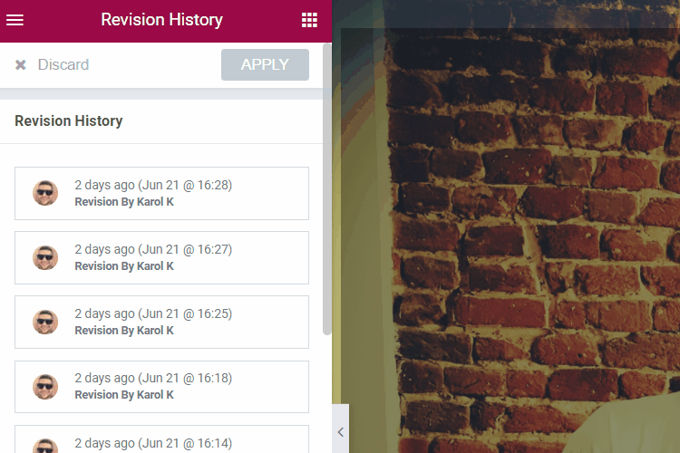 Revision managers are also something all elite page builders have in them. It is abundantly clear that Wordpress with its own revision manager left something to be desired. The tools that the page builders offer are also much more pleasant to work with, it must be said.
Elementor responsiveness


All 3 pagebuilders that we take a closer look at, give you the option of setting pages, sections, and elements separately for mobile, tablet and desktop. This is something that has a lot of good themes, we can hardly call it anything special today, but we are happy that it is there.
Elementor Pixel Perfect Design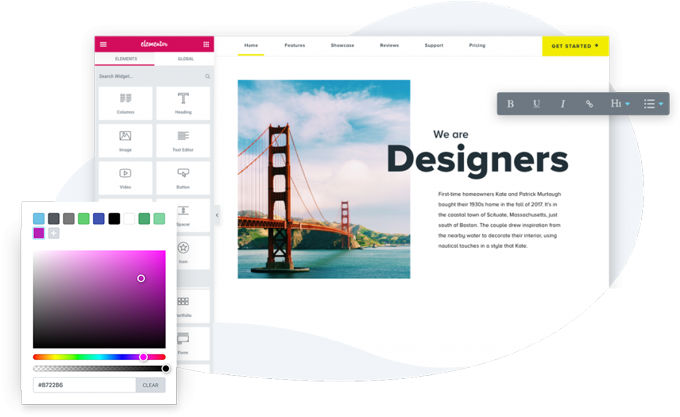 In their own words Elementor is the only page builder (at the moment) that offers "pixel perfect design", supported by 100% clean coding. In short, with Elementor you have access to the complete color range plus gradients. That is something for example also present in Divi which means they're not the only one that has it.
Elementor elements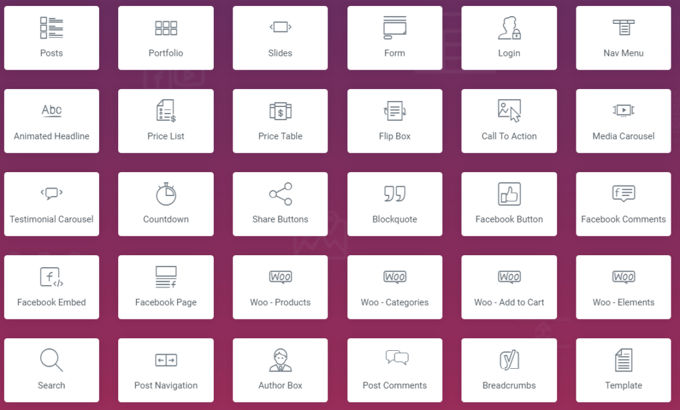 Elementor has a very extensive collection of elements that you can insert on pages. In principle everything has been thought of, exactly what one can expect from one of the best editors worldwide. It must be said that Divi is even more extensive.
Elementor standard elements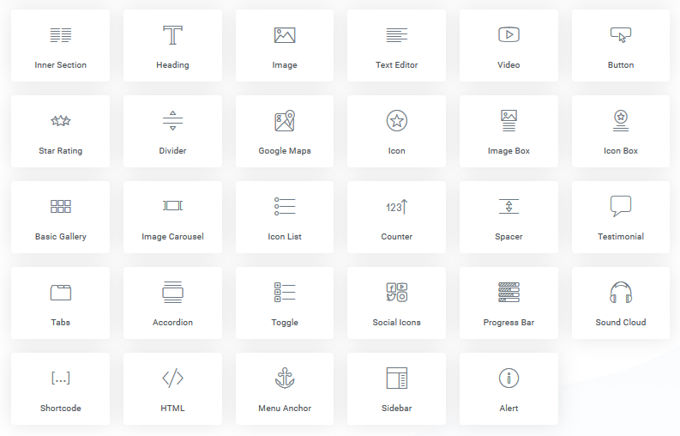 Elementor PRO version elements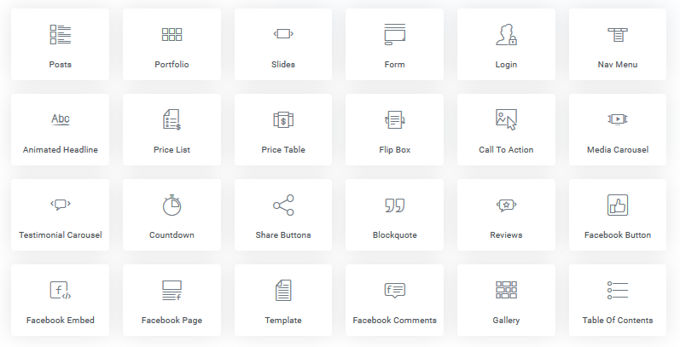 Elementor Theme elements


The building blocks for the layout of your pages are the elements and Elementor offers a lot of them. Let's say practically everything has been thought of. Elementor even has pop-ups as standard and also very nice ones, so from now on forget your pop-up plug-in. You no longer need it.
Elementor Pop-Ups
DIVI and THRIVE have no pop-ups as far as I know, but this will someday change with an upgrade, I assume since this is a race between the different page builders who copy each other with everything. In any case, you don't need to install a pop-up plug-in with Elementor, this tool gives you wonderful pop-ups.
Elementor Pagebuilder: Pricing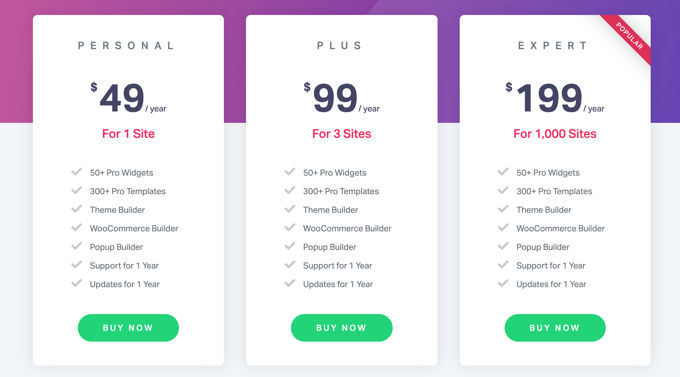 The prices that Elementor uses are very reasonable. There are entire series with themes that are much less good and require 60 or more dollars.
Visit Elementor website
THRIVE ARCHITECT: Best Wordpress pagebuilder?
Let's continue with the newcomer to the market, the Thrive Architect Pagebuilder. The Thrive Content Builder plugin from which the pagebuilder originated, existed for a number of years and so Thrive did not fall out of the blue again. Thrive Architect is a great class front and back end WYSIWYG drag-and-drop page builder. Just being on the market and already being compared to the best of the best is not bad of course.
The Thrive Architect page builder can be built into any Wordpress theme as a plug-in and is 100% compatible with these themes. Thrive Architect can also be used on its own by installing one or more of the demo layouts from which you can start your project (website or shop). 200+ demo pages is quite a lot, but Thrive would do well to offer complete theme demos and many more demo pages. What they offer now is enough in itself, but to be the best Wordpress pagebuilder from [2021], they are allowed to continue working.
De Thrive Architect user interface
The number of demos they offer has little to do with the quality of their page builder. And to be honest, once you get started with this editor you are quickly sold. I can immediately tell you that this works great, the user interface is very well-organized, and the editor works very precisely. This page builder creates content in no time and before you know it you have a website. The page builder covers your entire screen and you can determine whether docks are used for elements and other matters.
Place elements from the sidebar to the sections and columns on your worksheet. You have a lot of beautiful elements with which you can shape your website. You can then drag, scale and move it. One of the best things about this page builder is the more than great inline text editor.
Great inline text editor
With Thrive Architect you write the text directly where it will be. So you don't have to put the text in a screen like it used to be, after which it is moved to the worksheet when saving. By the way, there are still many other page builders who have such text editors. With Thrive, you are in first place when it comes to text editors. In this best pagebuilder review we give the full points to Thrive for the best text editor.
Thrive Architect latest upgrades
Watch the video above to quickly get an impression of the very latest Thrive Architect gadgets. They do their utmost at Thrive, this page builder is great.
Revision manager
Just like Divi and Elementor, Thrive Architect has a revision manager with which you can undo your work. Unique is that with Thrive you can use the undo and redo buttons on your keyboard to take small adjustments a step back. Conclusion in this review, the Thrive user interface can withstand the best pagebuilders and even has a few unique top features.
The Thrive Architect options and settings
Options menu clear
In the photo above you can immediately see how much control you have over the module you selected. Just like with the Divi Pagebuilder, with Thrive there is nothing short of options, everything has been thought of. At the top you will see a menu that shows specific options. A lot of searching for the option you need is no longer needed that way, everything is found quickly.
Side menu advanced options
By clicking on "advanced" in the side menu below, several additional options appear. These options are different depending on the element you have clicked on. But think, among other things, of responsive settings for mobile, tablet, margin and fill properties, animation effects and much more.
Text animations review
Add beautiful text animations in the simplest way. The operation for it is easier than with all other page builders that I know included Divi, Avada, Elementor and BeaverBuilder.
The Thrive Architect page elements
Thrive Architect offers a large collection of elements that you can add to your pages. All of these elements can in turn be fine tuned. In all elements you will find a great emphasis on conversion, many call-to-action options. Thrive consciously helps you achieve more sales, a wonderful tool and stands out above other top page builders in this regard. The widgets of other plug-ins in your website can also be displayed via the Thrive page builder.
Ready-made demo pages
The Thrive demo library has 200+ ready-made pages with beautiful designs. Many of these, just like the content modules, have a strong focus on conversion and call-to-action, of which we give you a few examples below.
Despite the fact that there are certainly standard company pages and normal landing pages in the library, it is certain that Thrive Architect must considerably expand its library. It should have at least 50 complete site demos and 300 demo pages to offer a good selection of 1-click designs to be installed as other top page builder / themes have.
Thrive Architect pricing
The Thrive membership (25 sites) costs you $ 228 a year. For 5 sites you pay $ 97 a year and for a single website $ 67. Just like the other pagebuilders they have reasonable pricing.
Visit Thrive Architect
Best Wordpress page builder Conclusion
Quality of the page builders: Thrive and Divi are slightly better than Elementor.
Price of the page builders: All 3 page builders are more than worth their price.
Material with the page builders: Divi offers 86 other themes and plugins as an extra. Elementor and certainly Thrive offer limited demo material, although it is enough to be able to work properly.
Using our link you ALWAYS get 20% off on the Divi Theme!