WP-Optimize vs WP Super Cache [2023] 💥


WP Super Cache vs WP-Optimize both are among the top cache plug-ins for Wordpress websites. WP Super Cache only has a free version and WP-Optimize has both a free and a premium version. Let's take a look at the relationship between these two plug-ins in terms of loading time improvement, ease of installation, and performance right after installation without making any adjustments.
WP-OPTIMIZE (WP-Optimize vs WP Super Cache)


We start in this WP-OPtimize vs WP Super Cache comparison with WP-Optimize which does not automatically mean that it would be better. Let's take a look at what WP-Optimize has to offer. The plug-in's specialization is to optimize the Wordpress database, and it is one of the best cache plug-ins. Basically the opposite of WP-Rocket wat in de eerste plaats een cache plug-in is die ook uw database optimaliseert.
Advertisement

WP-OPTIMIZE CLEAN DATABASE
The redundant content in the website that the plugin removes is exactly the same as with WP-Rocket, namely revisions, transients, unnecessary drafts and unnecessary comments. The fact that trackbacks and pingbacks are removed is unique.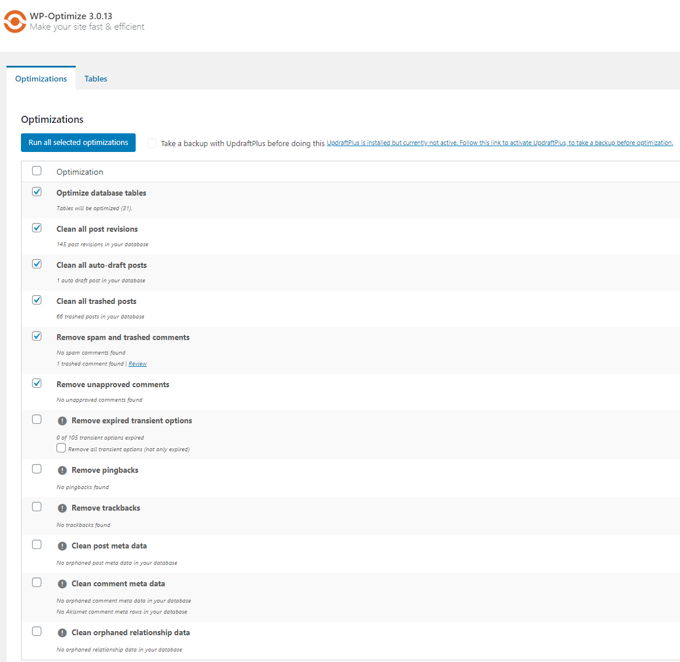 It is of course advisable to always have a fairly recent backup of your database somewhere. This is only necessary if your server is not backing up your entire account.
COMPRESS IMAGES
You can set the degree to which your images are compressed. Better yet is to use a program like Imagify which actually adjusts the images and offers visitors WebP-images.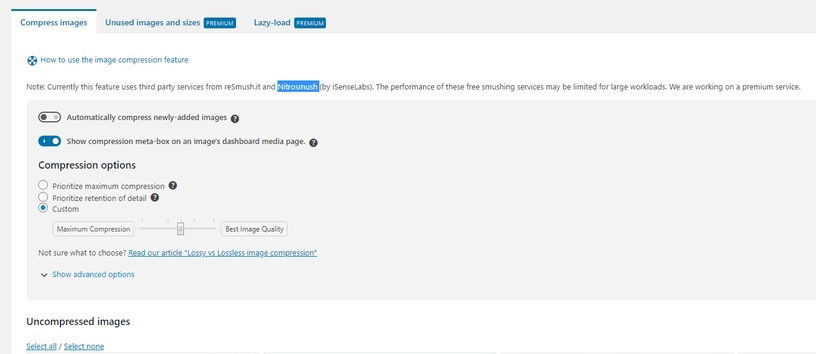 LAZY LOAD
Apart from the compression, it is definitely recommended to switch Lazy Load on (PRO version). The Premium version offers several extras that make it a top plug-in, although the free version is certainly okay.


PAGE CACHE


Again, WP-Optimize offers the same as WP-Rocket. You can generate separate files for mobile, there is a separate cache for logged in visitors, the cache life can be set. You can find our WP-Rocket review here.
WP-OPTIMIZE FREE VERSION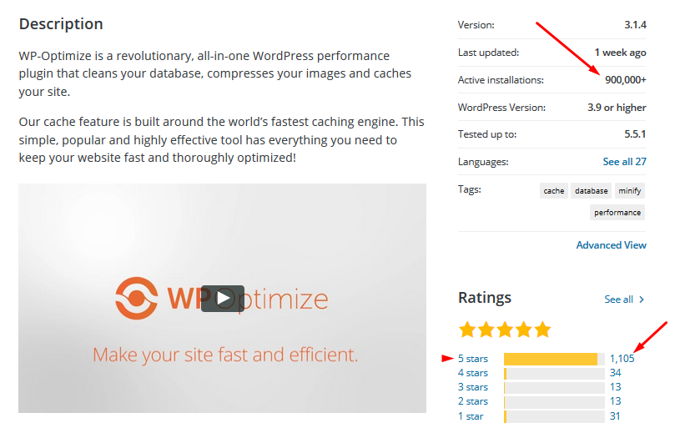 You can download the free version here. Although the premium version is of course a lot better and gives you the possibility to set all actions of WP-Optimize on time and date and gives full support, the free version should certainly not be underestimated. See in the image above how 900,000 people have downloaded this plugin and it has an amazing rating.
WP-OPTIMIZE PREMIUM PRICING


Especially for people with 2 websites, this top cache and database clean-up plug-in is cheap. The prices are generally reasonable.
WP-OPTIMIZE REVIEW CONCLUSION
This plugin is certainly worth its money in terms of cache and database cleaning, let's say it has all that one can dream of. Everything is very clear and can be used by inexperienced website builders without any problems. If something is not clear, you can solve this quickly via their great support staff.
WP-Optimize Premium
WP SUPER CACHE (WP-Optimize vs WP Super Cache)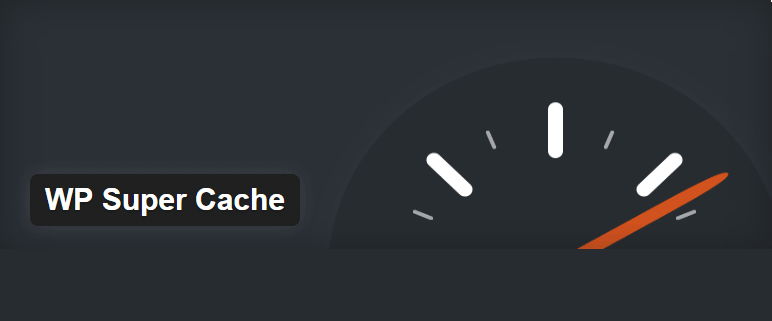 In this WP-Optimize vs WP Super Cache comparison, we now discuss the free version of WP Super Cache. The first thing to notice is that this plug-in is active on more than 2 million websites. In addition, WP Super Cache is very popular with many users who gave it 5 stars. What is striking is that there are also quite a few with only 1 star rating.
WP SUPER CACHE RATINGS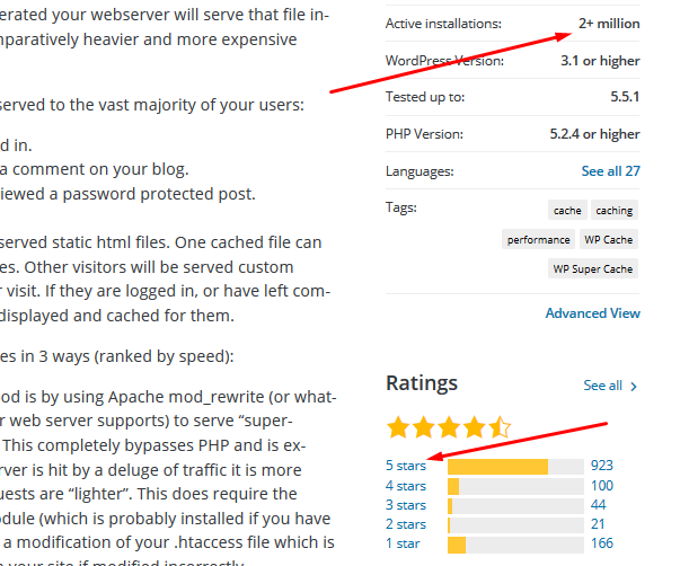 See the ratings and active installations for WP Super Cache above.
WP SUPER CACHE SPEEDTEST
I tested a clean Wordpress install with and without the plugin on GT-Metrix, one of the best speed tests out there and you can see the results below. In seconds the loading time has improved considerably and the total score is from 76 to 99 points. This is a great result for a cache plugin.
With WP Super Cache


Without WP Super Cache


WP SUPER CACHE SET UP
Install the plug-in and then go to the screen for all plug-ins and click on "settings" at WP Super Cache. The plug-in doesn't seem to have a separate back-end tab in the left column for this. Then click on "caching on" and click "update status".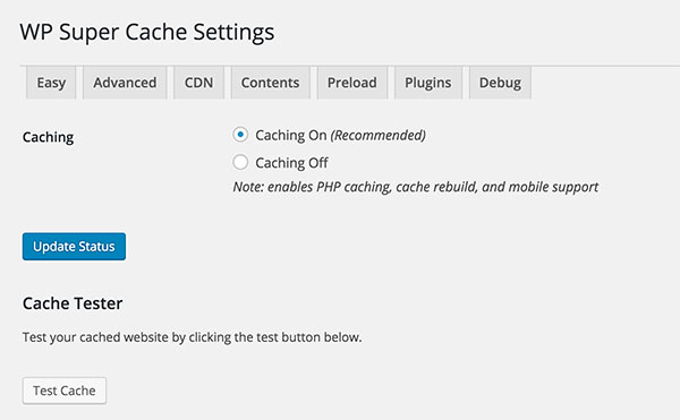 Also, the plugin does not compress your files by default. You must enable this at the "advanced" tab as shown below.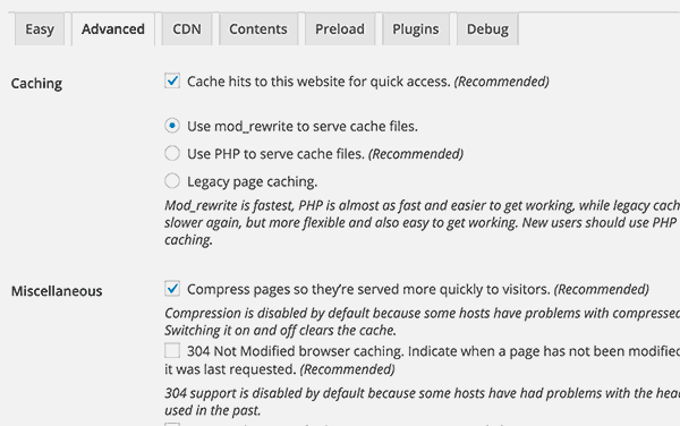 In this WP Super Cache review we should definitely ask ourselves why this plug-in doesn't work immediately after installing it. There are plugins such as cache-plug-in WP-Rocket where practically nothing has to be set and works immediately. WP Super Cache has a lot of things you can set under the "advanced" tab that beginners just won't understand.
Obviously missing options are Lazy Load and image optimization, but other plugins only offer this in their premium version. WP Super Cache does not have a premium version so we are not going to blame them for this.
WP SUPER CACHE + CDN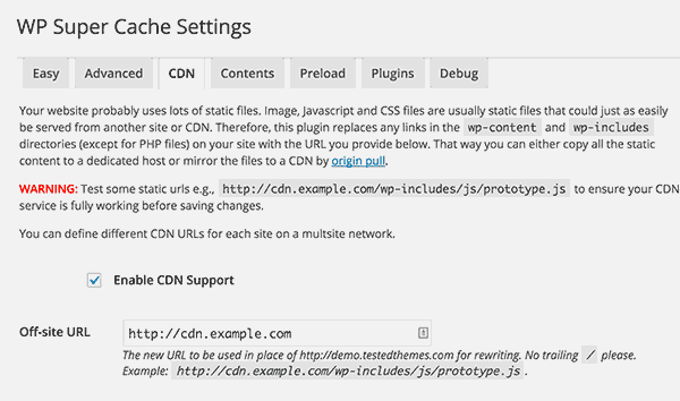 WP Super Cache works well with CDN Networks if you prefer. With a CDN your website is stored on multiple servers worldwide to be downloaded from cache by visitors. This makes your website much faster, especially as visitors are further away from your origin server. But here too it is much easier to set up a CDN with WP-Rocket.
WP SUPER CACHE REVIEW: CONCLUSION
This plugin does not have a premium version. It was probably noticeable here and there that I am not completely satisfied with this plug-in. In my speed test above, I first had to set everything up properly to achieve such a good result. That is very cumbersome if we compare it with WP-Rocket or other better cache plugins that immediately score well.
I now also think I understand why the plug-in quite often scores 1 star. People who do not immediately realize that they have to set everything up first, get a worthless score in a test. Just like with bounce rate for websites, people are impatient and remove the plugin and rate it 1 star. But to be fair, WP Super Cache speeds up your website very well once it is properly set up.
WP-Optimize vs WP Super Cache conclusion
Thanks for reading this WP-Optimize vs WP Super Cache comparison to the end. Obviously this has not been a fair comparison since WP Super Cache does not have a premium version. Despite this, WP Super Cache optimizes your loading time very well, provided it is set up correctly, which is not so easy for everyone. WP-Optimize has so much more to offer and works well immediately after installation. WP-Optimize is number 2 in the list for my best WP cache plugins comparison which is for good reason. Plus, WP-Optimize Premium is only $ 39 which is no money for such a good plugin.
Advertisement