WP-Optimize vs W3 Total Cache [2023] 💥


WP-Optimize vs W3 Total Cache, two cache plug-ins that are very widely used. Both have a very good rating and offer both a free and premium version. We are going to start with Wp-Optimize but that does not automatically indicate that it would be better.


Today we're going to take a look at what the plugin has to offer in this WP-Optimize review. The plug-in's specialization is to optimize the Wordpress database, and it is one of the best cache plug-ins. Basically the opposite of WP-Rocket wat in de eerste plaats een cache plug-in is die ook uw database optimaliseert.
Advertisement


WP-OPTIMIZE CLEAN DATABASE
The redundant content in the website that the plugin removes is exactly the same as with WP-Rocket, namely revisions, transients, unnecessary drafts and unnecessary comments. The fact that trackbacks and pingbacks are removed is unique.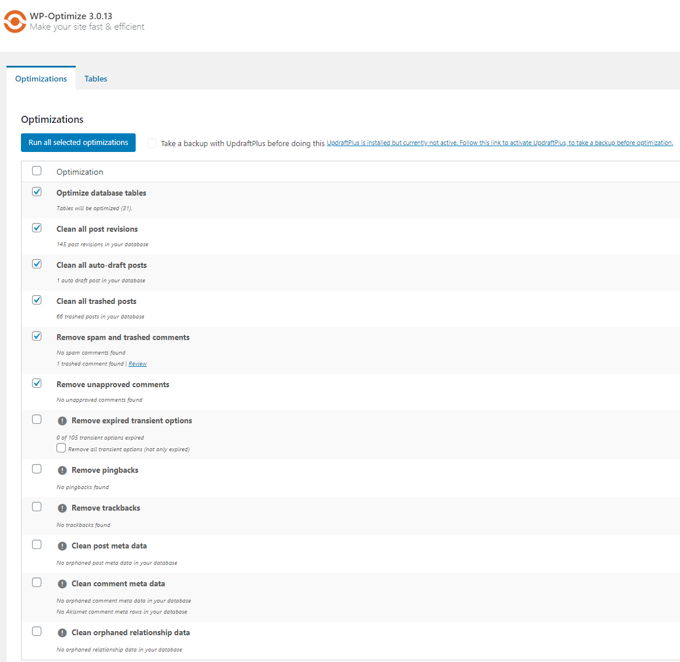 It is of course advisable to always have a fairly recent backup of your database somewhere. This is only necessary if your server is not backing up your entire account.
COMPRESS IMAGES
You can set the degree to which your images are compressed. Better yet is to use a program like Imagify which actually adjusts the images and offers visitors WebP-images.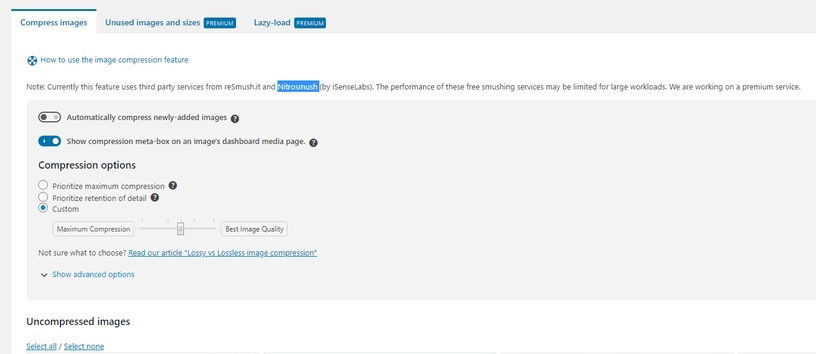 LAZY LOAD
Apart from the compression, it is definitely recommended to switch Lazy Load on (PRO version). The Premium version offers several extras that make it a top plug-in, although the free version is certainly okay.


PAGE CACHE


Again, WP-Optimize offers the same as WP-Rocket. You can generate separate files for mobile, there is a separate cache for logged in visitors, the cache life can be set. You can find our WP-Rocket review here.
WP-OPTIMIZE FREE VERSION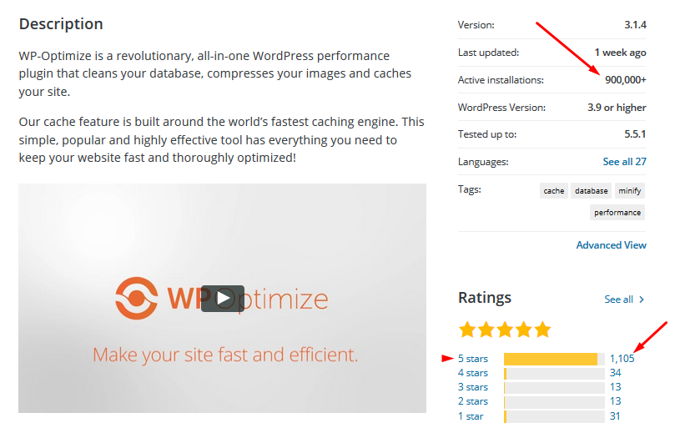 You can download the free version here. Although the premium version is of course a lot better and gives you the possibility to set all actions of WP-Optimize on time and date and gives full support, the free version should certainly not be underestimated. See in the image above how 900,000 people have downloaded this plugin and it has an amazing rating.
WP-OPTIMIZE PREMIUM PRICING


Especially for people with 2 websites, this top cache and database clean-up plug-in is cheap. The prices are generally reasonable.
WP-OPTIMIZE REVIEW CONCLUSION
This plugin is certainly worth its money in terms of cache and database cleaning, let's say it has all that one can dream of. Everything is very clear and can be used by inexperienced website builders without any problems. If something is not clear, you can solve this quickly via their great support staff.
WP-Optimize Premium
W3 TOTAL CACHE (WP-Optimize vs W3 Total Cache)


In this WP-Optimize vs W3 Total Cache comparison, we now discuss the free and premium versions of W3 Total Cache. We will discuss what both the free and PRO version of W3 Total Cache can do for your Wordpress website. With more than a million active installations, W3 Total Cache is one of the most popular and well-known cache plug-ins for Wordpress. Also the average rating on Wordpress.org where the plugin is free for download, is pretty good.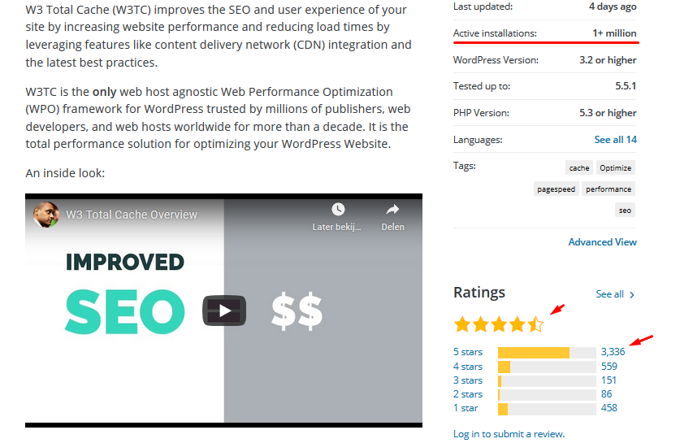 Install W3 Total Cache (Free version)
W3 Total Cache is a free plug-in that can simply be installed via "New plugin" in Wordpress as shown below. W3 Total Cache is one of the fastest and most complete free WordPress performance optimization plugins. W3 Total Cache improves your site's user experience by improving server performance, caching every aspect of your site, reducing download times and offering a content delivery network (CDN). Immediately after we activate the installation, we can continue with the plug-in settings. Make sure you have removed any other cache plugins beforehand.


Before you start, we strongly recommend that you check your site's performance using Google Pagespeed Insights, GT-Metrix and Pingdom Tools. This will give you a comparison before and after the installation of W3 Total Cache.
If you want to be done quickly you can download a file here what you can import into W3 Total Cache (unpack first), all settings will then be taken over in 1x. If you'd rather learn about your cache plug-in and set everything up yourself, just read on. I must also say for those who do import the optimal settings that if the website shows problems, certain settings must be undone, such as minifying javascript and css for example.
W3 Total Cache settings
Okay, let's see what W3 Total Cache has to offer.
Page Cache
The Page Cache must of course be "enabled", and under normal circumstances "Disk Enhanced" as shown below.


Minifying
Minifying should be used as much as possible, as long as no problems arise on your website (design). This is especially true when combining css or js files. Problems can arise here and in that case you have to restore it. Standard good settings are shown below.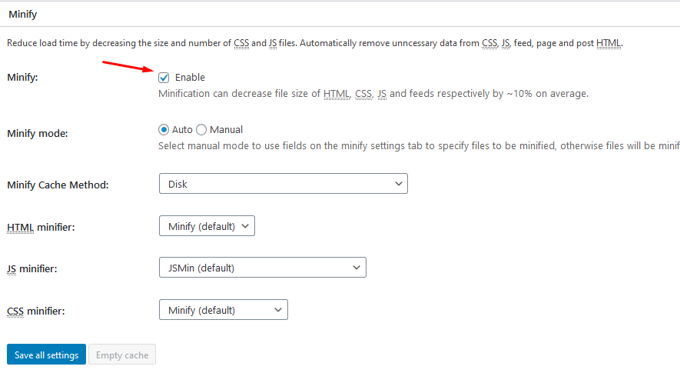 Other cache types
I'm not going to bore you in this W3 Total Cache review with pictures of all different cache types, it more or less goes without saying. Everything can be turned on practically: Opcode cache, Database cache, Object cache, and Browser cache.
CDN Network
In this W3 Total Cache review we are impressed by the large amount of CDN networks that W3 Total Cache works perfectly with. The best choice is for me Stackpath CDN or Cloudflare which is free. As soon as you start paying (PRO) Stackpath is the cheaper choice. Both services are practically equally good when it comes to the premium version.


Lazy Load
Lazy Load has a huge positive influence on the loading time of your page and should therefore be on. Images are loaded blurry and become sharper and "beath the fold" images are loaded later.


Import & Export
All versions offer the import and export options with which you can export the settings of W3 Toal Cache to your PC and then upload them to another site of yours. This way you have much less work if you have multiple sites.


What does the Premium Version offer extra?
With the PRO version, you have monitoring in your dashboard, you can connect W3 Total Cache to Google Pagespeed, Disk Optimizing (database). You also have Fragment caching, Lazy Load for Google Maps, Full site caching for CDN, Render Blocking remove CSS (important), suitable for use with WPML, optimized to work with Genesis Framework (60% faster) and of course full ticket support.
W3 Total Cache review conclusion
My personal experience with this plug-in is good, although I find the settings too cumbersome and do not seem optimal for beginners. An easier and also better plug-in to achieve fast loading times is WP-Rocket. Also WP-Optimize is a good alternative. The Premium version of W3 Total Cache costs a whopping $ 99 a year, double WP-Rocket and has no multi-site discounts. So this plugin is outrageously expensive.
WP-Optimize vs W3 Total Cache final conclusion
Thanks for reading this WP-Optimize vs W3 Total Cache comparison to the end. If we compare the free versions, they work out for me about the same. Wp-Optimze offers a little extra when it comes to cleaning the database and W3 Total Cache works well with many other software. Both free versions are very good cache plug-ins. The same goes for the Premium version, but here it is clear that W3 is way too expensive, so WP-Optimize is clearly the best choice.