Uncode vs Woodmart comparison [2023] 💥

Woodmart vs Uncode, we compare these themes on loading speed, number of demos, quality of the demos, type of page builder they use and how easy they are to adjust. Both multipurpose themes have very good sales figures on the Themeforest marketplace. How do these themes relate to each other?


Today in this Uncode Theme review for [2023] we will take a look at why the theme is so popular and has been sold 75,000 times in a short time. Do not confuse that score with free themes, as much higher numbers are a lot easier to achieve. Uncode claims to be a Woocommerce theme of itself, mainly aimed at building web shops, but that would be short of the theme. This is a fully-fledged multipurpose theme with web shops as a specialty.
Advertisement


UNCODE WEBSHOPS
Uncode is an absolute top theme when we talk about Woocommerce compatibility, everything has been thought of. The Uncode theme has all the gadgets that one can expect from an adult webshop. Single product pages can be fully customized, just like the Cart and Check-out pages. The theme has a Quick-view, Side-cart, Wishlist and much more.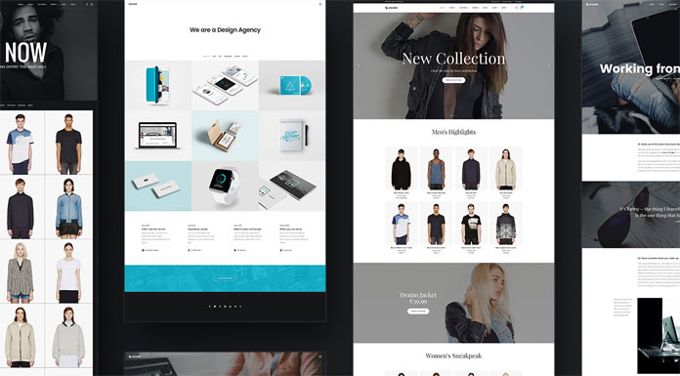 UNCODE LOAD SPEED
Another thing that was considered during the development of Uncode is loading speed, the theme is quite fast as can be seen in the image below with a GT-Metrix speed test. Mobile loading times were also considered, as the theme rescaled all images to the correct format for all types of devices. For example, small images are loaded on mobile and large images on desktop.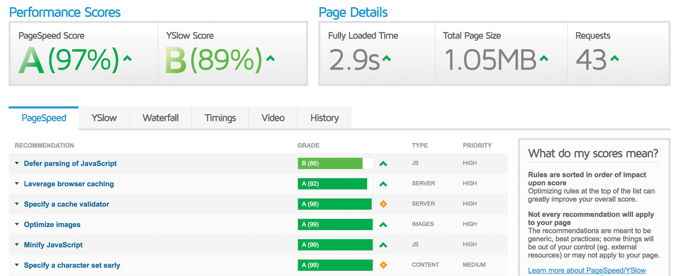 UNCODE FRONT-END EDITOR
Uncode works with WP-Bakery pagebuilder, which I am honestly less fond of, but the new front-end editor is of course more than okay. A lot of themes like this suddenly have Elementor as a page builder in new upgrades, and I think we don't have to wait long for this at Uncode. Of course we prefer to work with the best editors out there, which are Elementor Pro or the Divibuilder.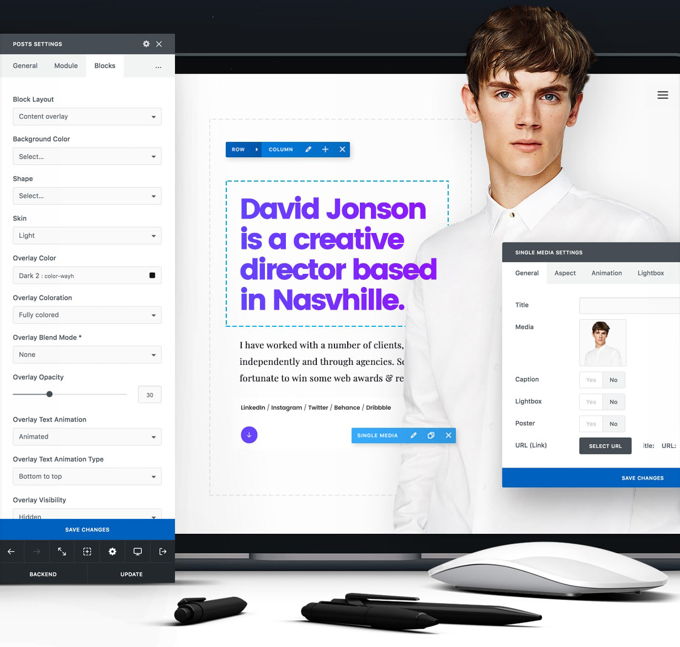 UNCODE THEME REVIEW: VIDEO
UNCODE DEMO-DESIGNS & TEMPLATES
Uncode offers 70+ demo designs from which you can start your new website without much effort. These designs can be imported with 1-click. Aside from ready-to-use website demos, there is also a library of page and section templates.
Templates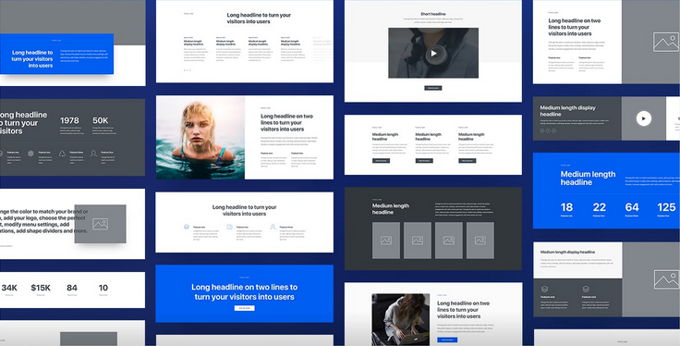 Demo-designs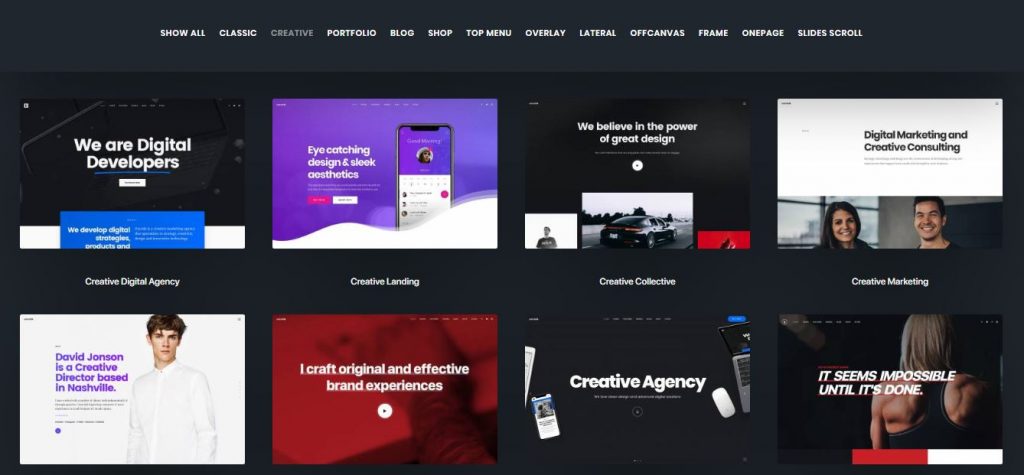 UNCODE FREE PREMIUM PLUG-INS
Finally, in this Uncode Theme review I would like to talk about the many premium plug-ins that the theme offers. WP-Bakery costs around $ 65 on its own and you get an upgraded version of it here. I am not going to list them all, but striking are also the 2 incredibly good and quite expensive slider plug-ins, namely Revolution Slider and LayerSlider. See image below.
Free plug-ins


UNCODE THEME REVIEW: PRICING
The Uncode theme costs $ 60, which seems like a great price. The fact is, if you put $ 30 on it, you Divi Theme has what is a lot better. Uncode has a license for only 1 website, Divi can be used on as many sites as you want.
UNCODE THEME REVIEW: CONCLUSION
Uncode is certainly one of the better premium themes out there, but unfortunately it does not reach the real top. It cannot be denied that it is capable of producing very professional web shops. There are much better page builders that use other themes but not (yet) Uncode. Before purchasing Uncode, I would definitely take a look at my article for best themes for [2023] and pick a theme in the top of it. You can use those themes on as many sites as you want, and Uncode only on 1 website. That quickly becomes very expensive if you have multiple websites.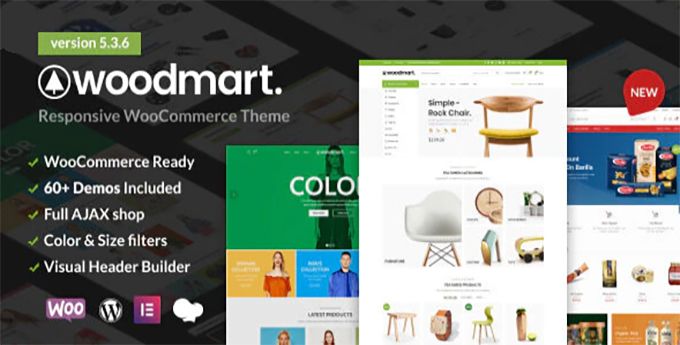 Woodmart is one of the Woocommerce themes that are rapidly emerging. Not surprising because the theme offers many special qualities and is now also compatible with the most popular page builder out there, Elementor. The theme is suitable for any kind of shop and has little to do with wood, even though the theme is called that way. This theme has been specially developed for the construction of web shops, so I expect a lot from it.
WOODMART RATING
Below you can see the appreciation that Woodmart gets from people who bought the theme, and I must immediately say that 4.95 is a score that hardly occurs with themes on the Themeforest Marketplace.


WOODMART INSTALLATION AND DEMOS
Installing Woodmart is very easy. The theme does not have a free version so you will have to buy it first and it can simply be installed via the standard Wordpress theme installer.
It is recommended to install one of the many ready-to-go designs. Woodmart offers about 60 very nice complete designs for web shops in all niches out there, so furniture, tools, clothing, etcetera. Below you can also immediately see how easy it is to adjust the color combinations in the layout.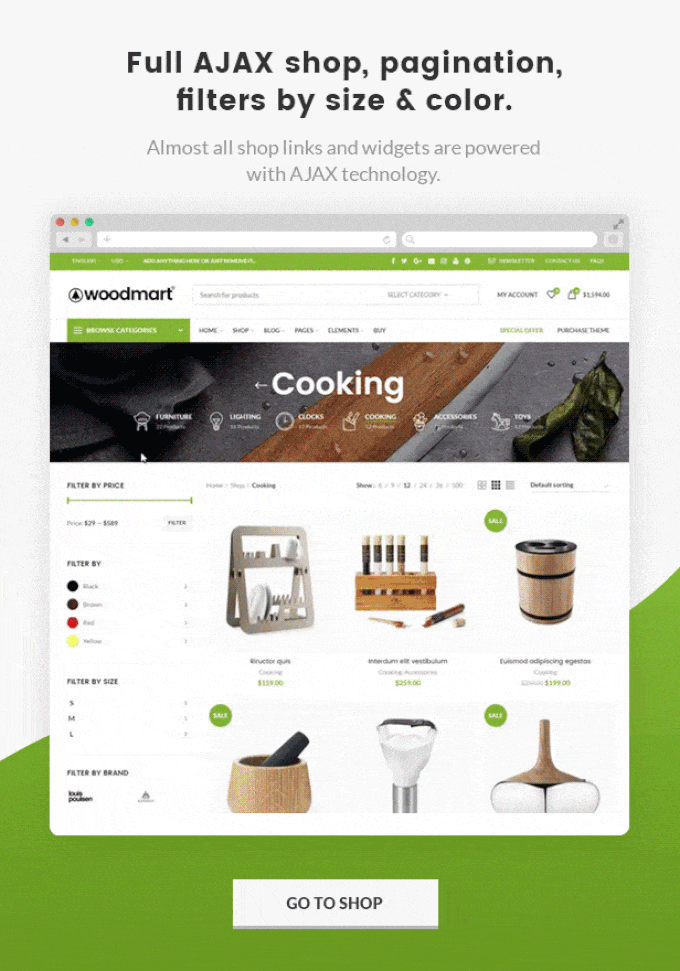 Woodmart comes standard with the Bakery Pagebuilder, but since version 5.0 the theme is completely compatible with Elementor. This is a huge improvement, Elementor is one of the best page builders out there, especially when it comes to the pro version.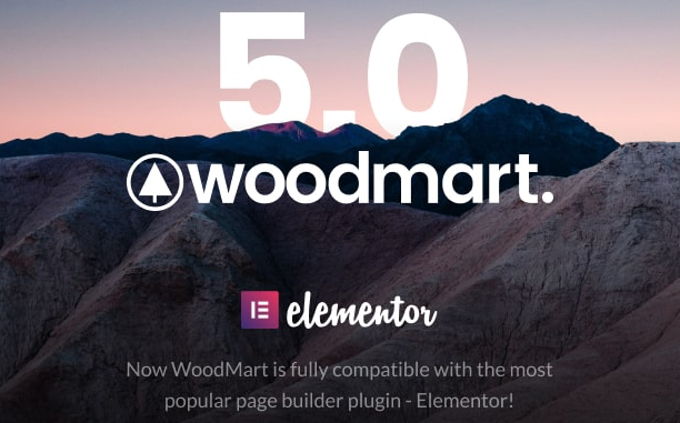 WOODMART SPEEDTEST
We perform a speed test with the theme under quite optimal conditions, so with cache plug-in and all images optimized. This theme does not indicate that it is specialized on loading times, but the results are very good as can be seen in the image below.
with optimized images and cache plugin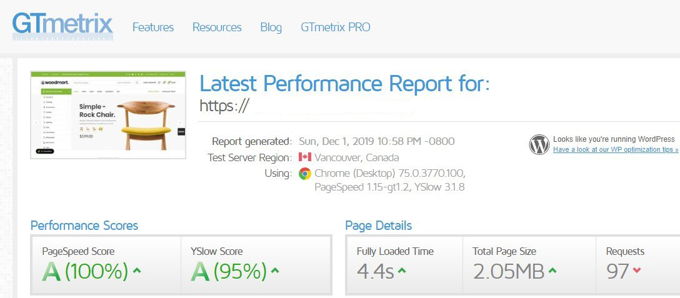 WOODMART HEADER BUILDER
Advanced styling options and multiple HTML elements in the headers, almost anything is possible. Woodmart also has ten standard header styles that can be adjusted with 1 click.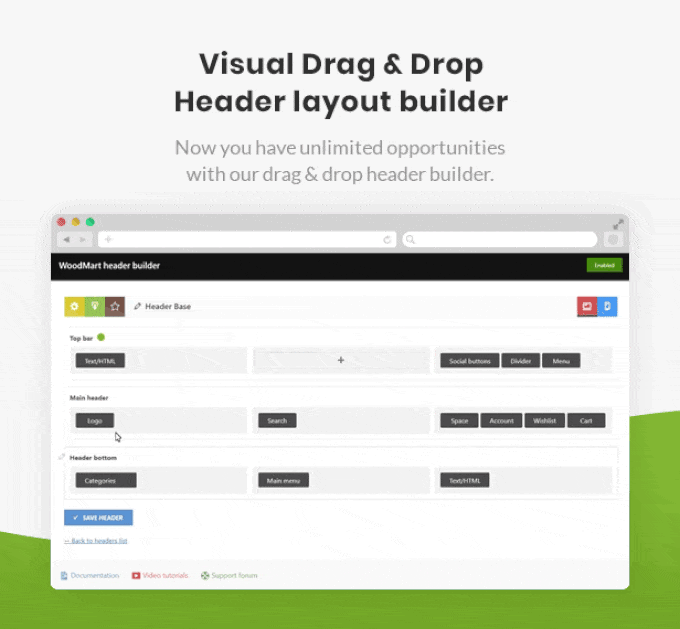 WOODMART HEADER EXAMPLES
Below you can see how easily Woodmart allows you to adjust the header and what a huge choice there is already standard without custom adjustments.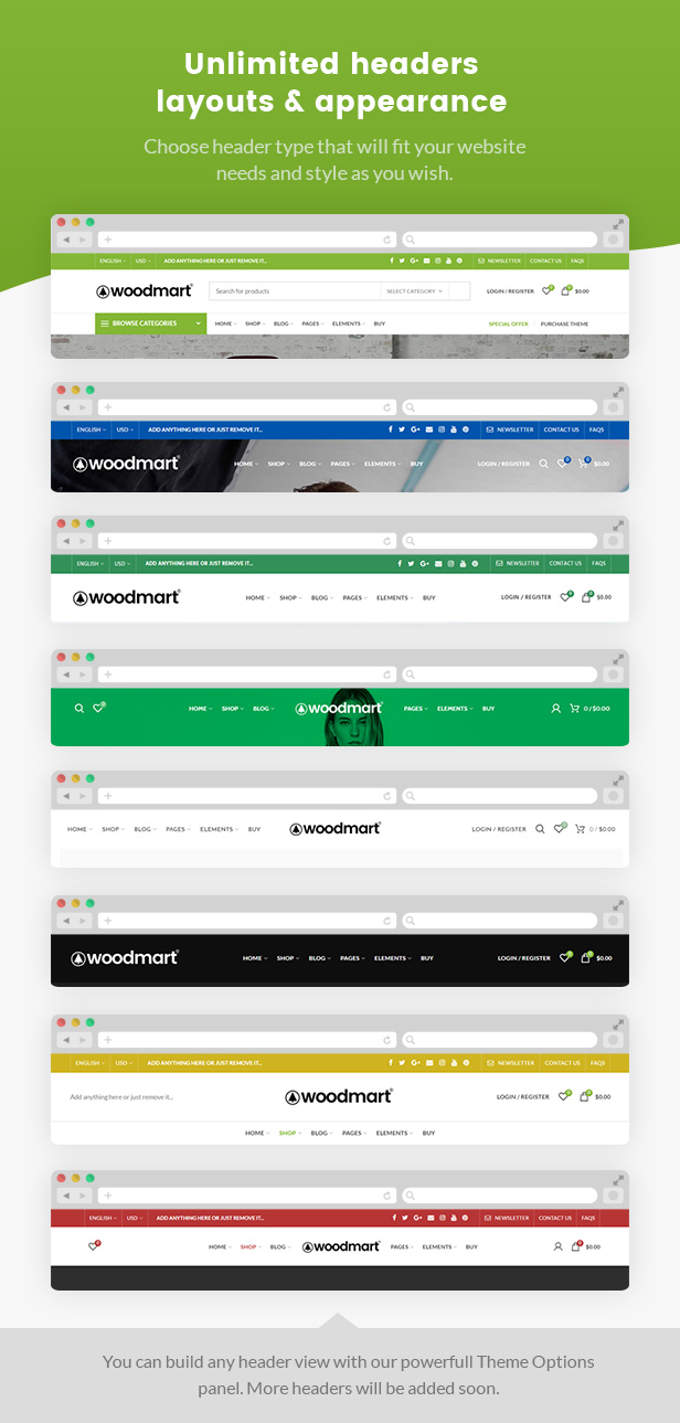 WOODMART THEME REVIEW MEGA-MENU
To have a beautiful mega-menu, people often spend a lot of money on expensive plug-ins. In the case of the Woodmart theme, this is not necessary because the theme comes standard with a great mega menu as shown below.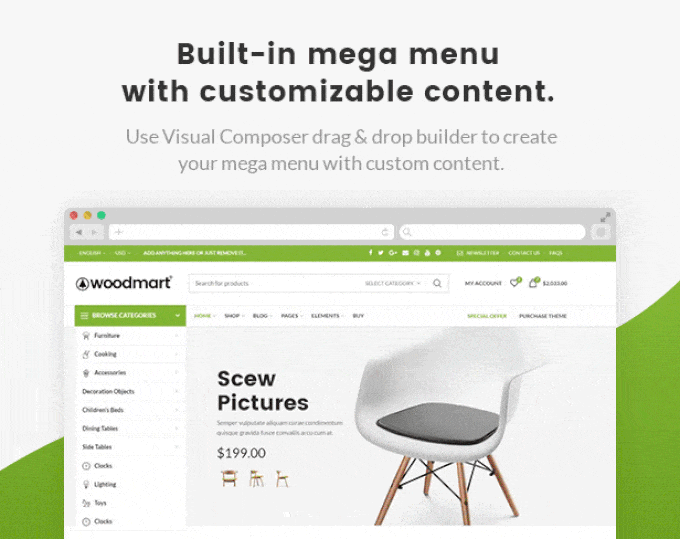 WOODMART QUICK SHOPPING
There are great shopping themes that have all the options a top Woocommerce theme should have. Woodmart belongs to this class and has quick shopping for your webshop as standard.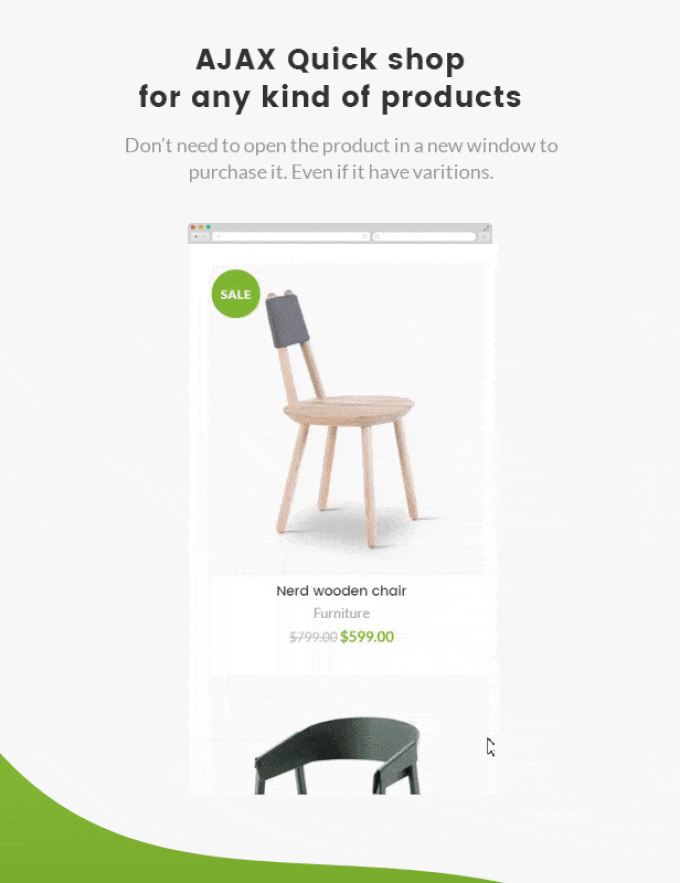 WOODMART THEME REVIEW: PRICING
The theme only has 1 price option and that is paying $ 59 for each separate theme. So if you have ten websites you want to install it on, you can, but it will cost you $ 590. In my opinion the price is very okay, but only if you are looking for a good webshop theme for only 1 website. In the case of 2 or more websites, other themes are much more attractively priced and in some cases even better than Woodmart. Check here the best webshop themes for [2023]

.

WOODMART THEME REVIEW: CONCLUSION
There is nothing bad to say about this theme. This is one of the best themes there is to build web shops and it is rising in the rankings and it is better with every upgrade. It works perfectly with the Elementor pagebuilder since the last version and that's great too. Yet it is true that, as I indicated in the chapter for the price above, there is boss above boss. The perfect theme for shops & websites is Divi and Astra is a very close second. These themes can be installed on multiple sites and the Divi Theme for example costs only $ 89, and comes with the Divibuilder full version! Woodmart comes with Elementor, but that's the free version we're talking about then.
WOODMART VS UNCODE CONCLUSION
First of all, thank you for reading this Woodmart vs Uncode comparison to the end. Both themes are 100% compatible with Elementor page builder which is great. If you have the money to install Elementor Pro I would definitely do that , the difference between free and pro is very big. Uncode and Woodmart are both great themes for web shops and Uncode can also be used for the construction of a normal website. I have a slight preference for Woodmart, but both themes are well worth their money if it is bad for 1 single website.
In case you want to provide 2 or more websites with a theme, I do not recommend both of these themes because then it will be much too expensive, since a separate expensive license will be required for each website. In that case, you can much better use Astra or Divi as it will save you money for multiple sites. In addition, these latter themes are ranked higher in my top 10 themes for [2023] than Uncode and Woodmart.