Generatepress vs Sydney comparison [2023] 💥

Sydney vs Generatepress, we test these fast-loading and so-called minimalist themes against each other. Logically, differences will arise despite the fact that both themes are very popular. We'll start with Generatepress which doesn't mean it would be better.

Generatepress is a theme that was specially built to load fast in a browser and it does. Generatepress has practically the same properties as a theme as Astra, the two look are as two drops of water similar. The Generatepress code is compressed only 15kb, so very small.
Advertisement

In the first place, this is a Generatepress Premium review, the free version can be downloaded here but is of course incomplete. So we are talking about the premium version even if we do not always say this. This comes in the form of premium plugins and a library full of 1-click demo websites.
Generatepress Speedtests
In this Generatepress theme review we run a test at GT-Metrix and Pingdom, 2 renowned speed tests to see if it really is that fast. The results are shown in the images below.


At GT-Metrix (above) the Generatepress demo scores 99% and 98%, which means that only 1% of measured sites were faster. Such a small percentage can be quickly influenced by distance to the server and internet speed. At Pingdom (bottom) it also scores 99% and the absolute loading time was 247 msec. A quarter of a second and the complete site has finished loading! These are, of course, phenomenal results. We can safely say that there are no faster Wordpress themes, at the most fast.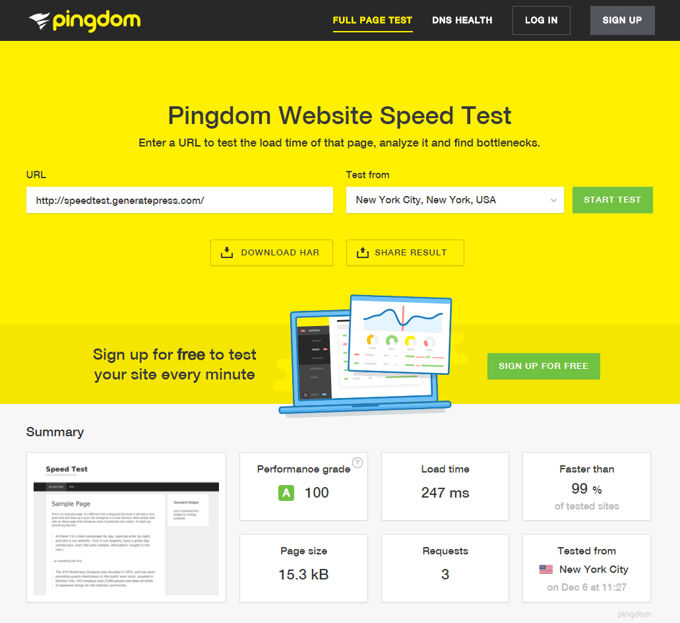 Make Generationpress even faster?
Generatepress itself recommends the free plugin Autoptimize which was downloaded more than a million times. Autoptimize allows you to combine and shrink HTML, CSS and JS. It also makes an external file available to the browser with the new code so that browsers can cache it. If you want to know how to set up this plugin perfectly for Generationpress, check the info for that right here.
Generatepress Webshops
Generatepress Premium gives you total control over the popular shop plugin Woocommerce. Pictures speak 100 words fast, watch the video quickly that only takes 2 minutes about Woocommerce adjustments.

Generatepress review Design
The Generatepress design is simple but very beautiful at the same time. Simplicity is the new fashion, people no longer like too much fuss nowadays. Websites should load quickly, look decent on all devices, and everything should work fine. If you were looking for a theme with such features, Generatepress is definitely for you.
Generatepress review Demo designs
Most non-professional people and also some pros like to start a website through a headstart. This can be done by loading a demo website into your theme. Once loaded, it is your job to use the editor to put in your own logo, adjust the images and texts. This way you can quickly create your own design. The image below quickly shows some of these designs, those for Elementor. Those for "without editor", BeaverBuilder et cetera can be quickly found on their own site under the tab "Site library" in the menu.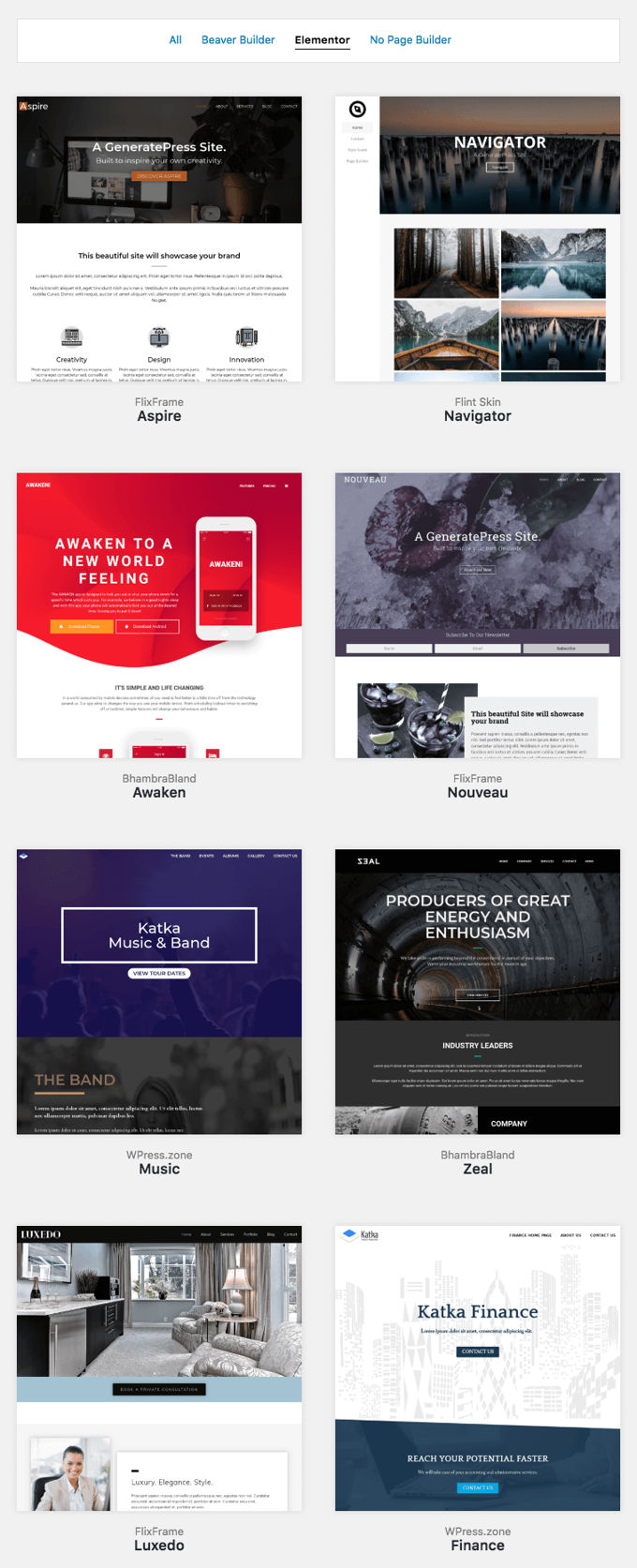 Generatepress page builders


As a writer of this Generatepress theme review, I definitely recommend working with one of the top page builders. We are talking about Divibuilder, Elementor, Thrive Architect and BeaverBuilder. Personally, I hate the Gutenberg editor anyway, the former WP editor was much better, which can be seen from the millions of plugin downloads from this classic editor.
Schema Markup
Generatepress has Schema Markup built in. You can use this to add microdata to your HTML or let your theme do this for you automatically. This extra information is liked by Google and therefore Google will present your pages in the search results in a better way. Astra PRO, the biggest competitor of Generatepress, also has a plug-in for it named Schema PRO.
Generatepress review Video
If you want to know how easily and quickly you can adjust your site yourself with Generatepress, watch the short video below as quickly (takes 3 minutes).

Generatepress Premium pricing
For $ 50 you get access to all the plugins and demos that you can install on as many sites as you want. This is the price for a year. Each subsequent year you will get a 40% discount on the price, something few themes offer.
Generatepress Review conclusion
Generatepress is very well constructed, installs easily, the same goes for the demos. It loads really fast and is very clear in terms of control panel and operation. The Premium version offers ample modules to be able to work well while building your layout. If you prefer a theme that loads a little slower but where you really don't miss out on options and settings, I recommend you the Divi Theme.
Visit Generatepress
SYDNEY THEME (Sydney vs GeneratePress)

In this Sydney Theme review we take a look at the most important features of this theme was launched by aThemes, a professional company that offers some very good Wordpress themes through their website. In 2013 Charlie Livingston started aThemes as a one man company but nowadays they work with 6 programmers.
Sydney theme review: Rating

If we check Sydney's rating on Wordpress.org, we see that practically all raters gave 5 stars except for a few haters. The theme is also quite well known among designers and is highly ranked on Wordpress.org for popular themes.
Sydney theme review: Demos

The Sydney theme offers about 12 modern demos that can be installed with 1 click. The choice is not too large, but since the theme is still very new, this will probably be expanded soon. Sydney also has 2 special Woocommerce demos from which you can quickly start webshops.
The great thing about demo websites is that they make a quick start. The website is already online but still with the wrong photos and texts. So put your own logo in it, adjust the texts and photos and you are well on your way to having your own website.
Sydney theme review: Webshops
I count only 2 demos for webshops in total. The theme is 100% compatible with Woocommerce, but if you are going to build a webshop then choose a theme like Astra or another theme from my top 10 for webshop themes. One can certainly build a good webshop with the Sydney theme, but there is simply better than this.

Sydney theme review: Speed

The Sydney theme is one of the fastest themes out there for Wordpress and should actually be in my list for fastest WP themes. Only the theme itself without additional plugins with only a well-configured cache plugin produced the result presented above. Check out a demo from Sydney itself and see how fast it loads. Of course you can optimize your website yourself for loading time. Follow this tutorial here.
Sydney theme review: Pagebuilders

The Sydney theme uses its own Building Blocks by default, but is compatible with Beaverbuilder and Elementor Pro page builder, one of the best out there in the field. I also definitely recommend installing Elementor for free if you're going to work with Sydney, but it's much better to buy the pro version.
Sydney: Google Fonts

With Sydney you don't need any additional plugins to have all Google Fonts. Sydney already has this built in as standard and you have more than 600 fonts available. You can set which font to use for each section, it all works perfectly.
Sydney theme review: Widgets
Sydney even offers some top widgets in the free version such as: Contact info, Video, Call to action, Clients, Employees, Facts, Latest News, Services Types, Lists, Social profiles, Testimonials, Skills, Timeline (Pro), and Latest news carousel (Pro). The theme is not only compatible with Elementor but with all top page builders so you can use the page builder that you like best.
Sydney: More features
Sydney has over 200,000 active installs and was downloaded much more often because it is simply a very good business theme for Wordpress. Sydney also offers the following features that I won't go into further: Frontpage Blocks, a very good SEO but unfortunately without Schema MarkUp, 100% Responsive on all devices, Parallax Backgrounds, Crelly Slider Support (Pro), and beautiful Full Screen Backgrounds. If Sydney has piqued your interest, I suggest you continue reading on their own website.
Sydney theme review: Conclusion
Sydney is a very good theme that has more impressive loading times. The demo layouts are beautiful, the theme set up is quick and easy. The theme is also very suitable for building shops with it, although it only offers 2 demos. The Sydney theme is ideally suited as a business theme and is 100% Translation Ready. If you'd rather dig a little further, I'd recommend checking out my list of the top 10 WP themes this year.
Generatepress vs Sydney conclusion
Thanks for reading this Generatepress vs Sydney comparison to the end. You will agree with me that both themes are toppers. However, it depends a lot on your wishes which theme is better for you. Generatepress is one of the fastest themes out there, it contains everything one could wish for but does not exaggerate with settings. This theme is a joy to work with in combination with Elementor Pro.
Sydney has a bit of the same to offer as Generationpress and also loads very quickly, but the quality at Generatepress is a lot better for all factors. Especially in case you are going to provide more than 1 site with a theme, it is better to take Generatepress because there is a huge reduction in the price for multiple sites and several years at once. If you prefer a theme that really doesn't lack anything and is also great for building shops, I recommend the Divi Theme by the way, the best theme in the world.
Advertisement