Generatepress vs Flatsome comparison [2023] 💥


Flatsome vs Generatepress, we are testing a super-fast loading and so-called minimalist theme, against a multipurpose theme which is very customizable. Both are very good for creating professional web shops. Logically large differences will emerge, however, despite the fact that both themes are very popular. We'll start with Generatepress which doesn't mean it would be any better.

Generatepress is a theme that was specially built to load fast in a browser and it does. Generatepress has practically the same properties as a theme as Astra, the two look are as two drops of water similar. The Generatepress code is compressed only 15kb, so very small.
Advertisement


In the first place, this is a Generatepress Premium review, the free version can be downloaded here but is of course incomplete. So we are talking about the premium version even if we do not always say this. This comes in the form of premium plugins and a library full of 1-click demo websites.
Generatepress Speedtests
In this Generatepress theme review we run a test at GT-Metrix and Pingdom, 2 renowned speed tests to see if it really is that fast. The results are shown in the images below.


At GT-Metrix (above) the Generatepress demo scores 99% and 98%, which means that only 1% of measured sites were faster. Such a small percentage can be quickly influenced by distance to the server and internet speed. At Pingdom (bottom) it also scores 99% and the absolute loading time was 247 msec. A quarter of a second and the complete site has finished loading! These are, of course, phenomenal results. We can safely say that there are no faster Wordpress themes, at the most fast.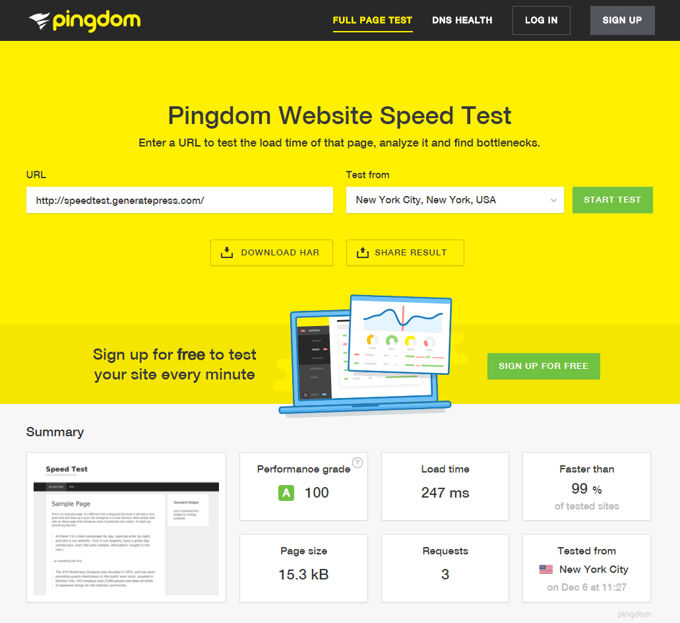 Make Generationpress even faster?
Generatepress itself recommends the free plugin Autoptimize which was downloaded more than a million times. Autoptimize allows you to combine and shrink HTML, CSS and JS. It also makes an external file available to the browser with the new code so that browsers can cache it. If you want to know how to set up this plugin perfectly for Generationpress, check the info for that right here.
Generatepress Webshops
Generatepress Premium gives you total control over the popular shop plugin Woocommerce. Pictures speak 100 words fast, watch the video quickly that only takes 2 minutes about Woocommerce adjustments.
Generatepress review Design
The Generatepress design is simple but very beautiful at the same time. Simplicity is the new fashion, people no longer like too much fuss nowadays. Websites should load quickly, look decent on all devices, and everything should work fine. If you were looking for a theme with such features, Generatepress is definitely for you.
Generatepress review Demo designs
Most non-professional people and also some pros like to start a website through a headstart. This can be done by loading a demo website into your theme. Once loaded, it is your job to use the editor to put in your own logo, adjust the images and texts. This way you can quickly create your own design. The image below quickly shows some of these designs, those for Elementor. Those for "without editor", BeaverBuilder et cetera can be quickly found on their own site under the tab "Site library" in the menu.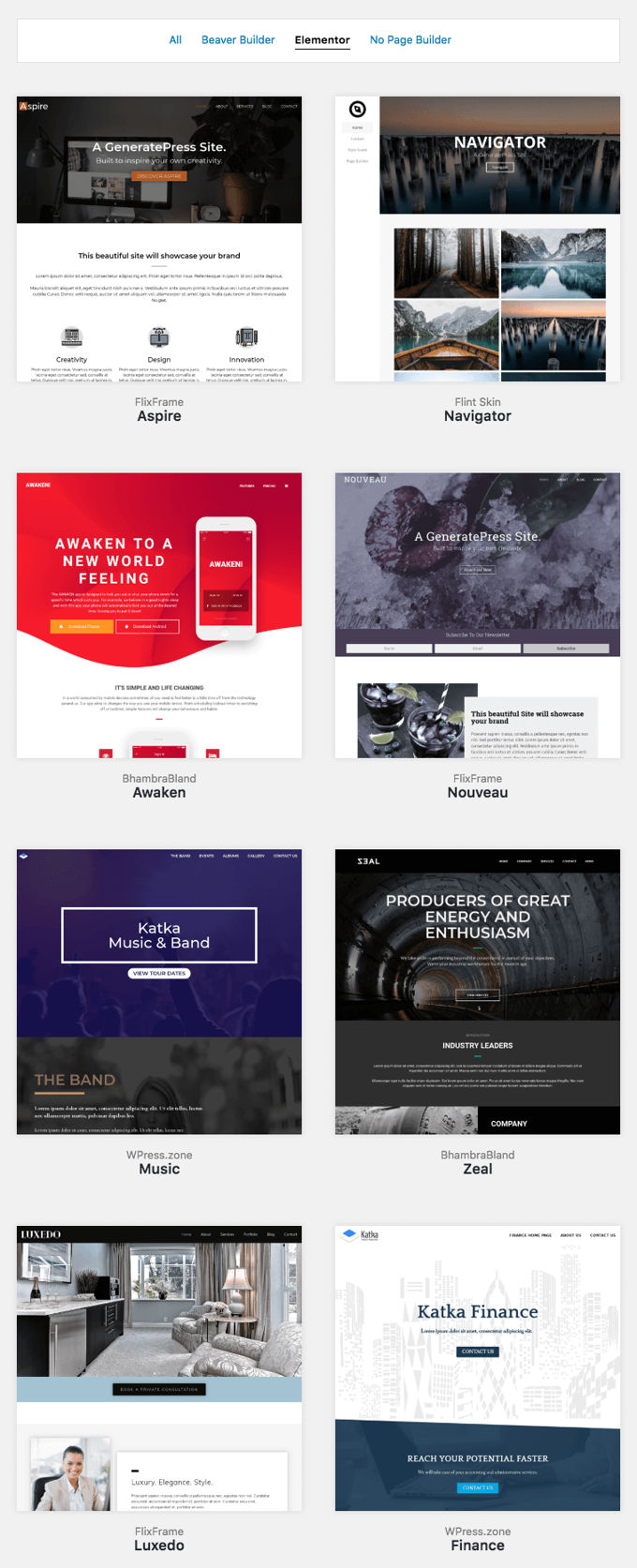 Generatepress page builders


As a writer of this Generatepress theme review, I definitely recommend working with one of the top page builders. We are talking about Divibuilder, Elementor, Thrive Architect and BeaverBuilder. Personally, I hate the Gutenberg editor anyway, the former WP editor was much better, which can be seen from the millions of plugin downloads from this classic editor.
Schema Markup
Generatepress has Schema Markup built in. You can use this to add microdata to your HTML or let your theme do this for you automatically. This extra information is liked by Google and therefore Google will present your pages in the search results in a better way. Astra PRO, the biggest competitor of Generatepress, also has a plug-in for it named Schema PRO.
Generatepress review Video
If you want to know how easily and quickly you can adjust your site yourself with Generatepress, watch the short video below as quickly (takes 3 minutes).
Generatepress Premium pricing
For $ 50 you get access to all the plugins and demos that you can install on as many sites as you want. This is the price for a year. Each subsequent year you will get a 40% discount on the price, something few themes offer.
Generatepress Review conclusion
Generatepress is very well constructed, installs easily, the same goes for the demos. It loads really fast and is very clear in terms of control panel and operation. The Premium version offers ample modules to be able to work well while building your layout. If you prefer a theme that loads a little slower but where you really don't miss out on options and settings, I recommend you the Divi Theme.
Visit Generatepress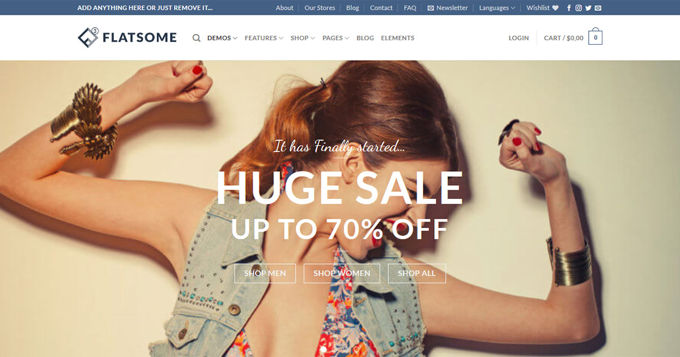 There are many Wordpress themes that consider themselves as the best or perfect shopping theme. One of them is Flatsome. We will be reviewing the Flatsome theme. Let's start by looking at what other people thought of Flatsome based on the reviews they submitted. They received a rating from 5576 customers, an average of 4.80 out 5. This is a very high number and explains why the theme has been sold 206.754+.
Flatsome came on the market at the end of 2013 and we are not talking about a theme in its infancy, but about themes that have been improved for 7 years and that practically have no bugs for that reason. Also, such a theme will not be taken off the market quickly, so you can enjoy it for years.
Flatsome review: Woocommerce
So Flatsome is specialized in e-commerce and mainly in collaboration with Woocommerce, the most popular Wordpress plug-in for shops. My finding is that the theme indeed has a lot to offer in this area. It is even possible to style all product pages differently as shown below and checkout pages can also be adjusted via the CMS (no coding).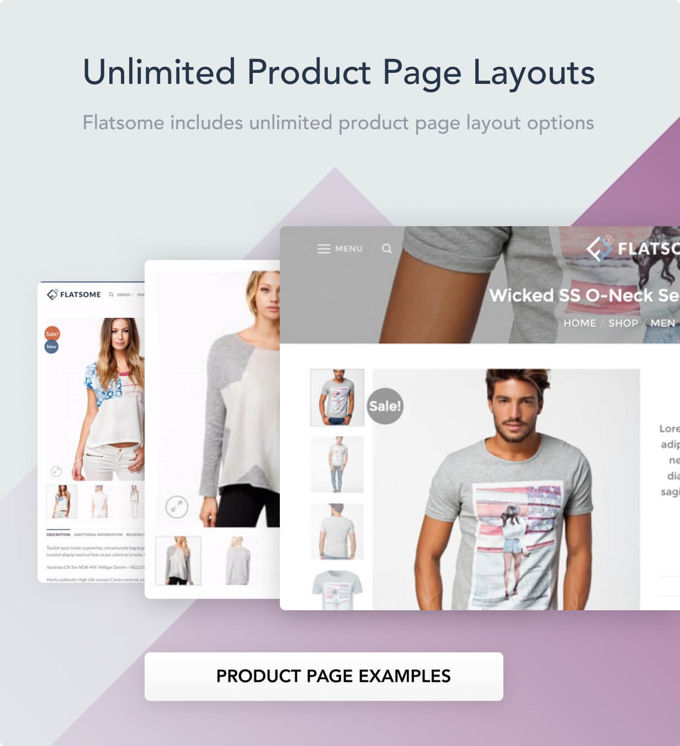 Other cool shop features that Flatsome offers are wishlist, sticky header, live product-search, unlimited forms. The goal of the builders of this theme was as much functionality as possible, which is as easy to operate as possible.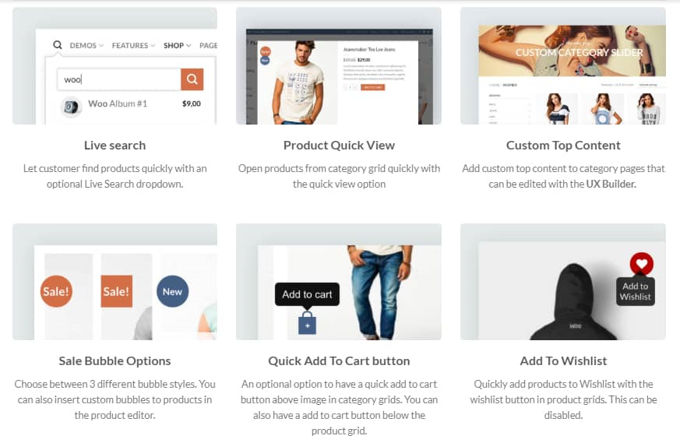 Flatsome review: Headers
Another feature that impressed me while writing this Flatsome Wordpress theme review is the ease with which one changes the header. Even more impressive is the header builder with which you build your own header within a few minutes, exactly how you want it. See the 2 photos below.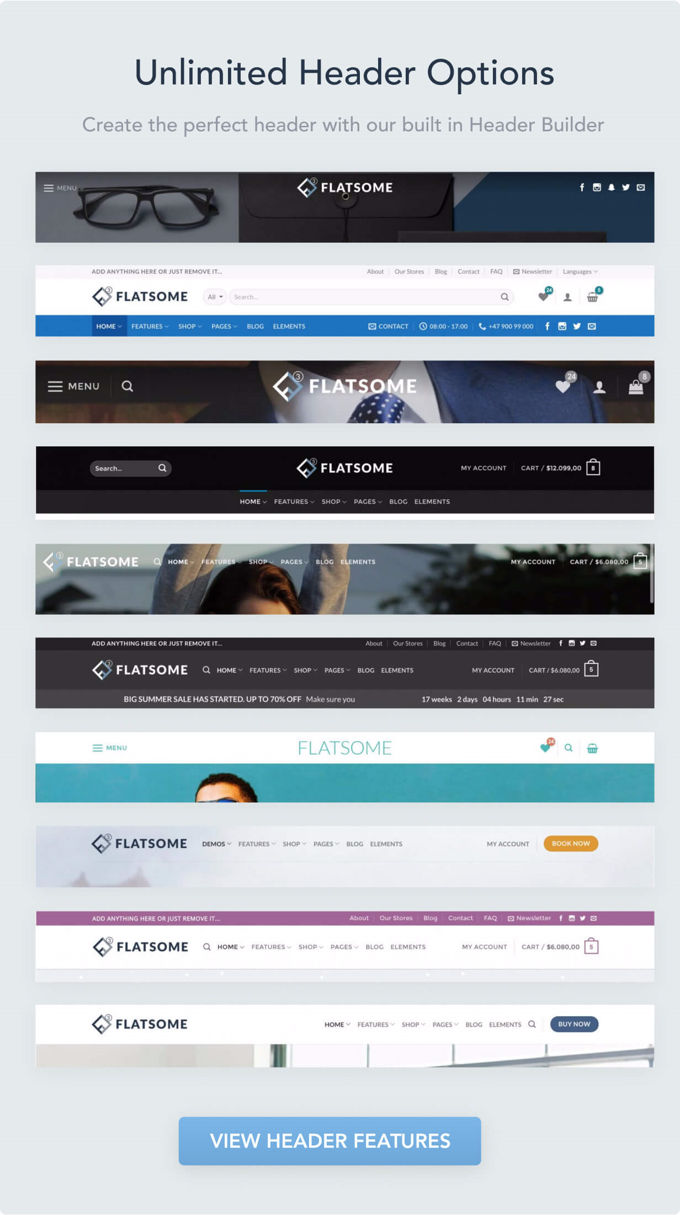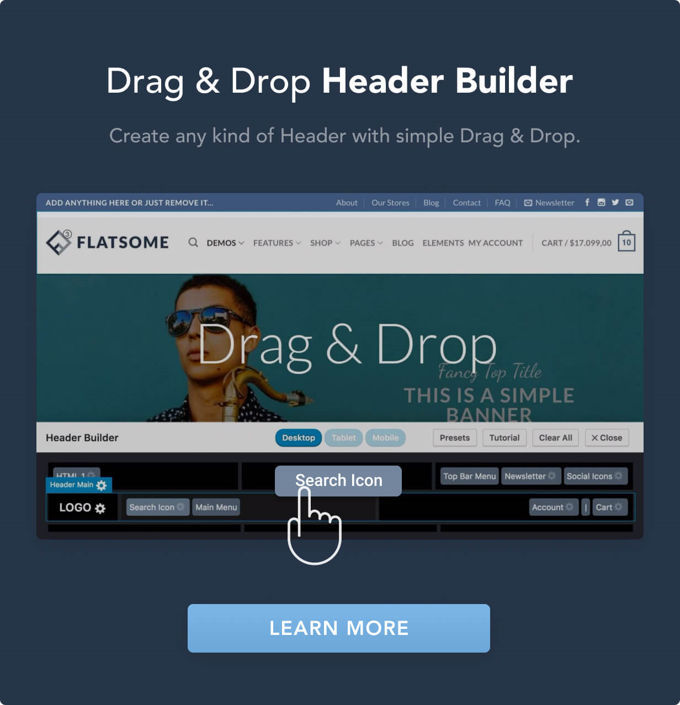 Flatsome review: UX Builder
Just like Avada has its own page builder called Fusion Builder and Kallyas its Zion Builder, Flatsome has its UX Builder. These are all very good page builders that are used exclusively in their own theme. Often with such page builders you can work almost as well as with the top page builders in the market, although there are clearly fewer options.
Watch a small video below to see how the UX Builder works. The video takes only 9 minutes.
Flatsome review: SEO
We're going to talk about SEO in this Flatsome review. Below is an image where Flatsome claims to be the fastest theme on Themeforest. I wonder if that is really the case because there are many candidates for that, but at least the theme has a good loading time. If you are looking for the fastest themes out there read my article about this topic.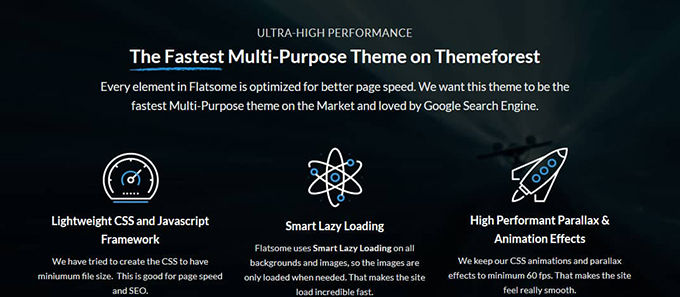 Flatsome review: Elements
Like all premium themes, Flatsome is full of elements that you can use on your pages through their page builder. I am not going to list them all, by looking at the image below, you will immediately know everything.




Closing comment
Of course, Flatsome can do a lot more than I have listed here in my Flatsome theme review. Take a look at their own site if your interest has been piqued. Flatsome is one of the top themes today, especially for building shops. So it is well worth the money, incidentally it also has fantastic documentation and support.
Generatepress vs Flatsome conclusion
Thanks for reading this Generatepress vs Flatsome comparison to the end. You will agree that both themes are top notch. However, it depends a lot on your wishes which theme is better for you. Generatepress is one of the fastest themes out there, it has everything one could wish for, but don't overdo it with settings. This theme is a pleasure to work with in combination with Elementor Pro.
Flatsome on the other hand lets you adjust everything with its many settings without any technical knowledge. This will be nice for someone who wants to build their own site, but companies will benefit better with the lightning-fast theme that looks more professional. In case you are going to provide more than 1 site with a theme, take Generatepress anyway, as a lot of the price goes off for several sites and several years at once.