Elementor vs Fusion-Builder pagebuilders [2023] 💥

Elementor is now more than just one of the best page builders...

The Elementor page builder can be used in any theme. Elementor has its own theme which you can download for free, The Hello theme. Elementor itself houses more than 300 ready-made demos from which you can start your work, that's as good as the best themes. You don't need another theme with Elementor. The own Hello theme is more than enough.
Advertisement


In this Elementor review we discuss the very latest improvements that make the theme/pagebuilder score in the top. Elementor only came on the market in 2016 and has already been installed on more than 8 million sites, which is of course noticeable. This is not just a page builder but a tuned drag & drop tool to build websites very quickly and easily.
ELEMENTOR PAGEBUILDER REVIEW
Watch the clip below, it will probably give you a taste of how you can get started with the editor/page builder yourself. Here you can find all info about Elementor's Editor.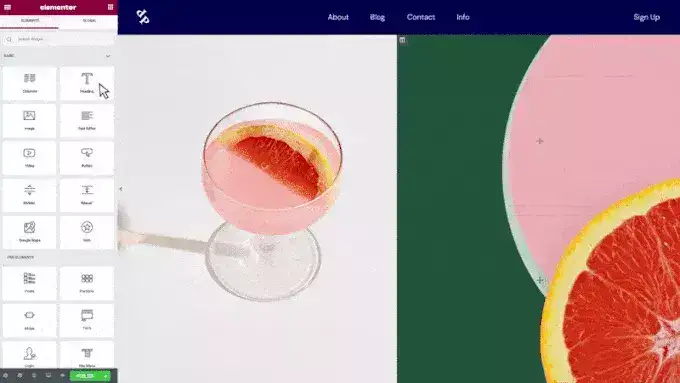 ELEMENTOR NAVIGATOR

This brand new tool can be used as a dock on the right of the screen or can float anywhere in your worksheet. Simply right-click an element or block on your worksheet and select "Navigator" to open it. The Navigator significantly increases the enjoyment of work and the speed at which one can work. Watch here a video and more info about the Navigator.
ELEMENTOR SAVE WORK

Who wants to do the same task over and over again? Elementor allows you to save work blocks and reuse them on other pages, posts, and even other websites. That way you save a lot of time if we compare it with how people used to work. The animation below gives a reasonable idea of what to expect.
READY-TO-USE DEMO DESIGNS

We discuss the top features of the Elementor page builder. The beautiful demo designs are certainly part of this. Earlier I told you that Elementor is basically just a theme because of the wide choice of demo material that you can use as the start for your website.
Similar to Divi there are plenty of 200+ layouts available for all possible niches. Think of corporate, web shops, the hotel industry, gyms, cafe, fashion, hosting, photography, architecture, lifestyle, travel and fashion. There are also many third parties that build beautiful layouts for Elementor. You can also use such a layout as a start for your work, but you will of course have extra costs. View here the complete library of layouts.
ELEMENTOR WOOCOMMERCE BUILDER

Elementor, like most top themes, is perfect for building webshops. Product pages and category pages of Woocommerce can be beautifully styled. In the past, quite a bit of HTML knowledge was needed for customizing shop pages, that has become a thing of the past. We assume you know Woocommerce, it is by far the most used shop plugin for Wordpress. Watch here a video and more info about the Woocommerce Builder.
ELEMENTOR REVISIONS EDITOR

Elementor, like other elite page builders, was less pleased with the revision editor included in Wordpress and decided to release its own improved version. I completely agree that the default Wordpress editor for revisions is worthless, that was always an eyesore when you had to put something back. Also Divi and Thrive have this tool. Watch here a video and more info about Elementor Revisions Editor.
ELEMENTOR REVIEW: MOBILE EDITING

Everything can be set separately with Elementor for mobile, tablet and desktop as you can see above. Of course Elementor is "out-of-the-box" responsive, but it is always nice to be able to make targeted adjustments for a certain device if necessary. However, all top themes and page builders also have this. Watch here a video and more info about Elementor's Mobile Editing.
ELEMENTOR COLORS

We give a perfect score in our Elementor review here to the color editor for texts, which is practically as beautiful as in a PC software like Photoshop. According to Elementor themselves, they are currently the only one that has "pixel perfect design". You can use all possible colors out there and also create gradients with them. Watch here a video and more info about Elementor's Color Picker.
ELEMENTOR HEADER & FOOTER

Total control over all headers and footers within your website. All elite page builders can do this, but it is an important tool to have in a theme. Watch here a video and more info about Elementor's Header-Footer Builder.
ELEMENTOR BASIC ELEMENTS

ELEMENTOR PRO ELEMENTS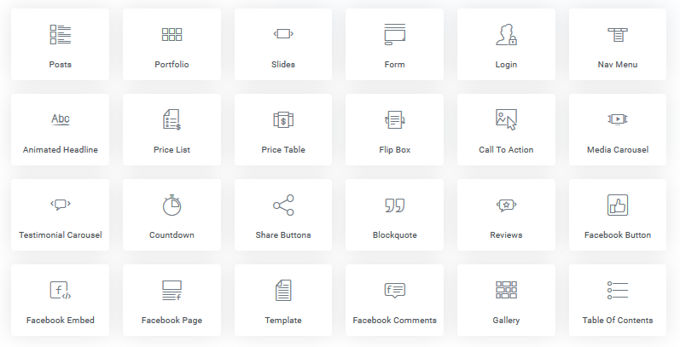 ELEMENTOR THEME ELEMENTS


The building blocks for the layout of your pages are the elements and Elementor offers very a lot of. Let's say practically everything has been thought of. Elementor even has pop-ups included as standard and very nice ones too, so forget about your pop-up plug-in from now on. You no longer need it. View here the complete info on all 90+ Elementor Widgets.
ELEMENTOR POP-UPS

Beautiful pop-ups, easy to set up too, a wonderful tool. The top page builders copy everything from each other. The popups are perfect for call-to-action and conversion purposes. View here all info about Elementor's popups.
ELEMENTOR REVIEW: PRICING

The prices for Elementor can be found here in the image above. In terms of quality, Elementor is worth triple its money, especially if we compare it with other premium themes that offer much less and are also even more expensive. View the pricing page here. Sometimes there are discounts.
ELEMENTOR ACADEMY

If you still have a few questions about Elementor, you might find them quickly answered in the more-than-organized Elementor Academy.
Visit Elementor
FUSION-BUILDER (Elementor vs Fusion-Builder)
Fusion-Builder is included by default in the beloved Avada-Theme...

The Fusion-Builder has been around for years in the Avada Theme. Although the page builder would certainly be suitable for use as a separate plugin in other themes, that has still not happened. I don't think the contracts they have with Envato allow that though the Fusion Builder could be sold as a plugin through that same marketplace. Well, if you want to work with the Fusion-Builder you need the Avada Theme.
FUSION-BUILDER PAGEBUILDER/EDITOR
The Fusion builder is a responsive front-end page builder. The page builder works accurately, quickly and well, there is nothing else to say about it. In their own words, Fusion-Builder is the best Front-end Editor. I doubt that very much because in the first place they all say that but I have experience with practically all top page builders and certainly know better ones. I do want to say right away that Fusion-Builder is definitely participating in the top.

FUSION-BUILDER REVIEW: ELEMENTS
The Fusion-Builder counts all together 70+ widgets (also called elements). This is a large number because popular page builders like UX-Builder and Brizy only offer around 45+. I show some of these widgets below, if you want to see them all go to this page.

FUSION-BUILDER'S EDITOR
Fusion-Builder is an inline text editor which means you can write directly on the page wherever you want as shown below. Nowadays all top page builders have such a text editor, but Fusion-Builder also has what it takes to keep up with the top.

FUSION-BUILDER MOBILE EDITING
Fusion-Builder can be used to work on websites via mobile. Despite everything working properly, I would never do this because it is very inconvenient compared to working via desktop. An exception would be if I was on the road and suddenly noticed errors in an important site. All top page builders can do this by the way.

FUSION-BUILDER: TEMPLATES LIBRARY
We are talking about a library of over 120+ pre-processed sections and elements. In addition, Avada also offers 85+ complete demo websites. This is something that both good themes and page builders have in their arsenal these days. However, the numbers at Avada are quite large.

FUSION-BUILDER: SPEED
It is a bit more difficult to calculate speed with page builders than with themes. What we can do here is check the speed of the Fusion builders theme website. The results of this test at GtMetrix are below. These are very good numbers which means to me that their programmers know a lot about optimizing for speed.

FUSION-BUILDER & WOOCOMMERCE
Like the best-selling page builders like Elementor Fusion-Builder has a Theme Builder. Allows you to customize parts of the layout that should look the same on all pages. This includes the footer, the header and any additional sections that you want to see on all pages.
FUSION-BUILDER & AVADA THEME
Of course, as mentioned before, you get the Fusion-Builder in the Avada Theme. Not me personally, but there are quite a few people who think that it is one of the best Wordpress themes. It must be said that the theme is certainly not bad and very versatile. It offers a dashboard with maybe 1000 settings, pop ups, everything can be customized, most things can be styled by yourself such as search pages, 404 pages, footers, headers, and portfolio post layouts. If you work with the Fusion-Builder, you automatically have all of that included. Read all about the Avada Theme here.

FUSION-BUILDER REVIEW CONCLUSION
Despite the fact that the page builder is quite okay, the price is very high, namely 60 dollars per website on which you want to install it. That is unfortunately the case with everything that is sold through Themeforest. Definitely recommended, but expensive and of course there are better pagebuilders than Fusion.
ELEMENTOR VS FUSION-BUILDER CONCLUSION
Thank you for reading my Elementor vs Fusion-Builder comparison to the end. Let's just say that Elementor is just a lot better than Fusion-Builder, although Fusion is certainly a lot of fun to work with as well. Everyone has their own preference based on their experiences. Another big advantage that Elementor has is that it has offers to use it on larger numbers of websites, which is not the case with Avada (Fusion).