Elegant Themes Review for [2023] 💥

Elegant Themes is a company that specializes in building Wordpress Themes. It sells its themes through a very attractively priced membership. They now have more than 800,000 members, including professionals and do-it-yourselfers. I will report here on their most important themes, and their more than popular page builder.
Advertisement


Elegant Themes review: Rating
When we talk about ratings, I want to make it clear that many themes let themselves be rated via the marketplaces on which these themes are sold. This results in much higher average figures than when themes are rated on independent review websites such as Sitejabber.com. Follow the link to see that Elegant Themes scores 4.93 out of 5 on such a review website, an insanely high score.

Or maybe you put more confidence in Trustpilot.

Elegant Themes review: Divi Theme

The Divi Theme has been the most popular premium Wordpress theme for about 10 years, statistics on Builtwith. com confirm this. The theme comes out several times a year with all kinds of firsts such as recently their Advanced Gradient Builder and their Divi Cloud. These new gadgets are then slowly copied by all other premium themes, but they always lag behind the facts. Because by the time they think they've caught up with Divi, it already has 3 new features to steal the show.
Elegant Themes review: Extra Theme

The Extra Theme runs on the same engine as the Divi Theme but has "Extra" features that make it an almost perfect blogger theme. For example, just like Divi, it has the DiviBuilder in it as a page builder. The Extra Theme includes a set of Divi Builder modules specifically designed for bloggers and online publishing. These modules can be used for various homepage and category layouts. You can now create exactly the page that meets the needs of your project.
Elegant Themes review: The DiviBuilder
The DiviBuilder is the best frontend page builder with a real inline text editor. For me this means the possibility to immediately start writing in a piece of text without having to open extra screens or write in a box. The DiviBuilder is as far as I know the only page builder where things really work that way. Even a top page builder like Elementor is lagging behind Divi.

Elegant Themes review: Pricing
The standard pricing that Elegant Themes maintains is $89 per year or $249 one-time for the rest of your life. Discounts are often available, here and here you can see if there are currently any discounts running.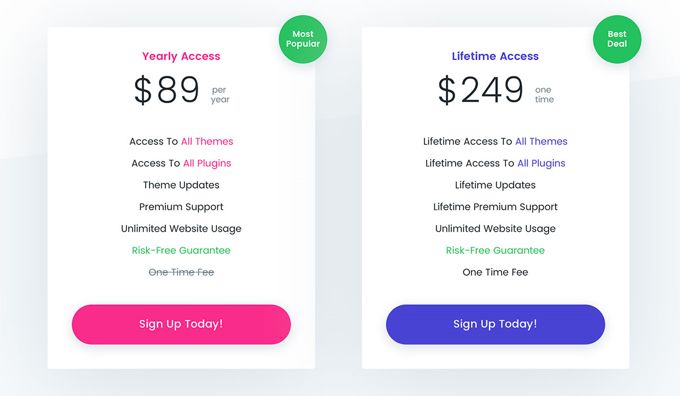 Elegant Themes review: Conclusion
I'll close this Elegant Themes review with my opinion on everything insofar as I haven't already given it here and there. Elegant Themes clearly offers one of the most complete and best components in its pack. It is also striking that the same builder has the best theme and the best page builder in their hands. This is a membership that both laymen and professional designers should definitely have in their arsenal. You will not get value for money anywhere else, although there are certainly a number of good theme packages.
Visit Elegant Themes