BeTheme vs Woodmart Theme comparison [2023] 💥


Advertisement


Woodmart vs BeTheme, these are two of the best-selling Woocommerce themes in the Themeforest marketplace. Their popularity is due to the versatility that even people who have no HTML knowledge can adjust everything on their own website. We will see if there are differences between the themes and what their special qualities are.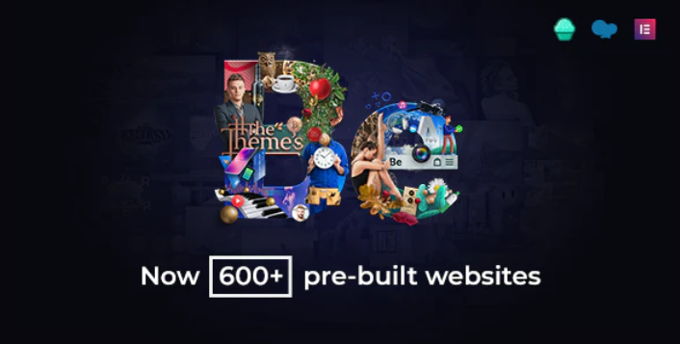 In this Be Theme review we pay attention to the pros and cons of this great theme. What is immediately striking is that the design is fairly simple but very stylish. As soon as people start working with the theme, they immediately realize that adjusting the theme is much easier than is the case with many other premium themes. The many functions of the theme will be examined in the remainder of this review.
Be Theme review lay-out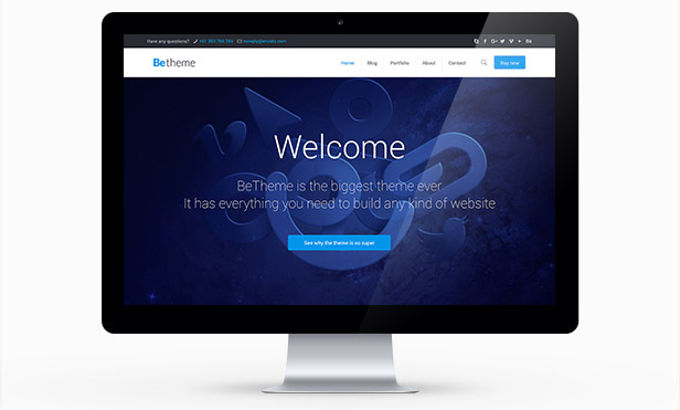 The Be Theme comes with no less than 600+ different demo websites that can be installed with one click. You will find several suitable themes for each niche from which you can start building your own house style. As a web designer I quickly find a suitable layout for websites that I build for clients with the Be Theme.
A few demo-examples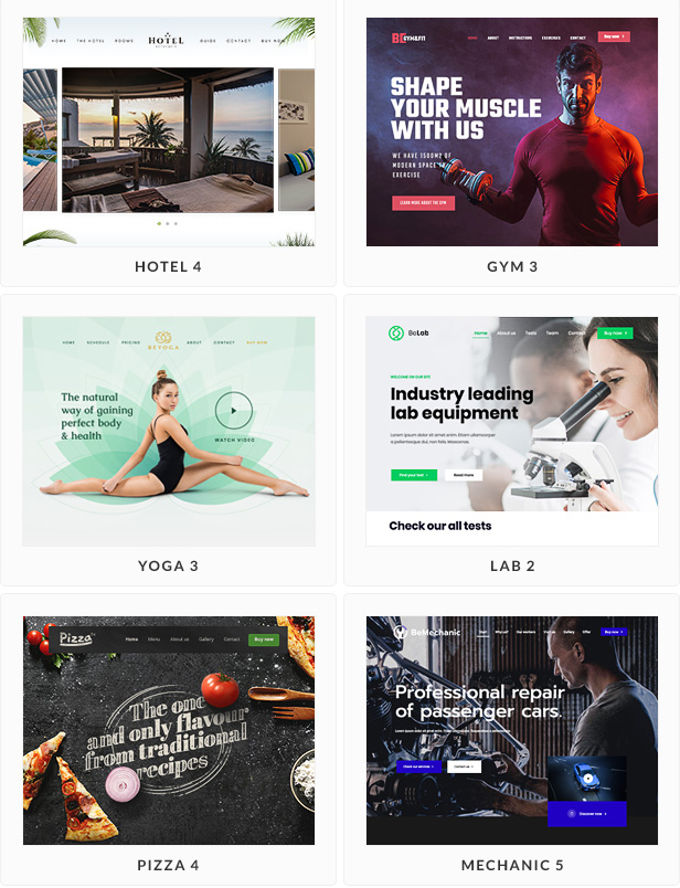 To be honest, I have to say that the Be Theme is perfect for creating a cool site that works really well, but for a real top website where they want to pay a lot of attention and make a great impression ... it is better to use a different premium theme. Reviews for such themes can be found in our overview of top themes for [2023]. The Be Theme is perfect for the beginner!
The developer of the BeTheme is Muffingroup, an elite seller on Themeforest with around 15 products on sale, the most are themes. Muffingroup brought in many valuations such as recommended author, monthly bestseller, power elite author and weekly bestseller. You can imagine that they deliver a solid product. The Be Theme has an average rating of 4.62 which is very high. The theme has been sold 267.893+ times since 2014.
Muffin Builder, a drag & drop pagebuilder
The Be Theme has the Muffin Builder built in to quickly make adjustments to your site. The Muffin Builder is a drag & drop page builder that is more than satisfactory and has all the necessary options. Choose one of the 600+ layouts and add items to your pages, it works easily and very well.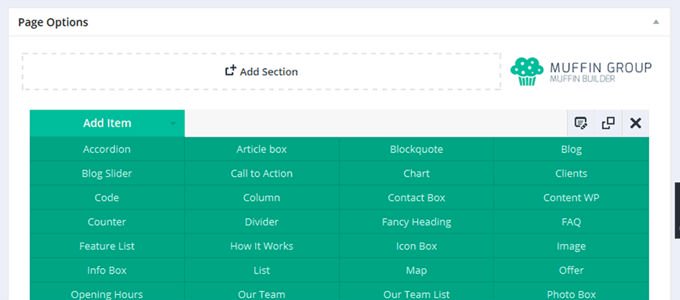 Be Theme review: WP Bakery Pagebuilder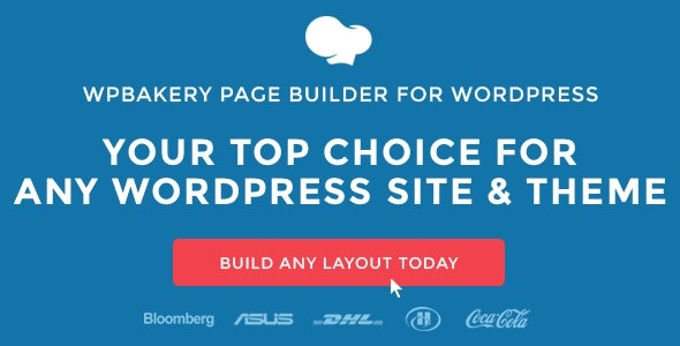 Instead of using the Muffin Builder, use the WP Bakery pagebuilder, a page builder with more fame then this is possible, this is also supplied in the Be Theme. The choice is yours. This page builder also works with drag & drop and is also a great tool to be able to build beautiful pages with great freedom and to purchase them separately, you have lost no less than $ 64. Personally, this is one of my favorite page builder because it features practically all the top themes and there are many add-ons for it.
New: Elementor compatibility
Since 2021, the BeTheme has also been equipped with Elementor, and with quite a few extra widgets as shown below.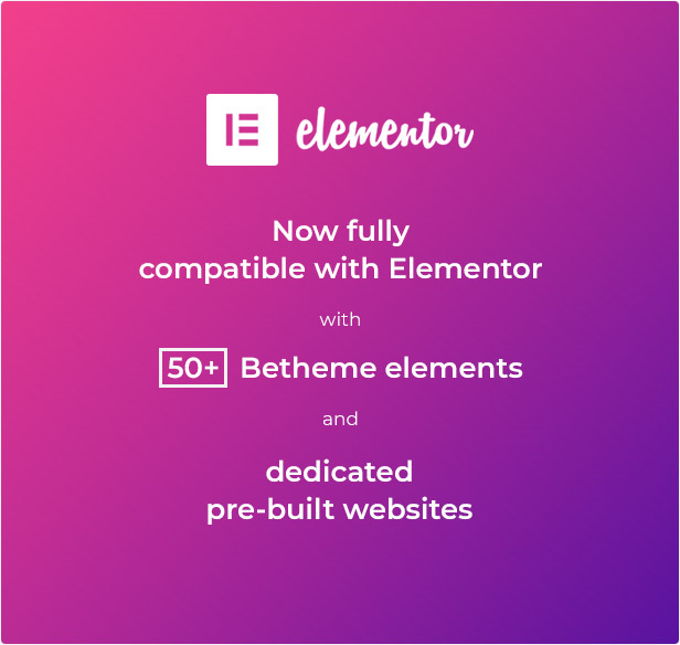 Video en Parallax Backgrounds
The BeTheme supports the use of parallax backgrounds that will leave a pleasant impression for your site with your audience. Full width and video backgrounds are also possible. Together with a decent styled page you can give your website a professional look in this way. During the writing of this BeTheme review, this kawlity of the theme quickly stood out.
20+ different header styles
The Be Theme contains 20+ standard header styles that you can use this way. The logo can be placed in multiple places together with the menu. Normally a menu is at the top but you can also use a left or right menu. The headers can be adjusted as much as you want in the Be Theme. Everything can also be adjusted in terms of fonts, font sizes and colors. The Be Theme allows different headers and even logos per page.
Shortcode Generator
A short code can be generated for practically all functions in the theme. You can then use this to integrate these functions into every page, post or widget.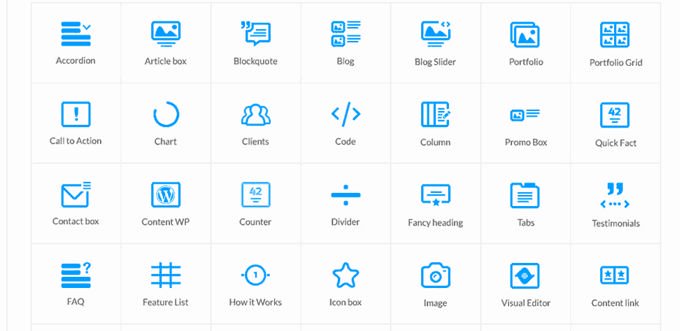 BeTheme Extras
The Be Theme also offers you the following options: 600+ different fonts, custom Widgets, Revolution Slider, WooCommerce Ready, RTL support, Mega Menu, visual icon selector, unlimited sidebars, Bonus Premium Plug-ins, maintenance mode, Google Maps Styles, BuddyPress Ready, Styles for ContactForm7 and Gravity Forms.
Compatible with WPML


Ready for translation with WPML with which you can create multilingual websites.
Visit Be theme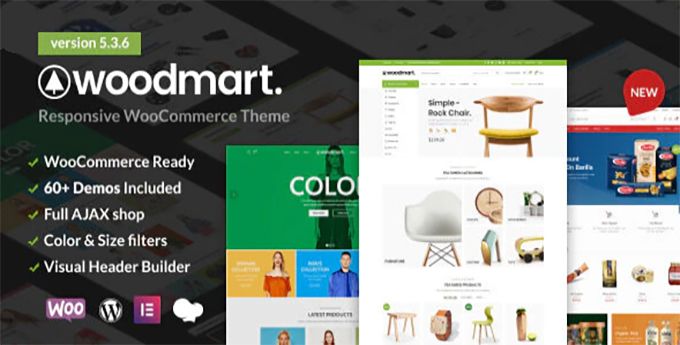 Woodmart is one of the Woocommerce themes that are rapidly emerging. Not surprising because the theme offers many special qualities and is now also compatible with the most popular page builder out there, Elementor. The theme is suitable for any kind of shop and has little to do with wood, even though the theme is called that way. This theme has been specially developed for the construction of web shops, so I expect a lot from it.
WOODMART RATING
Below you can see the appreciation that Woodmart gets from people who bought the theme, and I must immediately say that 4.95 is a score that hardly occurs with themes on the Themeforest Marketplace.


WOODMART INSTALLATION AND DEMOS
Installing Woodmart is very easy. The theme does not have a free version so you will have to buy it first and it can simply be installed via the standard Wordpress theme installer.
It is recommended to install one of the many ready-to-go designs. Woodmart offers about 60 very nice complete designs for web shops in all niches out there, so furniture, tools, clothing, etcetera. Below you can also immediately see how easy it is to adjust the color combinations in the layout.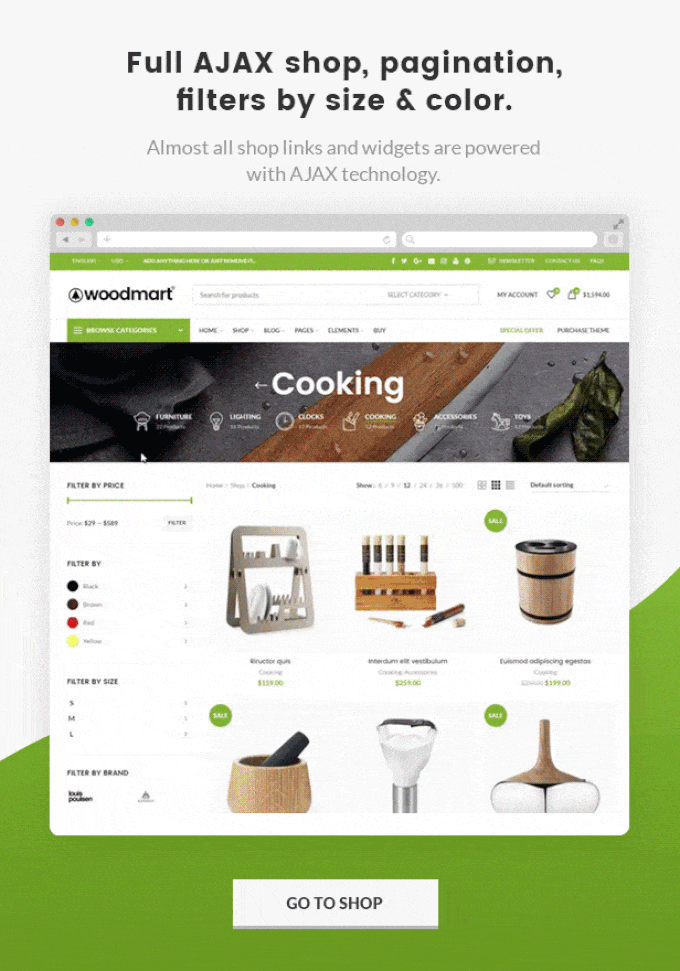 Woodmart comes standard with the Bakery Pagebuilder, but since version 5.0 the theme is completely compatible with Elementor. This is a huge improvement, Elementor is one of the best page builders out there, especially when it comes to the pro version.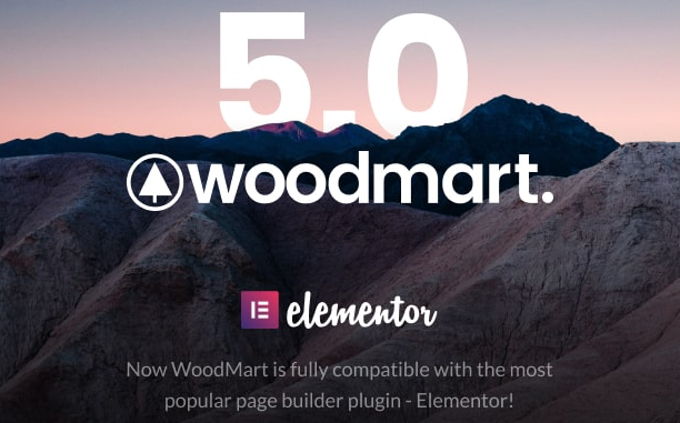 WOODMART SPEEDTEST
We perform a speed test with the theme under quite optimal conditions, so with cache plug-in and all images optimized. This theme does not indicate that it is specialized on loading times, but the results are very good as can be seen in the image below.
with optimized images and cache plugin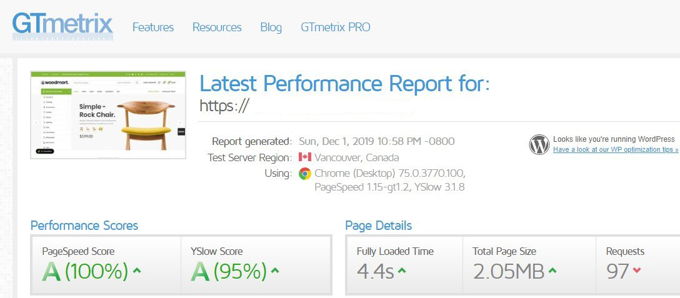 WOODMART HEADER BUILDER
Advanced styling options and multiple HTML elements in the headers, almost anything is possible. Woodmart also has ten standard header styles that can be adjusted with 1 click.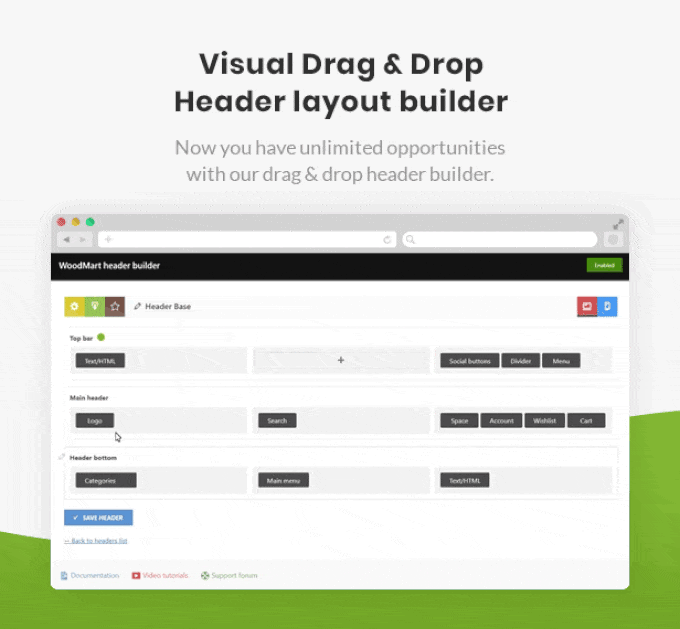 WOODMART HEADER EXAMPLES
Below you can see how easily Woodmart allows you to adjust the header and what a huge choice there is already standard without custom adjustments.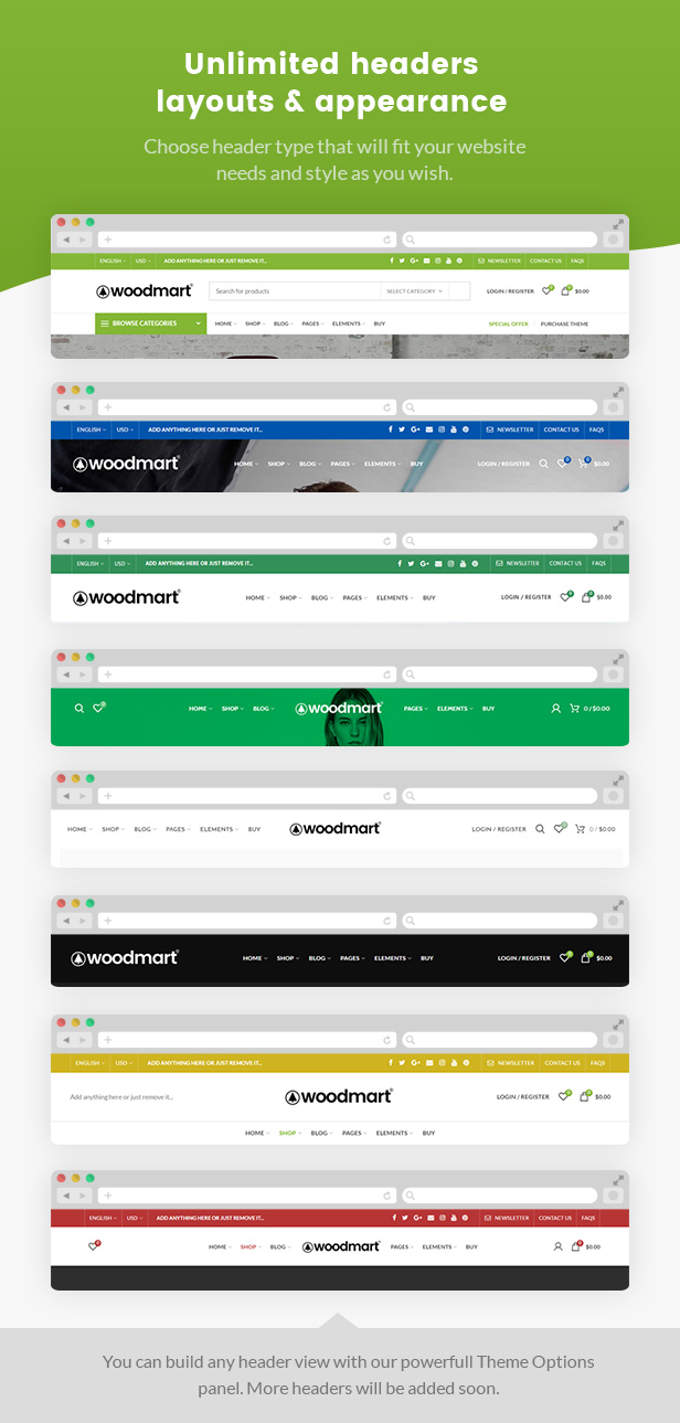 WOODMART THEME REVIEW MEGA-MENU
To have a beautiful mega-menu, people often spend a lot of money on expensive plug-ins. In the case of the Woodmart theme, this is not necessary because the theme comes standard with a great mega menu as shown below.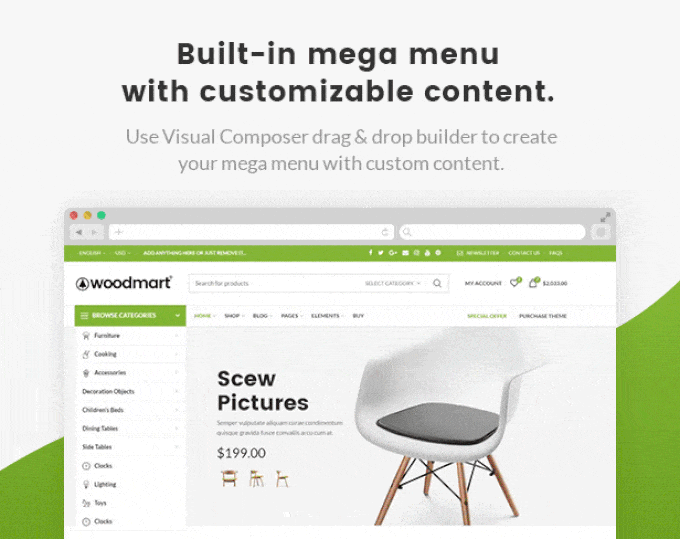 WOODMART QUICK SHOPPING
There are great shopping themes that have all the options a top Woocommerce theme should have. Woodmart belongs to this class and has quick shopping for your webshop as standard.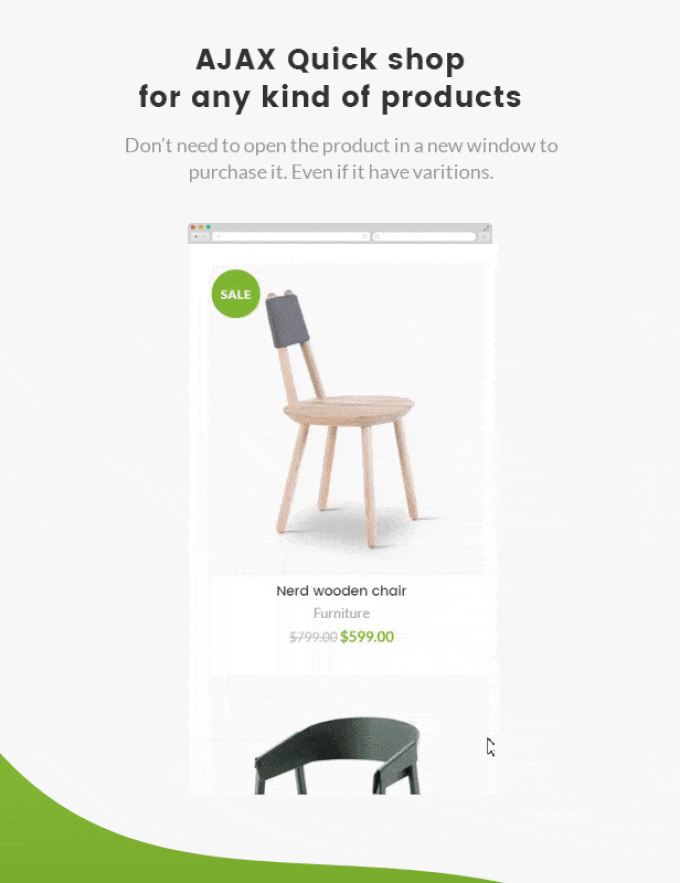 WOODMART THEME REVIEW: PRICING
The theme only has 1 price option and that is paying $ 59 for each separate theme. So if you have ten websites you want to install it on, you can, but it will cost you $ 590. In my opinion the price is very okay, but only if you are looking for a good webshop theme for only 1 website. In the case of 2 or more websites, other themes are much more attractively priced and in some cases even better than Woodmart. Check here the best webshop themes for [2023]

.

WOODMART THEME REVIEW: CONCLUSION
There is nothing bad to say about this theme. This is one of the best themes there is to build web shops and it is rising in the rankings and it is better with every upgrade. It works perfectly with the Elementor pagebuilder since the last version and that's great too. Yet it is true that, as I indicated in the chapter for the price above, there is boss above boss. The perfect theme for shops & websites is Divi and Astra is a very close second. These themes can be installed on multiple sites and the Divi Theme for example costs only $ 89, and comes with the Divibuilder full version! Woodmart comes with Elementor, but that's the free version we're talking about then.
Woodmart vs BeTheme conclusion
First of all, thank you for reading this Be-Theme vs Woodmart comparison to the end. The Be-Theme excels in its huge number of demo designs for every niche and that is very practical for many web designers who can assemble any type of website so quickly. When we talk about quality, however, Woodmart is much better off in terms of building web shops. The designs are nicer and more professional, especially for shops. Both the Be-Theme and Woodmart are compatible with the Elementor page builder. We recommend installing Elementor Pro if you can spare some money. Both themes are worth their money if you are looking for a theme for just one website.
In case you want to provide 2 or more websites with a theme, I do not recommend both of these themes because then it will be much too expensive, since a separate expensive license will be required for each website. In that case, you can much better Astra or Divi as it will save you money for multiple sites. In addition, these latter themes are ranked higher in my top 10 themes for [2023] than Be-Theme and Woodmart.