The best free Wordpress themes [2023] 💥


Are you looking for the best free WordPress themes? Here you will find a collection of themes that have been downloaded hundreds of thousands of times from Wordpress.org and also receive a great rating. In general, the best free themes also have a paid version, as these themes are built by professional teams. Here we give a brief overview of what is possible with the free version and also the pro version. Below it you will find 2 buttons that lead you to the theme's website and to my complete theme review.
Advertisement


The 20 best free Wordpress themes [2023]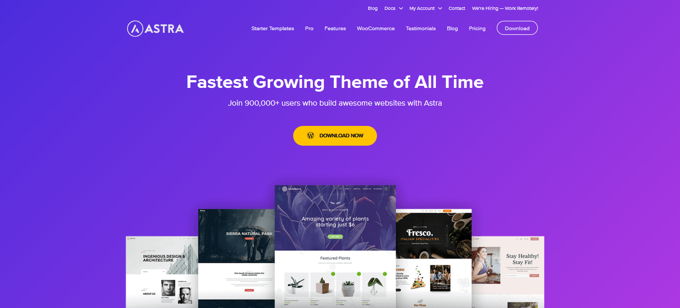 Astra has been specially developed to load quickly in browsers and it does. You will not find a much faster theme anywhere. In addition, Astra is standard equipped with Elementor (free), the best page builder for Wordpress. Astra has beautiful designs for every conceivable niche and comes standard with a Schema plug-in. Adding rich snippets to your pages is something Google likes to see and help you get found. Astra is great for building shops and offers many additional options for Woocommerce.
Upgrading to Astra Pro gives 50 extra widgets and add-ons in Elementor. Of course, Elementor can also be upgraded to Elementor Pro. The combination Astra Pro + Elementor Pro is a real pleasure to work with and if you have the money for it, certainly recommended. But you can just work with the free versions and you will certainly be very satisfied with them, you just have much less options.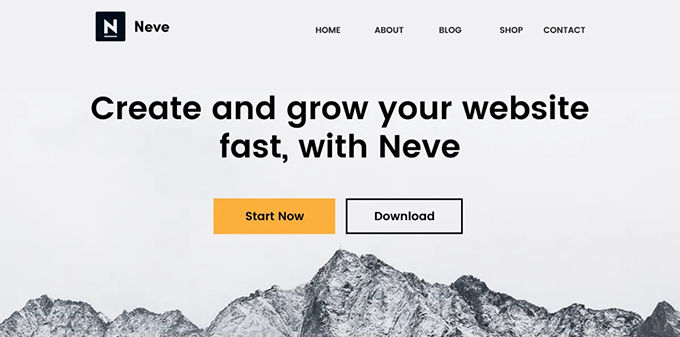 The Neve theme gets a great rating on wordpress.org and has been installed on more than 340.050+ websites. That is no coincidence, of course, here lies the professional builders of ThemeIsle. The Neve theme is built on multifunctionality and can therefore be used for any type of website. It is also built for loading speed and does not even use jQuery for that reason but the much faster Vanilla-JS. This theme works perfectly with all top page builders.
Upgrading to Pro makes the theme a lot more mature. You now get access to more than 80 beautiful demo layouts and increased functionality for web shops and design adjustments. The Neve theme is not expensive, so you don't really have to leave it for the money.

Blocksy is the most striking free Wordpress theme which is particularly suitable for building E-commerce websites. It is a theme built with the latest techniques. What immediately stands out is that Blocksy has a practically flawless rating, everyone gives it 5 stars. We are talking about a top theme here.
It was designed with to work well with the Gutenberg editor and includes many options that make it extensible and customisable. Blocksy is very versatile and works perfectly with all elite page builders and can be used to build any type of website such as portfolios, blogs, shops, private sites, corporate sites and more.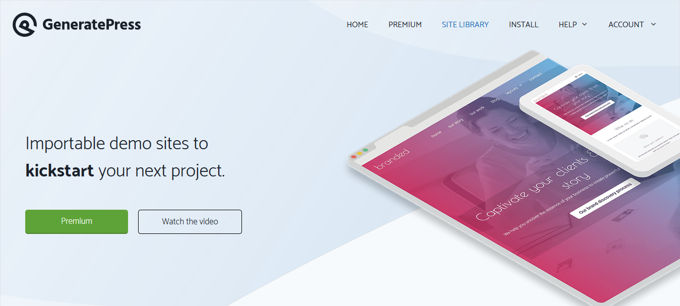 Generatepress is another super fast loading theme. It was specially developed for this, just as is the case with Astra. Maybe this theme is a bit faster than Astra too. It will be difficult to find a theme with a better rating on wordpress.org because it will practically only get 5 stars from everyone. This theme is built on speed and usability and therefore works perfectly with all top page builders without having double functions.
A strong point of Generatepress is the sleek designs and very good functionality for web shops. This certainly applies to the Premium version. Upgrading to Premium provides numerous additional plug-ins that allow you to access the best demo designs and style your Woocommerce shop just the way you want. Generatepress Premium is really cheap and you can use it on 500 websites, so not like many themes, but on 1 website.

Phlox is a modern WordPress theme with powerful features that can be downloaded in both a paid and free version. It has been around since 2013. This theme is great for any type of website: small business websites, eCommerce websites, portfolio websites, travel websites, and any other kind you might imagine. Phlox has really great demo layouts that can be installed with 1 click.
That was actually the reason I picked the Phlox theme for another website I have, and I am very pleased with the theme. There are also few themes that work so well with Elementor as the Phlox Theme. This theme can of course do much more, so read on via the buttons below if your interest has been aroused.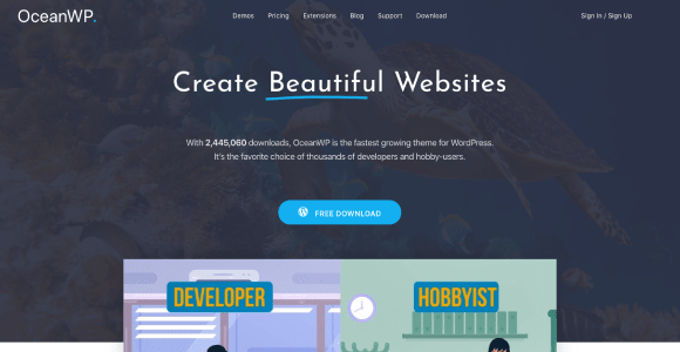 Just like Astra, the Ocean-WP theme is extremely popular and has an almost as good rating on Wordpress.org. This theme also loads super fast and there is practically no better theme for building web shops. The free version, but certainly the Pro version is packed with extra Woocommerce options that ensure a 100% professional feeling in the shop. This theme works great with all top page builders. The designs that Ocean-WP offers are beautiful and there is really nothing to criticize about this theme, which of course makes the appreciation shine through.
Just like Astra, upgrading to the Pro version offers a lot of extra Elementor widgets, and tons of extra plug-ins and demo designs. Ocean-WP is also at its best in collaboration with Elementor Pro. But as said the free version ticks all the boxes for building a great website.

Botiga is the perfect theme to announce your store. This theme is Gutenberg ready. Botiga is a clean and modern theme that is beyond your brand. A very new theme, but specialized in the construction of Woocommerce websites. Botiga based on the ground using clean code to optimally start from. Botiga is a mobile theme that looks great on all devices and has a lot of customization options.
Botiga was built from the ground up using clean code to ensure optimal performance. Botiga is a mobile-optimized theme, which looks great on all devices and offers many customization options. Find the right theme for your online business. Is this the right theme for your online shop?


Hestia is known for its ease of use. It can be used for businesses, startups and online agencies, portfolios, e-commerce and freelancers. Hestia was founded by Themeisle, a Romanian company. The same company that made the Neve Theme. It is a multipurpose theme that can be easily customized. WooCommerce compatibility and Gutenberg compatibility are two other important features. This theme is compatible with most page builders.
Hestia is a multipurpose, one-page design with widgetized footer and blog/news pages. It also has a clean appearance and can be used with Flat Parallax Slider and Photo Gallery. This theme is responsive, WPML-ready, retina ready, SEO friendly and uses Material Kit to design.

Like all themes in the top 10, an almost perfect rating on Wordpress.org and currently installed on 200,000+ websites. The reason for that? Kadence offers a drag & drop header and footer builder and has very fast loading times. The theme offers a large library of beautiful start templates (demos) with about 6 of them especially for the construction of webshops. In addition, the theme is very suitable for working with the Elementor page builder and the Beaver builder.
Other handy features are the Color Manager that gives you the choice of 10 different color combinations that can be installed with 1 click. After that, additional personal adjustments are possible and you can save the new style. The addition of Kadence Blocks ensures that Kadence even works pleasantly in combination with Gutenberg, the standard Wordpress editor. Also great features are the Transparent backgrounds, a very good SEO with Schema MarkUp, 100% Responsive on all devices, Sticky Header, and CSS Pre-loading in the header.

You will find many beautiful designs for shops on Airi's demo sites. Designs for agencies, companies, magazines, shops and restaurants, but also bands. All the demos look professional and I was impressed with the overall design quality. Most of the free themes don't look very professional, but Airi's designs are similar to premium themes. Airi is from the same builder as the Botiga theme above.
You can start from scratch or choose one of the pre-made Elementor layouts. Are you looking for an e-commerce theme that will suit your business? Airi provides full WooCommerce support so that you can sell your products. Airi is not only very suitable for webshops but for any type of website.

Virtue comes fully Woocommerce-ready with all the tools needed to create a stunning online store. You will also find portfolio pages and posts that will showcase your work in great style. This versatile theme is ideal for any type of website, whether it's a business, portfolio, or personal one. The theme is completely free of virtues. It is responsive and mobile-friendly so it looks great on every screen.
Virtue's clean and modern design was built using html5 and CSS3 and utilizes Bootstrap's powerful responsive framework to make it fully responsive and mobile-friendly. Virtue supports fullwidth and wide blocks. Virtue is fully Woocommerce ready and comes with all the tools needed to create an amazing online store.

I chose the Inspiro Theme for this selection because of its very specific properties. This theme is perfect for photo & video. Everything has been thought of, beautiful video backgrounds and video sliders also on mobile. Unique is that this theme plays video on auto-play on all devices. You can use both self-hosted video, or opt for the integration of Youtube & Vimeo videos. The theme has a rating of practically 5 stars and has a very fast download time in browsers.
The Inspiro theme does not come alone, but in combination with 36 other very good themes. WP-Zoom has put together a very complete selection here. Memberships usually provide much more bang for the buck than just a theme, just like Divi is the case. The theme uses its own page builder by default, but is 100% compatible with the Elementor page builder, Beaverbuilder, and practically all the top page builders out there for Wordpress.

Ashe is in the first place a theme for blogs but can be very nicely used to build a blog a which you want to sell stuff. It works flawlessly together with the Woocommerce plugin. It is just a very nice theme with its own unique style. Ashe is a brand new theme but has already 60k active installations.
Ashe loads quickly, is compatible with many popular plugins, and of course translation &RTL (right-to-left language) ready. It has been coded using best SEO practices. This theme features Text & Image logo support, Fullscreen Slider support, Header image support, Instagram slider widget support and works perfectly with all major drag-and-drop page builders such as Elementor and Beaver Builder, WP-Bakery, SiteOrigin, and Divi.

Royal Elementor's features include 75+ widgets and 45+ Elementor WooCommerce Builder, Elementor mega menu builder, Elementor popup builder, Elementor template kit, Theme Builder, Elementor WooCommerce Builder. These widgets are intuitive and creative to help you take your WordPress website to new heights. All widgets come free of charge, while the Pro Version provides more advanced functionality.
Practically you have all the benefits of the pro version of Elementor without having to pay for it. The Royal Elementor theme is highly suitable for the construction of E-commerce websites. It is a very new theme which has had a lot of succes already and is becoming more popular each day.

The Sydney theme uses its own Building Blocks by default, but is compatible with Beaverbuilder en Elementor Pro page builder, is a top-rated program in this area. If you are going to use Elementor, I recommend it. However, the pro version is much more cost-effective. The Sydney Theme loads quickly and can be installed in just one click.
Sydney has over 200,000 active installs and was downloaded much more often because it is simply a very good business theme for Wordpress. Sydney also offers the following features that I won't go into: Frontpage Blocks, a very good SEO but unfortunately without Schema MarkUp, 100% Responsive on all devices, Parallax Backgrounds, Crelly Slider Support (Pro), and stunning Full Screen background. If Sydney has piqued your interest, I suggest you continue reading on their own website.

The theme has gone through some pretty extreme improvements that we're going to talk about now. Like any self-respecting WP theme these days, PopularFX has ready-made demo websites that can be installed with 1 click. Here it comes up that I said that the theme has special qualities. You will be offered 350+ of these demos, and the designs are truly eye-catching here and there.
PopularFX theme is easy to use and powerful enough for any kind of website. Popularfx includes a page builder that provides many design options and tools. This makes it easy to create websites quickly and efficiently. Visual editing allows you to make your website layout exactly the way you want it.

Go was launched in January 2020 and has over 90,000 users at the time of writing this article. Go is a free WordPress theme from GoDaddy, the domain registrar and hosting company. It is a flexible, easy to use theme that is minimalistic and easy to customize. It works well with Gutenberg CoBlocks and is fully compatible with Gutenberg's content editor (Gutenberg). CoBlocks is recommended by the theme.
It adds Gutenberg blocks to your content (posts or pages). It is currently used by over 500,000 people and can be used as a page builder. Go Theme is a great theme and it's free too. The Go Theme howvere does not have a paid version, so can never be upgraded.
Zakra is a powerful free multipurpose WordPress theme from ThemeGrill that is compatible with all elite page builders. This theme can be used to create any type of design for your business, blog, agency or eCommerce website. You can still take advantage of Zakra's pre-built demos. These can all be directly imported with just one click. Zakra is a premium WordPress multipurpose theme. Zakra, like most top free themes, also has a pro version.
With Zakra, the integration of the popular Woocommerce is a piece of cake and the theme is completely prepared for it. Zakra gives you the opportunity to style the shop pages however you want without any HTML knowledge. The webshops that are built with this theme have a very professional appearance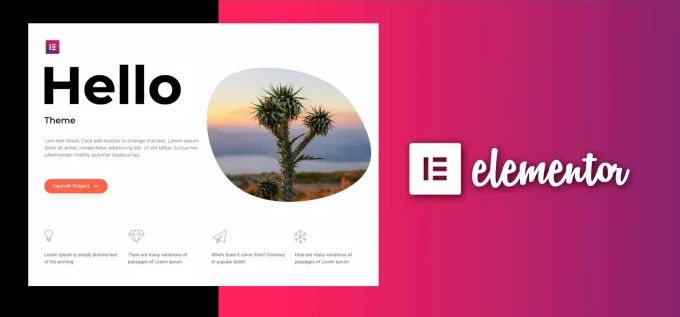 The Hello Elementor theme is actually straightforward. However, it is the theme that Elementor released in April 2020. Elementor is the best page builder out there, and anything you don't find in the theme is added by Elementor. The Hello theme is just a basic theme that works perfectly with Elementor and therefore does not offer double functions that many other themes would do.
The Elementor Free + Hello combination is great. If you have the money to upgrade to Elementor Pro then with Elementor Pro + you have Hello a well-oiled machine for building a website. You do not have to spend any money on a theme and even Elementor has its free version. This theme is downloaded 3000 times a day for a reason.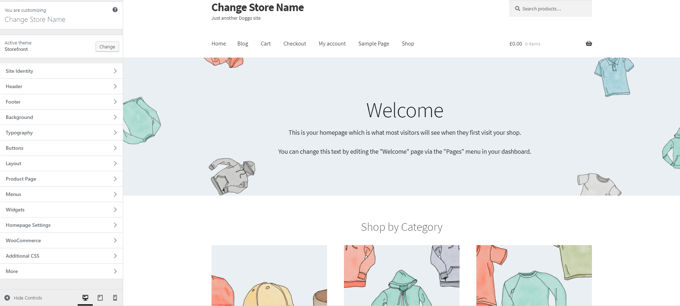 The Storefront theme was specially developed by the builders of the Woocommerce plug-in to work perfectly with it. Woocommerce is the best and most widely used webshop system for Wordpress. This theme is therefore ideally suited for the construction of shops and not for other types of websites. This theme does not have a Pro or Premium version, but it is related to a very professional team.
The theme comes with a dozen different child themes to quickly start shops in all kinds of niches. Storefront offers many widget areas where you can present things like "best selling" and "best rated" products and other features as seen in web shops. The theme offers everything you could need for a shop and is very easy to set-up in combination with Woocommerce.