Avada vs Woodmart Theme comparison [2023] 💥


Woodmart vs Avada, two themes that are sold very well on Themeforest. We compare them, which theme is better suited for your project? Both are very good webshop themes. Apart from the web shops, Avada is suitable for any type of website, a so-called multipurpose theme. Both are packed with settings to adjust every part of the design. Whether this is a good thing is aside, for some it is not for others I fear.

We start in this Avada vs Woodmart comparison with the Avada Theme which does not automatically mean it would be better. We are going to take a look at why the theme is so popular. It has been in the first place in the list of best-selling products and themes in the equally popular marketplace for 6 years Themeforest which sells Wordpress material. The theme has been sold more than 858.338+ times, which is close to the most popular theme there is, the Divi Theme.
Not only was the theme sold frequently, it also has one of the best ratings on Themeforest. Of the 37.370 people who gave a rating, the average is 4.78 out of 5, which is very high. This theme is multipurpose, which means that it is suitable for any type of website. So you can build webshop, corporate websites, blog, showcases and so on. Just what you want. We are going to review all the top aspects of Avada and the improvements of Avada since the brand new version 7.6 one by one.
Advertisement


AVADA WEBSHOPS
Webshops are very popular nowadays and the number of shops in the internet is increasing rapidly. No wonder a theme like Avada is completely prepared for building shops. In recent years, both laymen and professionals have mainly built their shops with Woocommerce. Avada works perfectly with Woocommerce and all known Woocommerce plugins.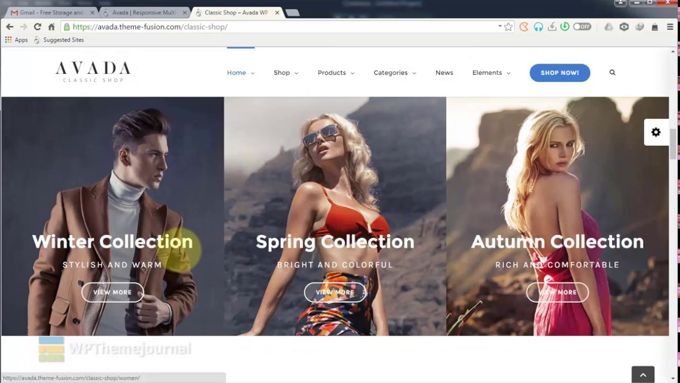 You can display up to six columns of products on the category pages. While writing this Avada Theme review, I was particularly impressed by all the special options Avada offers for Woocommerce such as product sliders and product carousels, quickview, and extensive search functions. This is no coincidence either, the Avada and Woocommerce teams work closely together.
AVADA'S FUSION BUILDER
In their own words, the best page builder out there, but here I have to protest. The Fusion Builder is a very good page builder but at least in the ranking below the top 3 page builders which are the Divi Builder, Elementor and Thrive Architect. But as mentioned, the Fusion Builder is of course a very nice tool to build a website with.
Fusion Builder is a drag and drop front-end page builder with great features such as being able to save layouts for reuse elsewhere. More than 60 different elements that can be drawn into your design such as buttons, sliders, images, titles, in short too many to mention. Everything you may need is there. You can also use all types of shortcodes in the page builder.
AVADA'S FOOTER BUILDER
With Avada you can design your own footers with complete freedom as shown in the before-after image below. The same goes for your 404 pages and search pages.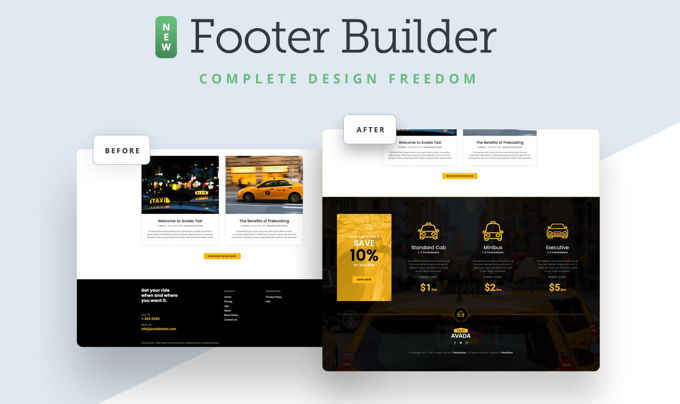 AVADA'S DEMO IMPORTER
Avada lets you import beautiful demos into your website with a few simple clicks. You have a ready-made website to start with. Customize the logo, photos and post your own text. In this way, people build a website much faster than starting with a clean slate. Avada offers 66 complete website demos. Website demos should not be confused with page demos. Some themes have hundreds of them, but they are not complete sites, but pages.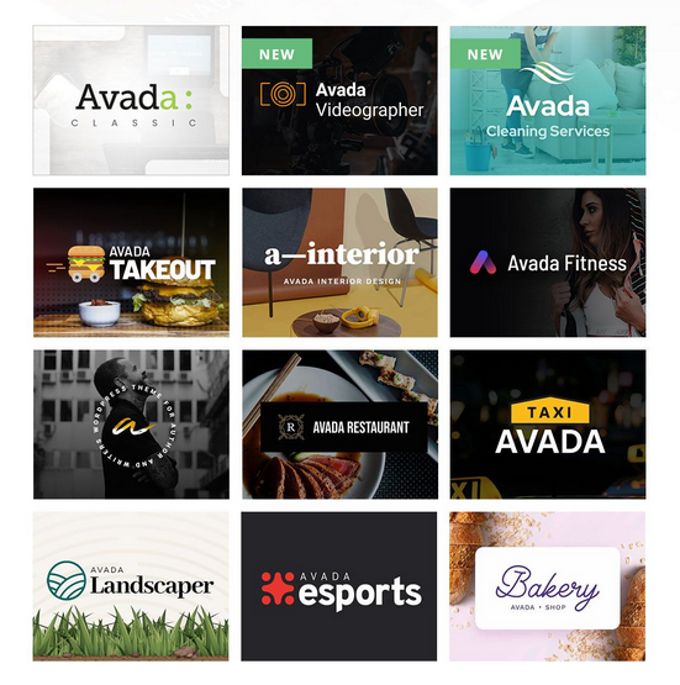 AVADA THEME REVIEW: SETTINGS
Avada has separate settings for the website as a whole and for pages. This ensures that everything remains very clear. The options panels come very handy with a search function so that one does not have to search endlessly for a certain option as was often the case in the past and still with other themes. The Avada options are so complete that you can really set everything up your own way. Over the years, feed has obviously not been overlooked.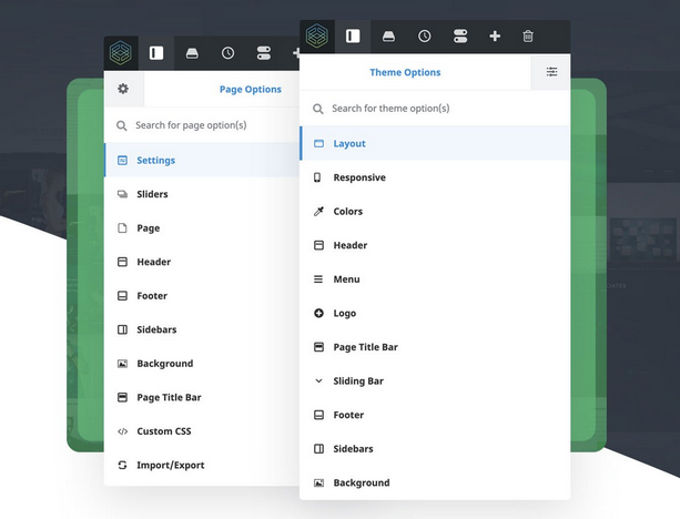 AVADA'S MEGAMENU
Avada offers you one of the best mega menus out there. You do not need to buy and install additional plugins for this. Widgets such as video, forms and images can be used in the menu. Choose the number of columns up to a maximum of six. Adjustable width, so full width or a number of pixels which you set yourself. The width of each column can also be set separately. In addition to menu items, you can store icons (small images).


AVADA'S SUPPORT
Avada employs no less than 20 people who are fully committed to providing support. These are extremely professional people with years of experience in this field. If you need help, you never have to wait long for a good answer and support.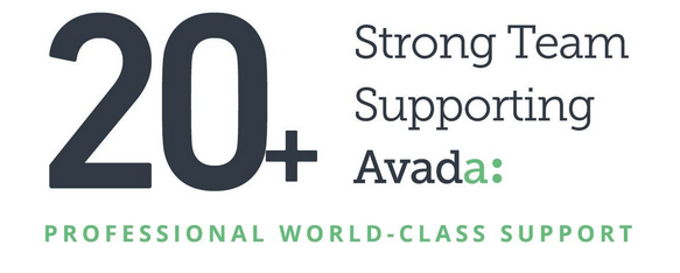 AVADA THEME REVIEW: MY OPINION
My conclusion for this Avada Theme review for [2023] is that it is a great theme. It is really possible to create any type of website, it cannot be much more multifunctional. The theme builder works pleasantly and quickly. Everything is very clear and speaks for itself. This theme is very suitable for people without experience, but can also be used by professionals. I have not come across much that can be considered a shortcoming. An A-B test tool could be added and have pop-ups like a few other top themes like Divi. However, these are certainly not necessary functions.
AVADA THEME REVIEW: PRICING
The Avada theme costs $ 60, which seems like a great price. The fact is, if you put $ 30 on it, you will have the Divi Theme which is even better. Avada has a license for only 1 website, you can use Divi on as many sites as you want.
A better alternative is the best-selling theme in the world, the Divi Theme. If we compare the prices, they immediately receive support for a year. You will not only receive a theme, but a membership that includes 86 other premium themes and many plug-ins. If you want to spend a little more money, you immediately have lifelong support there, cost $ 249. Sometimes cheaper when they have offers. If in doubt, read our Divi Theme review, or check out the real Divi website right away.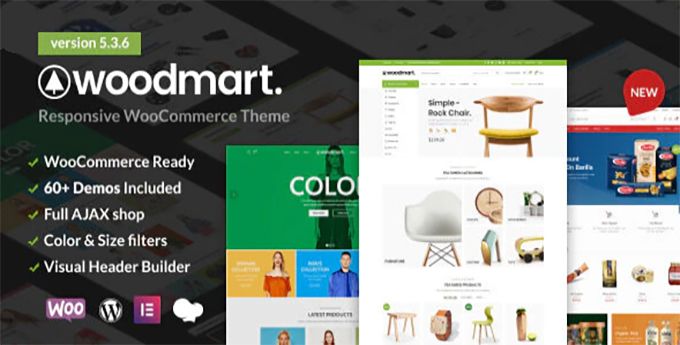 Woodmart is one of the Woocommerce themes that are rapidly emerging. Not surprising because the theme offers many special qualities and is now also compatible with the most popular page builder out there, Elementor. The theme is suitable for any kind of shop and has little to do with wood, even though the theme is called that way. This theme has been specially developed for the construction of web shops, so I expect a lot from it.
WOODMART RATING
Below you can see the appreciation that Woodmart gets from people who bought the theme, and I must immediately say that 4.95 is a score that hardly occurs with themes on the Themeforest Marketplace.


WOODMART INSTALLATION AND DEMOS
Installing Woodmart is very easy. The theme does not have a free version so you will have to buy it first and it can simply be installed via the standard Wordpress theme installer.
It is recommended to install one of the many ready-to-go designs. Woodmart offers about 60 very nice complete designs for web shops in all niches out there, so furniture, tools, clothing, etcetera. Below you can also immediately see how easy it is to adjust the color combinations in the layout.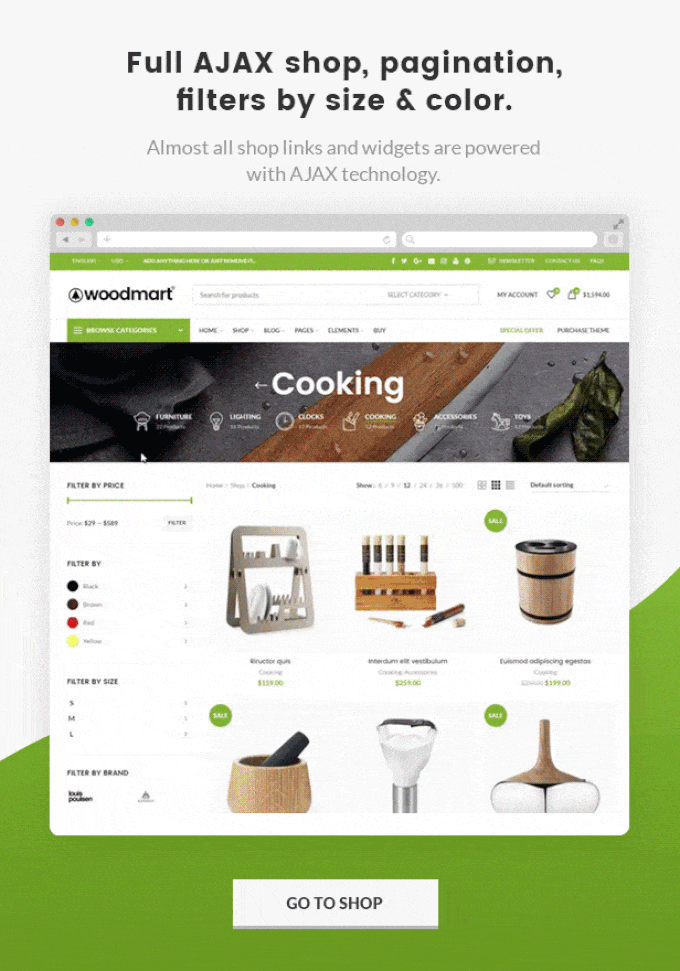 Woodmart comes standard with the Bakery Pagebuilder, but since version 5.0 the theme is completely compatible with Elementor. This is a huge improvement, Elementor is one of the best page builders out there, especially when it comes to the pro version.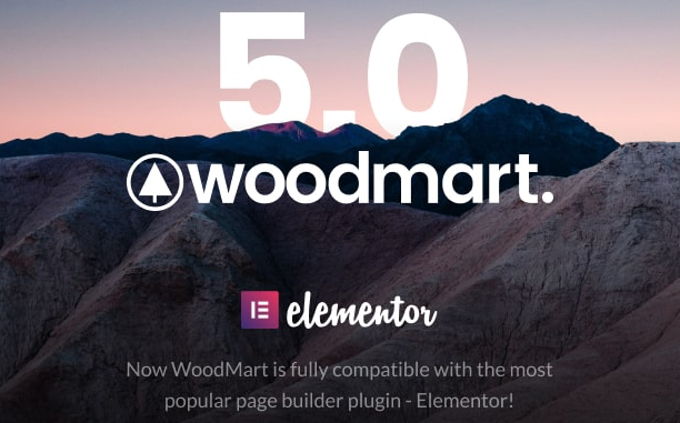 WOODMART SPEEDTEST
We perform a speed test with the theme under quite optimal conditions, so with cache plug-in and all images optimized. This theme does not indicate that it is specialized on loading times, but the results are very good as can be seen in the image below.
with optimized images and cache plugin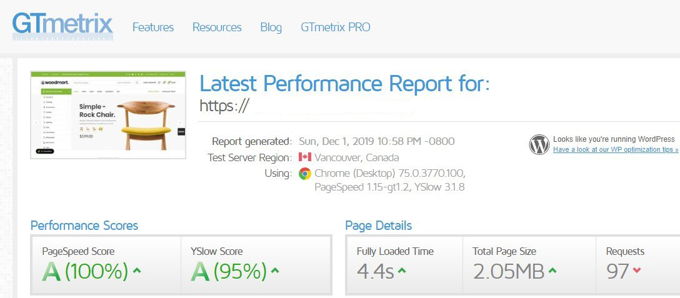 WOODMART HEADER BUILDER
Advanced styling options and multiple HTML elements in the headers, almost anything is possible. Woodmart also has ten standard header styles that can be adjusted with 1 click.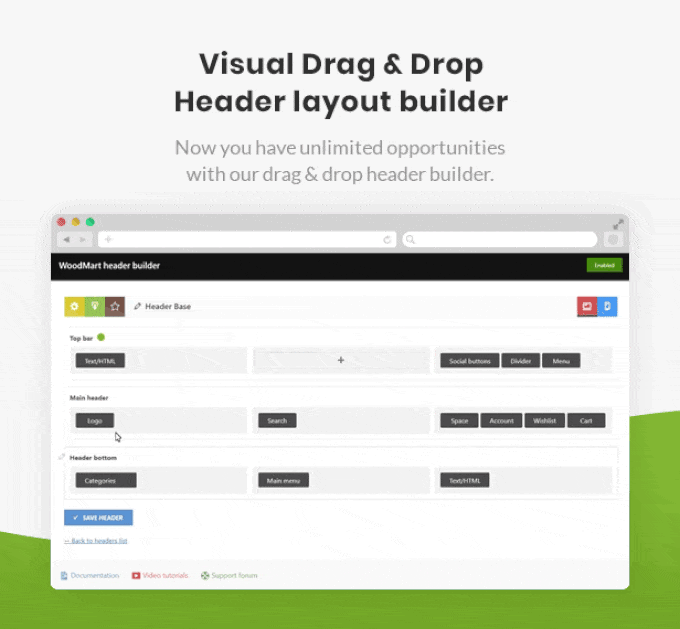 WOODMART HEADER EXAMPLES
Below you can see how easily Woodmart allows you to adjust the header and what a huge choice there is already standard without custom adjustments.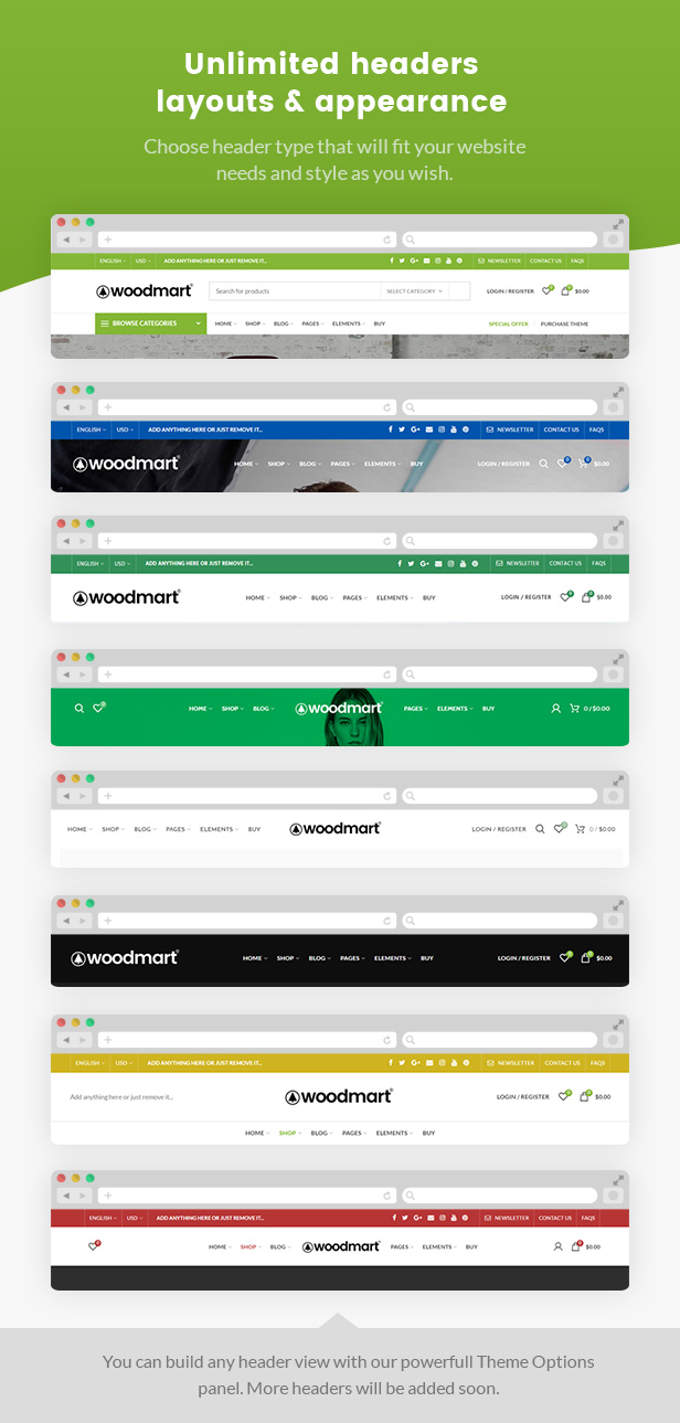 WOODMART THEME REVIEW MEGA-MENU
To have a beautiful mega-menu, people often spend a lot of money on expensive plug-ins. In the case of the Woodmart theme, this is not necessary because the theme comes standard with a great mega menu as shown below.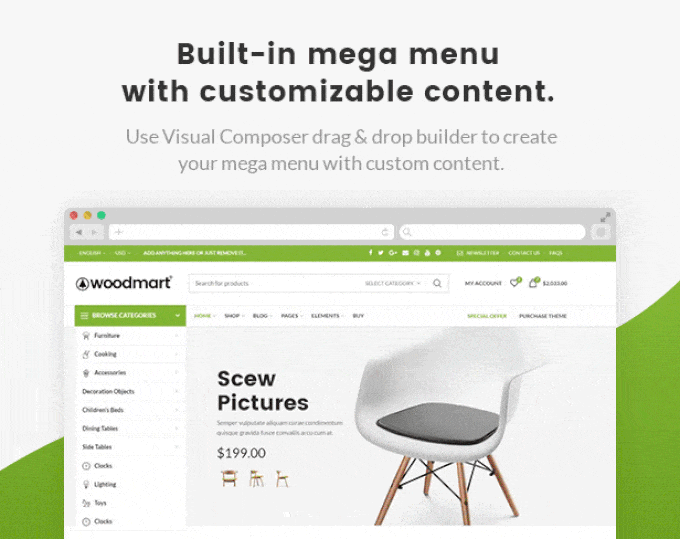 WOODMART QUICK SHOPPING
There are great shopping themes that have all the options a top Woocommerce theme should have. Woodmart belongs to this class and has quick shopping for your webshop as standard.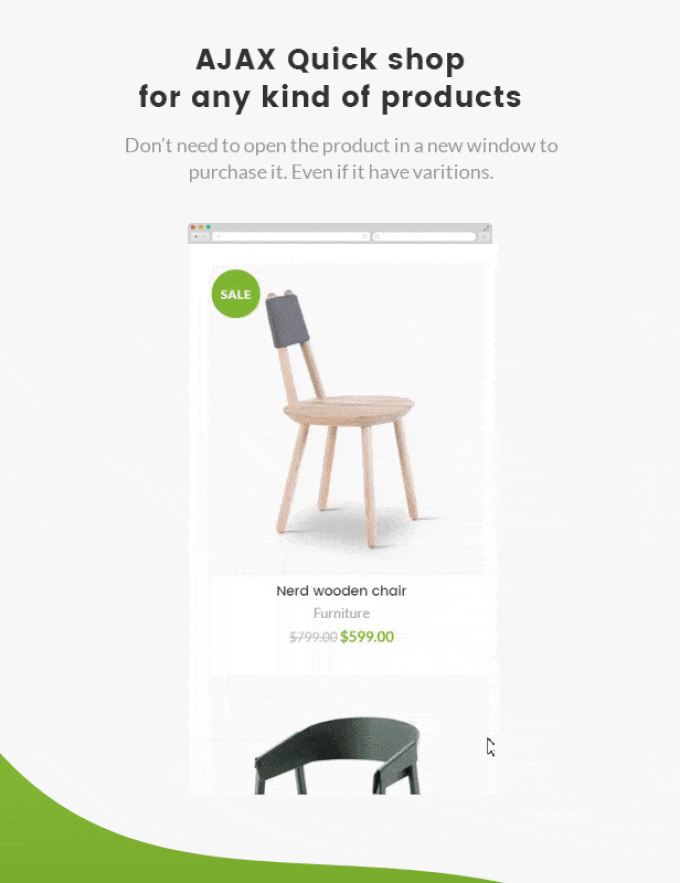 WOODMART THEME REVIEW: PRICING
The theme only has 1 price option and that is paying $ 59 for each separate theme. So if you have ten websites you want to install it on, you can, but it will cost you $ 590. In my opinion the price is very okay, but only if you are looking for a good webshop theme for only 1 website. In the case of 2 or more websites, other themes are much more attractively priced and in some cases even better than Woodmart. Check here the best webshop themes for [2023]

.

WOODMART THEME REVIEW: CONCLUSION
There is nothing bad to say about this theme. This is one of the best themes there is to build web shops and it is rising in the rankings and it is better with every upgrade. It works perfectly with the Elementor pagebuilder since the last version and that's great too. Yet it is true that, as I indicated in the chapter for the price above, there is boss above boss. The perfect theme for shops & websites is Divi and Astra is a very close second. These themes can be installed on multiple sites and the Divi Theme for example costs only $ 89, and comes with the Divibuilder full version! Woodmart comes with Elementor, but that's the free version we're talking about then.
Avada vs Woodmart conclusion
First of all, thank you for reading this Woodmart vs Avada comparison to the end. If you only need to theme one single site, Woodmart is definitely okay. But if you want more value for money, it is better to buy a theme that you can use on as many sites as you want and at the same time are even better themes. My tip is buy Divi, best sold and appreciated theme in the world or possibly Astra if you want to work with a super-fast theme.