WP-Bakery vs Zion-Builder Test [2023] 💥

In this WP-Bakery vs Zion-Builder comparison I discuss the qualities of both page builders. The Zion-Builder and WP-Bakery have been installed on tens of thousands of websites. Both have an inline front-end editor. Many additional plugins and designs are available from third parties for WP-Bakery. Zion-Builder has a free and a pro version, WP-Bakery has to be purchased, although this page builder is often found for free in all kinds of premium themes. Let's start with WP-Bakery without saying it would be better.
WP-BAKERY (WP-Bakery vs Zion-Builder)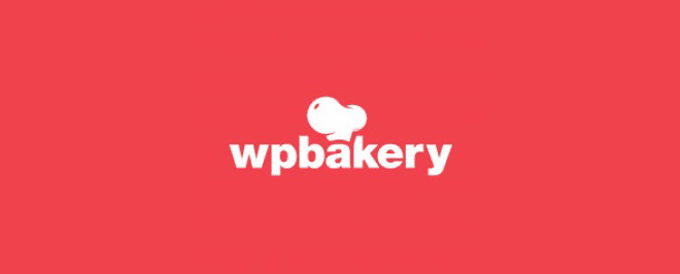 This page builder was actually installed 4,300,000 times on websites. I thought it was worth writing a WP Bakery PageBuilder review. The question is whether this plug-in can compete with the top page builders in [2023].
WP Bakery PageBuilder rating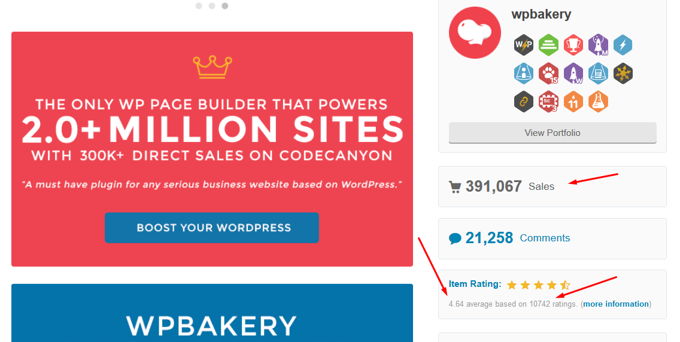 The plug-in has been sold since 05-2011 on the CodeCanyon marketplace (Envato). Over the years, it was sold there 391,000 times. A valuation was given by 21,258 buyers. The average score is 4.64 out of 5. A good score at first sight. Do you know why the WP Bakery PageBuilder was installed so much more often than it was sold? For years, this page builder has been integrated into a number of well-selling Wordpress themes with which deals were closed.
That's also how I once got to know it. I have always appreciated the presence of the WP Bakery PageBuilder in themes as it worked much better than with the standard WP editor. I will tell you if that is still the case in my final conclusion at the end of this WP Bakery PageBuilder review.
Advertisement


Front- and Back-end editor
WP Bakery PageBuilder has both a front and a backend editor. The front-end editor can be improved quite a bit if I compare it with other editors like Divi or Elementor. The dragging of elements and certainly between the different columns is sometimes a bit stiff, I noticed.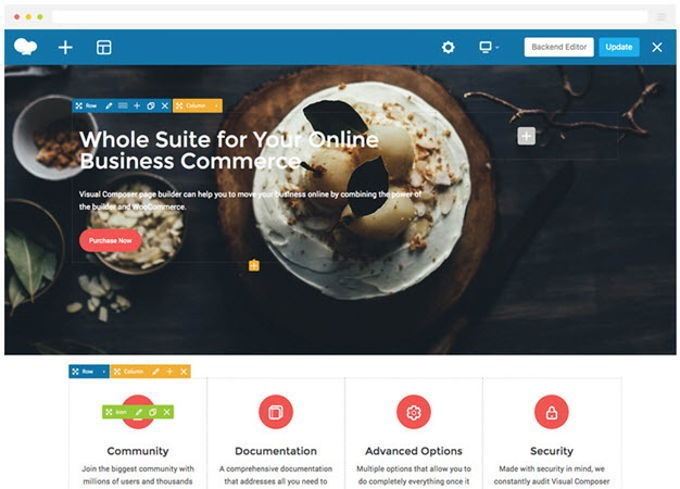 The back-end editor, on the other hand, is a very nice tool for building the pages well and quickly. By the way, you can switch between front and backend as often as you like. It is important to save everything before the switch or you will lose the work you have done.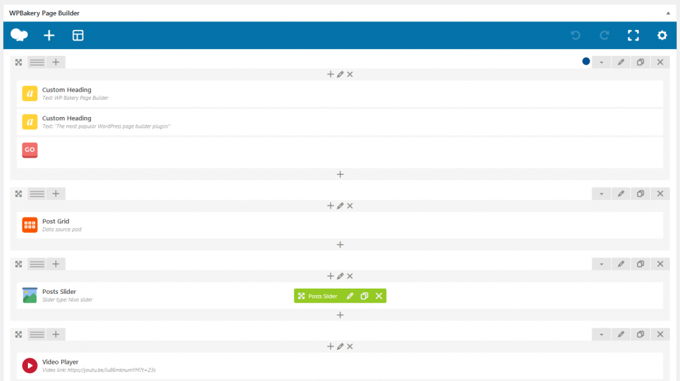 WP Bakery Pagebuilder Elements
The page builder has many different elements that you can use. To have even more elements, various plugins are available that can be used for this, such as Extensions Add-on. By the way, there are many video, form and other add-on plugins for WP Bakery Pagebuilder for sale on the same website.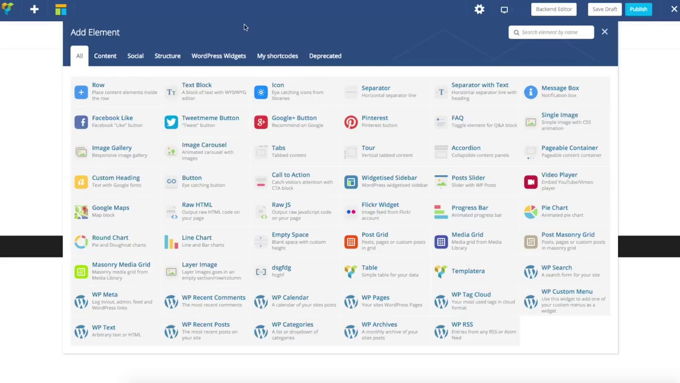 WP Bakery Pagebuilder + Woocommerce
Like any good page builder, WP Bakery Pagebuilder is ready to work with the popular webshop plugin Woocommerce. Not only that, there are many extra elements especially for Woocommerce in the editor, which can be seen in the image below.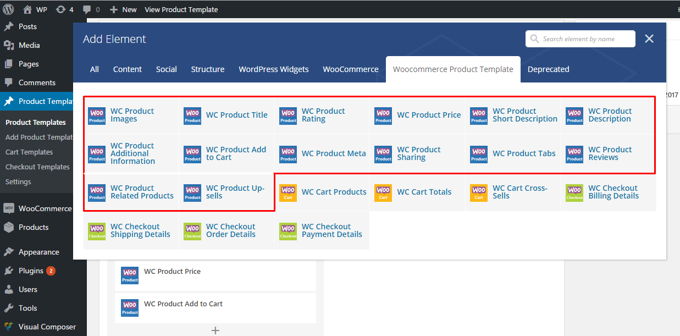 Demo lay-outs and templates
Demos are integrated in the page builder with which you can create all kinds of pages. Very handy not to have to start from scratch. Most themes already offer ready-made demo sites but one can never have enough starting material.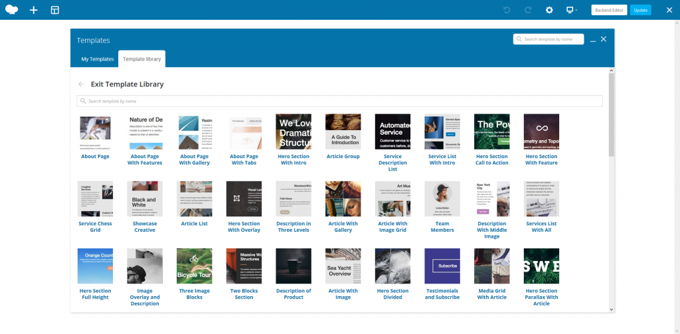 WP Bakery Pagebuilder review: Pricing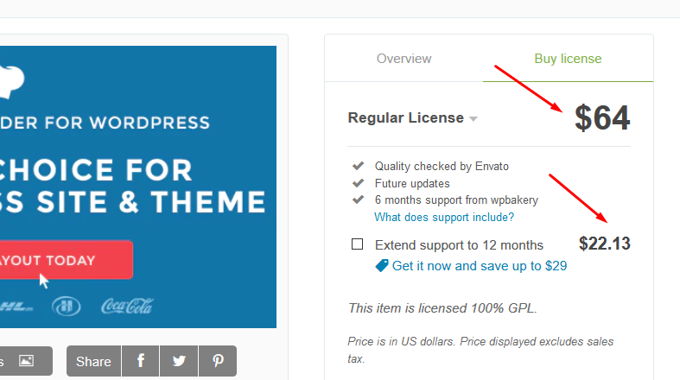 The page builder costs $ 64, and to increase half a year of support to a year you add another $ 23. That is exactly the price for which you have a Divi membership, a much better page builder that is considered by many to be the best there is. The price for WP Bakery Pagebuilder is far too high in my opinion. By the way, in a Divi membership you get not only a page builder but 86+ premium themes including Divi itself, the best-selling and popularist theme ever and many elite plug-ins.
WP Bakery Pagebuilder review: Evaluation
The WP Bakery Pagebuilder may be installed on many sites, this is mainly the case because it was one of the first page builders and because of the contracts with many themes in which you get the page builder for free. In principle, it is a solid page builder that works well, but it is expensive and outdated. There are much better page builders where you also get a much better deal. In any case, read my article about the best Wordpress page builders at the moment before you buy the WP Bakery Pagebuilder.
Visit Bakery PageBuilder
ZION-BUILDER (WP-Bakery vs Zion-Builder)

The Zion-Builder has been around for years in the Kallyas Theme. I have been working with this theme for about 8 years because it is one of the best themes for building webshops. Knowing the Zion-Builder without having to research it, I can immediately say that the page builder is great. Zion-Builder is available as a free and a premium version.
ZION-BUILDER PAGEBUILDER REVIEW
The Zion builder is a responsive front-end page builder. Through my personal years of experience with this page builder I can immediately tell you that it works very precisely. Let's say if you want to build a work of art and the placement of elements comes down to millimeters, the Zion-Builder is ideal for that.
ZION-BUILDER VIDEO
The builders of the theme have about 8 different videos available to quickly get acquainted with this product and as support for its users. You can find all the video Zion-Builder offers here on the page.
ZION-BUILDER REVIEW: ELEMENTS
The Zion-Builder counts all together 45+ widgets (also called elements). This is a reasonable number, page builders like UX-Builder and Brizy offer the same numbers. I show some of these widgets below, if you want to see them all go to this page.

ZION BUILDER'S EDITOR
Zion-Builder is an inline text editor which means you can write directly on the page where you want as shown below. This is simply one of the most advanced editors even if it isn't really well known yet.

ZION-BUILDER: TEMPLATES LIBRARY
We're talking about a library full of pre-processed sections for call-to-cation items, forms, popups, and more. You can add these items to your page with 1 click and adapt them to your house style and data. The library features 150+ items. Well, there are both themes and page builders who offer 800+ of these, but given the young age of Zion-Builder it is a nice number.

ZION-BUILDER: SPEED
It is a bit more difficult to calculate speed with page builders than with themes. You can test the Zion Builder free here and see if the speed suits you. What we can do here is check the speed of the page on which the page builder is sold. The results of this test at GtMetrix are below. These are very good numbers which means to me that their programmers know all about optimizing for speed.

ZION-BUILDER: THEME BUILDER
Like the best-selling page builders like Elementor, Zion-Builder has a Theme Builder. Allows you to customize parts of the layout that should look the same on all pages. This includes the footer, the header and any additional sections that you want to see on all pages.
ZION-BUILDER: WOOCOMMERCE
Zion-Builder originally comes from a theme that was designed for e-commerce purposes. In the page builder you therefore have a large number of Woocommerce widgets. Zion-Builder also has a Woocommerce-Builder that makes styling product pages, cart pages and the like very easy.

ZION-BUILDER AND KALLYAS
Of course, as mentioned before, you get the Zion-Builder in the Kallyas Theme. Kallyas is an excellent theme that has been developed for years and therefore has few bugs. This theme is at its best when it comes to creating E-commerce websites. The advantage of buying the Kallyas Theme is that you get many more.

ZION-BUILDER REVIEW PRICING
The Zion-Builder offers very reasonable prices. At the time of writing there was just an offer, you just have to be lucky of course. The standard prices are next to it. The page builder is also worth its money just at the normal price as far as I'm concerned.

ZION-BUILDER REVIEW CONCLUSION
Thanks for reading this Zion-Builder review. I had already given a few comments right at the beginning as I am very familiar with this product. The Zionbuilder works very precisely, quickly and what was often pleasant for me in combination with the Kallyas Theme is the ease with which I could use a different header on every page without that this took a lot of time. Definitely recommended, although there are more good pagebuilders.
WP-BAKERY VS ZION-BUILDER CONCLUSION
First of all, thank you for reading my WP-Bakery vs Zion-Builder comparison to the end. WP-Bakery has been around for a long time, but still has a lot of fans. I myself have a lot with this page builder and everything works properly, it is just a standard good page builder. I have also built at least 20 websites with the Zion-Builder and I also like this page builder. The Zion-Builder is very suitable for precise work and is slightly my preference.