Themeforest Marketplace Review [2023] 💥


Themeforest is a marketplace for Wordpress Themes...
THEMEFOREST RATINGS
First of all, I want to say that very good themes are sold on Themeforest. Despite that, the marketplace itself is a big minus and it's rated so low it's hard to believe. See below how the marketplace only scores 1.58 out of 5 on Sitejabber. Again, the themes themselves are not to blame for this, in fact I think that the theme builders who sell via Themeforest are also dissatisfied. You can read how Themeforest built this reputation in my Themeforest Cheats article.

Advertisement


THEMEFOREST THEMES
I already mentioned it above, great themes are sold on Themeforest. I myself have been a customer for more than 10 years and have certainly bought more than 100 themes in my career as a web designer. The Themeforest marketplace is so powerful that many theme builders are completely squeezed and earn very little from the sale of their theme, which is a shame. A much better way for them would be to market their themes through their own site and work with affiliates who promote their site and send people there who want to buy themes. If they pay affiliates 60% they are still better off. In the affiliate world, 50% or more is great.
THE BEST THEMES ON THEMEFOREST

AVADA

These are the 6 best-selling themes of the moment with the highlight being the Avada Theme. Follow the link to read the full review. Avada is often mistakenly (just like here lol) compared to Divi. Listen, Avada is a great theme but comparing it to Divi goes a long way. For starters, Divi is a membership with 86+ premium themes in it, premium plugins, image library and of course the awesome Divibuilder. Avada is only a theme with its own page builder that has no fame.
As a top-selling theme, Avada from Themeforest will receive a special deal, I assume, and it will not be as heavy as other themes. Still, I think they could do better on their own. Much of the hatred that Themeforest causes also ends up on Avada, which is bad for the reputation of the theme. For example, they are obliged to charge extortionate prices for support. They also cannot offer their theme in combination with other products, they have to sell a separate license for each website that someone has. That can all be done much better.
FLATSOME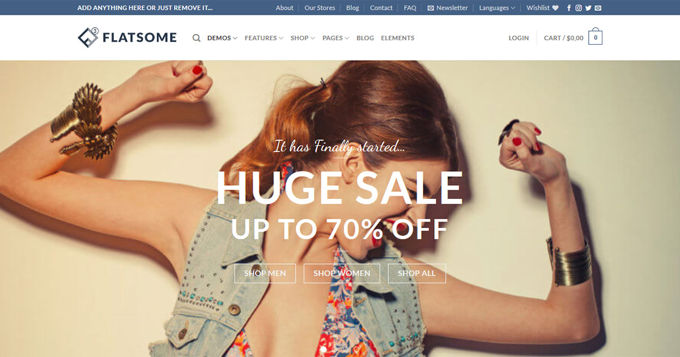 The Flatsome Theme has come to 2nd place in the numbers for best-selling themes via Themeforest last year. The builders have worked hard on it and the theme is really perfect for building web shops, especially on Themeforest there is no competitor in that regard. Other laws apply outside Themeforest and there are certainly themes such as Divi and, for example, WP-Astra that take it one step further.
It's impossible for me to review all their themes here so if you're interested, I recommend this page with their best-selling themes.
ENVATO & THEMEFOREST
Themeforest is part of the umbrella Envato and is for Themes only. If you follow the link you will read in my article why it is a bit of a nasty business for everyone involved, for authors, buyers and affiliates. For plugins, videos and more they have other platforms that I will not go into here since we are talking about Themeforest here.
THEMEFOREST REVIEW: PRICING
Theme prices on Themeforest start as low as $19 for themes that want to make a name quickly, the most expensive theme I know is Kallyas with $69. Most are between $49-60. With this marketplace, always remember that each website of yours must have its own license. If you buy such a theme, it can only be used on 1 site.
THEMEFOREST REVIEW: CONCLUSION
A lot of very good themes are sold on Themeforest. I also buy this myself. Don't expect refunds or great support. The support for the themes themselves is in the hands of the theme builders and can simply be called fine. I want to warn affiliate marketers right off the bat that no matter how many articles you write related to this marketplace, you're never going to make much money from it.
Visit Themeforest