Elementor vs WP Bakery Pagebuilder [2023] 💥


Elementor is now more than just one of the best page builders...

Ever played with LEGOs? That's pretty much what it's like using Elementor page builder - except you won't step on any pieces! It's like the Swiss Army knife of page builders, fitting into any theme like a charm. And guess what? Elementor has its own theme buddy, The Hello theme, which is as free as your grandma's love!
With over 300 ready-made demos, it's like having a party where all your favorite themes are invited. Who needs other themes when you've got Elementor? It's like saying you need another pizza topping when you've already got pepperoni. The Hello theme is like that one friend who always has your back - reliable, sturdy, and doesn't ask for much.
Advertisement

Imagine a superhero that swoops in to save your website design - that's Elementor for you! Fresh out of the web oven in 2016, and already it's like the popular kid in school, hanging out on over 8 million sites. Elementor isn't just any page builder; it's like the secret sauce that makes your web design as easy as making instant noodles – quick, easy, and surprisingly good!
ELEMENTOR PAGEBUILDER REVIEW: THE WEB WIZARD
Ready for a sneak peek? Check out the clip below. It's like watching a cooking show, but for websites. You'll get a glimpse of the magic behind the curtain, showing you how to whip up a web masterpiece with Elementor. For the full magical recipe, click here and dive into the world of Elementor's Editor.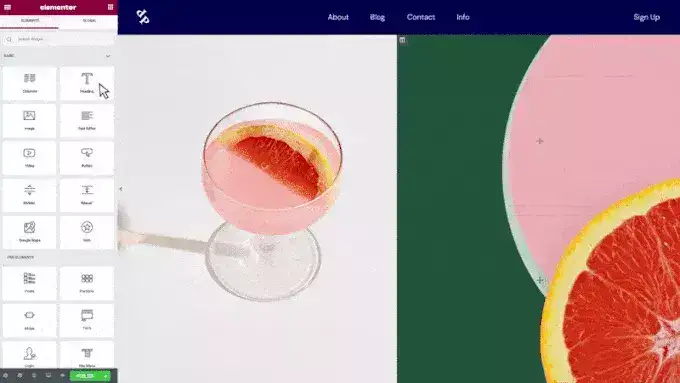 ELEMENTOR NAVIGATOR

Ever wished for a genie in your worksheet? Meet the brand new tool that's like your personal design assistant! It's versatile - dock it on the right or let it float like a happy little cloud in your worksheet. Just give any element or block a right-click and say 'Abracadabra'... Okay, just select "Navigator" to open it. This nifty Navigator turns work into play and speeds things up like a sports car on the autobahn. Intrigued? Watch this video for a magic show about the Navigator.
ELEMENTOR SAVE WORK

Who enjoys repeating the same task more than watching paint dry? Not many! Elementor is like a time-travel machine for your work. Save your work blocks, and poof! Reuse them on other pages, posts, or even teleport them to other websites. It's like having a "copy-paste" superpower for web design. This means you can say goodbye to the old-school, time-consuming methods. Want a sneak peek? The animation below is like a mini trailer of this awesome feature!
READY-TO-USE DEMO DESIGNS

Like its cool cousin Divi, Elementor boasts a wardrobe of over 200+ layouts for every niche under the sun. Corporate, web shops, hotels, gyms, cafes, fashion, hosting, photography, architecture, lifestyle, travel - you name it! Plus, there's a squad of third-party designers crafting gorgeous layouts for Elementor, giving you even more options. Opting for these may add a little to your tab, but hey, who doesn't love a bit of extra sparkle? Check out the entire layout library here and get ready to be dazzled.
ELEMENTOR WOOCOMMERCE BUILDER

Elementor is like the fairy godmother for webshops, turning your site into a Cinderella story. Just like most top-notch themes, it's perfect for dolling up your online store. Imagine creating chic product pages and stylish category pages for Woocommerce, all without needing to be a wizard in HTML.
Yep, those days of needing coding spells are long gone! You're probably familiar with Woocommerce, the most popular shopping cart charm for Wordpress. Get ready to be wowed and check out this video for a magic carpet ride through the world of Woocommerce Builder with Elementor. Watch here for more enchanting details.
ELEMENTOR REVISIONS EDITOR

Elementor, like a tech-savvy superhero, wasn't too thrilled with the standard-issue revision editor in Wordpress. So, what did it do? It rolled up its digital sleeves and whipped up its own souped-up version. And let's be honest, the default Wordpress editor for revisions was as fun as watching paint dry – not cool when you needed to roll back changes.
It's not alone in this quest for greatness, as both Divi and Thrive are also packing this tool. Curious to see Elementor's Revisions Editor in action? Watch this video and dive into the world of smoother, smarter revisions!
ELEMENTOR REVIEW: MOBILE EDITING

Elementor's like a tech-chameleon, seamlessly adapting to mobile, tablet, and desktop. As seen in the wizardry above, it's got "out-of-the-box" responsiveness, but here's the kicker – you get to tweak and tailor specifically for each device! It's like having a magic wand to perfect your site's look on any gadget.
And sure, this might be a common trick among top themes and page builders, but it's always cool to have that extra control in your toolbox. Fancy seeing this magic in motion? Watch this video to dive into the realm of Elementor's Mobile Editing – it's like having a mini tech genie at your fingertips!
ELEMENTOR COLORS

In our Elementor review, we're tipping our hats off to its color editor for texts, which is like a mini Photoshop tucked inside your website. Elementor brags about its "pixel perfect design," and honestly, they have every right to. It's like having a rainbow at your fingertips – every color imaginable, plus the power to create mesmerizing gradients.
It's like being a digital artist without the mess of paint! Ready to add some color to your site? Watch this video and get the lowdown on Elementor's Color Picker – it's like the digital version of a paint palette!
ELEMENTOR HEADER & FOOTER

Elementor gives you the keys to the kingdom when it comes to headers and footers – total control, just like a web design royalty! Sure, all the elite page builders have this feature, but it's like having a secret weapon in your theme arsenal. Imagine crafting headers and footers that are the crown jewels of your site. Want to see how it's done? Watch this video for a royal tour of Elementor's Header-Footer Builder – it's like being the architect of your own digital castle!
ELEMENTOR BASIC ELEMENTS

ELEMENTOR PRO ELEMENTS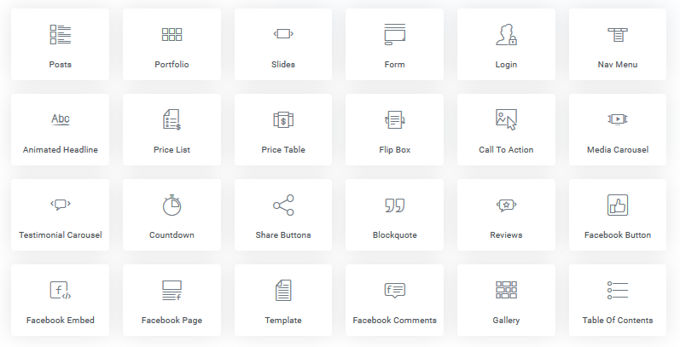 ELEMENTOR THEME ELEMENTS


Think of Elementor's elements as the building blocks of your web page castle, and boy, does Elementor bring a whole toy box full of them! It's like they've thought of everything, leaving no stone unturned. And here's a fun surprise – Elementor comes with its own pop-ups, stylish and user-friendly, so you can bid farewell to your old pop-up plugin.
It's yesterday's news! You won't need it anymore. Curious about the full array of tricks? Check out this link for a grand tour of all 90+ Elementor Widgets – it's like a theme park for web designers!
ELEMENTOR POP-UPS

Elementor's pop-ups are not just beautiful, they're like a piece of cake to set up – a delightful tool indeed. In the world of top page builders, it's like they're all peeking into each other's notebooks, copying the best notes. These pop-ups are the MVPs for your call-to-action and conversion plays. Ready to add some zing to your site? Check out this link for everything you need to know about Elementor's pop-ups – it's like unlocking a secret weapon for your website's engagement!
ELEMENTOR REVIEW: PRICING

Curious about the price tag for this web design magician called Elementor? Peek at the image above for the grand reveal. When it comes to value for money, Elementor is like finding a designer gown at thrift store prices – it's worth triple what you pay, especially when you stack it up against premium themes that ask for more but give you less. It's like getting a five-star meal at a fast-food price! Intrigued? Hop over to the pricing page and keep your eyes peeled for discounts. It's like a treasure hunt for deals!
ELEMENTOR ACADEMY

Got a few lingering questions about Elementor? Don't fret! You might just find the answers you seek in the super-organized, almost magical Elementor Academy. It's like the Hogwarts for web design, brimming with wisdom and answers to all your Elementor mysteries!
Visit Elementor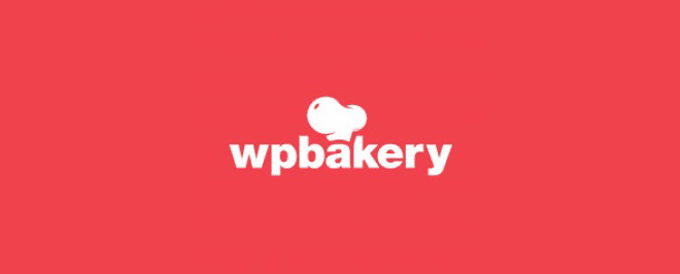 In this Elementor vs WP Bakery Pagebuilder comparison we now continue with the last mentioned page builder. It was actually installed on websites 4,300,000 times. That is slightly more often than Elementor, but we must remember that WP Bakery Pagebuilder has been around for 5 years and was the only real page builder at the time.
WP Bakery PageBuilder rating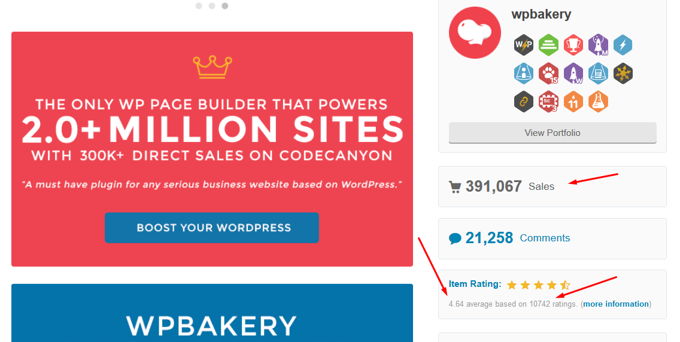 The plug-in has been sold since 05-2011 on the CodeCanyon marketplace (Envato). Over the years, it was sold there 391,000 times. A valuation was given by 21,258 buyers. The average score is 4.64 out of 5. A good score at first sight. Do you know why the WP Bakery PageBuilder was installed so much more often than it was sold? For years, this page builder has been integrated into a number of well-selling Wordpress themes with which deals were closed.
That's also how I once got to know it. I have always appreciated the presence of the WP Bakery PageBuilder in themes as it worked much better than with the standard WP editor. if that is still the case I will return to my final conclusion at the end of this WP Bakery PageBuilder review.
Front- and Back-end editor
WP Bakery PageBuilder has both a front and a backend editor. The front-end editor can be improved quite a bit if I compare it with other editors like Divi or Elementor. The dragging of elements and certainly between the different columns is sometimes a bit stiff, I noticed.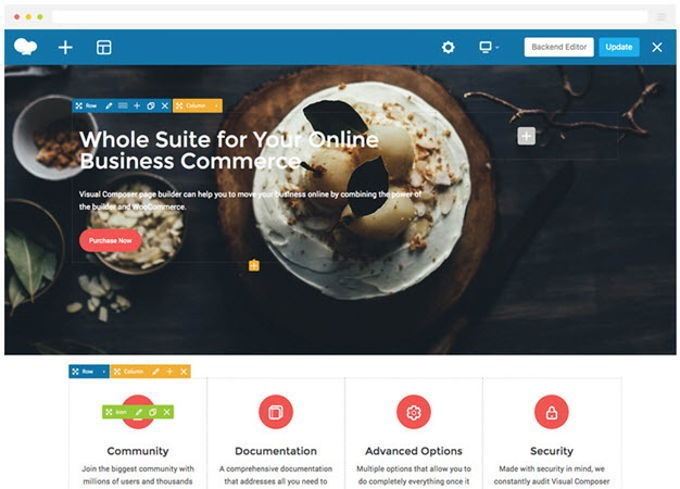 The back-end editor, on the other hand, is a very nice tool for building the pages well and quickly. By the way, you can switch between front and backend as often as you like. It is important to save everything before the switch or you will lose the work you have done.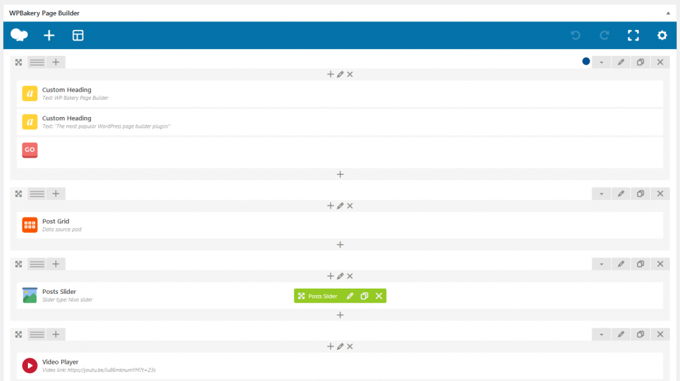 WP Bakery Pagebuilder Elements
The page builder has many different elements that you can use. To have even more elements, various plugins are available that can be used for this, such as Extensions Add-on. By the way, there are many video, form and other add-on plugins for WP Bakery Pagebuilder for sale on the same website.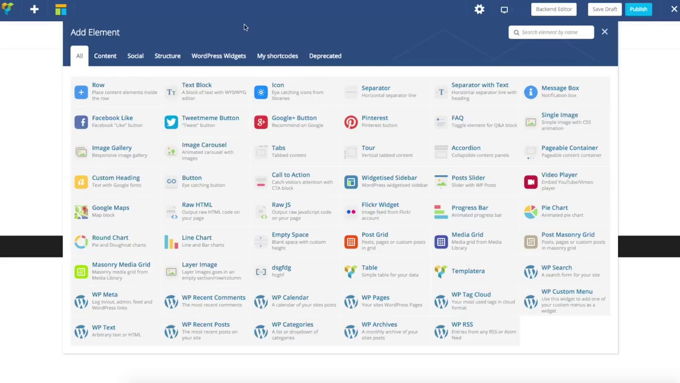 WP Bakery Pagebuilder + Woocommerce
Like any good page builder, WP Bakery Pagebuilder is ready to work with the popular webshop plugin Woocommerce. Not only that, there are many extra elements especially for Woocommerce in the editor, which can be seen in the image below.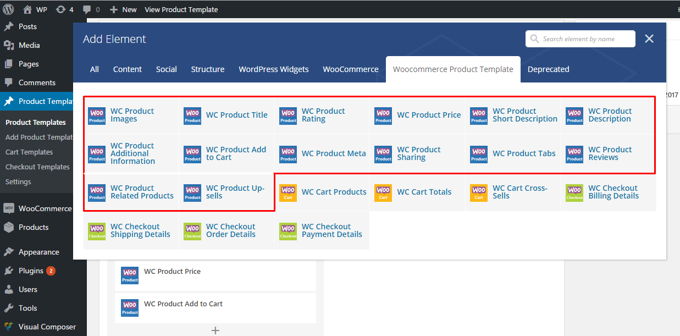 Demo lay-outs and templates
Demos are integrated in the page builder with which you can create all kinds of pages. Very handy not to have to start from scratch. Most themes already offer ready-made demo sites but one can never have enough starting material.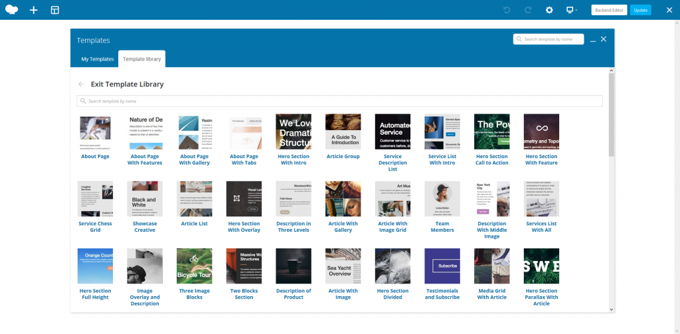 WP Bakery Pagebuilder: Pricing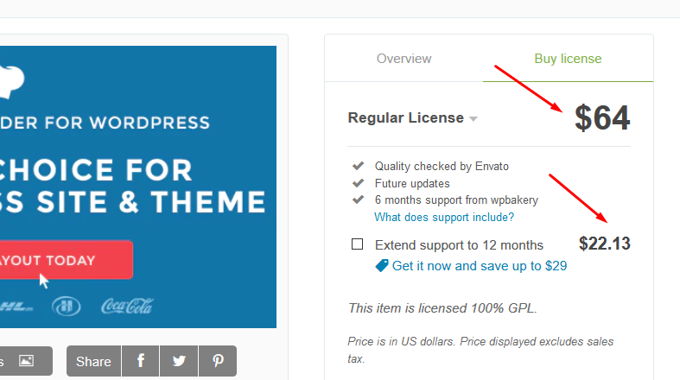 The page builder costs $ 64, and adding half a year of support to a year adds another $ 23. That is exactly the price for which you have the Elementor pagebuilder for a year, a much better page builder that is considered by many to be the best there is. The price for WP Bakery Pagebuilder is far too high in my opinion.
WP Bakery Pagebuilder: Evaluation
The WP Bakery Pagebuilder may be installed on many sites, this is mainly the case because it was one of the first page builders and because of the contracts with many themes in which you get the page builder for free. In principle, it is a solid page builder that works well, but it is expensive and outdated. There are much better page builders where you also get a much better deal. In any case, read my article about the best Wordpress page builders right now before you buy the WP Bakery Pagebuilder.
Elementor vs WP Bakery Page Builder Conclusion
First of all, thank you for reading my Elementor vs WP Bakery PageBuilder comparison to the end. Elementor has received the total installations from 2 to 4 million in the last year and is booming. On the other hand, WP Bakery Pagebuilder is as good as exhausted. Elementor outperforms the WP Bakery Pagebuilder in every conceivable way. It does not seem necessary to me to discuss all individual aspects. If you need a page builder, choose Elementor of course.
Advertisement