Divi vs Woodmart Theme comparison [2021]


Woodmart vs Divi, both of these themes are very popular and are sold well. Neither theme has a free version. Woodmart indicates that it is specialized in building web shops. Divi is a multipurpose theme, suitable for all types of websites including web shops.


We start in this Divi vs Woodmart comparison with the Divi Theme which does not automatically mean it would be better. This Divi-Theme review for [2021] shows you the latest improvements and the eye-catching features of Divi. We are not going to give boring listings and lists of options that can easily be found on the Elegant themes website itself, although I noticed that they also try to keep their pages as exciting as possible.
DIVI WEBSHOPS
Since webshops are very popular in [2021], we will start with that function. A decent theme has fantastic options for creating a webshop and that is more than the case with Divi. The theme offers an incredible amount of possibilities to customize product and category pages by means of the WooBuilder and the WooModules. The video below of 3 minutes gives you a good idea of what to expect.
In the Divi demo library you will find many beautiful shop layouts that you can install with one click in your project. The complete styling of your shop is really a piece of cake with the WooBuilder as can be seen below. Everything can be adjusted at lightning speed.
DIVI PAGE BUILDER
The DiviBuilder is integrated into the Divi Theme, but your Divibuilder plug-in is included in your membership so that you can use your favorite page builder in any other Wordpress theme. The DiviBuilder is together with Elementor the most respected page builder out there, I would say. Watch the video below that takes only 4 minutes to quickly get a good impression of this instrument.
DIVI DEMO LAY-OUTS
You don't have to start your website from scratch. Good themes like Divi have a Demo Importer with which you can upload a complete demo website. Then adjust it with your own logo, texts and images. This way, you can put together a website with your own house style in no time. Divi currently offers 166 different of these demos in all possible niches. Watch here their library with demo lay-outs.
DIVI SHAPE DIVIDERS
Anyone can easily create sparkling separations between the columns and blocks with Divi Shape Dividers. The variation in shapes and effects is very large. This used to be possible only for people with a lot of HTML knowledge, but now you can too. In this Divi review we have to give the full points for this. View here live examples and a video about the Shape Dividers.
DIVI EXTENDED STYLES
If you are very satisfied with the style you applied to a particular block, it is possible to give other blocks the same style. The style can also be applied to all items on the entire page, which can sometimes save hours of work. Divi Extended Styles is a great feature to have in your site. View here live examples and a video about the Extended Styles.
DIVI RESPONSIVE EDITING
Of course, Divi is automatically 100% responsive and also shows everything beautifully on all mobile devices, but sometimes you still want to adjust something. This can be done in no time with Divi Responsive Editing without having technical knowledge. View here live examples and a video about responsive editing.
DIVI BULK EDITING
With Divi Bulk Editing, you can work on your site much faster if you're used to it. Multiple items are selected and a specific style or setting is applied to all at once. Also consider the following actions that can be performed with Bulk Editing: copy, drag & drop or delete. View here live examples and a video about bulk editing.
DIVI COPY & PASTE
All possible parts of your website can be stored and reused on other pages. It is even possible to use anything you want in other websites of your company through import and export. The same applies to the theme settings. Use this feature as it will save you a lot of time and effort.
DIVI DROP FILES
It was always a bit cumbersome to upload images and other files via the Wordpress uploader while building a page. That way, one always had to have multiple browser tabs open, which always worked faster than switching back and forth. With Divi, you can simply "drop" files on the page you're working on and start using them right away. Another function that saves a lot of time and annoyance.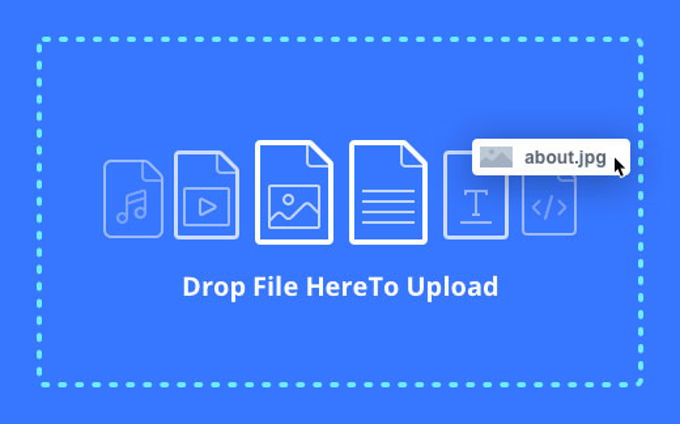 SEARCH-ABLE SETTINGS
Since themes got more and more settings, we sometimes spend more and more time looking for certain settings. This is not necessary at Divi as all settings can be found via a search function. Believe me, this not only saves a lot of time but also a lot of annoyance.
DIVI SPLIT TESTING
Every company wants as many leads and conversion as possible, so they try to improve pages regularly to get more out of it. Divi Leads makes it a lot easier for you. You can create as many different versions of a layout or text as you want. These are then alternately presented to your visitors. Divi keeps statistics for you which versions score better. Divi was the first with this feature, Thrive now has it too, and I expect that Elementor and Avada will have it soon as well.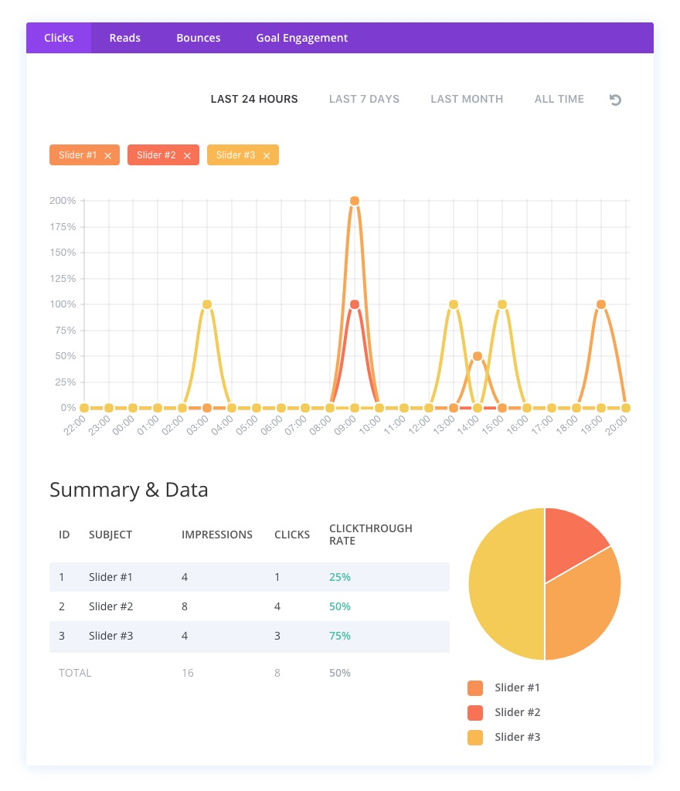 DIVI THEME REVIEW: PRICING
At Divi you do not buy a theme, but a membership. This membership gives you access to 86 premium themes including Divi and a number of top plugins and a library of images. This makes Divi more interesting in terms of price than other themes, since it is only slightly more expensive per year than an average other theme. These "other themes" usually only give half a year of support, which in my opinion is very little. After that you usually pay big to get extra support.
If you can spend $ 249 one time, you have the complete package with lifetime support. Certainly for companies with a few websites, this is by far the most interesting solution since you will never need anything else to build perfect websites.
DIVI THEME REVIEW: FINAL COMMENTS
I'm going to keep it short but sweet here in completing this Divi theme review for [2021]. With Divi you get value for your money, it's a well-oiled machine to get websites up and running. Divi has no weaknesses or shortcomings. Regardless of whether you are creating a web shop, a company website or a private site, you will always be delighted that you have purchased Divi. Join the 767.154+ members they already have, you won't regret it. Divi offers a one-month money-back guarantee, so if you don't like it you can always ask for your money back. Other themes do not give you this, but Divi knows that you will be satisfied.
Visit Divi theme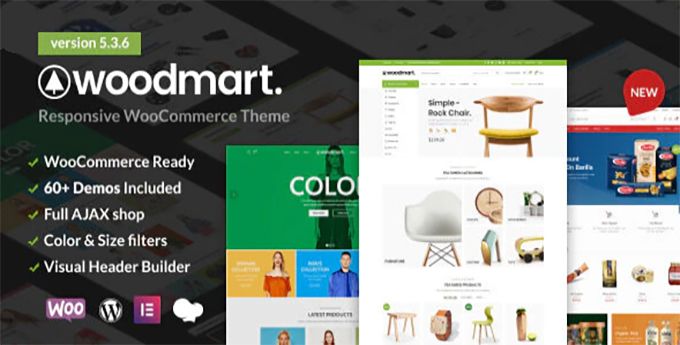 Woodmart is one of the Woocommerce themes that are rapidly emerging. Not surprising because the theme offers many special qualities and is now also compatible with the most popular page builder out there, Elementor. The theme is suitable for any kind of shop and has little to do with wood, even though the theme is called that way. This theme has been specially developed for the construction of web shops, so I expect a lot from it.
WOODMART WAARDERING
Below you can see the appreciation that Woodmart gets from people who bought the theme, and I must immediately say that 4.95 is a score that hardly occurs with themes on the Themeforest Marketplace.


WOODMART INSTALLATION AND DEMOS
Installing Woodmart is very easy. The theme does not have a free version so you will have to buy it first and it can simply be installed via the standard Wordpress theme installer.
It is recommended to install one of the many ready-to-go designs. Woodmart offers about 60 very nice complete designs for web shops in all niches out there, so furniture, tools, clothing, etcetera. Below you can also immediately see how easy it is to adjust the color combinations in the layout.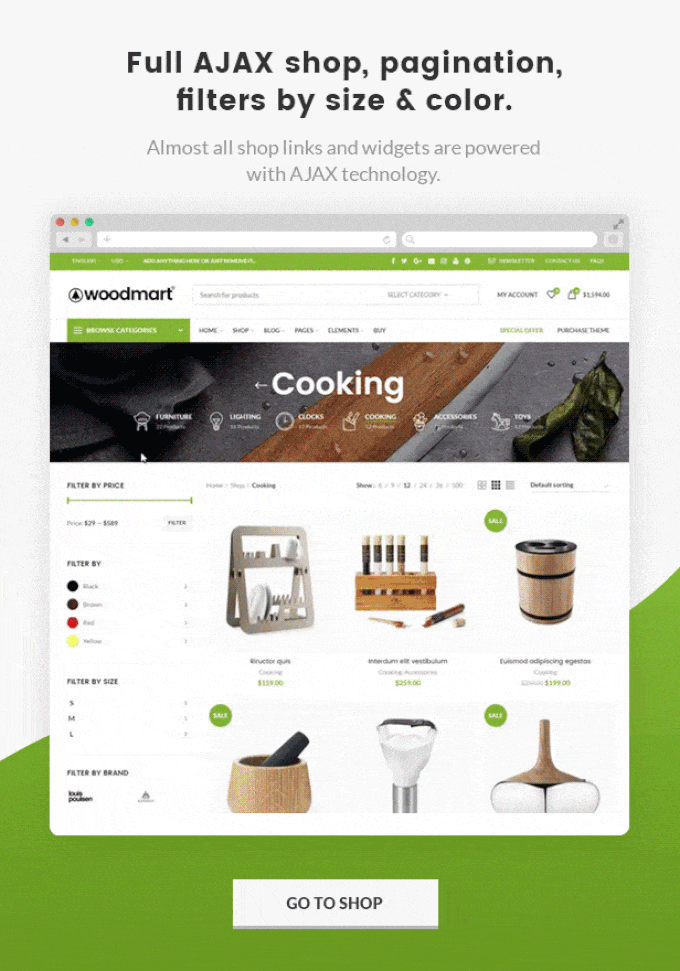 Woodmart comes standard with the Bakery Pagebuilder, but since version 5.0 the theme is completely compatible with Elementor. This is a huge improvement, Elementor is one of the best page builders out there, especially when it comes to the pro version.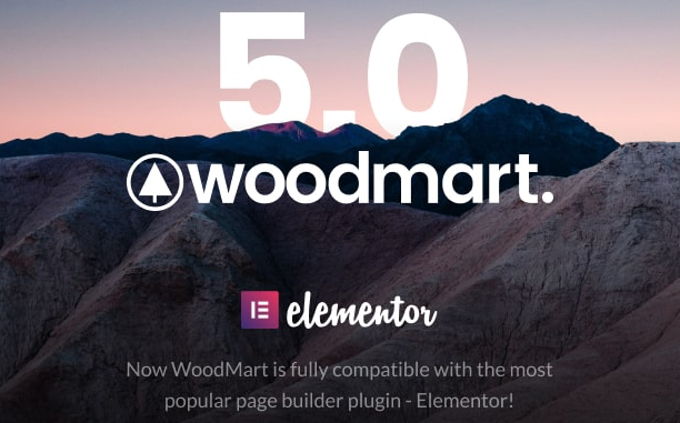 WOODMART SPEEDTEST
We perform a speed test with the theme under quite optimal conditions, so with cache plug-in and all images optimized. This theme does not indicate that it is specialized on loading times, but the results are very good as can be seen in the image below.
with optimized images and cache plugin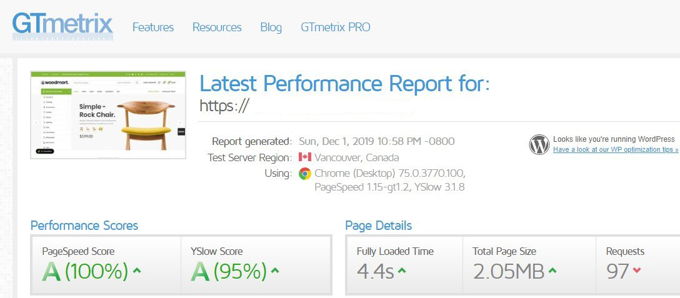 WOODMART HEADER BUILDER
Advanced styling options and multiple HTML elements in the headers, almost anything is possible. Woodmart also has ten standard header styles that can be adjusted with 1 click.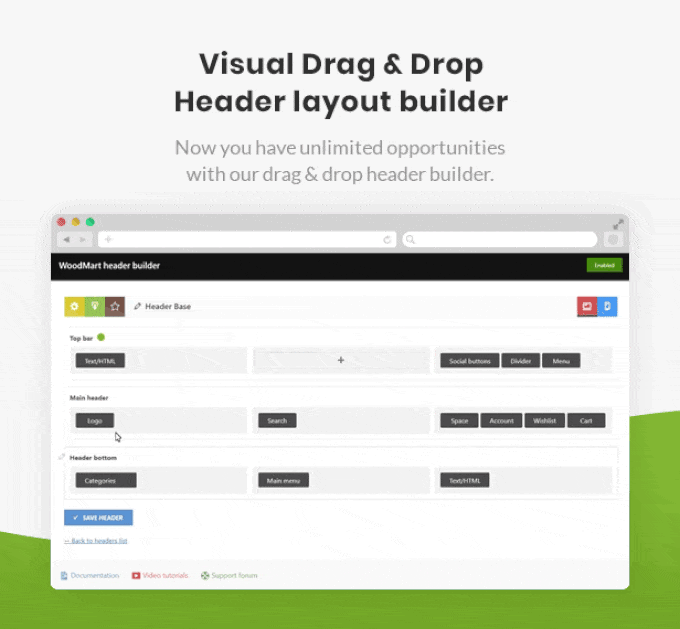 WOODMART HEADER EXAMPLES
Below you can see how easily Woodmart allows you to adjust the header and what a huge choice there is already standard without custom adjustments.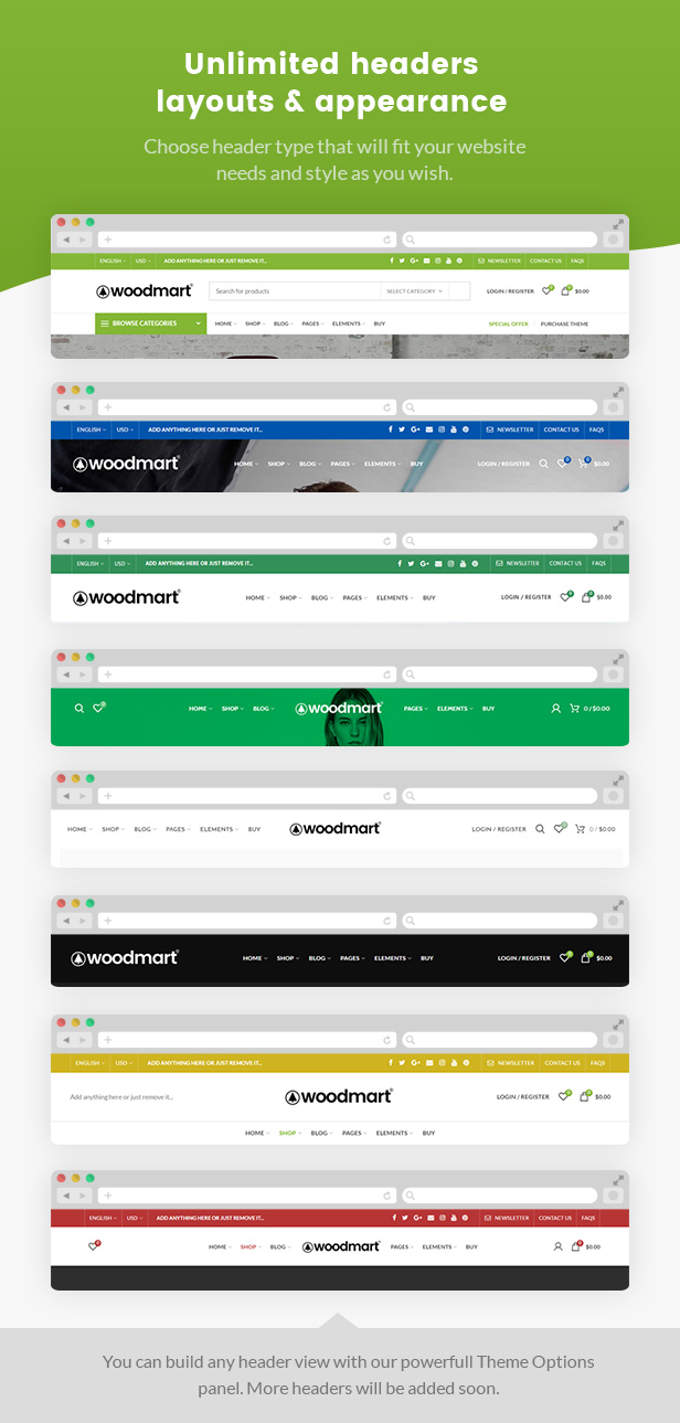 WOODMART THEME REVIEW MEGA-MENU
To have a beautiful mega-menu, people often spend a lot of money on expensive plug-ins. In the case of the Woodmart theme, this is not necessary because the theme comes standard with a great mega menu as shown below.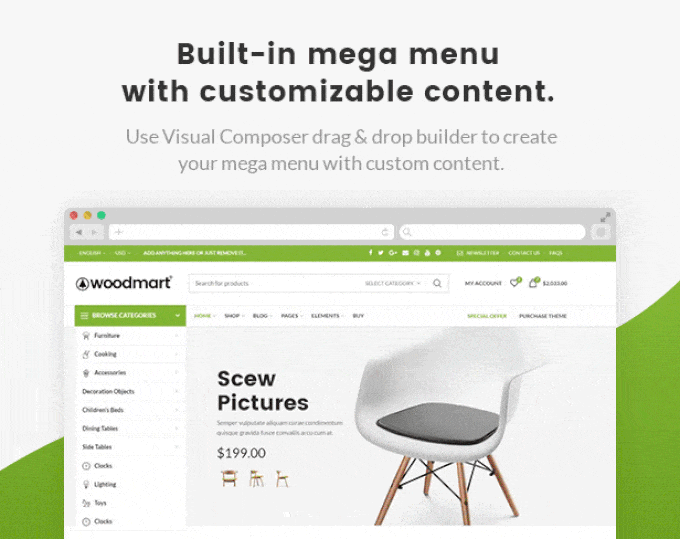 WOODMART QUICK SHOPPING
There are great shopping themes that have all the options a top Woocommerce theme should have. Woodmart belongs to this class and has quick shopping for your webshop as standard.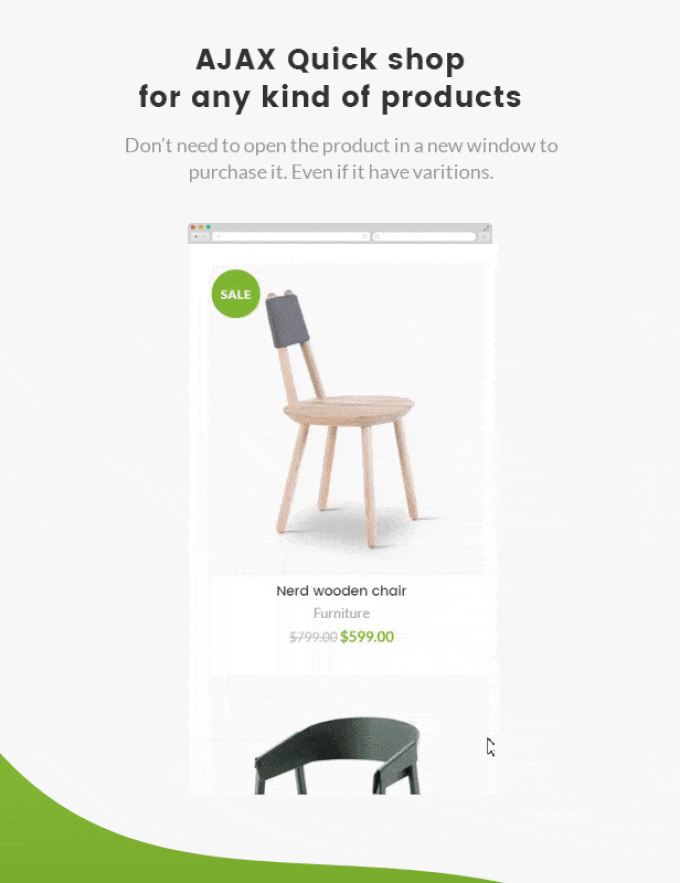 WOODMART THEME REVIEW: PRICING
The theme only has 1 price option and that is paying $ 59 for each separate theme. So if you have ten websites you want to install it on, you can, but it will cost you $ 590. In my opinion the price is very okay, but only if you are looking for a good webshop theme for only 1 website. In the case of 2 or more websites, other themes are much more attractively priced and in some cases even better than Woodmart. Check here the best webshop themes for [2021]

.

WOODMART THEME REVIEW: CONCLUSION
There is nothing bad to say about this theme. This is one of the best themes there is to build web shops and it is rising in the rankings and it is better with every upgrade. It works perfectly with the Elementor pagebuilder since the last version and that's great too. Yet it is true that, as I indicated in the chapter for the price above, there is boss above boss. The perfect theme for shops & websites is Divi and Astra is a very close second. These themes can be installed on multiple sites and the Divi Theme for example costs only $ 89, and comes with the Divibuilder full version! Woodmart comes with Elementor, but that's the free version we're talking about then.
Woodmart vs Divi conclusion
You have come to the end of my Divi vs Woodmart comparison. If you are going to build a webshop, Woodmart is a really great theme which is very professional, and a lot is possible with it. The problem is that there is such a large and good team behind Divi and so much money is earned with it that in principle no theme can compete with it. Not even if it only concerns web shops, Divi wins there too. Quality aside, Divi is much more affordable in price if you want to use it on multiple sites. Woodmart requires a separate license for each site, which of course quickly becomes very expensive.
Using our link you ALWAYS get 20% off on the Divi Theme!