Divi Theme vs Be Theme review [2021]


In this Divi Theme vs Be Theme comparison we discuss the latest improvements of both themes. The makers of these themes have brought an extremely good selling product to the market. Regardless of which theme immediately comes out as the best, both can be very proud of their best-seller Wordpress theme.
The Divi Theme is suitable for both building websites and web shops. In other words, this is a complete multi-functional theme with which you can create any desired design, website, webshop or landing page. Elegant Themes considerably improved the possibilities for building shops since the release of Divi 4. From now on, Divi works perfectly with Woocommerce, the most popular WP plugin for shops. The theme has a very nice working front and back end page builder, convenience is paramount here.
Divi has been sold more than 767.154+ times, those are not normal numbers, there is a reason that it sells so well. The theme excels in different possibilities compared to other themes and is therefore the best-selling theme worldwide. This also because of its soft price, or rather its great price vs quality range.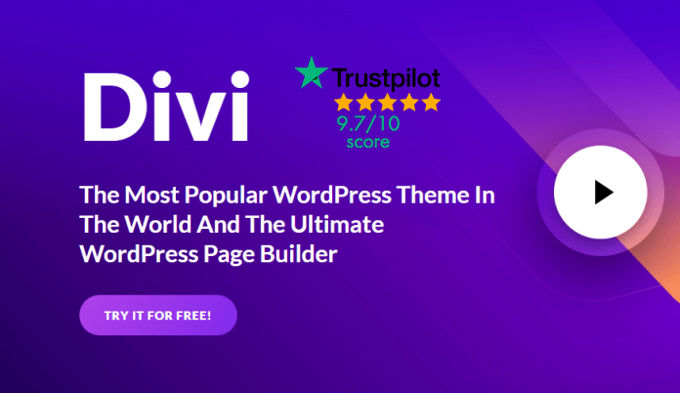 Meanwhile, already 7 years ago, the Divi Theme came on the market (2013). From the beginning it had good results but was continuously improved and quickly became a bestseller. One of the reasons is that this theme is just as keen to be used by complete laymen in the field of web design as professional web designers. Another reason is the anti-social good page builder that is in the theme, and that can also be built into other themes.
Divi Themebuilder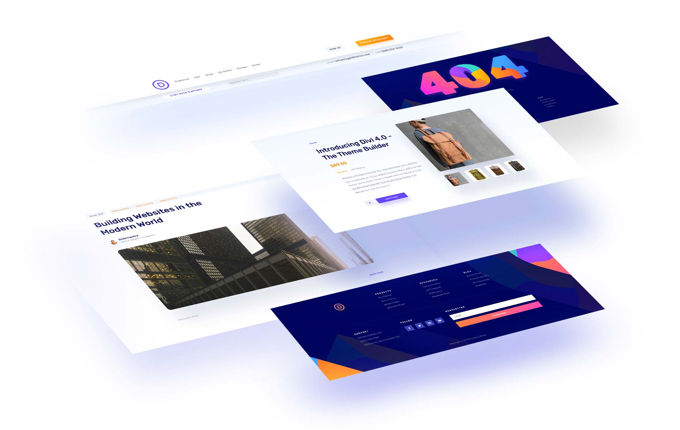 With version 2.7 DIVI came up with one of the first front-end page builders. Now with version 4 they are talking about a theme builder since everything can now be adjusted, saved, exported and imported. Think of complete pages and posts of every type (404, portfolio, footers, headers and the like).
Woo Builder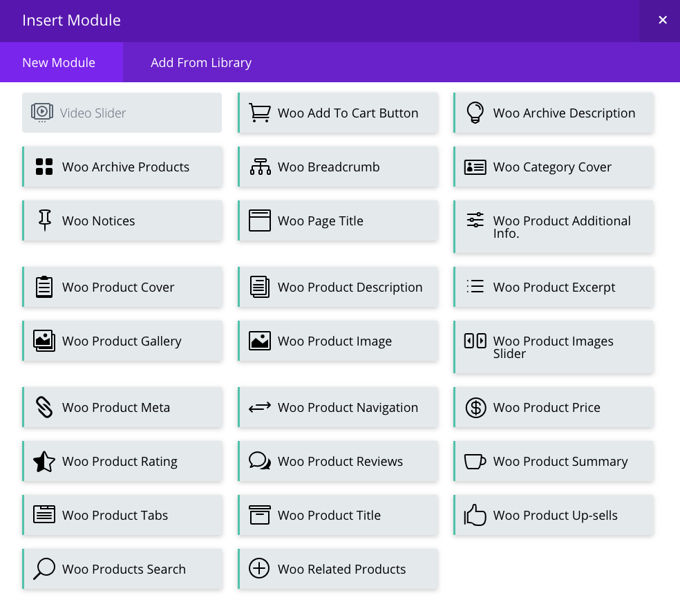 In our Divi vs Be-Theme review we have to tell you that since version 4.0 of the Divi Theme there is absolutely no HTML or CSS knowledge required to give product- and category pages of Woocommerce a new style. Previously, people did not get around this, but with the new Woobuilder from the Divi theme, this has become a thing of the past. Woocommerce has been the most popular webshop system for Wordpress for years.
Divi webshops
This theme works hand in hand with Woocommerce, the most popular plug-in for web shops. Divi offers a special shop module that you can install if you are going to build a webshop! I can't explain it better than Elegant Themes itself so watch the video below and you will immediately know everything. Takes only 10 minutes.
Divi Drag & Drop Pagebuilder
The Divi drag & drop page builder, just like that of ELEMENTOR, creates new pages and posts for you in an easy and clear way. These page builders are known in the theme world as the cream of the crop. Here we compare these two top page builders in an article.
Divi 4.0 Review video
To quickly get an impression of the improvements since Divi 4.0, it is a good idea to quickly watch the video below, which takes 4 minutes.
Divi vs BeTheme: Drag & Drop
Elements can be dragged within the editor using drag & drop, sections can be scaled (also with your mouse) and so you quickly build the layout for your page that you had in mind. (shown in video)
Divi Fonts and Text Styling
Being able to adjust more than 600 different fonts in every possible way? This is possible with the Divi text editor. Almost as many options as in a program like Photoshop. There are more page builders with good editors, but the Divi editor is the crown here.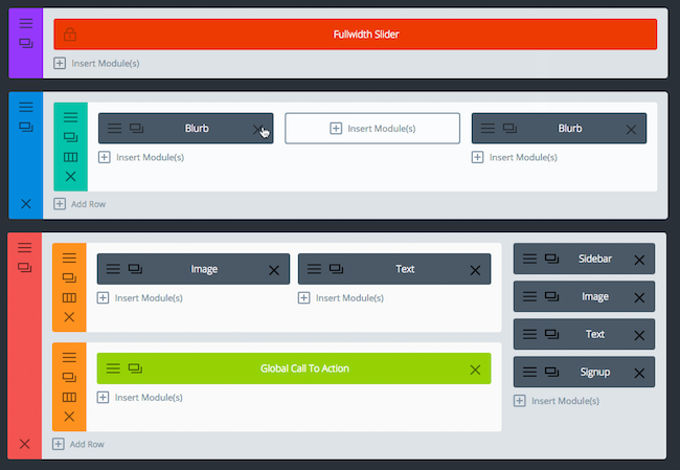 With the front-end WYSIWYG pagebuilder you always have a live preview available. So you can see live what the real website will look like. There are practically no restrictions as to what can be dragged and clicked to subsequently make changes to it. With texts you have 600 different Google fonts available and all possible colors.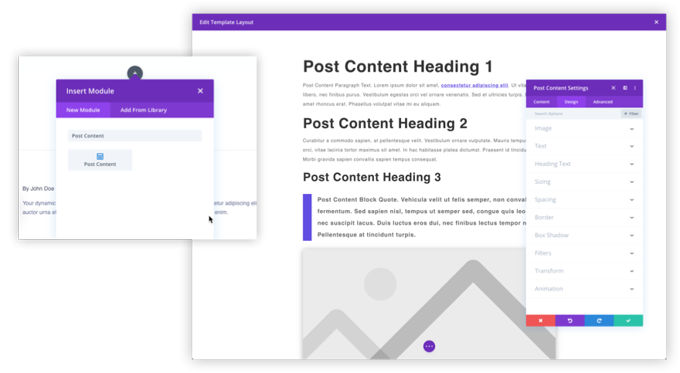 You can also quickly create, move or resize sections, columns and all possible items. You do this by clicking with your mouse and then dragging. Generally, newcomers also work flawlessly within a few hours with the Divi front-end WYSIWYG pagebuilder and are able to put exactly what they had in mind when they started the page.
Divi history editor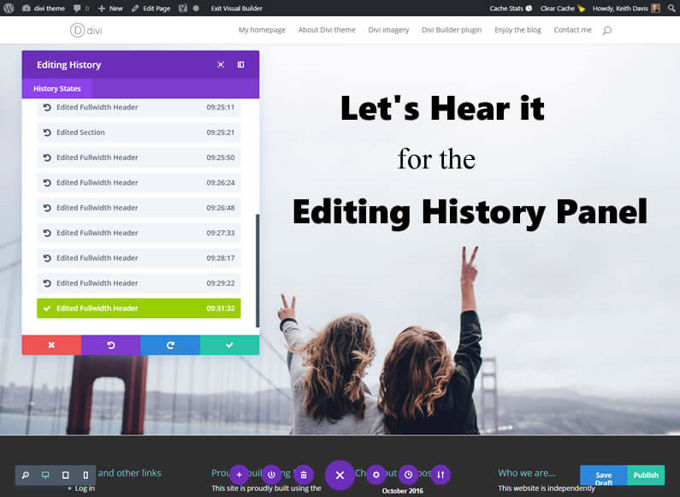 Just like ELEMENTOR, Divi has a history editor that, just like the original Wordpress revisions, lets you go back to earlier versions of your work. The Be Theme unfortunately stays behind in this area, although that is not a huge shortage.
Divi content modules

Of course you have all standard content modules available such as buttons, text, photo galleries, images and the like. In addition, sliders, price tables, sliders, reviews, portfolios and much more so that you do not have to install extra plug-ins for this. Product presentation, single products and the like from Woocommerce can also be used easily.
Divi vs Be Theme review: Pre-made layouts and templates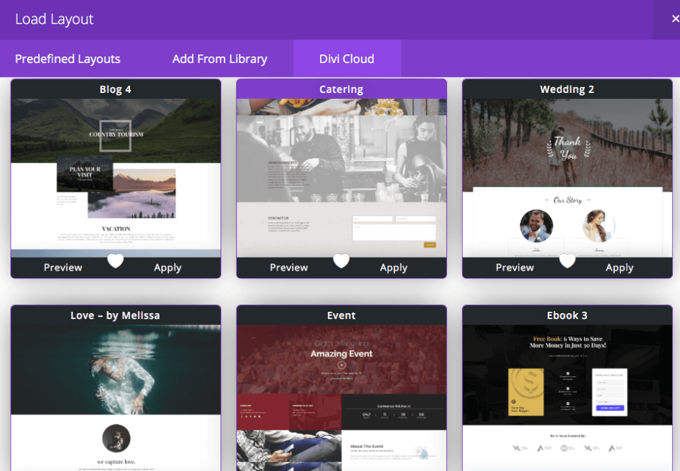 Divi offers you more than 800 ready-made pages and 100+ complete website demos. You can use this unlimitedly and combine with it. By working with ready-made material you save a mountain of work. Nowadays, all premium themes offer these ready-made layouts and sites. The Be Theme is extremely extreme here and offers no fewer than 550+ complete demo sites and wins the Divi vs Be Theme competition in this section.


Install the demo material you want to use with a few simple clicks and then start to give it your own branding by replacing the texts and photos and adding other own items such as videos, logos and address details. In no time you have built up your own website that you can save in the back-end and export it to your PC so that you can never lose your work again.
Ready-made portfolio lay-outs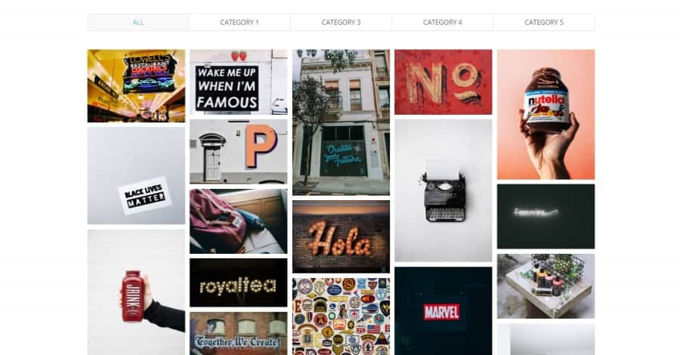 Present the work of your company in one of the beautiful portfolio styles that Divi has to offer. Divi has a good number of ready-made portfolio layouts that will make your presentation stand out well. Elegant Themes always announces new layouts on their blog in advance. In our Divi vs BeTheme comparison, Divi scores better here.
Open-source images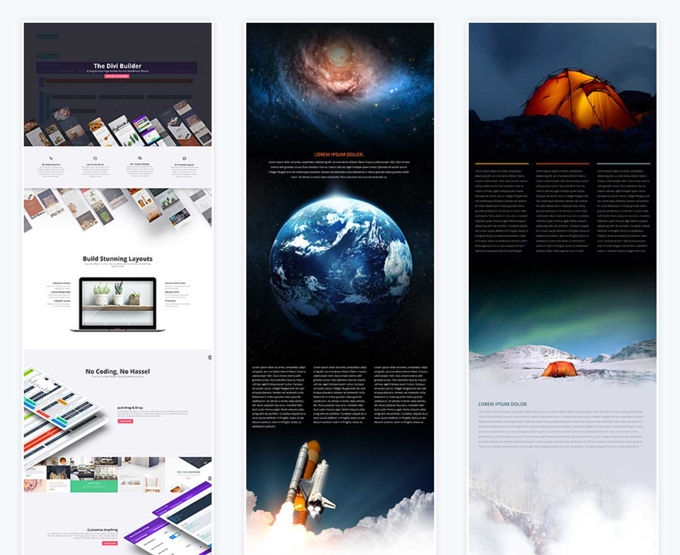 Open-source photos means that they can be used freely. If you install a demo at Divi, it contains the same photos as the photos in the demo on their website. That is certainly not the case with all themes today. If you really have to replace all the photos, it will take a lot of work. Divi also has a library with photo material that you can use to make an extra effort.
Divi Leads split-test tool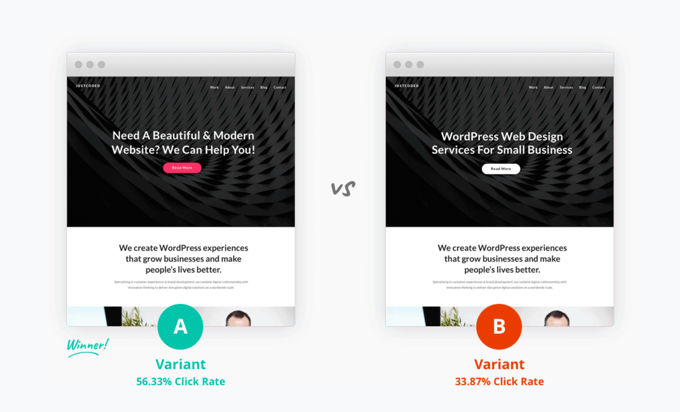 As far as I know, Thrive Architect is the only page builder that offers a split test tool alongside Divi. In the case of Thrive, you do pay extra for what is not the case with Divi. The Be Theme does not offer this tool in any case. With this tool you create 2 different versions of pages or parts of pages, texts or buttons. These are then displayed alternately to your audience and after a short time you can see which of the 2 versions has a better effect. An unmistakable tool for SEO specialists and companies looking for a high conversion.


Divi Leads is also very popular with affiliate marketers because conversion is at the top. If you have a blog with advertisements on which you are commissioning, this tool can considerably increase your monthly turnover. Speculating what works better is a thing of the past, Divi Leads simply gives you the hard facts.
Divi: Theme options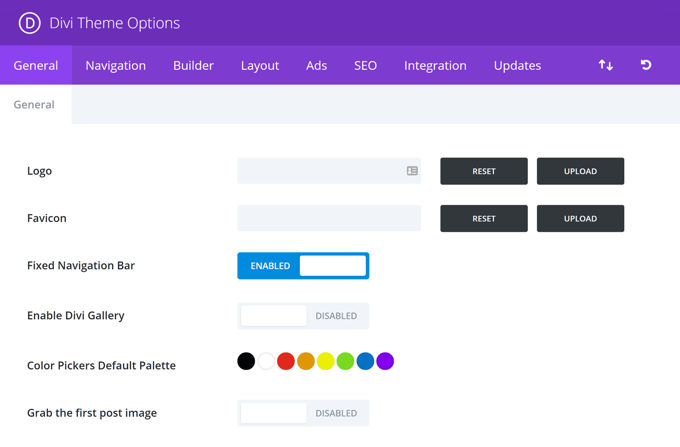 The theme options at DIVI have a completely own panel. Everything has been thought of, you can't think of it that way or you can set it here. All premium themes have a similar panel nowadays but Divi takes the crown in terms of versatility.
Export/import between different websites
This function is a way for people with multiple websites or pro-web designers not to have to do work over and over again. With Divi you can install complete designs, settings, pages, headers, footers, and everything else you want to copy at lightning speed on different websites by means of exporting and importing the items.
Divi prices for a membership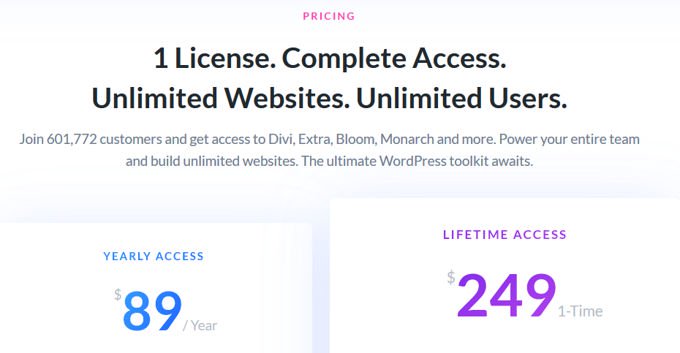 An Elegant Themes membership costs $ 89 a year, sometimes there are offers then it is slightly cheaper. You will not only get the Divi Theme for this, but also the great magazine theme the Extra Theme plus another 86 premium themes from their collection. Also included are plug-ins and PSD material.
A lifelong membership for $ 249 is what many people use. You will then pay nothing for the rest of your life and have unlimited access to all future upgrades and support. The 30-day money-back guarantee gives you the opportunity to try Divi for a month without running any risk.
To the Divi website!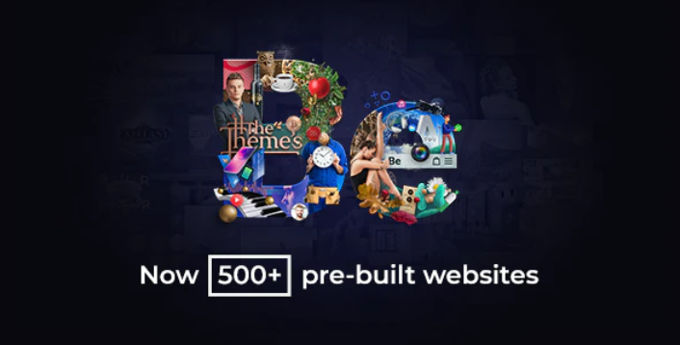 In this Divi vs Be-theme comparison we will now continue with the Be-Theme. We'll discuss the pros and cons of the popular Be Theme. If you look closely at the many Be-Theme designs they are fairly simple but stylish and there is not 1 but 5 for every conceivable niche. Enough variation to choose from (600+). With regard to the number of demos, the Be-Theme is the global leader. But the theme has many more wonderful qualities that we will take a closer look at in the continuation of this Divi vs Be Theme review.
Be Theme review lay-out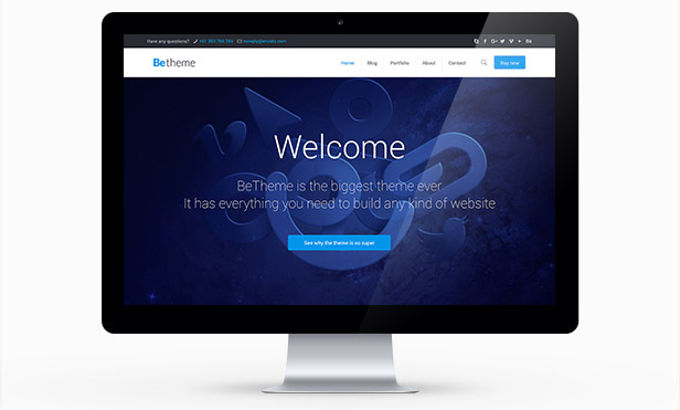 The Be Theme comes with no less than 600+ different demo websites that can be installed with 1 click. As a web designer I quickly find a suitable layout for websites that I build for clients with the Be Theme. It saves a lot of time if you don't have to search for a certain design for a long time and you can always rely on the same theme. The difference with the Divi theme is that although it offers fewer ready-made demos, it is much easier with photos that one may use and adjusting the design. The choice of which theme comes out better here is very personal I think. For me it is Divi in any case.
A few demo examples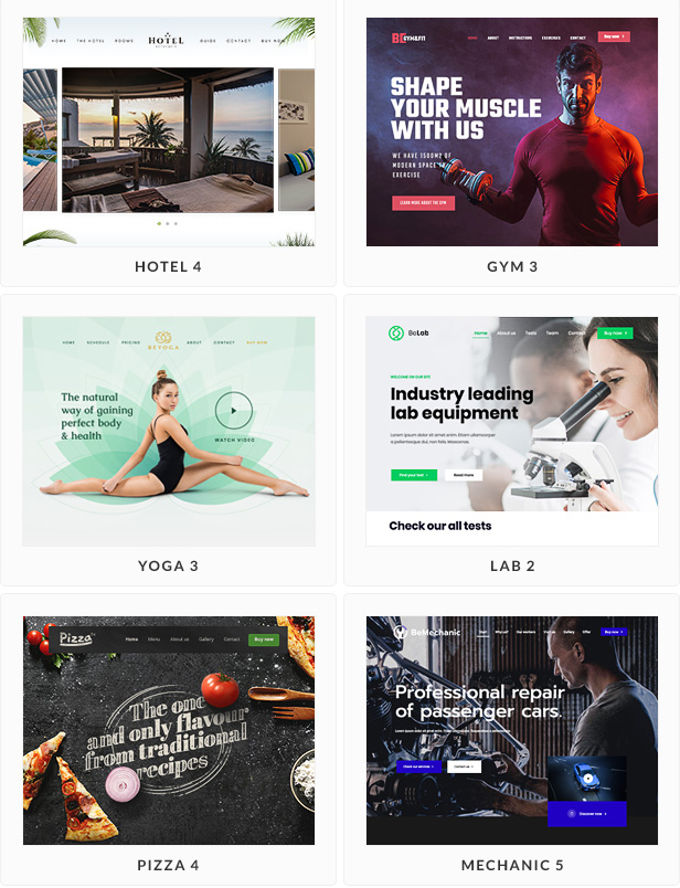 With the Be Theme you can put together a website in no time. If you prefer to limit yourself to websites and not web shops, other themes are simply much better, such as Divi, Kallyas, Extra, Monstroid-2 or Avada. I discuss all these themes de best themes of [2021]. If you are a beginner in the field of web design, then it is a good choice, everything is very simple and easy to understand. The accompanying tutorials and support are also very good.
The creator of BeTheme is Muffingroup, an elite seller at the Themeforest brand with a sloppy 15 products for sale, most of those products are other good themes. Muffingroup has received very good ratings, such as recommended author, the monthly bestseller, but also power elite author and weekly bestseller. The Be Theme is of course their absolute top product. The Be Theme has an average rating of 4.62 based on 5,800 issued ratings which is very high. The theme has been sold 223.000+ times since 2014, which is also a top achievement.
Muffin Builder drag & drop page builder
The Be Theme has the Muffin Builder built in to quickly make adjustments to your site. The Muffin Builder is a drag & drop page builder that is more than satisfactory and has all the necessary options. Choose one of the 600+ layouts and add items to your pages. The Muffin Builder is not a Divi Builder or ELEMENTOR but works flawlessly, quickly and well, perfect for beginners. Other page builders sometimes offer so many possibilities that beginners can hardly see the forest for the trees.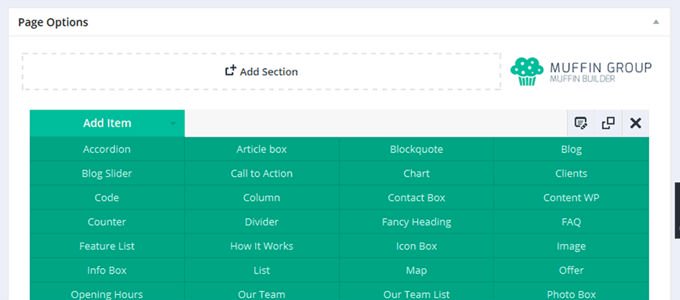 Be Theme review: WP Bakery Pagebuilder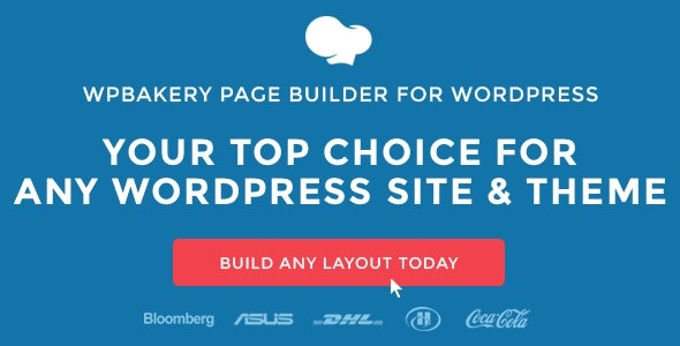 Instead of using the Muffin Builder, you'd like to use the WP Bakery pagebuilder, a page builder with more fame than this is possible, this is also supplied in the Be Theme. The choice is yours. This page builder also works with drag & drop and is also a great tool to be able to build beautiful pages quickly and with a lot of freedom and to buy them separately, you have lost no less than $ 64. Personally, this is one of my favorite page builder because it features practically all the top themes and there are many add-ons for it.
Video and Parallax Backgrounds
The BeTheme supports the use of parallax backgrounds that will leave a pleasant impression for your site with your audience. Full width and video backgrounds are also possible. Together with a decent styled page you can give your website a professional look in this way. While writing this BeTheme review, this quality of the theme quickly stood out.
20+ different header styles
In the Be Theme There are 20+ standard header styles that you can use. The logo can be placed in multiple places together with the menu. Normally a menu is at the top but you can also use a left or right menu. The headers can be adjusted as much as you want in the Be Theme. Everything can also be adjusted in terms of fonts, font sizes and colors. The Be Theme allows different headers and even logos per page.
Shortcode Generator
A short code can be generated for practically all functions in the theme. You can then use this to integrate these functions into every page, post or widget.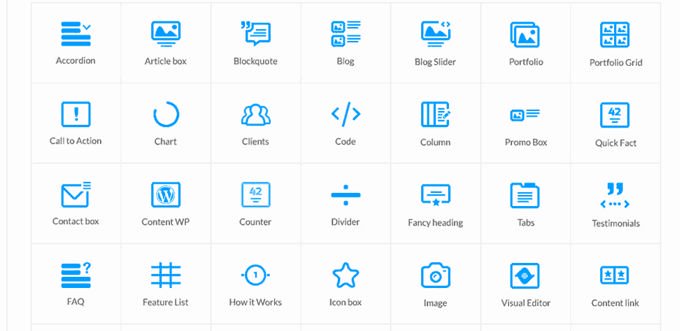 BeTheme Extras
The Be Theme also offers you the following options: 600+ different fonts, custom Widgets, Revolution Slider, WooCommerce Ready, RTL support, Mega Menu, visual icon selector, unlimited sidebars, Bonus Premium Plug-ins, maintenance mode, Google Maps Styles, BuddyPress Ready, Styles for ContactForm7 and Gravity Forms.
Revolution Slider
It has to be said that the Be Theme offers a lot of high quality plug-ins that you would otherwise have to pay a lot of money for. For example, it uses my favorite slider plug-in, the Revolution Slider. Getting used to after the switch from version 5 to 6, but once used to it, people realize that he has recovered. With this slider plug-in there are no restrictions and it is perfect to check a separate design for each device.
Conclusion of this Be-Theme vs Divi-Theme comparison
Thank you for heaving read this Divi Theme vs Be-Theme till the end. The Be Theme costs $ 59 one time with half a year of support. The Divi theme costs $ 89 for a one-year membership. A bit more expensive but you don't just get a theme, you get a one-year membership that gives you access to 86 themes and many plug-ins and other useful material to build websites.
At the moment I have to say that if Divi was only a theme and not a membership, I still prefer to count the 89 dolar for it. Nothing about the Be Theme but Divi is basically the very best theme that is available worldwide for Wordpress and there is no comparison between the 2 as far as I am concerned.
However, you have the best deal if you take a lifelong membership with Elegant themes (Divi), so you can use their material indefinitely for the rest of your life. You pay a one-time $ 249 and never a cent again. Divi has proven in the course of the 7 years that it exists that it is only getting better and better, so you will probably never need other themes again.
Using our link you ALWAYS get 20% off on the Divi Theme!