The best Elementor Themes [2022] 💥

Looking for the best Elementor themes? Below you will find a list in order of the best themes that can be found for Elementor. In principle, all these themes have a free version that can be downloaded from Wordpress.org. In my reviews, however, I always discuss both the free and pro version of themes. Most of these themes are not only the best for Elementor but can certainly also be used with other page builders such as Thrive Architect.
Advertisement

All themes have 2 buttons at the bottom of the short descriptions on this page. One leads you to my extensive review of the theme and the other directly to the site of the theme itself.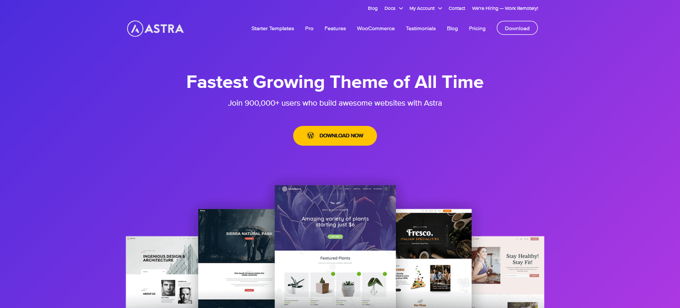 I have Astra Pro number 1 because it was primarily designed to work with Elementor. It was also built with very fast loading times in mind. Ultimately, Astra is a great theme that practically reaches all rankings and is installed on over a million websites. In addition, I think Astra has the best rating of all the themes I know. Almost everyone gives it five stars and hardly anyone gives a low score as you can see in my Astra review.
Astra offers a large number of demo designs created with Elementor, so you can get started right away to start your project. I have also ranked Astra Pro high in my list for best webshop themes. This is because it offers fantastic features for Woocommerce and it is very flexible. Astra can be used with all top page builders but Astra Pro + Elementor Pro is a well-oiled machine to create websites with the greatest ease and pleasure from the ground.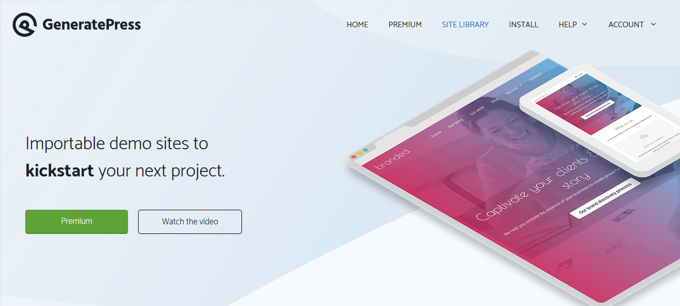 Generatepress Premium is one of Astra Pro's closest competitors, anyway when it comes to the fastest loading Wordpress themes out there. They are practically just as fast I would say. Generatepress Premium also has a free version that can be downloaded from Wordpress.org which is immensely popular, judging by the great rating. Generatepress Premium was also built on speed and the collaboration with Elementor. There are many themes that were built for Elementor, but they lack features to compete with Generatepress Premium.
This theme can be installed very quickly, has beautiful demo layouts for practically all niches and web shops. It is certainly not lacking all the necessary professional features for Woocommerce. In addition, the theme offers many options to style your shop pages as you wish. Generatepress Premium offers as an extra many plug-ins that are included as standard. Most notable for me is the Schema-Mark-Up plugin that allows you to effortlessly add snippets to your pages. Google loves this and you will certainly be found by it better.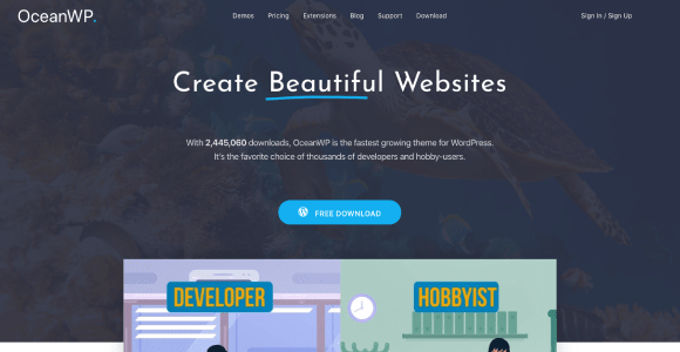 Another theme that offers a perfect collaboration with the Elementor page builder. The OceanWP is not only one of the best Elementor themes, but also one of the best themes there are for building web shops. This theme is built on 3 properties: speed, webhops, and Elementor compatibility. OceanWP also has a free version that can be downloaded from Wordpress.org. No free theme can compete with other Pro themes, so in this review I am talking about the Pro version. OceanWP has been installed on hundreds of thousands of sites and, like other top themes, enjoys an almost flawless rating.
It is immediately noticeable that this theme was built for the construction of web shops. The eye-catching layouts it offers for shops and the many special features. It is packed with extra plug-ins for pop-ups and portfolios, among others, that you don't get anywhere else. If we still see that the theme is very competitively priced, we really cannot be more than full of praise for it.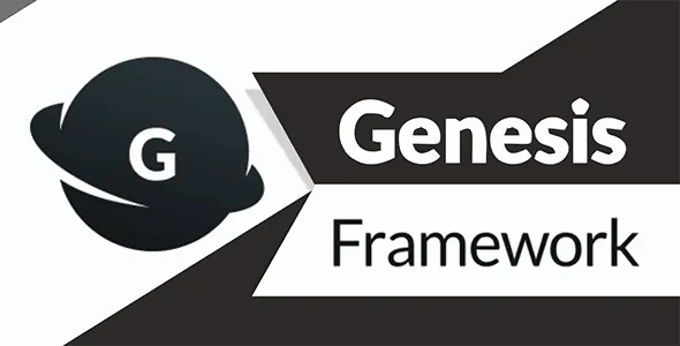 The Genesis Framework is not just a theme, but is recommended by both Google and Wordpress itself. We can say that everything has been thought of to offer a company an optimal environment for a successful website. With Genesis you can choose from the many beautiful child themes it offers. It is also without a doubt one of the better Elementor themes as the builders have paid special attention to this. Genesis can certainly be used on its own but really comes into its own with the Elementor Pro page builder in it.
If you have a reasonable budget, it is interesting to know that Genesis is not a stand-alone thing, but it is best used in conjunction with WP Engine. That is the top package where you immediately have a perfect hosting environment. WP-Engine is the absolute fastest hosting that can be found for Wordpress with auto-CDN and totally managed. You do not have to optimize your website yourself, everything is done for you.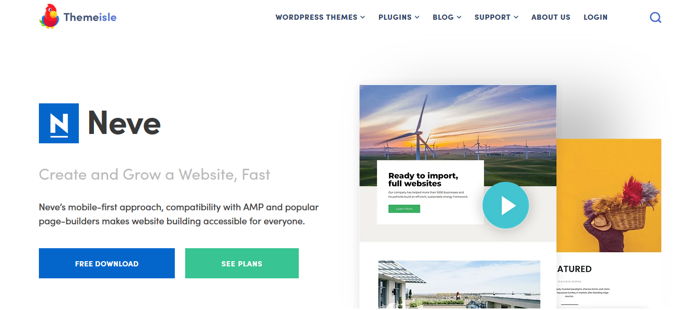 The Neve theme was also developed to work perfectly with Elementor Pro. A free version of Neve is offered on Wordpress.org and you can see both there and in my Neve Review what a great rating this theme gets from its users. It is not without reason that it has been installed on hundreds of thousands of websites. During the development of the theme, the cooperation with the Elementor page builder and fast loading times in browsers were continuously monitored.
This theme offers a lot of demo layouts and has 122 pieces for Elementor alone. The theme comes with an Elementor-Booster that, in addition to many other Boosters (Header-Booster, Blog-Booster, etc.), makes working with Elementor even more pleasant due to the many extra features. This theme loads very fast, partly due to the Vanilla Javascript which has replaced the standard jQuery Javascript to get 25% extra speed. Very special is the roll-back function with which you can downgrade your theme to the previous version with 1-click if something went wrong during an upgrade.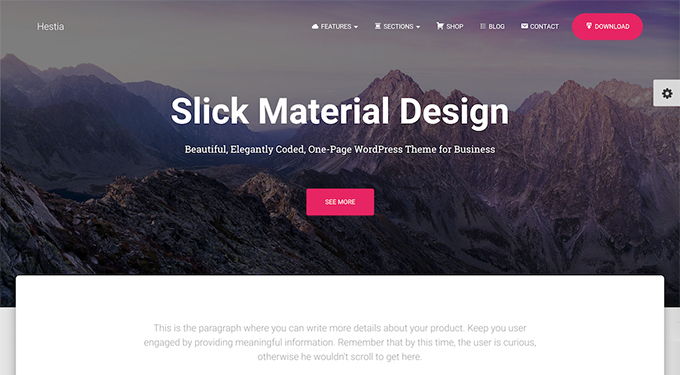 The Hestia Theme has a lot in common with Neve, no wonder because both are developed by ThemeIsle. apart from particularly fast loading times, this theme is fully set up to work with Elementor. Hestia does not have as many demos as Neve because it specializes in web shops. The layouts for web shops are great and the same goes for the e-commerce features that the theme offers. It is therefore not surprising that this theme also enjoys a great rating and is used by more than a hundred thousand people on their website.
I don't know exactly why, but Hestia is more expensive than Neve, while I rate Neve a bit higher. This may sound a bit negative, but of course I don't have Hestia in this top of Elementor themes for nothing, it remains a great theme. I would certainly consider this theme if you are going to create a webshop, for any other type of website I would choose one of the themes ranked higher on this page.

Airi is one of the top themes that aThemes has to offer. This elite theme builder developed the Airi Theme for 100% compatibility with Elementor and hence its ranking in the top of the best Elementor Themes. In addition to the perfect cooperation with Elementor, Airi is very all-round and you can use it to create blogs, web shops or normal corporate or private websites. It offers quite a few beautiful demo layouts that allow you to get a quick start on your project.
It is important to realize that Elementor Pro can also be used on its own and Airi is a very good addition to that by tight code and perfect responsiveness. If you are going to use the free version of Elementor, it is advisable to choose one of the higher rated themes in this list of best Elementor themes for [2022].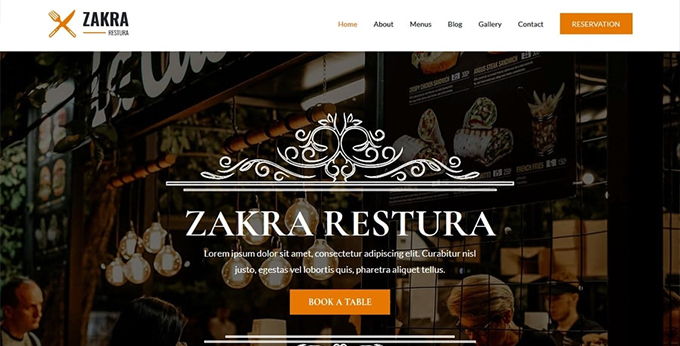 Zakra works perfectly with Elementor and in addition the same applies to Gutenberg. I personally don't work with that but for some people this may be a positive trait. Zakra is a so-called "light" theme which is also perfectly responsive. The loading times can be scaled below the fastest for Wordpress themes (below 1 second). Despite that, the theme offers many widget areas, header styles and has a good SEO. Zakra also offers, like most good themes, a 1-click demo importer with many beautiful demo layouts.
The Zakra Theme deserves its place in this listing as one of the best Elementor themes. Also like the Neve Theme it uses the Vanilla Javascript instead of jQuery which makes everything much faster. The Zakra Theme can be used on as many sites as you want, which makes it an affordable theme.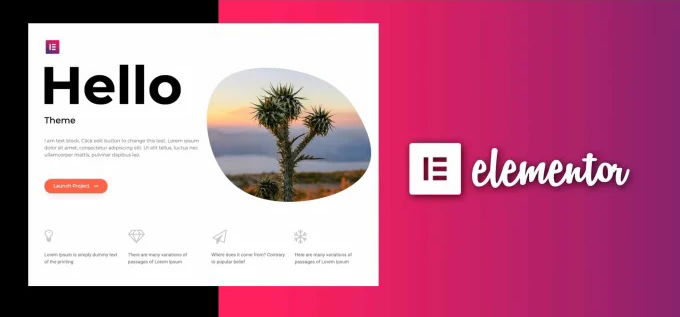 You will wonder why the Theme that Elementor released itself is ranked at the very bottom of this list. This is because the Hello Elementor theme is responsive but does not contain any settings or designs itself. It is a theme that works purely as a basis for the Elementor page builder that no longer needs it because Elementor has everything that most themes also have. The fact that a Theme like Astra is on top is because it is just as compatible as Hello-Elementor but offers a huge addition to Elementor's program, extra widgets, design, and settings.
Hello does not have a Pro version and you do not incur any costs with it, the only costs you incur are for Elementor Pro. Working with Elementor Free + Hello Elementor is very limited and I do not recommend it. If you don't want to spend any money, use Elementor Free + Astra Free for example. Many people appreciate the simplicity of Hello and that is why it was installed on 4 million websites in a short time.