How to log into Wordpress [2023] 💥

You may not be familiar with WordPress if you are new or have not used it for a while. You may not want to use the default WordPress login method.
You have many options for logging in to WordPress sites. You can use the basic username-password method, but you also have the option to link multiple accounts and then use those credentials. This is faster and requires less effort.
Advertisement


1. Log in with username + password
Logging into WordPress is easy. The default WordPress login URL is example.com/wp-admin/. Depending on the host, you may also be able to access your website's login page using these suffixes: /admin/ and /login/. Simply enter your username + password. These are the credentials you chose when you created your website. When creating your website, it is important to remember these credentials. Otherwise you could be locked out.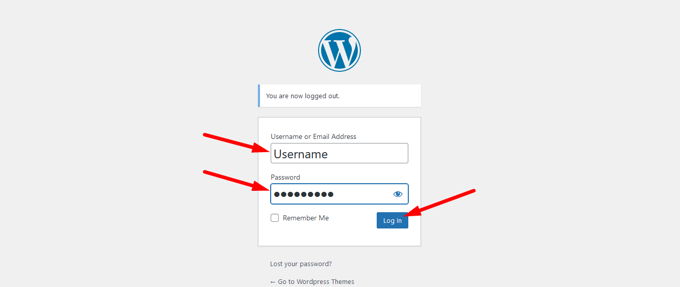 To avoid having to enter your username or password each time you access your site, you can check the "Remember Me" box. This will save your login information on your device. Clearing your cookies will not reverse this and you will need to enter your credentials again on your next visit.
Many web browsers save login credentials to make it easier for you to remember them later. While this can be very convenient, you should avoid saving your login credentials on shared browsers and devices where others might be able access them.
2. Log in with social media
Although social logins are not enabled by default in WordPress, plugins can be used to enable them. You and your team members will be able to login faster if you use an existing account. This feature is available in a number of plugins, including Nextend Social Login & Register. This tool allows you to link your existing user account with your Facebook, Google, and Twitter profiles. You can then choose one of these social accounts to be used instead when you log into your site.

3. Log in with an Apple Account (WordPress.com)
WordPress.com allows you to sign in with your Apple ID. This is the best way to sign in for iPhone and Mac users. This will allow you to forget another password and it will be faster if you are using an Apple device. Simply select Continue with Apple to log in with your Apple Account. You will be asked to enter your Apple account details. You can access your site immediately if you are already logged into.

4. Log in with a Google Account (WordPress.com)
You'll have more options to access your WordPress site if you have it on WordPress.com instead of running your won Wordpress. You can log in to Google using your Google account. This is more convenient than using a username and password option because you are likely already signed in to Chrome or Gmail. Simply click the "Continue with Google" button at your WordPress.com login screen to log in using your Google account.

5. Log in with a link in your mail (WordPress.com)
You can also sign in to WordPress.com by using the Email me a log-in link option. Enter the email address associated with your account. You'll then be able to access your dashboard via a link. Click on the link in your email, and you automatically login without the use of a password.

6. Log in with a link in with Cpanel
Not all hosts give you this app in your Cpanel, but you might have it. Login to Cpanel. Use the search, type: "soft". Navigate to "Softaculous Applications Installer" and you'll see a list with scripts that we can install. To navigate to the WordPress section, click on the "WordPress" option. If you install your Wordpress using the script here, you will always be able to login from its panel. See screenshot.