GetResponse Review - Newsletter Service [2023] 💥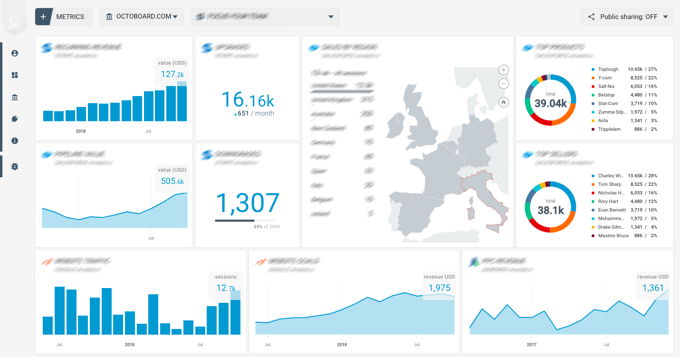 GetResponse App Dashboard
In this GetResponse review for [2023] we discuss the features of this email marketing newsletter sending service. However, GetResponse has much more to offer and is more or less a complete marketing solution for SMEs. The price of their email marketing software starts at $ 15 a month and is therefore very affordable. Extra features of GetResponse include landing pages, autoresponders, unlimited automation templates, facebook ads, sales funnels and more.
Advertisement


As you have more subscribers, the price slowly increases. The PLUS, PRO, and MAX services offer an Automation-Builder and (on-demand) Webinars and are suitable for multiple users such as freelancers and employees. This makes it possible to send automatic e-mails on customer actions such as filling in forms or not completing a purchase in your shop.


GetResponse is highly rated for its marketing automation capabilities, which are beyond basic email marketing features for most competitors. GetResponse also provides you with good workflow functions to set up the marketing automation process. The marketing auto tools are continuously improved by GetResponse and the service is an excellent starting point for SMEs to achieve more leads and conversion. A better service for this is Hubspot, but you will also spend more money there.
In our GetResponse review, we immediately noticed how extremely easy it is to import your subscriber lists into the service. You can do this in different ways. By uploading a .csv file or directly from another service such as Google Contacts or the service of a competitor such as Mailchimp.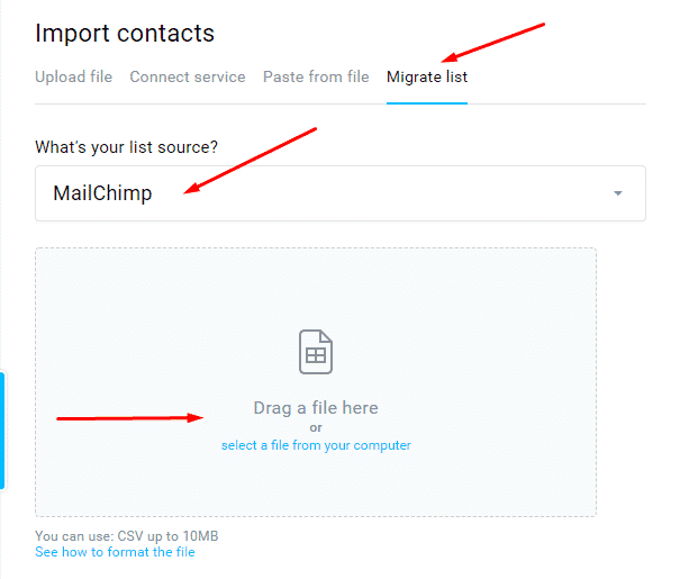 Once your subscribers are imported, you can compile lists by location or opening and clicking autoresponders.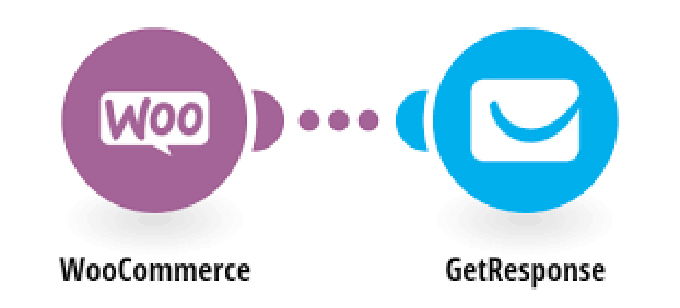 GetResponse offers possibilities to connect it to CRM programs and Wordpress websites. This makes it possible to use landing pages and pop-ups. Incidentally, GetResponse does not only work with Wordpress and Woocommerce, but the same applies to Magento and Prestashop.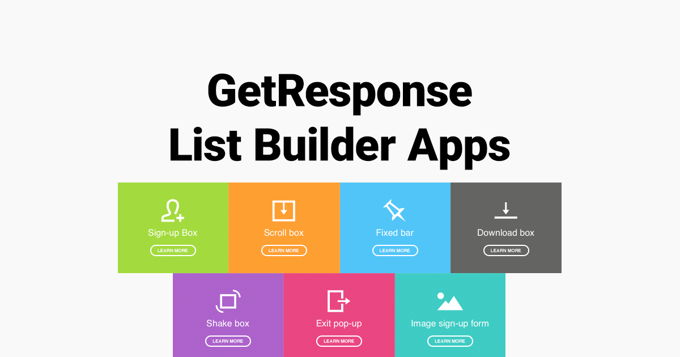 Via the List Building Wizard offered by GetResponse, you can present feedback forms, order forms, surveys and landing pages on your Twitter, Facebook or website. Incidentally, GetResponse always offers the option of A-B testing everywhere. More and more website themes, page builders and email marketing services have this option. This way, people no longer feel in the dark which version of a forms or landing page works best. The system alternately shows different versions to your visitors and keeps track of which version has the most success.
With the Drag-n-Drop editor or the HTML Source Editor you can quickly create a newsletter. The first uses a template, the second uses your own HTML code. I must say that the templates have gotten a lot better lately that GetResponse offers.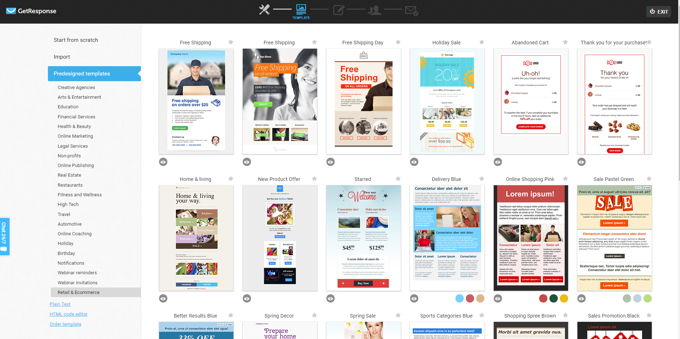 This was less during my last GetResponse review. With the Previewer you can see how the newsletter will look for all devices. Be patient, sometimes it may take a while. You will immediately be shown a spam score, which is important because you want your newsletters to end up in the inbox of your sebscribers. Of course you are always bound by the rules of the CAN-SPAM Act of 2003.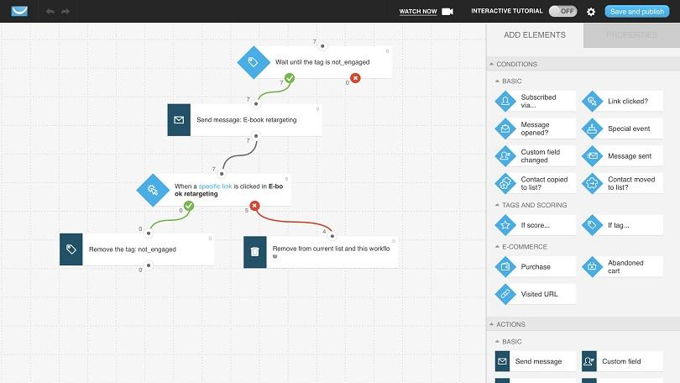 Workflow
With GetResponse you have the option to send the newsletter immediately or to schedule it for a later time. The Time Travel function allows the newsletter to be delivered at a fixed time in the time zone of the recipient. But there is another option, the Perfect Timing function. Here the customer's behavior is observed at different times of the day and depending on this, the best time for shipping is determined. Well liked this feature, we give the full points for this in this GetResponse review.
By the way, GetResponse allows you to determine the time of sending on all types of customer data collected. GetResponse also has an app that is suitable for sending previously made mailings for you.
The panel for this is very clear. You can see at a glance all your campaigns with the info next to it how many people have opened mails, clicked on links, et cetera. Of course, your Google Analytics is connected to your tracking in GetResponse for even better results. Each campaign can be viewed individually for many more statistics. GetResponse is particularly suitable for medium and large companies to achieve more turnover through these types of functions.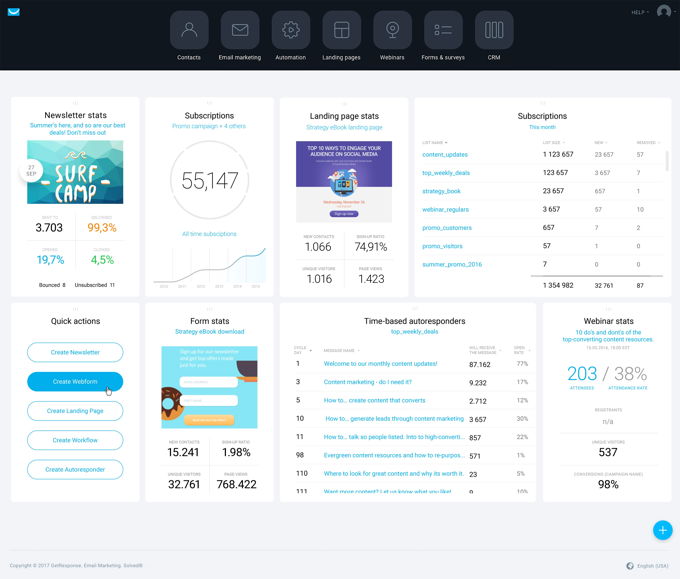 You can also open overviews with information about subscribers. For example, which campaigns they got, what they were interested in, or what they clicked on.
During this GetResponse review it quickly became clear that automation is one of the strongest points of this service. The structure works as follows: Condition - Action - Filter. We start with a condition, so for example "clicked a button", "subscribed", "received an email", or "bought a product", followed by an action such as "send this mailing now" or to which list the new subscriber needs to be added Practically everything can be automated and GetResponse is just about the best imaginable in email marketing automation.
A few top features include being able to move or copy contacts between different workflows. You can give various tags to contacts who, for example, have already completed certain internships or do not respond to anything. For example, you can run a promotion where the first 100 subscribers receive a discount. By integrating Javascript in shops, visitors can be automatically added to certain workflows and you can see what they did in the shop, such as putting products in their shopping cart, buying them, and at which URL that happened.
You can try GetResponse for free with a subscriber number of 1000. There are no restrictions and you can test all functions before you decide to continue. The GetResponse team offers fantastic 24/7 support by email and live chat. Also dryer by phone but the live chat has replaced it.
To begin with, I really appreciate that you have read my GetResponse review to the end. GetResponse is clearly one of the better email marketing services and just not a complete marketing solution. If we compare it to other services, it is very affordable in the first place. If money doesn't matter I would rather go for Hubspot which is a complete service but a lot more expensive. GetResponse is up to par with, for example Aweber.
Watch video