Flatsome vs The-7 Theme comparison [2023] 💥


The-7 vs Flatsome, these are 2 of the best selling themes on the Themeforest marketplace. Not only that, they also enjoy a very good rating from people who bought these themes. Both of these themes are suitable for any type of website or webshop, they are so-called multipurpose themes. We will see what these themes are capable of.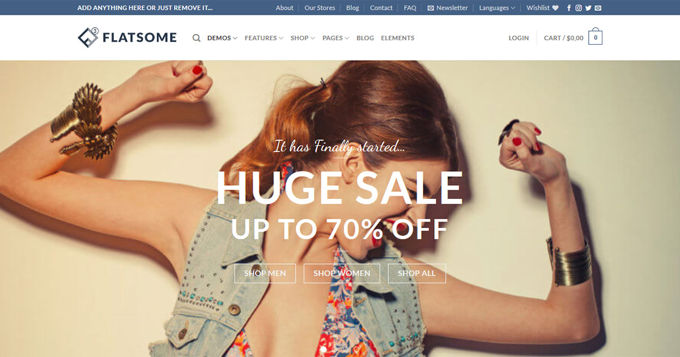 There are many Wordpress themes that consider themselves as the best or perfect shopping theme. One of them is Flatsome. We will be reviewing the Flatsome theme. Let's start by looking at what other people thought of Flatsome based on the reviews they submitted. They received a rating from 5576 customers, an average of 4.80 out 5. This is a very high number and explains why the theme has been sold 206.754+.
Advertisement


Flatsome came on the market at the end of 2013 and we are not talking about a theme in its infancy, but about themes that have been improved for 7 years and that practically have no bugs for that reason. Also, such a theme will not be taken off the market quickly, so you can enjoy it for years.
Flatsome review: Woocommerce
So Flatsome is specialized in e-commerce and mainly in collaboration with Woocommerce, the most popular Wordpress plug-in for shops. My finding is that the theme indeed has a lot to offer in this area. It is even possible to style all product pages differently as shown below and checkout pages can also be adjusted via the CMS (no coding).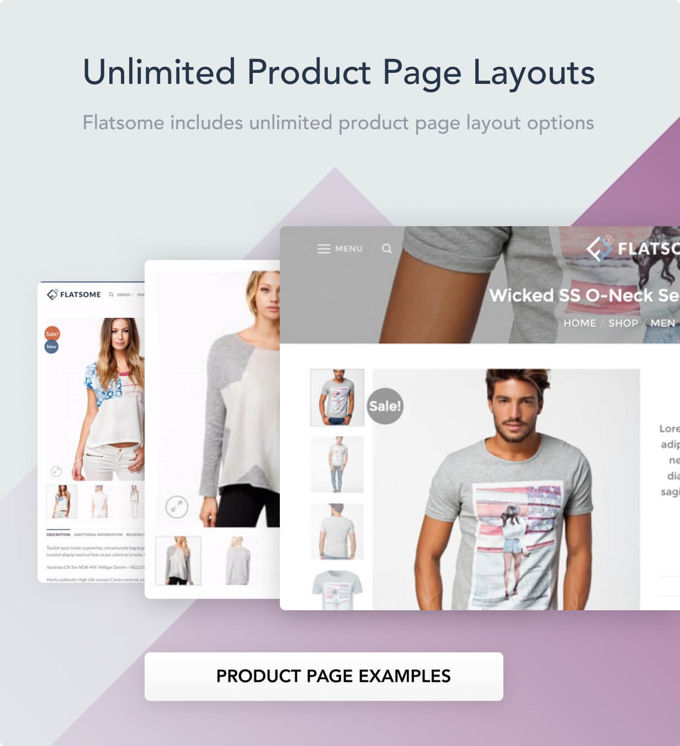 Other cool shop features that Flatsome offers are wishlist, sticky header, live product-search, unlimited forms. The goal of the builders of this theme was as much functionality as possible, which is as easy to operate as possible.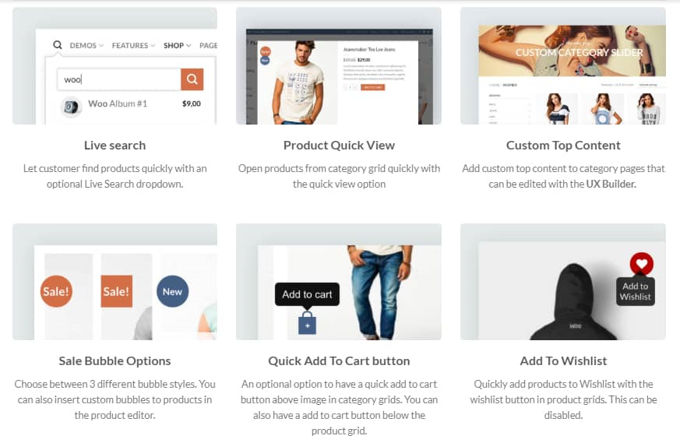 Flatsome review: Headers
Another feature that impressed me while writing this Flatsome Wordpress theme review is the ease with which one changes the header. Even more impressive is the header builder with which you build your own header within a few minutes, exactly how you want it. See the 2 photos below.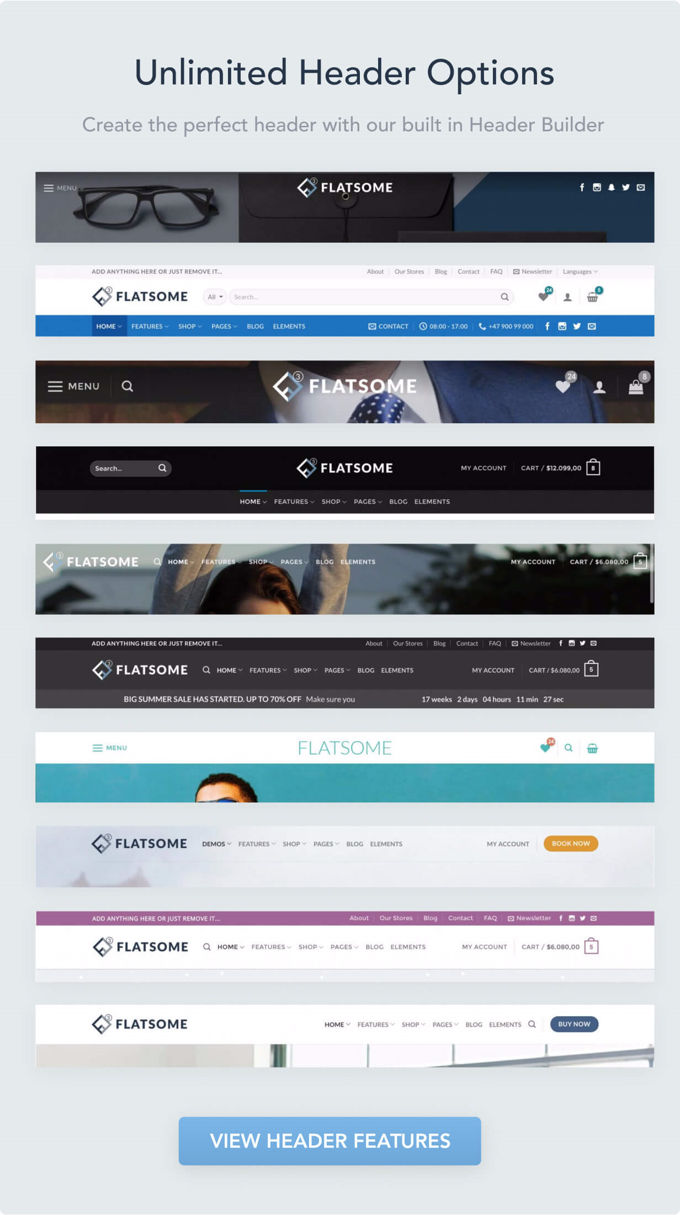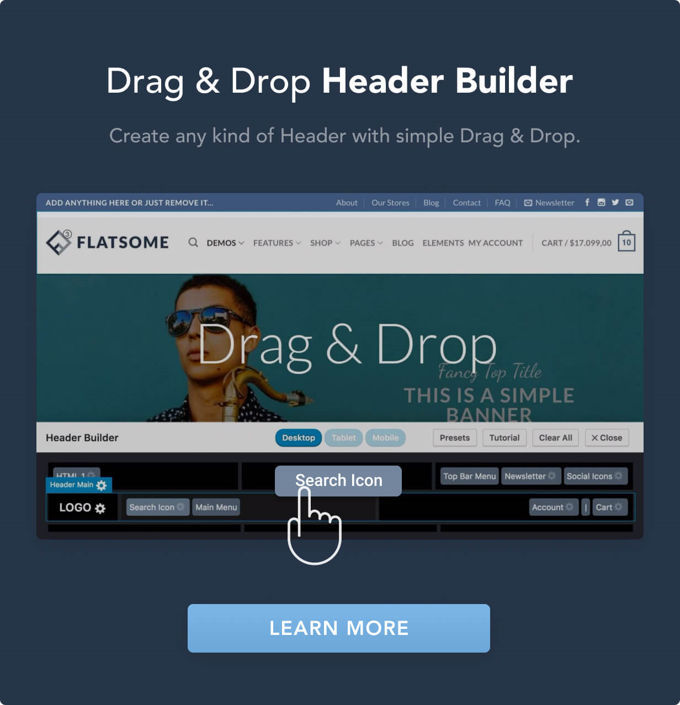 Flatsome review: UX Builder
Just like Avada has its own page builder called Fusion Builder and Kallyas its Zion Builder, Flatsome has its UX Builder. These are all very good page builders that are used exclusively in their own theme. Often with such page builders you can work almost as well as with the top page builders in the market, although there are clearly fewer options.
Watch a small video below to see how the UX Builder works. The video takes only 9 minutes.
Flatsome review: SEO
We're going to talk about SEO in this Flatsome review. Below is an image where Flatsome claims to be the fastest theme on Themeforest. I wonder if that is really the case because there are many candidates for that, but at least the theme has a good loading time. If you are looking for the fastest themes out there read my article about this topic.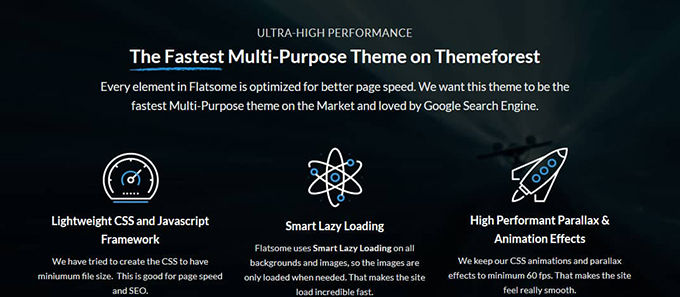 Flatsome review: Elements
Like all premium themes, Flatsome is full of elements that you can use on your pages through their page builder. I am not going to list them all, by looking at the image below, you will immediately know everything.




Closing comment
Of course, Flatsome can do a lot more than I have listed here in my Flatsome theme review. Take a look at their own site if your interest has been piqued. Flatsome is one of the top themes today, especially for building shops. So it is well worth the money, incidentally it also has fantastic documentation and support.
Visit Flatsome theme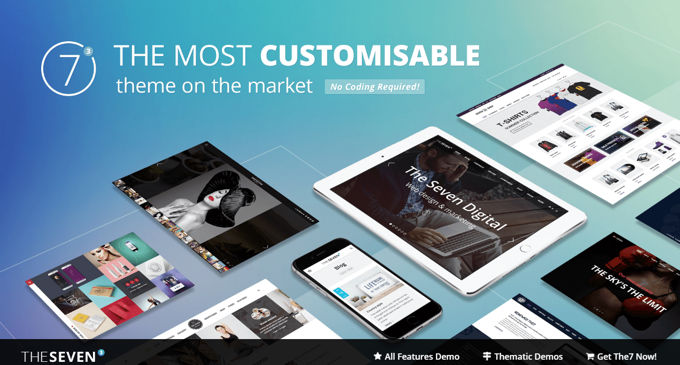 In this The-7 Theme review we discuss all the plus and minus points of The 7. The7 was released in September 2013 by Dream-Theme. This great theme has until [2023] been sold 273.569+ times and has a rating of 4.75 out of 5 (7476 ratings) on Themeforest, there are few themes with a better average rating.
New: Elementor integration
Another top theme that has chosen to cooperate with the Elementor page builder. Not a bad idea because Elementor is of course one of the best pagebuilders out there for WP. Definitely an improvement for the theme. It is nevertheless best to upgrade to the PRO version of Elementor.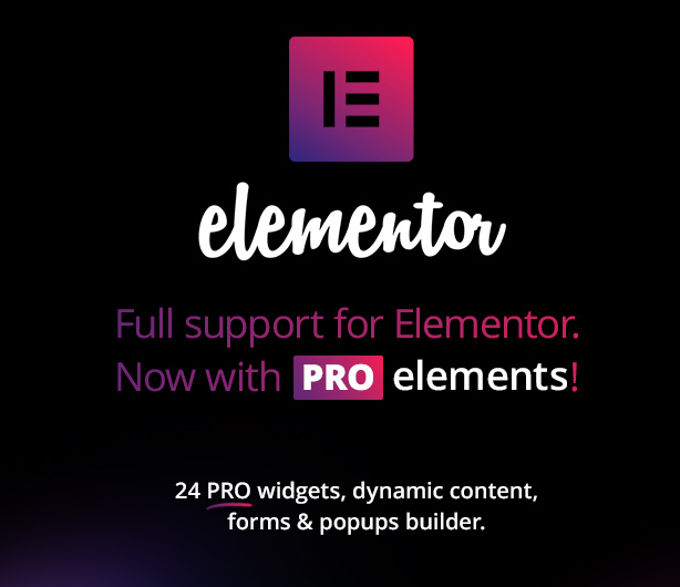 The7 demo-websites
The7 has more than 40 ready-made demo websites that can be installed with one click. You will find several beautiful lay-ous for every conceivable niche from which you can start your new site. Adjust the images, texts et cetera to quickly achieve your own style.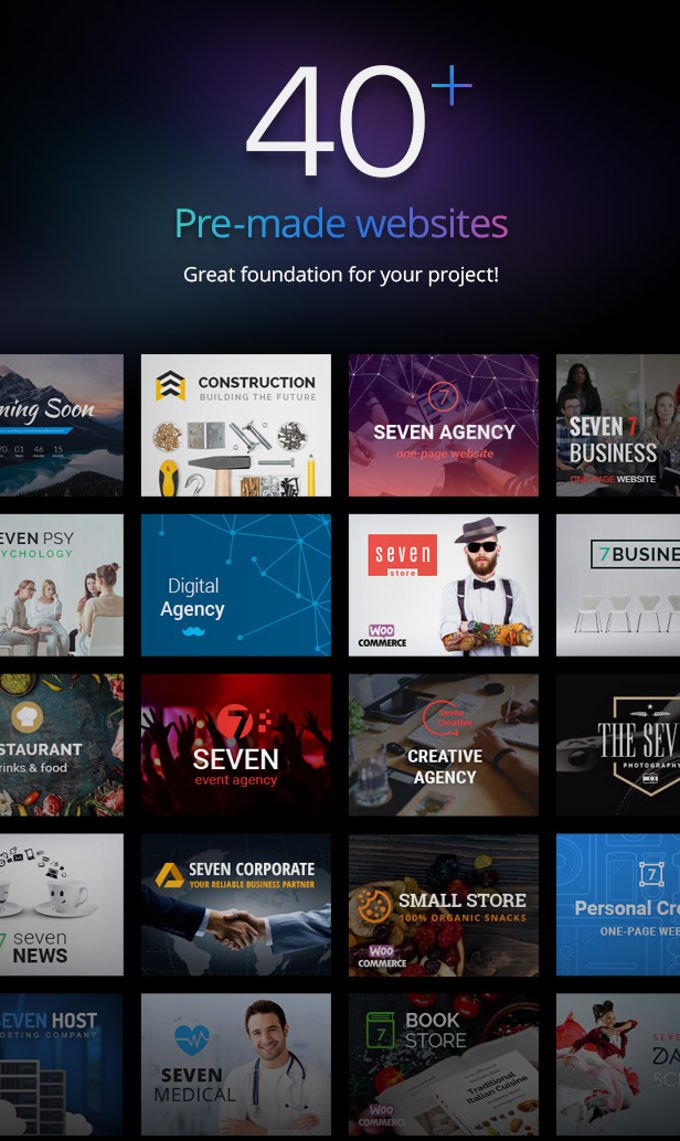 The7 review: 1000+ theme options?
The-7 theme is one of the most versatile you can imagine. I have not checked them, but according to Dream-Theme, The7 has more than 1000+ theme options and 250+ page options as shown in the image below.


Shortcodes
The theme uses a full version of the WP Bakery pagebuilder, this plug-in takes care of the use of the short codes. This sought after pagebuilder costs a whopping 64 dollars. In The7 there are almost $ 200 worth of extra third-party plug-ins. In principle, one should always keep theme and shortcodes separate from each other. In this way the shortcodes still work after installing a new theme. With The7 this is not possible unless you purchase the plug-in separately later for $ 64. Adding shortcodes via the WP Bakery pagebuilder is very simple on the other hand.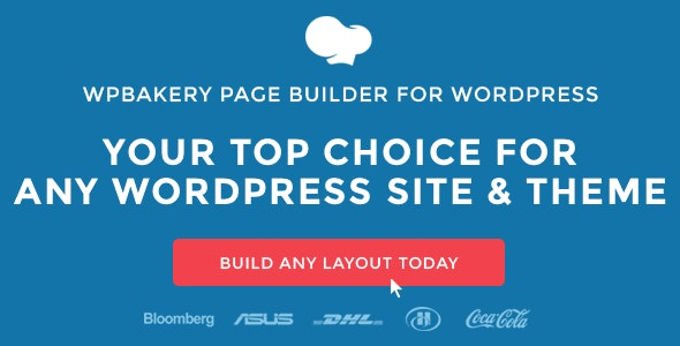 Extra plug-ins
As a writer of this The-7 review, I was also impressed by the many free plug-ins in the theme. So this concerns the WP Bakery pagebuilder, but also the best add-on for it: Ultimate Add-ons. Furthermore you get Convert Plus (Pop-ups), Go Pricing and Slider Revolution 6. The Slider plug-in is my favorite when it comes to sliders and works extremely accurately, you can set the slides for all devices such as laptop or mobile.
Design Wizzard
Something few premium themes even offer is a Wizzard that lets you set all sorts of things such as header, footer, logo and so on. This is of course perfect for people who have never created a website, you can forget so little.
Import functions
The import function lets you install complete demo websites complete with images and slides. But the Importer is also able to import a single page of a demo via the URL you specified. You can use a few pages of different demos in your own design. Most themes that I know cannot do this.
Compatible with WPML


Ready for translation with WPML with which you can create multilingual websites. The theme itself is already available in 10 different languages so you do not have to translate these languages yourself, only your own content.
The theme is compatible with all known plug-ins including for example: WooCommerce, WPML, Yoast SEO, All in One WP Migration, W3 Total Cache and more.
The7 theme review final words
There is about this beautiful theme which is practically always discounted and available for only $ 39 much more to tell of course. But if your interest is aroused, you can use the button below to take a look at the theme page on Themeforest where everything is explained in scents and colors.
Visit The7 theme
The-7 vs Flatsome conclusion
First of all, thank you for reading this The-7 vs Flatsome comparison to the end. Flatsome is certainly one of the better themes out there for building shops, the possibilities are very extensive. Flatsome certainly wins here. The-7 is a real red theme which comes with 2 page builders, one of them is Elementor which is the best page builder you can find. Not only that, quite a few elements have been added from the PRO version as well. Flatsome has its own UX-Builder, not bad but I definitely prefer to work with Elementor. So here is my choice to The7. Overall, these bidding themes are just fine, you will be satisfied with both.
A problem these themes do have is that they are sold through the Themeforest marketplace that takes 30% commission on all sales. That means that there are no discounts there for several of your websites at the same time. You will have to buy a new license per site. Even support is sold dearly through Themeforest, almost the price of the theme for half a year of support. That is why I definitely advise you to look for other themes that are more favorable in price for multiple websites, very favorable even. Finally, I must say that I am very positive about these themes but a theme like Astra or Divi is much better. I have these themes on 1 and 2 in my list with best themes for [2023].