Elegant Themes vs Brainstorm Force [2023] 💥
ELEGANT THEMES (Elegant Themes vs Brainstorm Force)
Elegant Themes is the builder of the Divi Theme...

Elegant Themes is a company that specializes in building Wordpress Themes. It sells its themes through a very attractively priced membership. They now have more than 800,000 members, including professionals and do-it-yourselfers. I will report here on their most important themes, and their more than popular page builder.
Advertisement


Elegant Themes review: Rating
When we talk about ratings, I want to make it clear that many themes let themselves be rated via the marketplaces on which these themes are sold. This results in much higher average figures than when themes are rated on independent review websites such as Sitejabber.com. Follow the link to see that Elegant Themes scores 4.93 out of 5 on such a review website, an insanely high score.

Or maybe you put more confidence in Trustpilot.

Elegant Themes review: Divi Theme

The Divi Theme has been the most popular premium Wordpress theme for about 10 years, statistics on Builtwith. com confirm this. The theme comes out several times a year with all kinds of firsts such as recently their Advanced Gradient Builder and their Divi Cloud. These new gadgets are then slowly copied by all other premium themes, but they always lag behind the facts. Because by the time they think they've caught up with Divi, it already has 3 new features to steal the show.
Elegant Themes review: Extra Theme

The Extra Theme runs on the same engine as the Divi Theme but has "Extra" features that make it an almost perfect blogger theme. For example, just like Divi, it has the DiviBuilder in it as a page builder. The Extra Theme includes a set of Divi Builder modules specifically designed for bloggers and online publishing. These modules can be used for various homepage and category layouts. You can now create exactly the page that meets the needs of your project.
Elegant Themes review: The DiviBuilder
The DiviBuilder is the best frontend page builder with a real inline text editor. For me this means the possibility to immediately start writing in a piece of text without having to open extra screens or write in a box. The DiviBuilder is as far as I know the only page builder where things really work that way. Even a top page builder like Elementor is lagging behind Divi.

Elegant Themes review: Pricing
The standard pricing that Elegant Themes maintains is $89 per year or $249 one-time for the rest of your life. Discounts are often available, here and here you can see if there are currently any discounts running.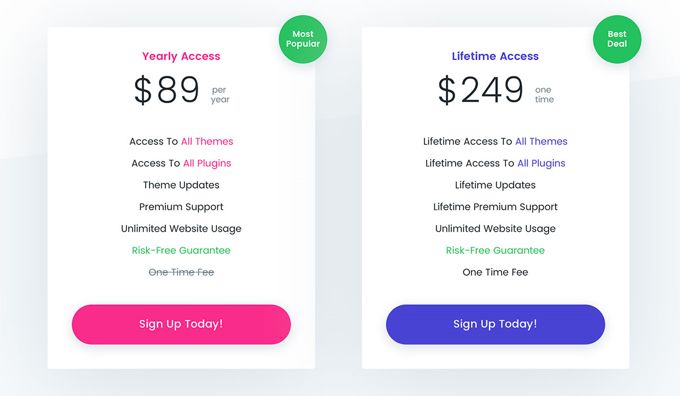 Elegant Themes review: Conclusion
I'll close this Elegant Themes review with my opinion on everything insofar as I haven't already given it here and there. Elegant Themes clearly offers one of the most complete and best components in its pack. It is also striking that the same builder has the best theme and the best page builder in their hands. This is a membership that both laymen and professional designers should definitely have in their arsenal. You will not get value for money anywhere else, although there are certainly a number of good theme packages.
Visit Elegant Themes
BRAINSTORM FORCE (Elegant Themes vs Brainstorm Force)
Brainstorm Force is the builder of the famous Astra Theme...
The name Brainstorm Force may not appeal to everyone, but it is the company behind the Astra Theme. The company was founded in 2009, but the first product to hit the market in 2013 was their Schema Plugin. I will discuss their top products here one by one.
Brainstorm Force review: Rating
But before we start with the products, let's check what users think of the Brainstorm Force products. The best way to do this is to check the company on an independent rating website like Trustpilot (see photo below). The score couldn't be much better I would say, so we are dealing with top web design products here and the company gives a very good service and is reliable.
The Astra Theme


Their most famous product is by far the Astra Theme which appears on more than 1 million websites is installed. The theme excels in loading speed, but despite being quite minimalistic and fast, it still has beautiful functions. It is not for nothing that the theme has a very high rating and has been installed on so many sites. In addition, the theme is extremely suitable for building shops and offers so-called starter sites for all elite page builders. Astra makes a great combination with the Elementor page builder.
Brainstorm Force: Starter Templates


Brainstorm Force offers a fantastic package of 180+ Starter Sites for a small additional cost. These are beautifully styled demos that can be installed with 1 click. There are demos for all niches and practically all known page builders. This is a great collection and a must for professional web designers to save tons of time. Read more about the Starter Templates here.
Brainstorm Force: Schema Pro
Schema Pro was Brainstorm Force's first product in 2013. Schema Pro was so popular with the public that the product allowed the company to become known on its own. Schema Pro gives all your pages and posts Rich Snippets on autopilot so that you are better found in Google and also promoted more by Google. Google loves rich snippets! Schema Pro still ranks as the top plugin for rich snippets today. Read more about Schema Pro here.
Brainstorm Force: Convert Pro
In this Brainstorm Force review we should definitely also talk about Convert Pro. This plugin is also the best of its kind. If you are looking for more conversion and/or subscribers, this plugin is just for you. Get instant calls to action anywhere on your site in the form of popups, forms, and info bars. Learn more about Convert Pro here.
Brainstorm Force: Ultimate Elementor Addons
With Ultimate Elementor Addons you instantly have twice as many widgets in your Elementor page builder. This is one of the better plugins to complement Elementor. In addition, you also get access to 90+ of the Brainstorm Force Starter Templates. Learn more about Ultimate Elementor Addons.
Brainstorm Force: Ultimate BeaverBuilder Addons
Is the BeaverBuilder your favorite page builder? This plugin provides you with 70+ extra widgets in your page builder. In addition, hundreds of row templates, page templates and more. The plugin can be used on as many sites as you want. Learn more about Ultimate BeaverBuilder Addons here.
Brainstorm Force: WP Portfolio
The Brainstorm Forece Portfolio plugin is again the cream of the crop in its class. It seems like everything this company produces reaches the top. The plugin comes with dozens of demos that you can import into your website, but also with complete demo websites for dozens of niches. The choice is yours. Read more about WP Portfolio here.
Brainstorm Force Review: Conclusion
This is my closing opinion of this Brainstorm Force Review. You will have already felt my enthusiasm while reading it. Each of these 7 plugins is great, without exception. They are all for sale separately, but I think that would be unwise. Brainstorm Force offers very affordable packages where all or some of these plugins come bundled at very attractive prices.
Elegant Themes vs Brainstorm Force Conclusion
You have come to the end of my Elegant Themes vs Brainstorm Force comparison. These are 2 of the best companies out there in web design products. Not only are their products first class, but they also offer perfect support and are very honest. That is why these companies score above 4.9 out of 5 on independent rating sites. As far as the products are concerned, it's sort of a Divi vs Astra. There are many wonderful features in Divi and the DiviBuilder. Astra is more minimalistic but offers perfect demos for all page builders and works perfectly with Elementor. I rate both packages equally highly. Professional desginers would do well to have both of these packs in their arsenal.