Divi vs Beaverbuilder comparison [2023] 💥
DIVIBUILDER (Divi vs Beaverbuilder)
Divi is the best-selling Wordpress page builder ever...

This Divi-Theme review for [2023] shows you the latest improvements and the eye-catching features of Divi. We're not going to give boring bullet points and lists of options that can be found on the Elegant Themes website although I noticed that they also try to keep their site as exciting as possible, and of course that the Divi website is a true work of art...
Advertisement


DIVI ADVANCED GRADIENTS
Let's start with the 2 newest features that show Divi has the best stuff by far. Anyone who has worked with Photoshop, Corel or similar photo editing programs will know how to build gradients in all the colors of the rainbow. The same is now in Divi called Advanced Gradient Builder, the feature offers unlimited possibilities in terms of gradients. There is of course no theme that has this at the moment, although they will certainly copy it. They do that with everything Divi invents.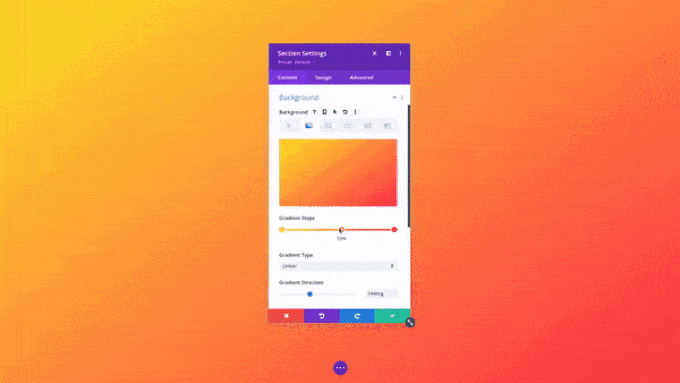 DIVI LAYOUT CLOUD
And we will immediately continue with the next feature that has no other theme. The feature is called Divi Layout Cloud. It allows you to instantly use sections, columns, complete pages, images, videos, audios, and anything else you put in the Cloud while you work on any websites you have. The time savings that this feature brings is unprecedented. An absolute must for every professional web designer and certainly design agencies.

DIVI WEBSHOPS

Divi 1-click demo lay-outs

Watch a video right here on how Divi's Woocommerce-Builder proceeds. A decent theme has fantastic options to create a webshop with it and that is more than the case with Divi. The theme gives an incredible amount of options to customize product and category pages by means of the WooBuilder and the WooModules. View here all 229 different Divi-demos (1685 templates). Insane numbers!
The Divi demo library contains many beautiful shop layouts that you can install in your project with 1 click. Complete styling of your shop is really a piece of cake with the WooBuilder. Everything can be adjusted very quickly at the front-end. All available demos were of course made with the Divibuilder discussed below, along with Elementor Pro considered to be the best page builders out there.
DIVIBUILDER (Pagebuilder)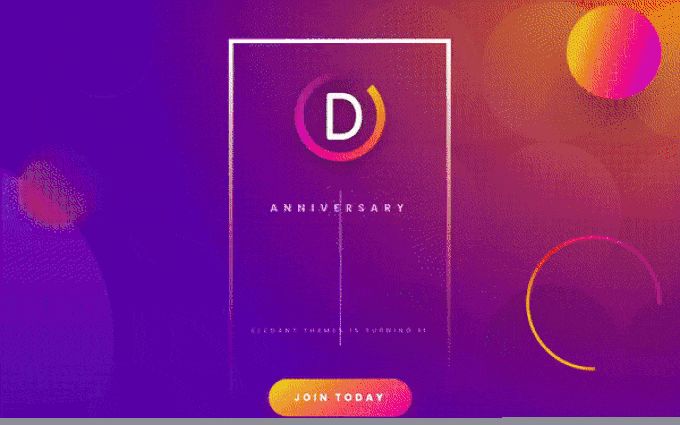 The DiviBuilder is the perfect page builder for Wordpress and an absolute pleasure to work with. The page builder works very precisely, which means on the website itself it looks just like where you are working. Everything you want to use such as elements and effects are easy to find and you can build pages very quickly with it.
If you purchase Divi, the DiviBuilder is also included as a separate plug-in in your package and can be used in other themes. Test the DiviBuilder right now on the Divi website click the purple "Try it for free" button at the top.
DIVI SPEED

In the meantime, no theme wants to lag behind in terms of loading times or speed, as Google attaches more and more value to it. Divi recently received a speed upgrade and has become one of the fastest loading themes available for Wordpress. Unbelievable that 1 theme can beat all other themes on all fronts... Watch here a video and more information about Divi's Speed Upgrade.
DIVI EFFECTS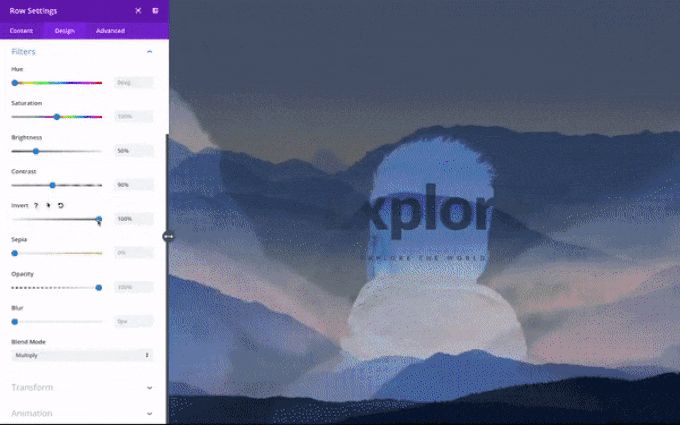 With Divi Effect, images can be tuned at lightning speed. Change the exposure, colors, invert the image, apply sepia colors or make the image transparent (percents can be set). Changing images in Divi and not in a PC program ensures that your image remains undamaged and can be further modified quickly at any time. We give 10 points for this tool in this Divi Theme review.
DIVI TRANSFORMS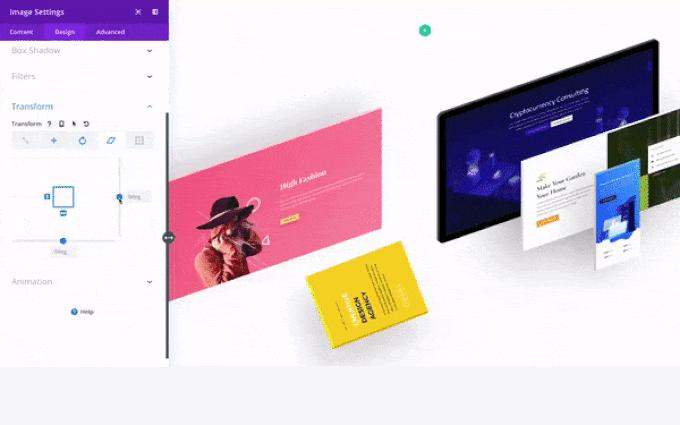 Watch here a video and more information about Divi's Transforms here. With Divi Transforms practically everything is possible on texts and images, rotate, mirror, skew object just like in Photoshop's "CTRL+T". A fantastic tool that has no other theme as far as I know.
DIVI SHAPE DIVIDERS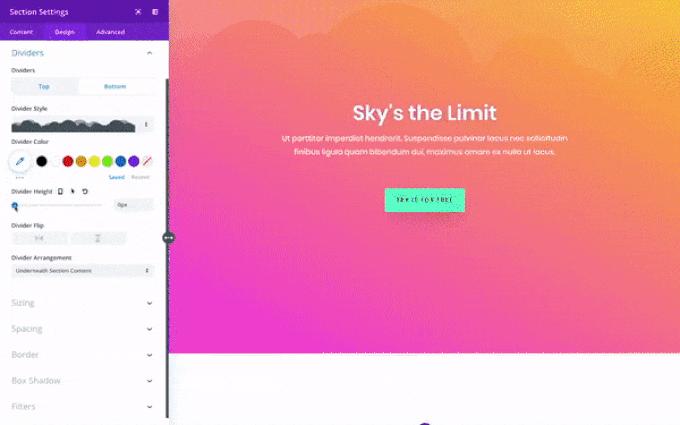 This feature really makes your website shine, the competition will be jealous of your site. It used to be quite a challenge even for professional web designers to get such shapes into blocks. This is no longer the case with the DiviBuilder, because anyone without technical knowledge can now do this with the greatest of ease, including you! Watch here a video and more information about Divi's Shape Dividers.
DIVI BULK EDIT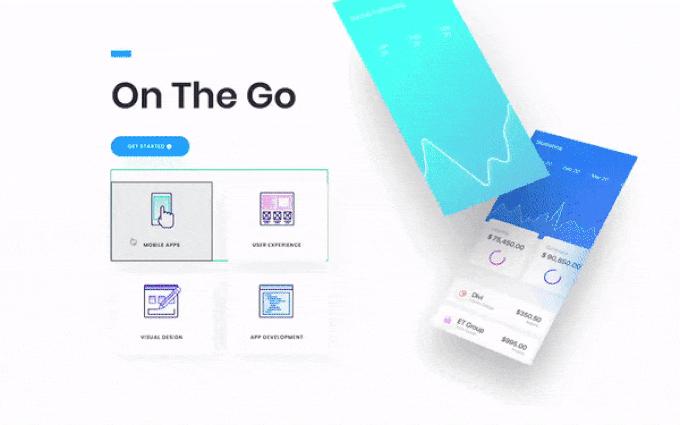 Colleagues who have been building websites for years also remember how we used to repeat actions endlessly. If you had 6 blocks that you wanted to change the style of, you had to work 6 times. That is no longer necessary with Divi's Bulk Edit, you can make the adjustments for all 6 blocks at the same time. This feature saves you an incredible amount of time. Watch here a video and more information about Divi's Bulk Editing.
DIVI DROP SHADOWS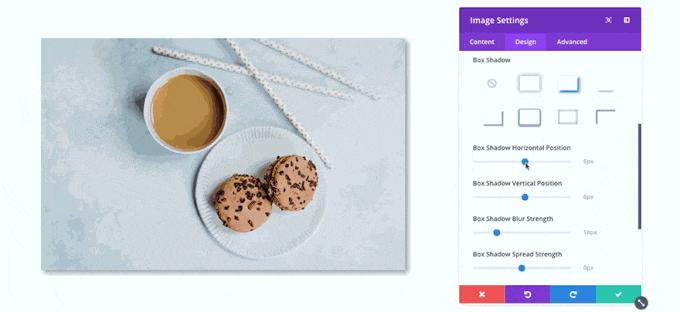 You no longer need Photoshop to create shadows for images. Photoshop is not only a very expensive program but also takes much longer than Divi's Drop Shadows. Another advantage is that the original image remains intact and additional styles can be added later or the shadow can be adjusted if necessary. Watch herea video and more information about Divi's Drop Shadows.
DIVI SPLIT TESTING

Every business wants as many leads and conversions as possible, so they regularly try to improve pages to get more out of them. However, Divi Leads makes it a lot easier for you. You can create as many different versions of a layout or text as you want. These are then presented alternately to your visitors. Divi keeps track of the statistics for you which versions score better. Watch here a video and more information about Divi's Split Testing.
Divi and the Divibuilder have so many gadgets and options that I could make the page of this Divi Theme Review 3x as long, but the best is to have a look here at the Divi Website and see the rest there.
DIVI REVIEW: PRICING
At Divi you do not buy a theme, but a membership. This membership gives you access to 86 premium themes including Divi and a number of top plugins and a library of images. In terms of price, this certainly makes Divi more interesting than other themes, since it is only slightly more expensive per year than an average other theme. These "other themes" usually only provide support for half a year, which in my opinion is very little. After that, you usually pay a lot to get extra support.
If you can spend $249 one-time, you have the complete package for life with lifetime support. Especially for companies with a few websites, this is by far the most interesting solution as you will never need anything else to build perfect websites. Using this link you'll get at least 10% discount.
DIVI REVIEW: SUMMARY
I'm going to keep it short and sweet here in the conclusion of this Divi theme review for [2023]. With Divi you get value for money, it is a well-oiled machine for building websites from the ground. Divi has no weaknesses or shortcomings. Regardless of whether you are creating a webshop, a corporate website or a private site, you will always be delighted that you have purchased Divi. Join the 806,875+ members they already have, you won't regret it.
Divi offers a one-month money-back guarantee, so if you don't like it, you can always ask for your money back. Other themes do not give you this, but Divi knows that you will be satisfied.
Visit Divi
In this Beaverbuilder review we take a look at why this page builder is so popular that it is used by more than a million people. From my own experience I already know that Beaverbuilder has one of the nicest and best support departments among page builders. You will be offered a solution for every problem that you might encounter live, by ticket or e-mail at lightning speed.
The Beaverbuilder page builder can be used in any theme, but also offers its own theme as the perfect theme to start with. The video below explains how you can make a good theme choice yourself. The best theme for Beaverbuilder for me is Astra Pro with many ready-made designs for the page builder already in it.
Building Blocks
Just like most page builders, with Beaverbuilder rows and columns are the main building blocks for building your pages. For each row you create, you immediately specify how many columns it should contain. The same also applies to the modules, as with all good page builders you place the modules in the columns.
You have call-to-action buttons, timers, countdowns, photos, videos and all the standard material you are used to for styling your page. Everything goes through the front-end and it's just nice to work with Beaverbuilder, although it is a bit slower than with the Divibuilder for example.
Wonderful features are, for example, having global rows that apply site-wide. If you adjust this, it will change on all pages where you have such a row in use. So you can save your building blocks and reuse them later on other pages.
Premade templates
Apart from the many modules, Beaverbuilder gives the possibility to use 2 different types of ready-made templates, content pages and landing pages. Under the landing pages, you'll find templates for shop pages, landing pages, homepages, newsletter subscription pages, and upcoming pages.
As for the content pages, here you will have access to "About us" pages, Contact pages and Service pages. You can also create your own template and save it of course. You can also style these yourself with the Beaverbuilder Front-End Drag and Drop system.
Beaverbuilder SEO
Websites made with the Beaverbuilder have good SEO by default and have no CLS and LCP problems according to the standards of Google Core Web Vitals. The pages also have very fast loading times. These are all Google ranking factors that bring a higher turnover through better findability.
Beaverbuilder Desktop, Mobile and Tablet
Of course Beaverbuilder is 100% responsive, but that's not all. You can adjust the exact settings live in the editor for the display on all these different devices.
Beaverbuilder with WooCommerce
With Beaverbuilder you can build pretty cool webshops without any technical knowledge. That said, I mean it can't compete with purpose-built themes like Astra or Ocean-WP. What is of course a top solution, is to combine Beaverbuilder with one of these two themes. It works perfectly with both themes.
Beaverbuilder pricing
Beaverbuilder is always bought for an unlimited number of sites. The prices are determined by a number of extra features such as access to their theme and white labeling.
Beaverbuilder Whitelabeling
Web design companies often find it cool or useful to present their own logo in the backend instead of the Beaverbuilder logo. Thus, you do not see that you are dealing with Beaverbuilder, but the software seems to have been built by the company itself. Other nice features of the page builder are Google fonts, SEO optimized, header and footer builders, great forum and support.
My advice regarding Divi vs Beaverbuilder
First off, thank you for reading my Divi vs Beaverbuilder review to the end. Both page builders are very popular and do their job more than well. It is clear that Beaverbuilder is a lot easier to work with than Divi. This page builder is therefore very suitable for absolute beginners. Divi isn't too hard to understand either, and there's a lot more to it than Beaverbuilder. It has everything and it all works like a charm. The best choice is definitely Divi, especially considering that Divi is also cheaper.