Divi review 2020 🥇 The best theme for WP?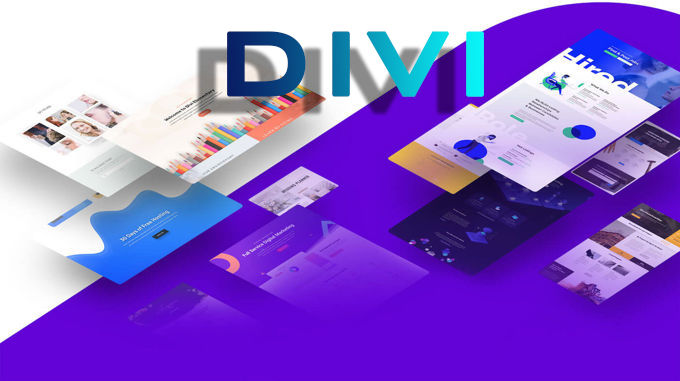 In this Divi review we discuss the latest improvements of Divi. The makers of this theme, called Elegant Themes can be particularly proud of this product because it scores better than any other theme, regardless of which CMS.
This multifunctional premium theme can be used for any purpose. The same goes for creating web shops because this theme works 100% with Woocommerce. Divi lets you quickly and easily build and modify all possible pages through its front and back end editor. After each upgrade, Divi is always more impressive and leaves the competition behind.
Divi Review 2020
Divi has been sold more than 650,000 times in the meantime, an impressive performance to say the least and it certainly doesn't end there. Elegant Themes built a theme with an amazing page builder that excels in diversity, versatility and precision.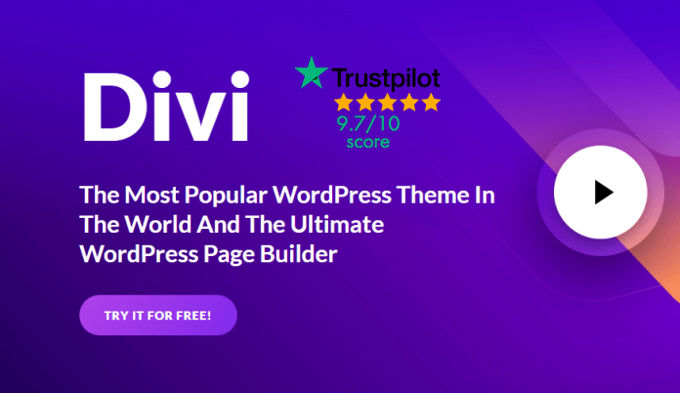 When Divi came on the market in 2013, it immediately achieved great results and was continuously improved with version 4.0 until 2020. At the moment, Divi is the most popular Wordpress theme for web builders, but also for people who just want to create one or two sites. There are many different page builders for Wordpress, but in principle there are only two or three that can be compared with Divi.
Divi Themebuilder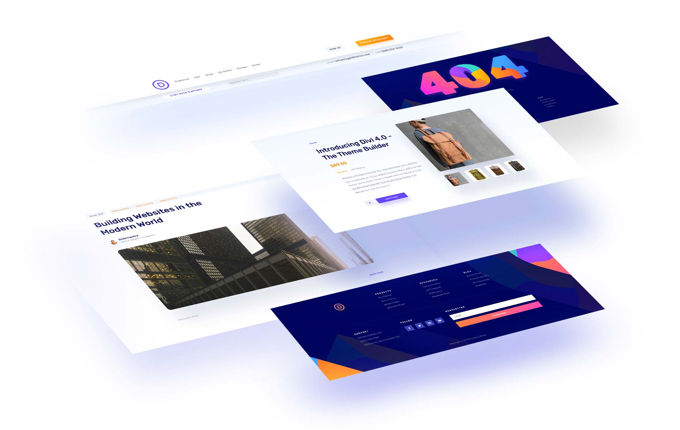 From version 4, Elegant Themes is talking about a theme builder and not so much about page builder. We have known DIVI since version 2.7 as one of the front runners in the field of front-end page builders. A great working tool that can edit any part of your websites. Pages, posts, 404 pages, search pages can be exported and then imported and used in other websites. This also applies to complete footers and headers and many other parts of your site.
Woo Builder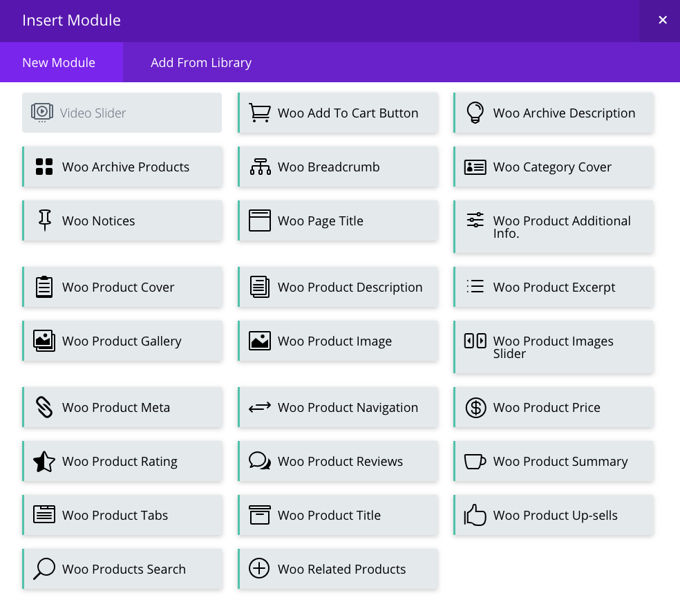 In our Divi review we must certainly mention that since version 4.0 of Divi product pages and category pages of the popular e-commerce plug-in for shops Woocommerce can be styled completely. This so-called Woobuilder requires 0 knowledge in the field of HTML and CSS. This used to be necessary in the past to be able to adjust these types of pages.
Divi drag & drop visual pagebuilder
With Divi's drag & drop pagebuilder you can quickly build new pages. This page builder has meanwhile made a name for himself in the theme world. Since the latest version 4 of Divi, this well-arranged and precise page builder has improved. It can be compared with that of ELEMENTOR, but it is about to end there.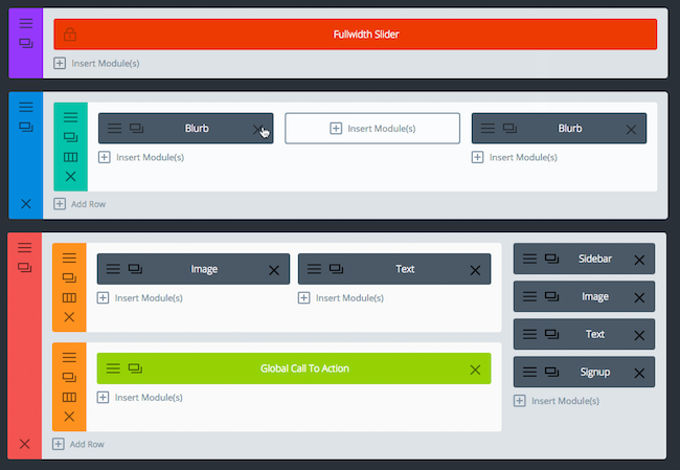 With the front-end WYSIWYG pagebuilder you always have a live preview of your work. So you immediately know what it will look like on the website. In addition to 600 fonts that you can use, you can actually move everything and click to make changes.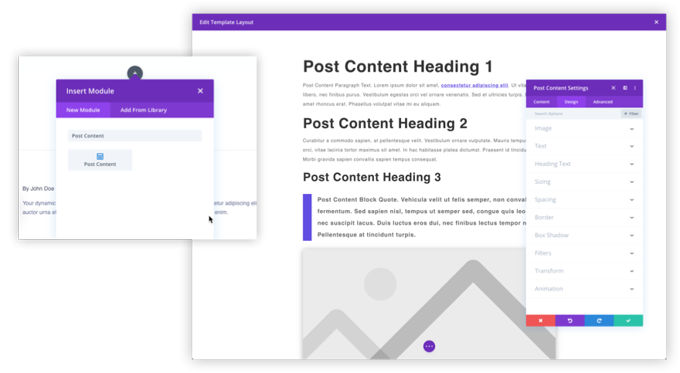 Items, columns and sections can be created or moved effortlessly. Most of these can be scaled up with the drag of your mouse. Once you get used to this editor you probably don't want anything else. You can put exactly on paper what you intended.
Divi history editor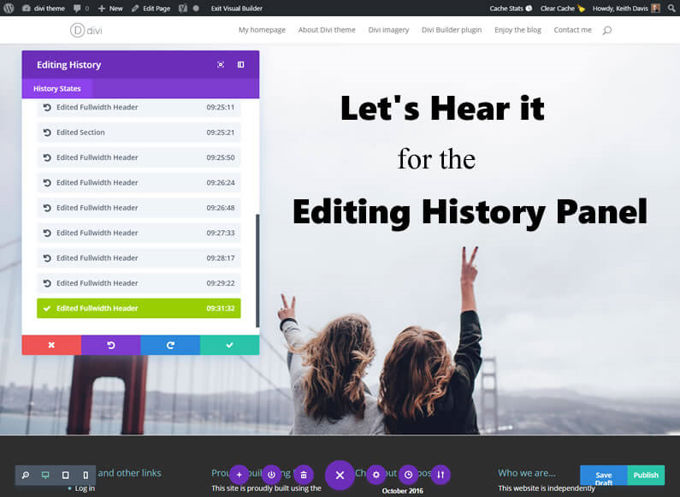 Just like ELEMENTOR, Divi has a history editor that, just like the original Wordpress revisions, lets you go back to earlier versions of your work. Both page builders have this option built in since this tool can do much better than Wordpress did.
Divi content modules
Of course you have all standard content modules available such as buttons, text, photo galleries, images and the like. In addition, sliders, price tables, sliders, reviews, portfolios and much more so that you do not have to install extra plug-ins for this. Product presentation, single products and the like from Woocommerce can also be used easily.
Divi review: Pre-made layouts and templates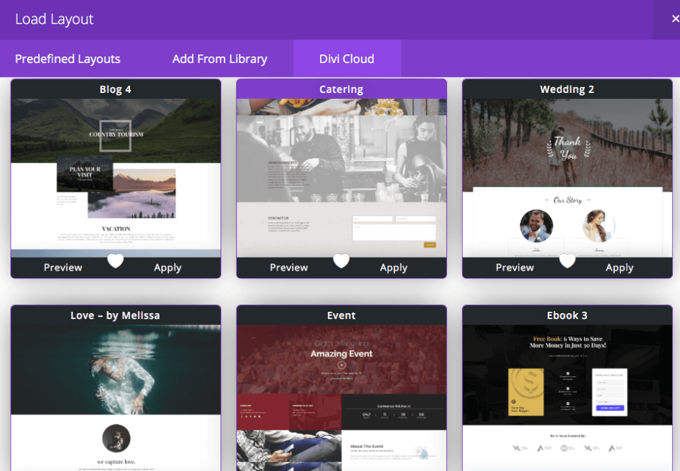 Through the Divi-builder you have access to more than 800 of these pre-made layouts and more than 100 complete site demos. There are always more added with every new upgrade. You can use it anywhere on your website. You save a lot of time by starting your website with a ready-made layout.

After the installation of pre-made packs or layouts, you can start using the Divi-builder to indicate your own house style here, to add your own texts and your own photos. This way you can quickly build a complete website. Don't forget to save your layouts to be able to reuse them.
Kant-en-klare portfolio lay-outs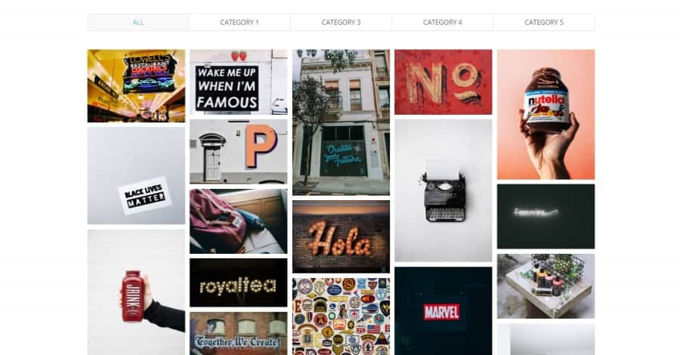 Present your work in one of the beautiful portfolio styles that Divi offers. Divi offers a large number of beautiful styles ready to be used by you. The writers of this Divi review are impressed. Elegant Themes often announces new layouts in their blog.
Open-source images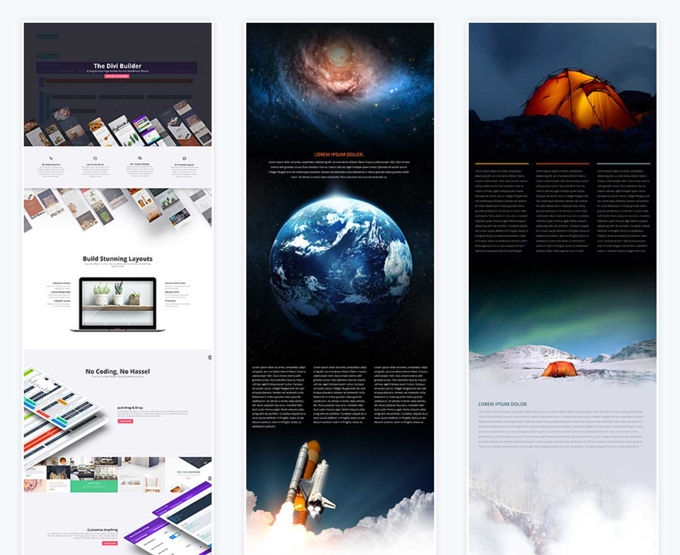 Divi has a library with photo material that can be used freely, so open source. Many themes have beautiful photos in the demos on their site but after installing them your website is full of dummy photos that are of no use to you and that you will have to replace. The complete look of the demo has disappeared, of course, since good photos give a top design. At Divi you can use the photos on your website.
Divi leads split-test tool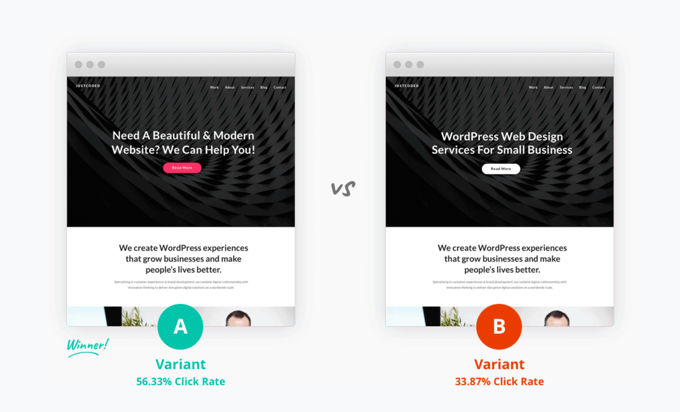 This is a unique tool with which you can present different layouts, texts, buttons and everything else you want to your audience. The purpose of this is to find out which version provides a better conversion. In this way you optimize your website fairly quickly for an ever better conversion, although this is of course fairly time-consuming to always make extra designs for everything. With different texts or buttons, however, you are quickly ready. Our Divi review gives 5 stars to this tool, I do not believe there is another theme what this has.

Divi Leads makes guesswork disappear, from now on you know for sure what works better with this A-B test tool. This tool is particularly interesting for affiliate marketers and SEO specialists and of course for anyone who wants to earn more money with his website.
Theme options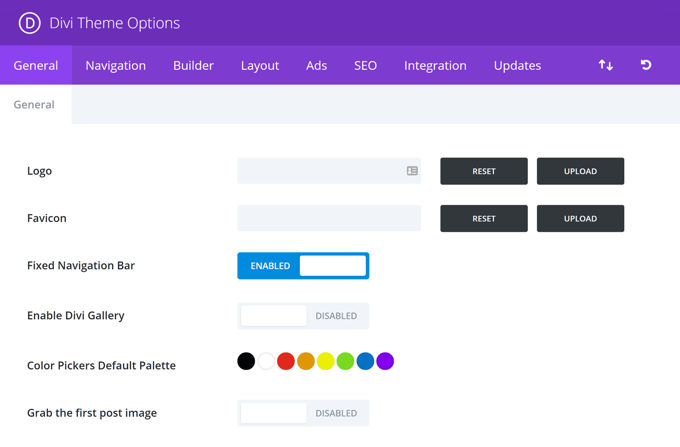 All theme options at DIVI have their own panel. Everything has been thought of, practically everything on your website can be set here. Practically all self-respecting themes have such a panel, but Divi is very comprehensive and yet well-arranged.
Transferability between different websites
For people with multiple sites or professional web designers, it is important to be able to work quickly and with ease. Here Divi comes out really well. With Divi, it is extremely easy to export complete designs, settings, pages, footers, and practically everything else you want from one site and import it into another. It is never necessary to perform a task multiple times, you simply copy your work to the following website. This saves time and effort.
Divi membership fees
A membership at Elegant Themes costs you $ 89 a year, if there are offers, it will be even cheaper. You not only have access to it with Divi, but also the great magazine theme the Extra Theme and 86 other top themes. Also included are many plug-ins and fitting material.
Even more interesting is a lifelong membership for $ 249. You will never have to pay again and with Divi plus all other themes you will no longer need any other themes in the future. With the 30-day money-back guarantee, you can try Divi for a month without risk.
Divi conclusion
This Divi review is coming to an end. It is clear that Divi is more than worth its money, regardless of whether you pay annually or for life. Tastes differ but many agree that there is no better theme to justify the many Divi sales.
To the Divi website!