Divi Pagebuilder vs Thrive Architect [2021]
In this Divi vs Thrive Architect comparison we discuss the latest improvements of both page builders. Both makers of these page builders have brought an extremely good selling product to the market. There are a few more good page builders, but here we compare 2 toppers in the list of best page builders for Wordpress.
The strengths of the Divibuilder of Elegant Themes are without a doubt the ease with which you can work, the versatility of modules that you can use, the ability to export and import parts of websites into other websites. Other notable points are the use of open source photos in the ready-to-install demos, the beautiful demos themselves, but also the history editor (which Thrive also has), the new Woobuilder and A-B testing. Divi has so much that I am probably forgetting something now, but be patient because I will return to everything in detail in a moment.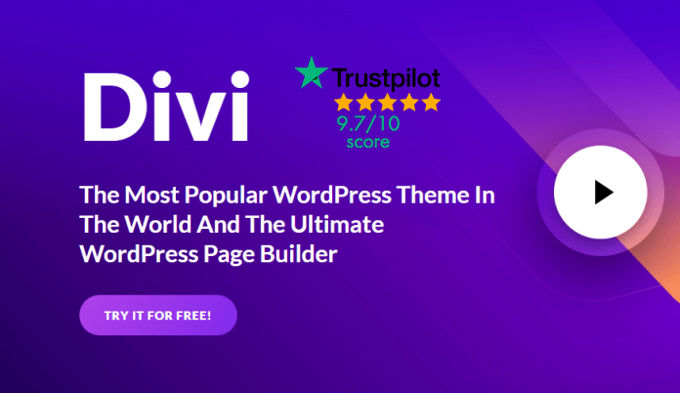 Divi is a bestseller theme with one of the best page builders that one can find. If you become a member of Elegant Themes, you can randomly choose the complete theme with pagebuilder or use the pagebuilder in any theme because the DiviBuilder works flawlessly in any other theme. The Divi page builder is suitable for laymen to professionals and everything in between. The page builder works very precisely in both front and back end. There are a lot of options and modules that you can use, but this is not a problem for beginners, you don't have to use them all, people learn by doing.
Divi Theme builder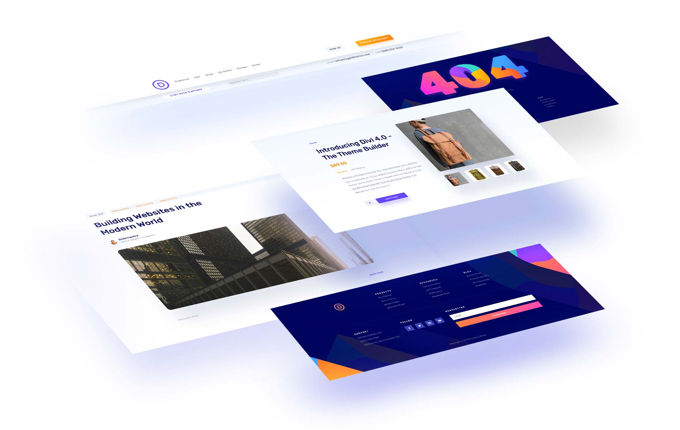 Starting from Divi 2.7 THE DIVI BUILDER already had a front-end front-end page builder which has been continuously improved to this day. Now with version 4 we are also talking about a theme builder since everything can now be adjusted, saved, exported and imported. Think of complete pages and posts of every type (404, portfolio, footers, headers and the like).
Other top Pagebuilder
The Divi drag & drop page builder, just like that of ELEMENTOR, creates new pages and posts for you in an easy and clear way. These page builders are known in the theme world as the cream of the crop. Here we compare these two top page builders in an article.
Divi 4.0 Review video
To quickly get an impression of the improvements since Divi 4.0, it is a good idea to quickly watch the video below, which takes 4 minutes.
Divi vs Thrive: Drag & Drop
Elements can be dragged within the editor using drag & drop, sections can be scaled (also with your mouse) and so you quickly build the layout for your page that you had in mind. (shown in video)
Divi Fonts and Text Styling
Being able to adjust more than 600 different fonts in every possible way? This is possible with the Divi text editor. Almost as many options as in a program like Photoshop. There are more page builders with good editors, but the Divi editor is the crown here.
Woo Builder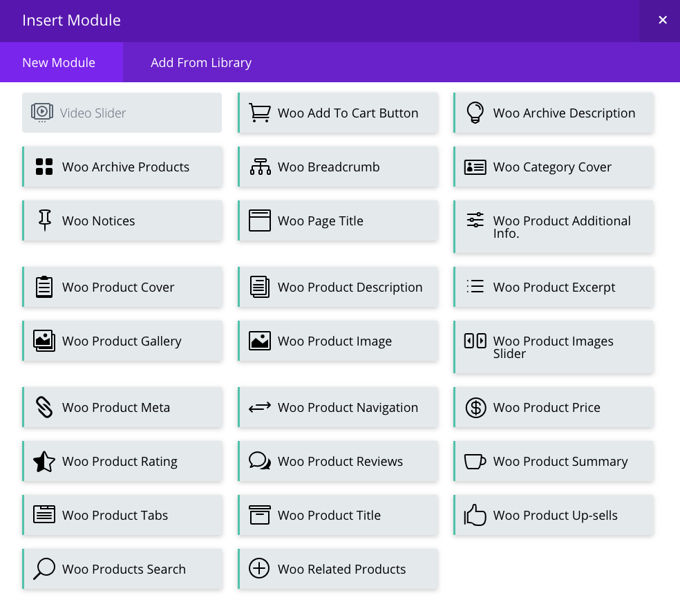 A problem in the past when creating shops with Woocommerce was always that one had to have a good dose of HTML and CSS knowledge to style the pages, buttons, prices, etc. exactly as they wanted to see it. With the new WooBuilder in Divi that is no longer the case. The page builder can be used for this with zero coding knowledge.
Live preview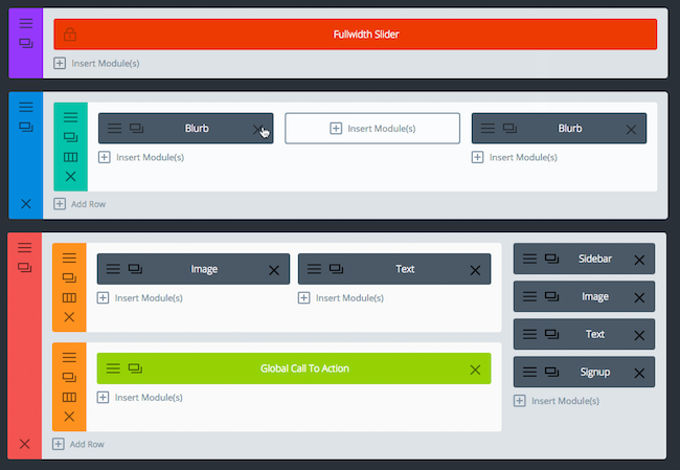 The Divi WYSIWYG front-end page builder gives you a perfect picture of what your site will look like via a live preview. Apart from the fact that with this page builder you can click and drag everything such as sections, columns, but also all modules, you have access to no less than 600+ Google fonts. Of course, unique fonts can also be entered, but that seems hardly necessary to me with so much choice from different fonts.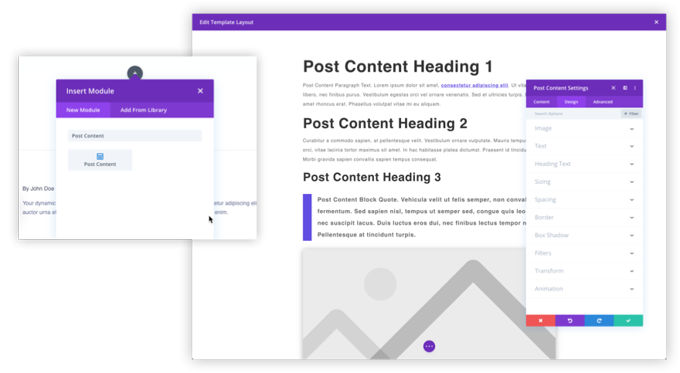 Divi revisies editor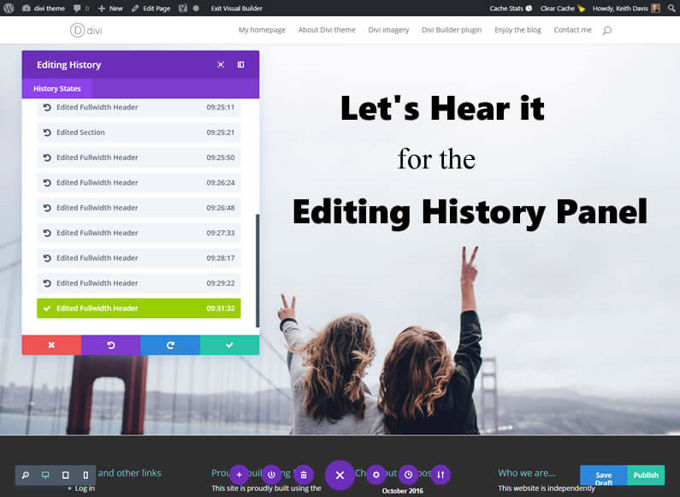 The top page builders are not satisfied with the standard Wordpress revisions editor and Divi has had its own system for this, which indeed works much better. You can use this to go back to previous versions of your work. The Elementor pagebuilder also has a revisions manager.
Divi content modules

Of course you have all standard content modules available such as buttons, text, photo galleries, images and the like. In addition, sliders, price tables, sliders, reviews, portfolios and much more so that you do not have to install extra plug-ins for this. Product presentation, single products and the like from Woocommerce can also be used easily.
Divi pagebuilder vs Thrive architect review: Pre-made layouts and templates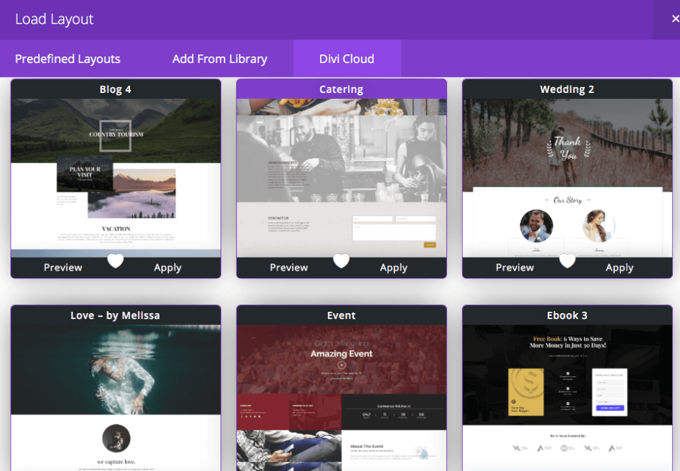 Divi offers you more than 800 ready-made pages and 100+ complete website demos. You can use this unlimitedly and combine with it. By working with ready-made material you save a lot of work. Nowadays, all premium themes offer these ready-made layouts and sites. For example the Be Theme is very extreme here and offers no less than 550+ complete demo sites and wins a big win in this area against both of our candidates here.


Install the demo material you want to use with a few simple clicks and then start to give it your own branding by replacing the texts and photos and adding other own items such as videos, logos and address details. In no time you have built your own website that you can save in the back-end or export to your PC so that you can never lose your work again.
Ready-made portfolio lay-outs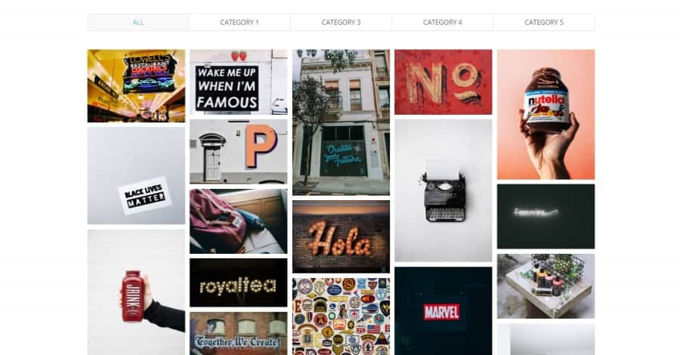 Present the work of your company in one of the beautiful portfolio styles that Divi has to offer. Divi has a good number of ready-made portfolio layouts that will make your presentation stand out well. Elegant Themes always announces new layouts on their blog in advance. In our Divi vs Thrive Architect comparison, Divi scores better here.
Open-source images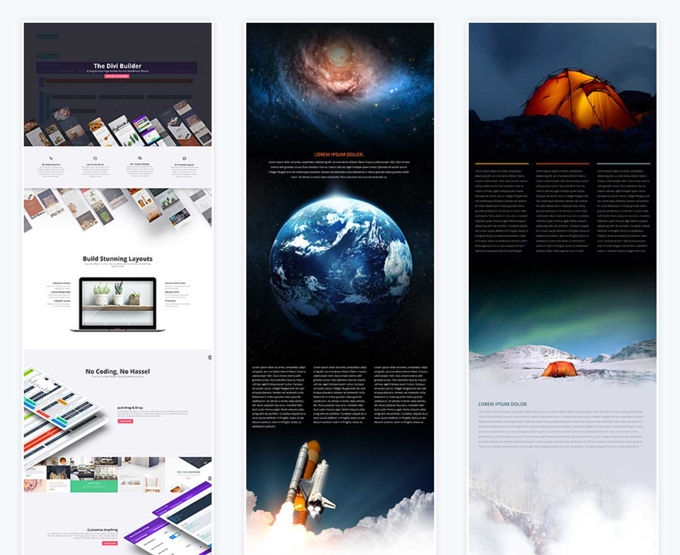 Open-source photos means that they can be used freely. If you install a demo at Divi, it contains the same photos as the photos in the demo on their website. That is certainly not the case with all themes today. If you really have to replace all the photos, it will take a lot of work. Divi also has a library with photo material that you can use to make an extra effort.
Divi Leads AB-testing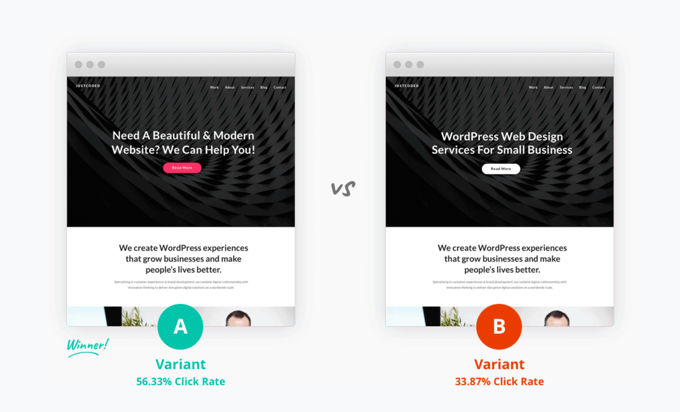 As far as I know, Thrive Architect is the only page builder that offers a split test tool alongside Divi. In the case of Thrive, you do pay extra for what is not the case with Divi. With this tool you create 2 different versions of pages or parts of pages, texts or buttons. These are then displayed alternately to your audience and after a short time you can see which of the 2 versions has a better effect. An unmistakable tool for SEO specialists and companies looking for a high conversion. Both page builders therefore have this tool.


Divi Leads is also very popular with affiliate marketers because conversion is at the top. If you have a blog with advertisements on which you are commissioning, this tool can considerably increase your monthly turnover. Speculating what works better is a thing of the past, Divi Leads simply gives you the hard facts.
Divi: Theme options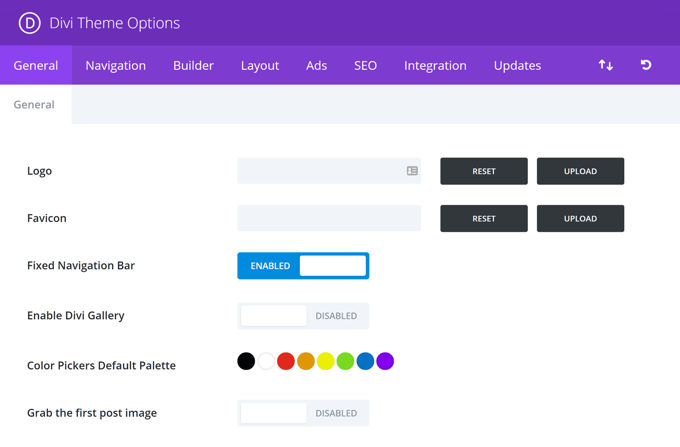 The theme options have at DIVI a completely own panel. Everything has been thought of, you can't think of it that way or you can set it here. All premium themes have a similar panel nowadays but Divi takes the crown in terms of versatility.
Export/import between different websites
This function is a way for people with multiple websites or pro-web designers not to have to do work over and over again. With Divi you can install complete designs, settings, pages, headers, footers, and everything else you want to copy at lightning speed on different websites by means of exporting and importing the items.
Divi prices for a membership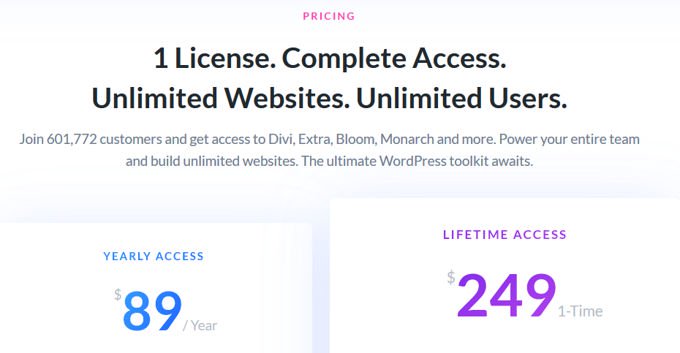 An Elegant Themes membership costs $ 89 a year, sometimes there are offers then it is slightly cheaper. You will not only get the Divi Theme for this, but also the great magazine theme the Extra Theme plus another 86 premium themes from their collection. Also included are plug-ins and PSD material.
A lifelong membership for $ 249 is what many people use. You will then pay nothing for the rest of your life and have unlimited access to all future upgrades and support. The 30-day money-back guarantee gives you the opportunity to try Divi for a month without running any risk.
Visit Divi website!
In this Divi vs Thrive comparison we will now discuss the fantastic features of the Thrive Architect. Although the Thrive Architect is one of the newest page builders on the market for Wordpress, we must of course not forget that the page builder originated from the Thrive Content Builder plugin that had already made a name for itself. Thrive Architect is just like Divi a front and back-end WYSIWYG drag and drop editor.
The Thrive Architect user interface
Thrive Architect works perfectly with all possible Wordpress themes and is basically not just a page builder but offers 200+ demo layouts that you can import to use as a start for your website, we will come back to this later. Professionals are very enthusiastic about these page builders but also every starting website builder must be able to handle this page builder very quickly.
The user interface is very precise and well-arranged. Everything feels smooth and your worksheet is your entire screen, if necessary the content bar on the left can also be collapsed. With Thrive Architect you can build pages, home pages, posts, landing pages and other content at lightning speed.
Content items can be picked up from the sidebar and placed on your worksheet in the columns and sections. You can then pick them up again, drag them to another location or scale them. You have one of the best inline text editors with Thrive.
The best inline teksteditor
Many page builders have a text editor where you write in a screen what is then moved to the worksheet but with Thrive you write the text immediately where it will be. This works much nicer and faster and in this Divi pagebuilder vs Thrive Architect review we must definitely give the points to Thrive for the best text editor.
Mobile preview
Thrive shows you very sharply via the Mobile preview mode how your website will look on both tablet and mobile. Another nice feature is that Thrive will regularly remind you to save your work. Always a good idea of course.
Revision manager
Thrive Architect has just like Divi and Elementor a revision manager with which you can undo your work. Unique is that with Thrive you can use the undo and redo buttons on your keyboard to take small adjustments a step back. Conclusion in this review, the Thrive user interface can withstand the best pagebuilders and even has a few unique top features.
De Thrive Architect options and settings
Clear options menu
In the image above you can immediately see how much control you have over the module you selected. Just like with the Divi Pagebuilder, with Thrive there is nothing short of options, everything has been thought of. At the top you will see a menu that shows specific options. A lot of searching for the option you need is no longer needed that way, everything is found quickly.
Side menu advanced options
By clicking on "advanced" in the menu at the bottom, several additional options appear. Depending on the element you clicked on, these options are different. But think, among other things, of responsive settings for mobile, tablet, margin and fill properties, animation effects and much more.
Text animations review
Add beautiful text animations in the simplest way. The operation for it is easier than with all other page builders that I know included Divi, Avada, Elementor and BeaverBuilder.
De Thrive Architect page elements
Thrive Architect offers a large collection of elements that you can add to your pages. All of these elements can in turn be fine tuned. In all elements you will find a great emphasis on conversion, many call-to-action options. Thrive consciously helps you achieve more sales, a wonderful tool and stands out above other top page builders in this regard. The widgets of other plug-ins in your website can also be displayed via the Thrive page builder.
Ready-made demo pages
The Thrive demo library has 200+ ready-made pages with beautiful designs. Many of these, just like the content modules, have a strong focus on conversion and call-to-action, of which we give you a few examples below.
Despite the fact that there are certainly standard company pages and normal landing pages in the library, it is certain that Thrive Architect must considerably expand its library. It should have at least 50 complete site demos and 300 demo pages to offer a good selection of 1-click designs to be installed as other top page builder / themes have.
Thrive Architect prices
The Thrive membership (25 sites) costs you $ 228 a year. For 5 sites you pay 97 dollars per year and for a single website 67 dollars. We can already say that the prices are on the high side compared to other top page builders and certainly with the Divi Theme which is very reasonable with its prices compared to the material you get for your money.
Divi Theme vs Thrive Architect Conclusion
First of all thanks for reading this Divi vs Thrive comparison till the end. The page builder itself that Thrive offers is better than Divi's in a number of areas, but the supplied material that can be used is (still) substandard unfortunately. The inline text editor that Thrive offers will soon also offer Divi an upgrade as well as other facets that we found better about Thrive. So if you buy a lifelong membership at Divi that they offer cheaply, you will be (much) cheaper. If you only want to purchase one of the 2 then I would definitely recommend DIVI. As a web designer I prefer to have all top page builders available, but that will not be necessary for most of you.
Both page builders also offer a 30-day money back guarantee. So you can try them both and then draw your own conclusions as to what is best for you.
Using our link you ALWAYS get 20% off on the Divi Theme!