Brizy vs Gutenberg Pagebuilder [2021]

Today we are going to compare Brizy vs Gutenberg for [2021]. In this review it quickly becomes clear which is the better page builder. Both page builders have both a free and a pro version. I'll start with Brizy without it meaning it's better.

In this Brizy review, we take a look at how Brizy only since April 2018 has had a rapid rise to one of the better page builders of the moment. The Brizy page builder currently has more than 50.000+ active installations on Wordpress websites. Brizy is available both for free and in pro version and already has more than 400+ professional layouts that can be installed with 1 click.
Brizy Pagebuilder review: Woocommerce
Brizy has been perfectly prepared for a while now to build webshops with the Woocommerce plugin. I start with this theme because it is interesting for many people. Understand that in principle you should not compare Brizy with a page builder like Divi, it is still too young for that. However, Divi doesn't come as a free version, so if you don't want to spend money, you'll need an alternative like Brizy, Elementor, or Beaverbuilder. However, to use Brizy with Woocommerce you need the pro version. Check out the quick video below to see how Brizy handles Woocommerce.
Brizy Review Elements
The elements are of course the building blocks next to the rows and columns, and are therefore very important for the construction of your website. The number of elements is not really impressive at the moment, but because the page builder is still so new, we condone that. In each new upgrade there will be more and more elements. This page builder has a future in my opinion.

Brizy Review Pop-Ups
For pop-ups, one always had to purchase an extra pop-up plug-in. Those times are a bit over since the top of the page builders has pop-ups in it as standard. Brizy immediately belongs to this group, even though the page builder has been around for just over a year.

Brizy Pagebuilder review: Headers
Many themes offer this option and offer many different out-of-the-box header designs. Brizy Pagebuilder also offers you this option, which can come in handy if you are using a very minimalist theme that does not have this.


Brizy Pagebuilder review: Footers
What I said above with the headers also applies here. It should actually be in your theme. But if you use a free theme or a very minimalist theme that does not have this, Brizy can also adjust your footer styling very quickly.

Brizy Pagebuilder review: Padding
Padding is often something that takes a long time to get it perfect. With Brizy, this becomes super easy, as you can just drag the margin to the side to create padding. This is a great feature.

Brizy Pagebuilder review: Sliders
There is a very good Slider plugin in Brizy by default. The plugin has innovative functions and buying a Slider plugin may therefore be unnecessary. I must honestly say that I only work with Slider Revolution when I want to build a serious slider. The Brizy slider also has the special feature that you can turn any existing block into a slider as shown below.

Brizy Review Speed
Brizy is really lightning fast with loading times if you use a minimalist theme, such as Astra. Brizy is, as far as I know, the only page builder built on React, Facebook's Javascript Library. This is brand new and the cream of the crop in coding. This not only makes your websites load very fast, but also the page builder itself works very quickly and smoothly.

Brizy Marketing apps
If you enjoy using any of the following marketing apps pictured below, you'll probably be pleased to hear that they integrate perfectly into Brizy. You do need to purchase the pro version.

Brizy pricing
Brizy has very decent prices. First of all, there is a free version. What is immediately noticeable is that you get 1 to 2 years of free hosting in the Brizy Cloud for an unlimited number of websites. This can be called unique, a wonderful offer and of course you save a lot of money.

Brizy has of course much more to offer because they have thought of practically everything and this is a real top page builder. A few features that we haven't discussed here include Undo/Redo, Auto Save and Shape dividers like Divi has and more. If you are interested, take a look at Brizy's own site via the button below. Everything is explained in detail there.
Visit Brizy
GUTENBERG (Brizy vs Gutenberg)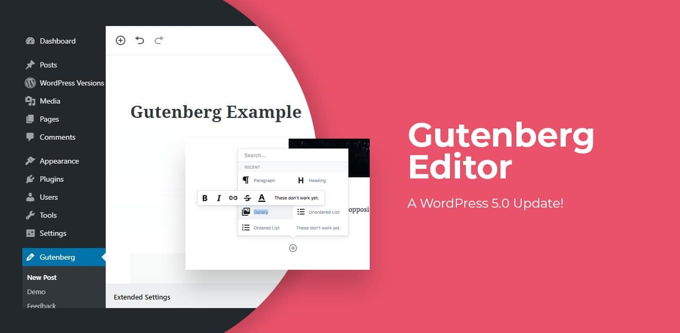 Toen Gutenberg net uit was, schrok ik me rot. Waar was de Wordpress editor? Men denkt dan dat het een verbetering zal zijn en probeert ermee te werken. Snel kwam ik erachter dat het de grootst mogelijke rommel was. Wat een teleurstelling. In dit Gutenberg Wordpress editor review voor [2021] kijken we of meer mensen hier niet blij mee zijn en wat de toekomst biedt.
Gutenberg editor Ratings
Laten we om te beginnen op de pagina van de plug-in zelf eens kijken wat de ratings ervoor zijn.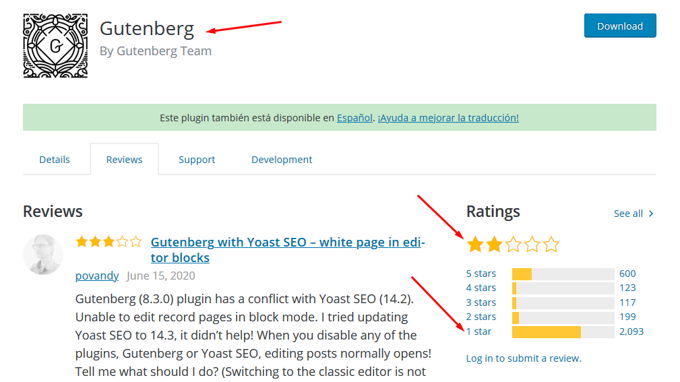 Een gemiddelde rating van 2 sterren dus. Van de ongeveer 3000 mensen die een rating gaven waren er 2100 die het minimum aantal sterren van 1 gaf, als men met 0 had kunnen raten hadden deze dat waarschijnlijk gedaan. Aan de andere kant waren er 600 mensen die een 5 sterren rating gaven. Ik moest even denken hoe dat kan, maar u kent het internet net zo goed als ik en het is gebruikelijk om altijd de maximale 5 sterren te geven ook alsje niet zo tevreden bent om de bouwers van iets een plezier te doen. We stellen in dit Gutenberg review dus vast dat het gros van de mensen het net als ik het een vuilnishoop vindt.
Disable Gutenberg
Om van de verschrikkelijke Gutenberg editor af te komen zijn er diverse plug-ins. We nemen er 2 onder de loep, de eerste is "Disable Gutenberg".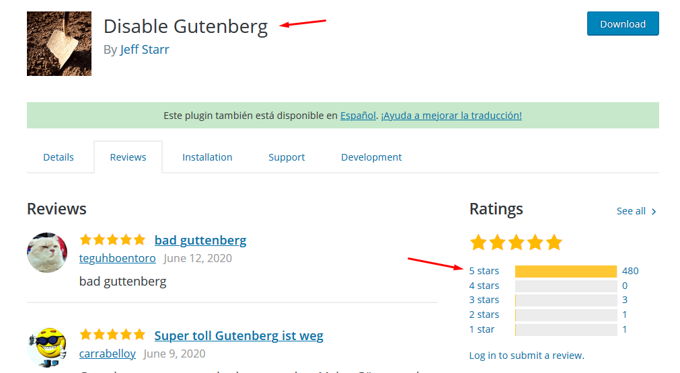 Hierboven is te zien dat van de practisch 500 mensen die een rating gaven aan deze meer dan 5 miljoen keer geïnstalleerde plug-in, gaven ze op 4 mensen na alle 5 sterren, zo blij waren ze voor goed van Gutenberg af te zijn.
Classic Wordpress editor
De "Classic Editor" plug-in is van Wordpress zelf en is er minstens tot 2022 aangezien ze kennelijk zelf weten dat Gutenberg niet deugt. Kennelijk denken ze er in een jaar of 2 nog wat van te kunnen maken. Probleem zal zijn dat practisch iedereen er een haat tegen opgebouwd heeft tegen die tijd. Goed, miljoenen mensen gebruiken deze plug-in en zijn ratings vindt u hieronder.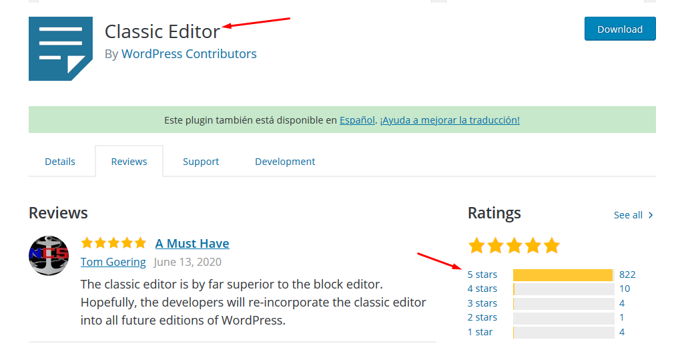 De editor zelf
Op papier is Gutenberg een WYSIWIG front-end pagebuilder. Bij het woord pagebuilder denkt u waarschijnlijk aan een Divi-like experience maar vergeet dat maar snel. Gutenberg is erg traag (teveel Javascript) en werkt bijzonder onhandig. Onderstaande image geeft een beeld van wat u voorgeschoteld krijgt in het back-end en front-end, daar moet u het mee doen. Het enige wat als positief gezien kan worden is dat wanneer u een grote tekst met titels en tekstblokken er in "plakt", de editor zelf alles opdeelt in blokken. Ik zeg positief, maar sommige mensen hebben liever zelf de controle daarover misschien en het kan dus ook heel erg irritant zijn.
Gutenberg back-end view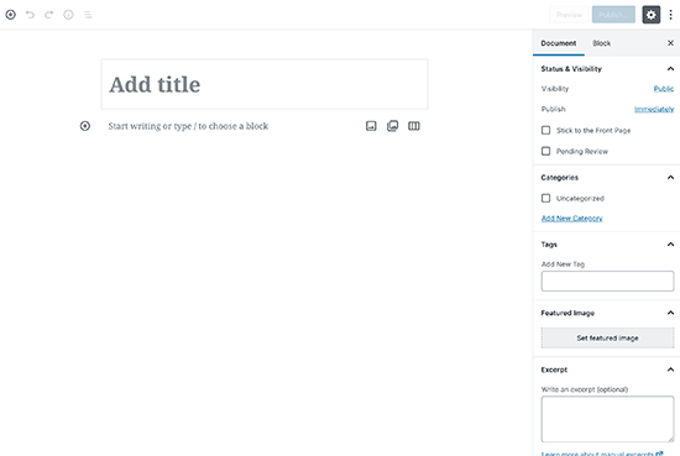 Gutenberg front-end view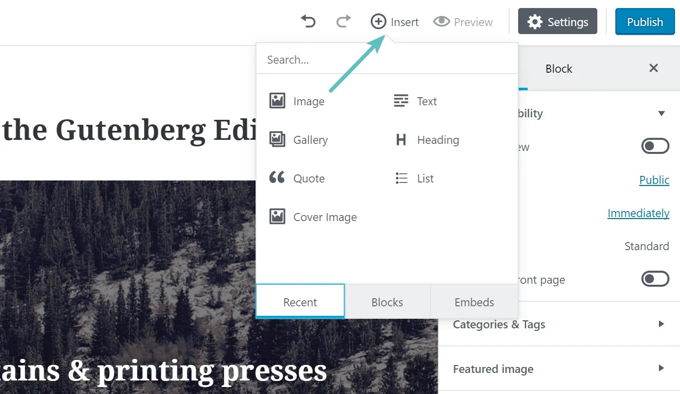 Gutenberg met bepaalde themes
In combinatie met goede themes als Astra of Generatepress is het werkblad wat aantrekkelijk zoals hieronder op de afbeeldingen te zien is. Ondanks dat is er nog altijd geen vergelijking met echte goede editors die er vandaag de dag zijn zoals Divi, Elementor en Thrive.
Gutenberg + Generatepress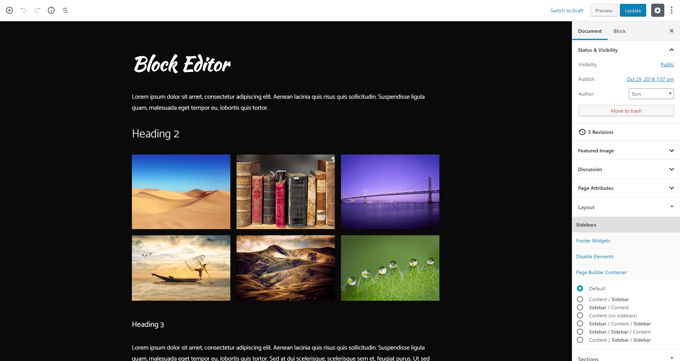 Gutenberg + Astra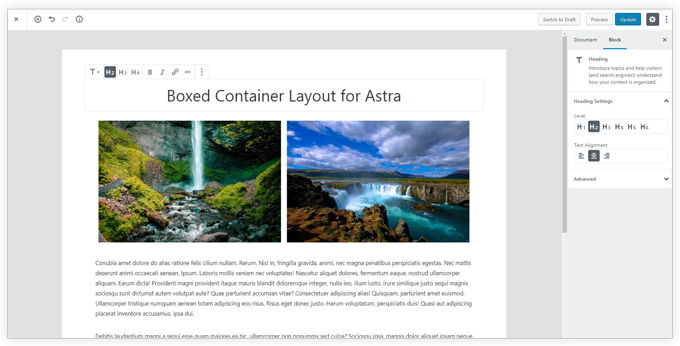 Gutenberg proefkonijnen
In pricipe worden wij als Wordpress gebruikers gebruikt om de Gutenberg editor te testen totdat er na een jaar of 4 eindelijk fatsoenlijk mee te werken valt. Uiteraard wordt dit verzwegen, er wordt er gedaan of het een fantastische verbetering in Wordpress is. Anders zou iedereen de editor meteen afkeuren wat nu ook al het geval is aan de ratings te zien. Men is niet gek natuurlijk.
Ik ga verder niet op alle kleine details in, Gutenberg is compleet BETA en zou eerst goed getest moeten worden een paar jaar zonder in Wordpress te zitten. Verder ontbreekt er veel in de editor, werkt hij verwarrend, is langzaam en niet precies.
Mijn advies wat betreft Gutenberg
Mijn advies is eenvoudig. Niet met deze editor gaan werken om teleurstellingen en fouten te voorkomen. Installeer meteen een van de 2 hierboven besproken plug-ins die Gutenberg laten verdwijnen en de oude vertrouwde Wordpress editor weer terug zetten.
Als u bereid bent om wat kosten te maken om met een goede editor te werken, kunt u het beste het Divi Theme kopen, met de Divi Builder (pagebuilder) er al in. Dit is het neusje van de zalm op dit gebied en zult u geen spijt van krijgen.
My advice regarding Brizy vs Gutenberg
First off, thank you for reading my Brizy vs Gutenberg review to the end. My advice is simple. Talking about the free version, I prefer Brizy, it's faster, fresher and has a lot more features. Frankly, I can strongly advise against Gutenberg won, it is really worthless. If you are willing to put in some expense to work with a good editor, you might as well buy the best page builder out there, the DiviBuilder, with the Divi Builder (pagebuilder) already in it. This is the cream of the crop in this area and you won't regret it.
Using our link you ALWAYS get 20% off on the Divi Theme!