Astra vs Ocean-WP themes compared for [2021] 💥


OceanWP vs Astra, the two have a lot in common. Both themes were built with 2 goals put first. The themes must load quickly in order not to lose any visitors and they must work perfectly with Woocommerce. Built shops should offer options that make the theme stand out when compared to other themes. Both themes have succeeded in this task, which is why Astra has already been installed on websites 1.653.898+ times and OceanWP 600,000 times. I will not reveal everything in advance, read on.


I'm starting this Astra vs OceanWP comparison to Astra without it meaning it's better. The 2 fastest themes I know are Astra and Generatepress. These themes have such a small compressed code and use advanced javascript to achieve very good loading times. If you look at that article, you will see that OceanWP is also listed, which is also a very fast theme but just a bit less so to speak. So here we compare 2 themes built on speed that are also built with the web shops in mind, and mainly on the operation with Woocommerce, the best plug-in for Wordpress when we talk about e-commerce.
Astra and OceanWP come without a page builder but are prepared to partner with the best page builders out there. It is advisable to install one of these page builders for both themes to be able to work quickly and to expand the possibilities. My preference for both themes is the Elementor Pro page builder by the way.
ASTRA PRO PREMIUM WP-THEME
Astra is currently installed on a sloppy 1.653.898+ websites and is the most emerging theme that I know. It is rapidly gaining popularity due to, among other things, its reasonable prices and lightning-fast loading times. Below you can see the speedtest we did, and Astra is performing incredibly well even though we did the tests with a large number of plugins activated. Everything seems to be so easy and smooth in Astra that it is a pleasure to work with it. The same goes for installing the beautiful demo themes it has.
We should definitely talk about the ratings that Astra gets, they even exceed those of Divi, there is no theme with a better rating. Of 3537 people who gave a rating, there are only a handful (frustrated) people who did not give the full 5 stars. There are always a few haters, of course, but it immediately catches the eye that practically everyone is incredibly satisfied with their purchase and / or the free version of Astra.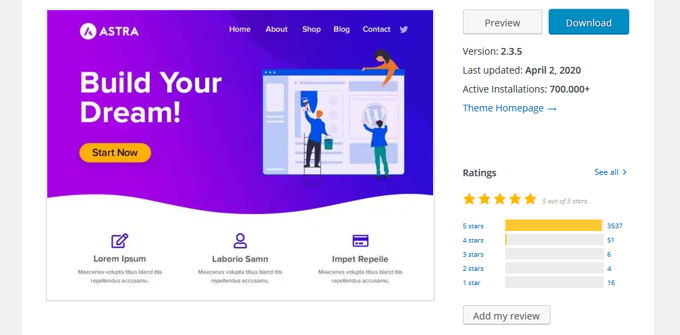 This free version can be downloaded here. The free version is capable of a lot less but is just as very fast. The free version in combination with Elementor free is a great solution for people who do not want to spend money and are not too demanding in terms of the possibilities.
ASTRA LOADS VERY FAST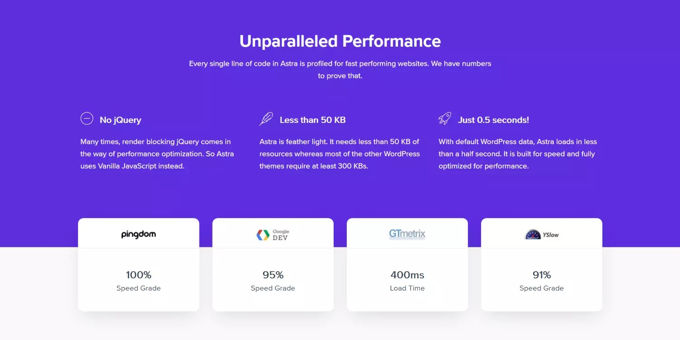 In the image above, I show you how the 4 top speed tests rate the Astra Theme. A 100% score at Pingdom means that Astra was the fastest measured site, no site was faster but we actually already knew that. Google score is 95%, and the Y-Slow score is 91%, and GT-Metrix gives an absolute load time on from 0.4 second. Take this from me, these are antisocial good results for a Wordpress theme, especially if it also has so many possibilities.
ASTRA IMPORTING DEMOS


Of course Astra also gives the opportunity to get your project off to a flying start by installing a demo website. By installing this plugin quickly you will make it even easier to get started quickly . You can then install a demo via your back-end. Another option is to get the demos directly from the Astra website by going to this page.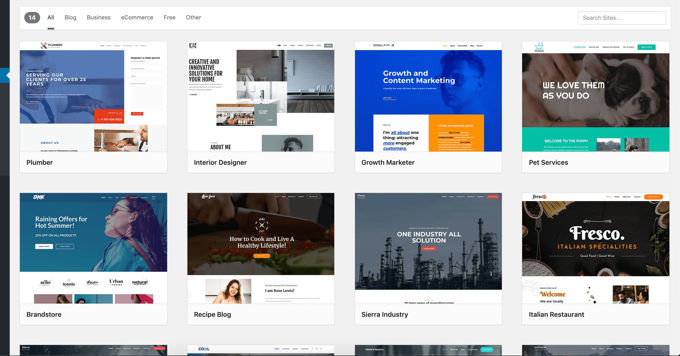 Astra offers hundreds of page demos and many website demos for all possible niches and in combination with Elementor much more. It is also highly recommended to use Astra in combo with Elementor Pro. There are themes such as BeTheme and Soledad that offer many, many more demos, but the quality leaves much to be desired while Astra offers uniquely beautiful designs.
ASTRA PRO MODULES AND SETTINGS
We have combined the 2 images below into 1 image because of their width. On the left the module list as the PRO version has it. With Astra, modules that are never used can be turned off to have a smaller code on the pages and thus even faster loading times. On the right we see the settings as they are in the margin of your pages and blog posts. This allows you to style each individual post or page individually just the way you want.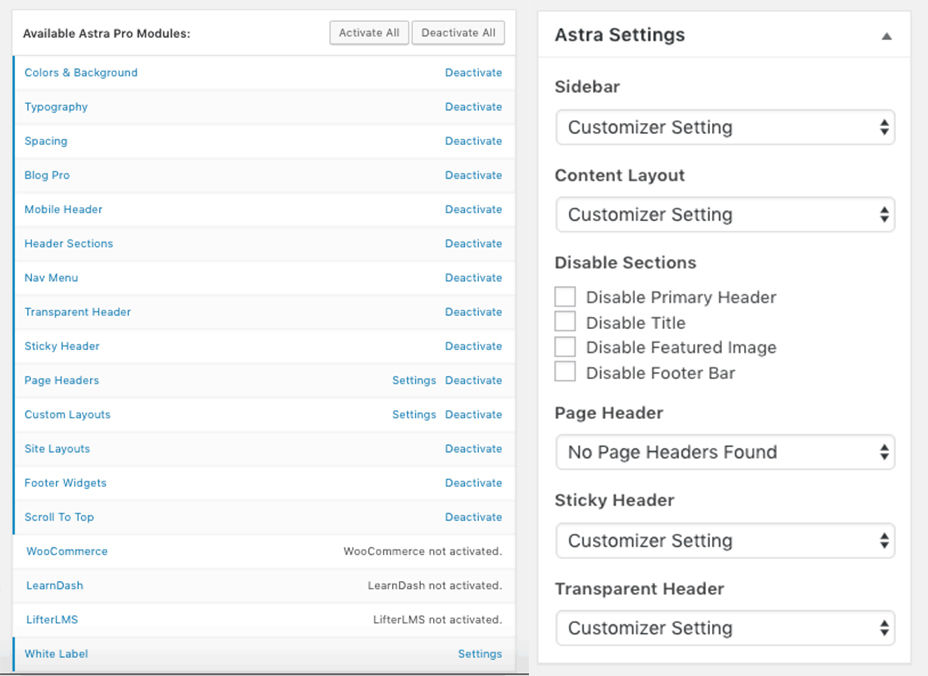 WOOCOMMERCE SHOP IN ASTRA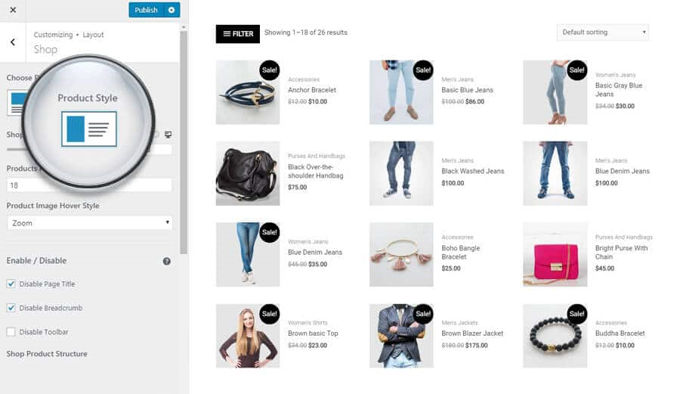 Are you going to create a webshop? Then Astra is perfect because in addition to the fact that it was developed at loading time, it was also ensured that the theme will work 100% with Woocommerce and it does. There are few themes that are better for web shops than Astra and it also has a high rating and my top themes for Woocommerce [2021]. The free version also offers a menu via the standard WP-Customizer to set up Woocommerce. The documentation for it can be found here. The PRO version has a separate module panel with extra settings for even better styling. The documentation for it can be found here.
ASTRA THEME REVIEW COMPLETION
It is clear that Astra is a winner on all fronts. It is the fastest theme there is, everything works perfectly and smoothly. The theme has beautiful demo layouts, is one of the best themes there are to build web shops with. It doesn't stop because Astra offers a lot of extras for people who have Elementor Pro installed and on top of that, first class extra plug-ins that you will not find anywhere else. In short, Astra is great and well worth its price, which applies to both the cheapest and the more expensive packages. Good, I am curious about what Ocean-WP has to offer, I also expect a lot from that.
Visit Astra theme


In this Astra vs OceanWP Theme comparison, we now discuss the free and premium versions of OceanWP. The OceanWP Theme has been installed on 901.000+ Wordpress websites and downloaded 2.5 million times. Those are numbers that will stand out. Why is this theme so popular? When looking at OceanWP's rating, it is immediately noticeable that it is also very high. The rating that can be practically rounded to 5/5 as shown in the picture below is of the quality of that of Astra and Generatepress which are also OceanWP's closest competitors.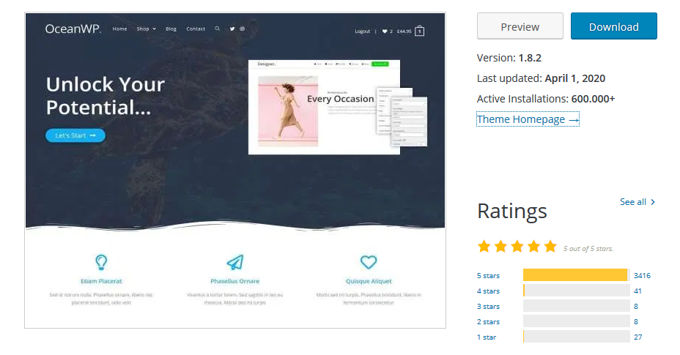 OceanWP: Strengths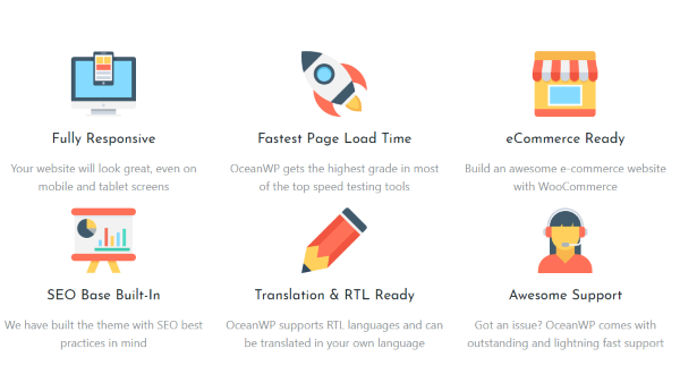 OceanWP Theme review: Speed
The main difference between OceanWP and the 2 aforementioned closest competitors is that OceanWP has put the emphasis more on top design (especially for web shops) and Astra and Generatepress on speed. OceanWP is also built on speed but not as forced as the other 2. The image above shows that OceanWP scores 98%, ie of 100 sites, 2 were faster than OceanWP. It is important to consider for yourself what is more important. A site that loads everything within a second can of course be called top fast and speed is one of the good features of OceanWP which makes it so popular.


OceanWP: Beautiful design
So the design is something that has been given more than enough attention by the OceanWP team and it shows. The theme shows a beautiful design on all devices and the demo websites offered are of very high quality. See photo below.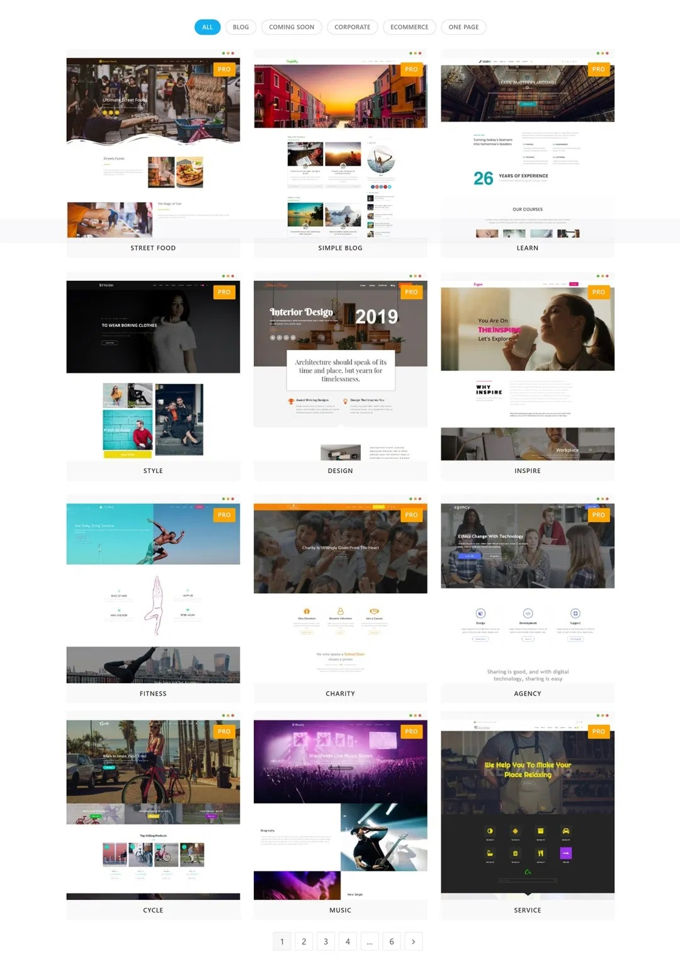 And for Woocommerce...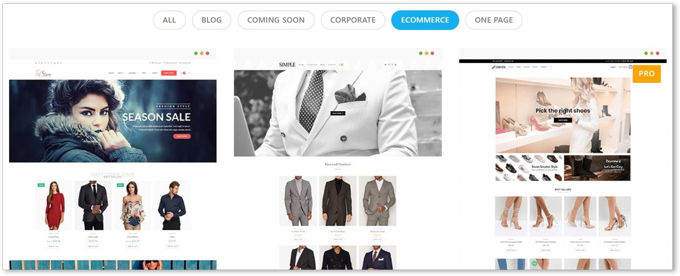 OceanWP: Woocommerce extensions
The OceanWP theme has also been perfected on Woocommerce, the most popular webshop system in the world for Wordpress. Not only for customization of its design, but it offers a host of conversion enhancing gadgets. For example the so-called native cart pop-up. After you put an item in your basket, a pop-up will appear to encourage you to pay. This alone would bring about 8% more conversion. There are a number of Woocommerce modules that you can view on their own site.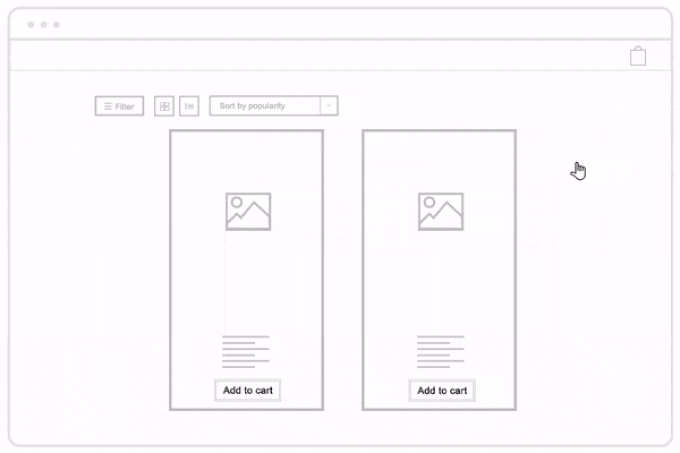 To be fair, we have to admit in this review for OceanWP that the theme is one of the best for creating webshops. If you want to have a perfectly working shop that looks fantastic, OceanWP is your theme.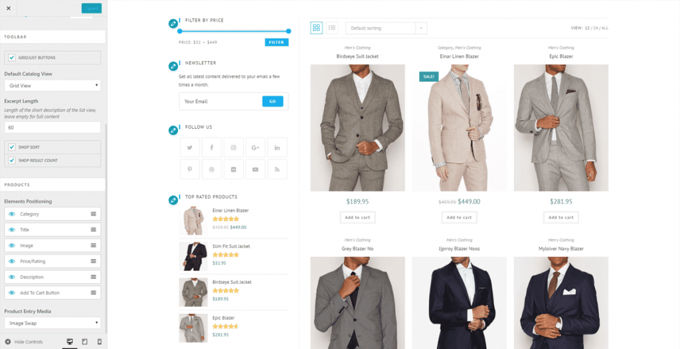 OceanWP: Core extensions
The premium version offers access to all core extensions (see photo below). The possibility to build a full screen site with scroll, the practically mandatory cookie notification, a customizable pop-up login, the removal of the OceanWP label in the footer, beautiful portfolios, the aforementioned Woocommerce extensions, a sticky footer , and hooks (more for professional builders).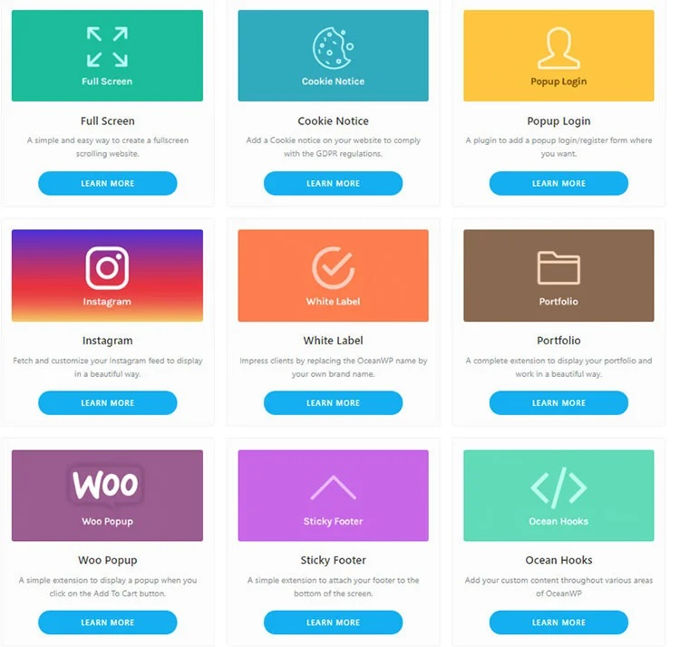 OceanWP review: Video
In the video below from OceanWP itself, you will quickly be made aware of the benefits of the OceanWP theme. The video only lasts 48 seconds.
OceanWP: Pricing
The regular "to-go" premium price is $ 59. Especially if you are going to use the theme for a shop, this is a very good price. There are practically no better themes for building web shops. Now during the quarantine you get the premium version for $ 31 already.


OceanWP: Conclusion
My conclusion is that OceanWP is a fantastic theme that is definitely worth the money. The theme is perfect for web shops, has a great design, is easy to operate and loads very quickly. That's basically all a good theme needs. It just lacks a good page builder to finish it.
OceanWP works perfectly with Elementor, but also with one of the following elite page builders: Divi Builder, BeaverBuilder and Thrive Architect.
Astra vs OceanWP Comparison Final conclusion
Thanks for reading this Generatepress vs OceanWP comparison till the end. Astra and OceanWP are both great themes. Both themes are perfect for building e-commerce websites (shops). They hardly avoid each other and I have no personal preference. In terms of speed, Astra is a bit faster, although OceanWP should also be counted among the fastest Wordpress themes available. My preference here is Astra, although it makes little difference in practice. In general, Astra seems a bit more mature to me than OceanWP with more options and is certainly my favorite of the two for normal websites.
If you prefer a theme that loads a little slower but has all the options and settings and is also very good for building shops, I recommend the Divi Theme.
Using our link you ALWAYS get 20% off on the Divi Theme!