Astra vs Jupiter X Theme comparison [2023] 💥

WP-Astra is the fastest Wordpress theme ever made...


In this Astra Theme review for [2023], I'll be the first to tell you that 2.369.964+ people entrust the health of their website to Astra. The Astra Theme was specially built from scratch to be able to build the most beautiful shops and more importantly, it had to load very fast. The Astra team has started a highly successful theme with this which is becoming increasingly popular. The only theme that stands up to speed against Astra is Generatepress but imposes it all other fronts against Astra.
Advertisement


The faster your website, the higher it ranks in Google, the longer visitors stay on your site and there are many more benefits associated with it. Speed is very valuable today. With Astra you are in professional hands in that regard. Web shops also have to be fast, which results in more turnover. Let's start with that because Astra is built to build beautiful super fast charging shops with it.
ASTRA FREE & PRO: RATING


If we check on Wordpress.org Astra's rating, we see that practically all raters gave 5 stars on a couple of haters after that. The image above also shows that the free theme alone has already been installed on more than 1 million websites. Together with the pro version, that goes above 1.6 million.
ASTRA WEBSHOPS
Astra is optimized to achieve more conversion for your shop and generate more sales. A shop made with Astra is just much faster than with any other theme. Here on the Astra website you can see how this was tested against 50 other top themes by SEO- experts.


On the above-mentioned page you will also find all information about Astra + Woocommerce. A fast-loading webshop is not only appreciated by your visitors, but also by Google. This brings your shop higher in the SERP of Google and this attracts extra visitors. Your visitor numbers and their appreciation therefore increase exponentially.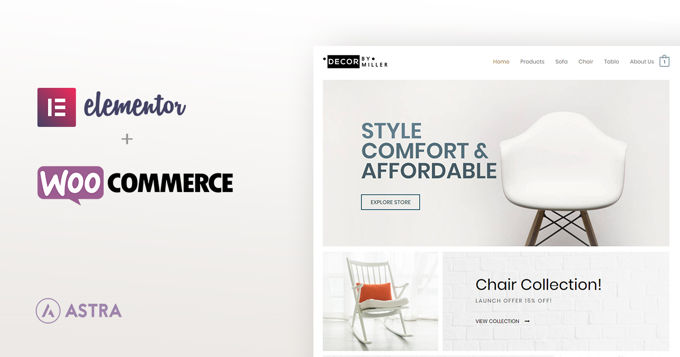 Astra offers great possibilities to style your shop exactly the way you want without any technical knowledge being required. A few years ago this was unthinkable. Ok you can install all existing Woocommerce plugins without worrying about compatibility issues.
Furthermore, Astra offers a range of modern options for shops that will make your webshop a real success, such as: Infinite Scroll, Adaptable grid settings, Off-canvas sidebar, Quickview, Dropdown cart and more. More on this here. Check out some of the many complete shopping demo sites below that you can install in your site with 1 click.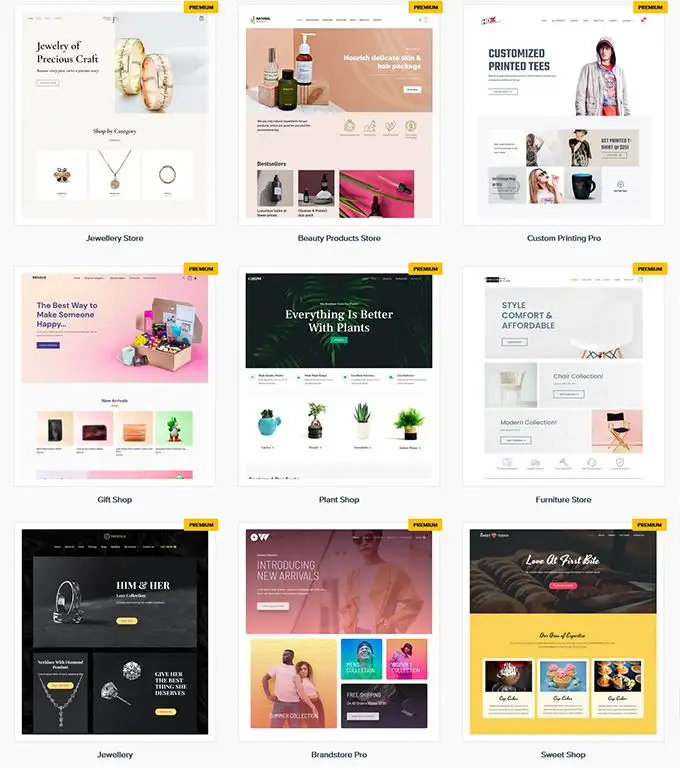 ASTRA: STARTER DEMOS
As for starter demos (templates), Astra offers a total of 180 complete websites. So these are not individual pages or sections, but complete websites that you can take over and start adding your house style to them. These demos were prepared by the Astra programmers for the 4 different page builders you see in the screenshot below. Few themes offer better demo options than this.


I would also like to say that the theme is not only responsive, but special attention has been paid to create a perfect design and ease of use for mobile webshops. This in view of the increasing sales via mobile devices which will probably exceed 50% next year.
It is also worth noting that you can adjust the complete check-out page, shopping cart and product pages to your wishes, HTML or other technical knowledge is not required. A poorly constructed checkout page can quickly cost you a percentage of your sales. You see, when it comes to E-commerce, the Astra team has thought of everything.
ASTRA: LOADING TIME
As can be seen below, the Astra theme has incredibly fast loading times. Wherever you test, at Google, GtMetrix, Y-Slow or Pingdom, it always scores phenomenally. These are known speed tests and as I said before, the only theme that can match such results is Generatepress.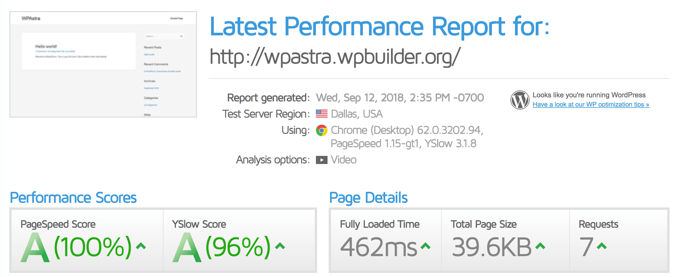 ASTRA: PAGEBUILDERS
Astra works as a whole with the Elementor page builder...
You can operate Astra through its own panel and the Wordpress customizer, but the theme is prepared to use an elite pagebuilder. My first choice, Elementor, has a free and a pro version. It's great to work with Astra Pro + Elementor Pro as the 2 go hand-in-hand as if they were made for each other. But it doesn't necessarily have to cost you money since Astra and Elementor also have a free version, although unfortunately with a lot less options.
Elementor in Astra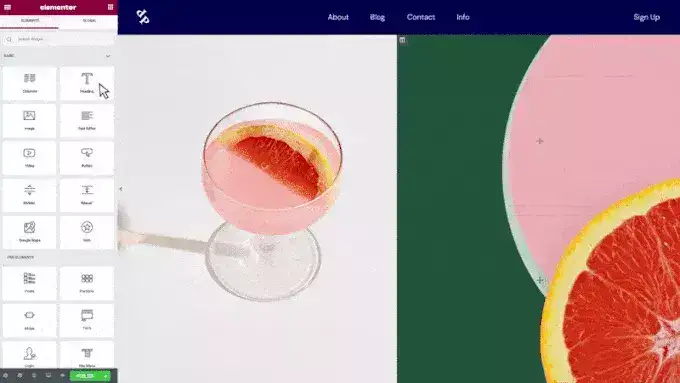 ASTRA SCHEMA MARK-UP
Schema are short snippets of information that the search engines would like us to add to our pages so that they have a better idea of what exactly is on that page. Doing so will be rewarded with a better display of your website in search results. Astra automatically adds Schema markup to your pages for you as they indicate here.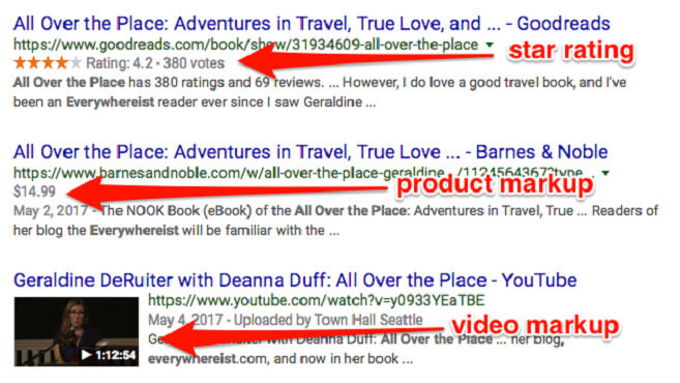 ASTRA + LEARNDASH
It is easy to design and create a website that offers an online course using the Astra + LearnDash integration. Astra offers many design options and features that help you provide a better learning experience. LearnDash lets you create a distraction-free, conversion-focused website for your next online class. Combine it with Astra to discover the many customizations that can be made.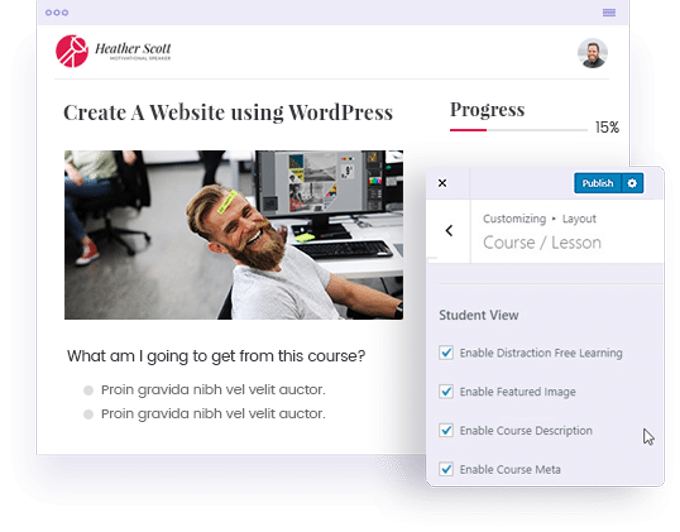 ASTRA + LIFTER-LMS
You can provide students with the best online learning experience by integrating Astra + LifterLMS. Astra gives you full control over the design of your website. You can make it look great and customize it as much as you want. You can create a website that focuses on learning and driving more conversions with features such as distraction-free learning, a conversion-focused checkout page, and many others.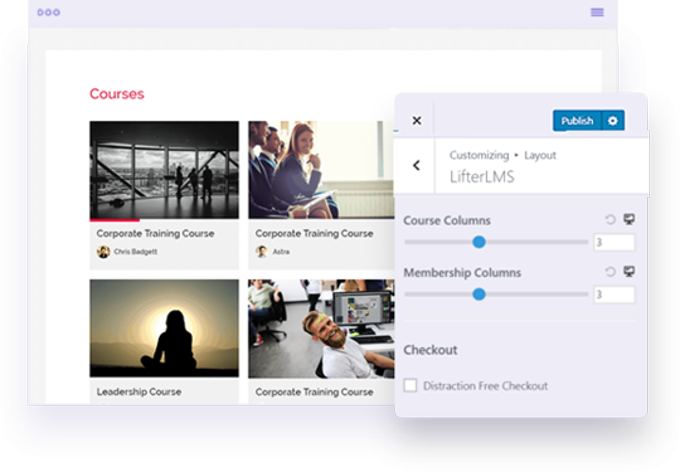 ASTRA HEADERS, FOOTERS, 404
Astra Transparent Headers, Astra Custom Header and Astra Custom Footers are PRO features that allow you to style your complete header and footer however you want without technical knowledge. The same goes for your 404 pages, by the way. You can offer different headers to different user groups in your system.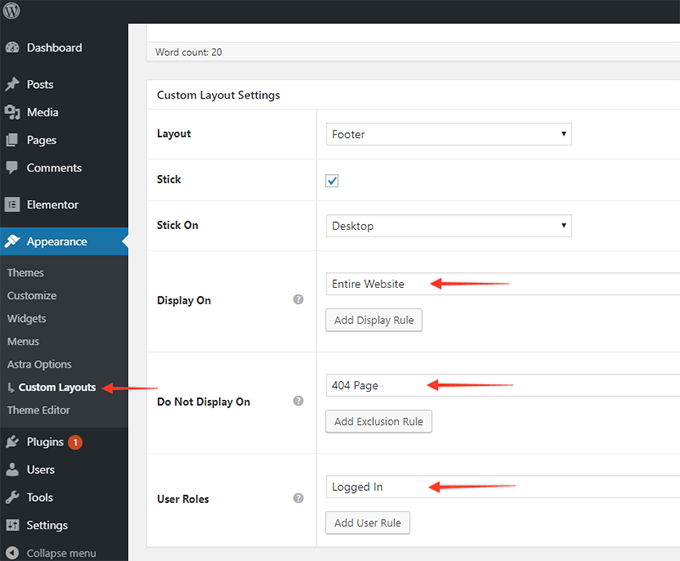 ASTRA: MORE FEATURES
Astra has so much more to offer, here you will find a wonderful overview with all the features that are available. sit in Astra. Sit down for it because it's a huge laundry list.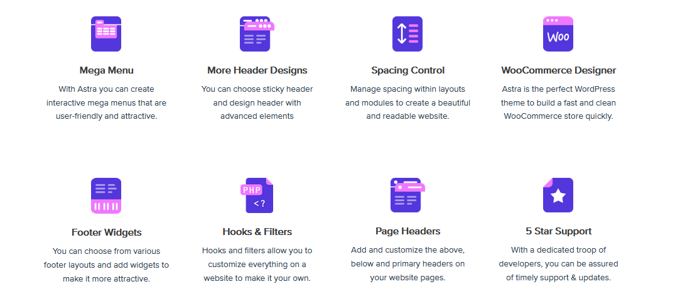 ASTRA THEME REVIEW: CONCLUSION
Thank you for reading my Astra Theme review to the end. You will agree with me that Astra is a very special theme that stands head and shoulders above most other themes. I am only talking about the PRO version of course because the free version of no theme can compete with the top themes today of course. I personally work with Astra in combination with Elementor and as a professional designer it is one of my favorite themes along with the Divi Theme which can also be used anytime and anywhere . Astra has no weaknesses.
ASTRA THEME REVIEW: DE PRICING
Astra costs only 59 dollars for a year, you can build as many sites with it as you want, that is not money compared to other themes that are less good and require a separate license for each website on which you want to use it. If you have a little more to spend, supercharge your Astra with one of the many Bundle packages that usually come with big discounts. That is the best option for companies who want to have their business website at the highest level. Regardless of which package you purchase, at Astra the number of websites on which you can use the theme and extras is always unlimited. All in all, Astra is highly recommended and has very interesting deals if you purchase a lifetime package with huge discounts.
Visit Astra theme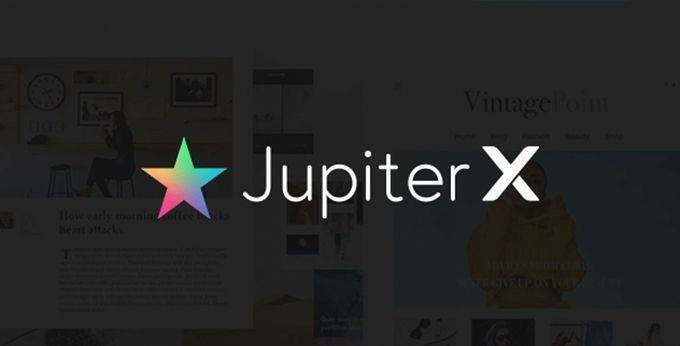 This Jupiter review will show you what a great theme Jupiter is. With 168.104+ sales the Jupiter theme of Artbees from the start in 2013 has been one of the best-selling WordPress themes at ThemeForest. Apart from the fact that it has been in the top for almost 7 years, it has a beautiful 4.75 star rating. More than 5,000 reviews were issued at the start of [2023], which means that practically all buyers are extremely satisfied with the theme they have purchased. Jupiter not only has everything to be able to build a stunning website, it was built on speed. The pages load very quickly and it has a good SEO.
Artbees is steadily continuing to improve this theme and provide more demos. So the totally new version Jupiter X was recently released with lots of new gadgets and now supported by the Elementor pagebuilder. We are enthusiastic about the use of the Elementor page builder because in principle there is no better one besides the Divi Builder. Elementor also offers extra extensions that will be of great help to you when building your blog, webshop or website. The Elementor pagebuilder offers enormous flexibility and together with the Customizer tools in Jupiter X is that everything you need for your project.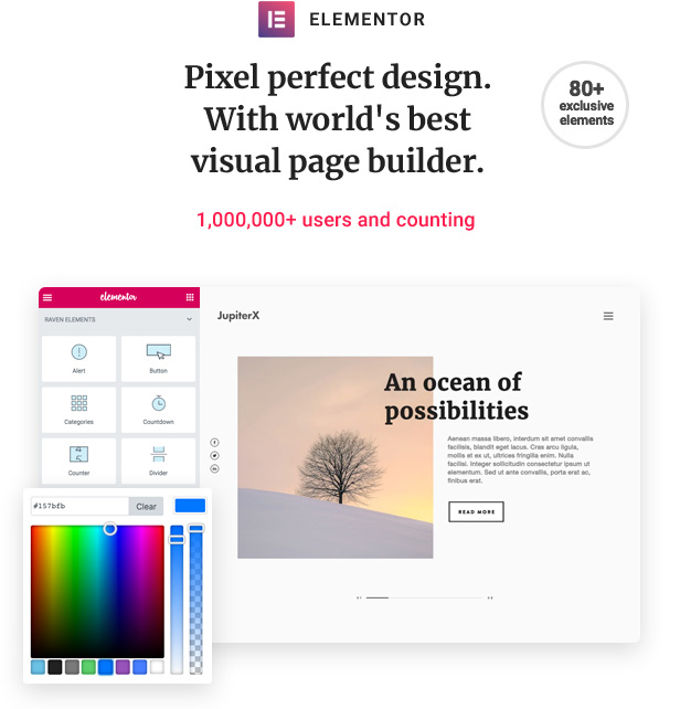 Jupiter X-theme review complete list of functions
Jupiter X currently has no less than 240+ different demo sites . These are divided into 8 categories. These demo sites are built using the Elementor page builder which means that this can also be used to edit the demos. Elementor page builder is the tool for making quick adjustments and building new content.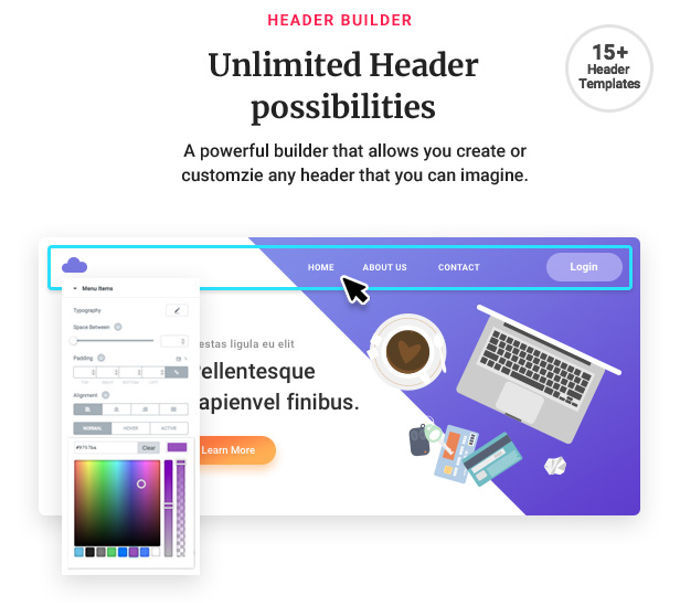 Jupiter X comes bundled with a number of top extensions to give even more power to Elementor:
Raven - Raven has been developed by Artbees itself to add extra widgets to Elementor with which one can adjust the header & footer without having to buy the PRO version from Elementor.
Jet add-ons - More of the same, also the JET plug-ins add more widgets and functions to Elementor to make editing your site even easier.
Built into Jupiter X are a number of premium plug-ins - including, for example, the 3 best slider plug-ins that can be found for Wordpress: Revolution Slider, LayerSlider and Master Slider, and the Bakery pagebuilder.


Header, footer and page content can easily be adjusted with Elementor. The same goes for the portfolio and blog pages thanks to the Elementor widgets that were added via the add-on plug-ins. The Worpdress Customizer is used for all other types of adjustments such as global styling, single blog pages or Woocommerce shopping pages.
Importing templates
We will now import one of the demo sites we discussed above in this Jupiter X review. After installing the Jupiter X theme you immediately install the required and additional plug-ins via the installation wizard.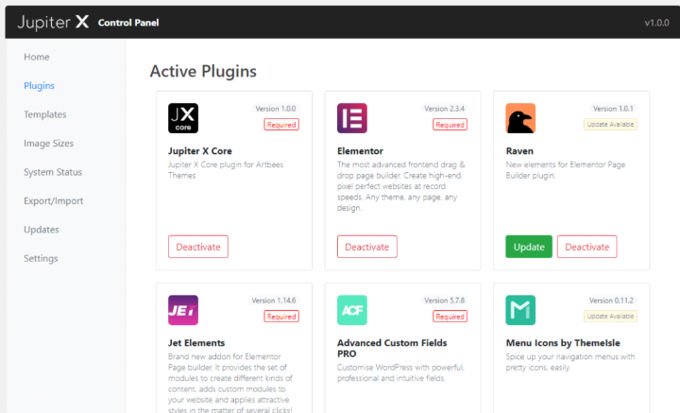 Via the Template Area (Jupiter X >> Templates) you can quickly import a demo website by clicking on "import" and then selecting your desired demo. It is possible to preview the demo first.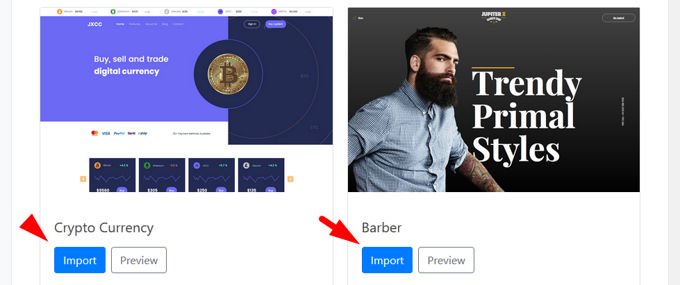 New Elementor widgets and templates
Another advantage of the bundled Elementor extensions of the new Jupiter X is that you get a lot of new widgets available: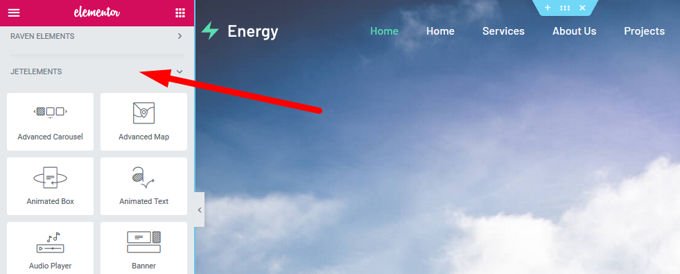 In addition, you also get new Jupiter X block templates that you can use, as well as: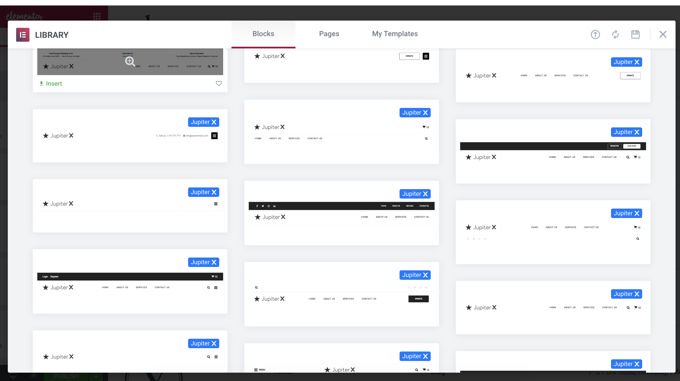 Elementor Header Builder
To help you create your header, Jupiter X starts with 20 different header-templates to pick from. From there you can further customize things with your new Elementor widgets. Jupiter X supports mega menus, sticky headers, and transparent headers. And you also get the option to use different headers, depending on the device of a visitor. For example, you can choose to use a side menu with sliders on mobile devices.
Blog, archive & portfolio builder
The bundled Elementor add-ons also give you a number of widgets with which you can display blog posts and portfolio items on your website. You can use this to construct special archive pages. For example, first ask yourself what kind of content should be displayed, say blog posts vs portfolio items. Afterwards you can style the rest with Elementor and choose which elements to include such as the name of the author.
Jupiter X WordPress Customizer
For other changes we use the Wordpress Customizer with all elements installed by Jupiter. Instead of using the standard sidebar control in the Customizer, we use the custom pop-up setting frame in Jupiter X which appears as soon as you click on an item in the customizer: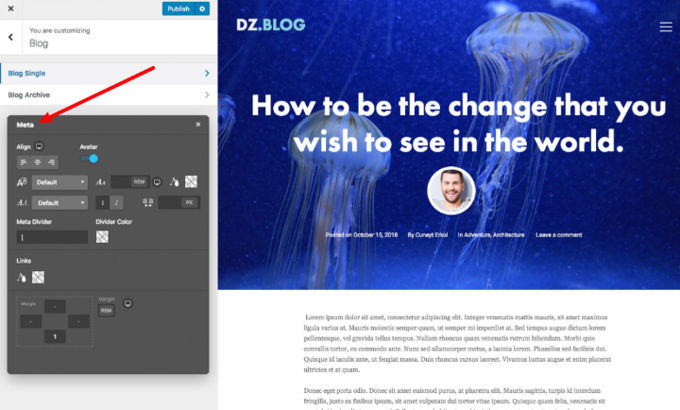 Scrolling vertically can make it difficult to use the WordPress Customizer. The pop-up can be dragged across the screen so that it does not get in the way of what you are doing. The 2 most important functions in the customizer are:
Blog single layout
The first of these 2 functions is the management of your blog posts (including the archive, but adapting with Elementor) regarding layout and design. Jupiter X already comes with different choices of beautiful blog layouts. Multiple functions can be switched on and off and metadata can be added. The buttons for social sites and related messages immediately caught the eye of writer of theme reviews. These can also be turned off if desired.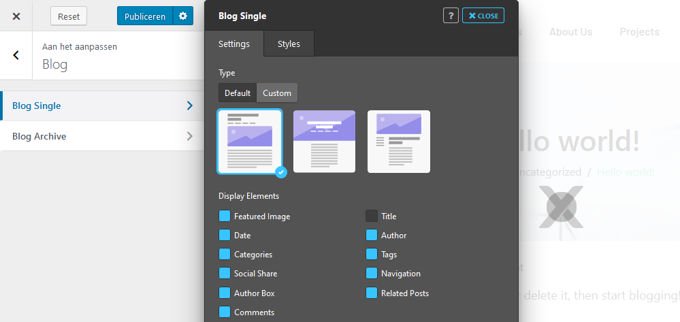 WooCommerce-shop customizer
Woocommerce shop owners will be particularly pleased with the many customization options for both store pages and product pages: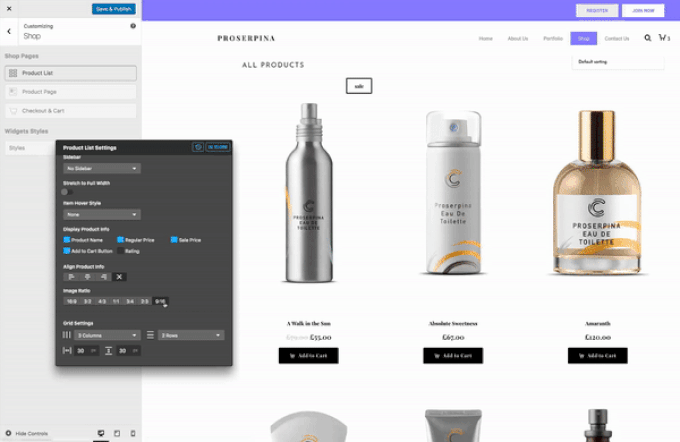 Other Customizer settings
In addition to the settings for Woocommerce and the single blog page in the customizer, it naturally has many more settings such as: colors, fonts, header behavior, sidebar settings, footer settings.
The 404 and maintenance page can also be adjusted, which even makes it possible to use an Elementor template for these 2 functions. A third-party maintenance mode plugin is superfluous with Jupiter X because that function is already included.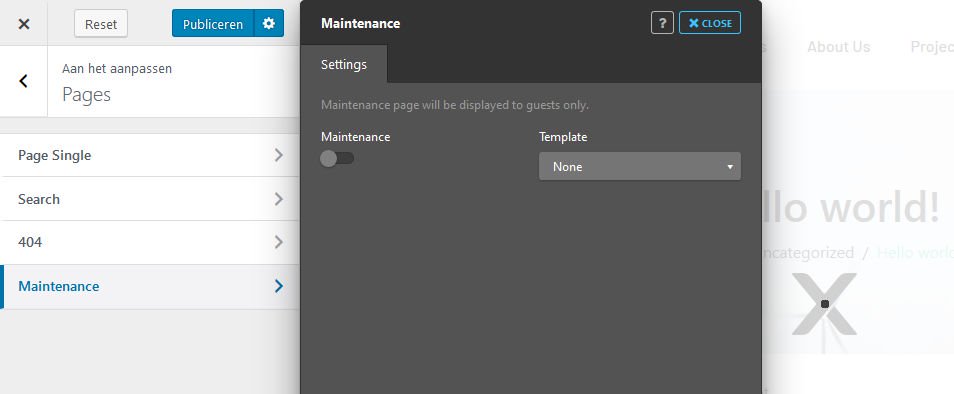 Jupiter X page/post level check
Via the meta-box post options you get additional settings in Jupiter X if you work with a single post or page. This offers extra flexibility when working with the WP editor and Elementor. Settings that can be adjusted here include spacing, sidebar usage, adjusting the layout including its width. Switching styles, header, footer or title bar settings, related posts and social can also be set here.
Compatible with WPML


Ready for translation with WPML with which you can create multilingual websites.
Jupiter X vs Astra conclusion
Thanks for reading this Jupiter X vs Astra comparison to the end. Both of these themes are very good and both work with Elementor which makes them even better. Both also offer a lot of great 1-click demo layouts. But here come the main differences. Astra loads much faster in a browser than Jupiter. That is very important for a website today because people do not have much patience when it comes to websites that take a few seconds to see something.
And of course we have to talk about the price. You can buy Astra for 41 dollars and that is for as many sites as you want, Jupiter lets you buy an extra license for each website and gives only half a year of support. Astra also offers great offers such as a lifetime membership from 249 dollars. Often it is even cheaper if there are discounts of up to 40%. It seems like a simple choice.